Plant your garden for continuous color, a garden burgeoning with beautiful blooms from early Spring on through Fall. All it takes is some strategic plant choices!
Does your garden treat you to a glorious bounty of blooms early on in the season with many perennials and bulbs bounding into action then you are left struggling to get color in your garden for the rest of the Summer?
When you plant your cottage garden for continuous color you will never be short of blooms. Choosing plants with different bloom times is key.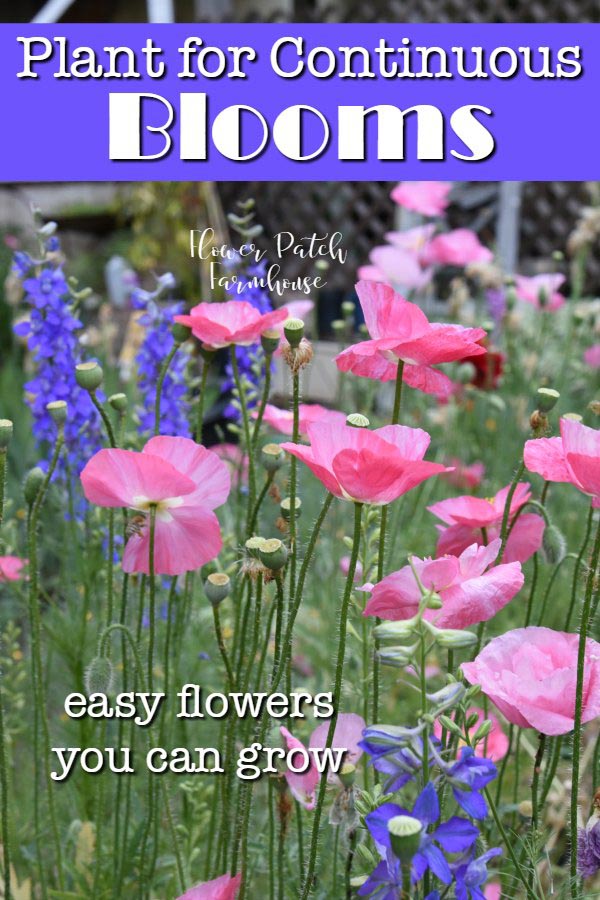 Early Season

Here in my my garden it starts with my tulips and daffodils. I have a ton of these red perennial tulips that multiply each year. I prefer the perennial tulips for just that reason, no need to keep replanting and I love the single color for impact. Other tulips I grow I dig up once their foliage fades and store the bulbs in my cool basement for replanting next Fall but I must admit that is not always that successful, the perennial tulips are my go to choice.
These really get going in April in my garden, yet just half an hour down the road they get started in March, so when your garden does its thing depends on where you are located.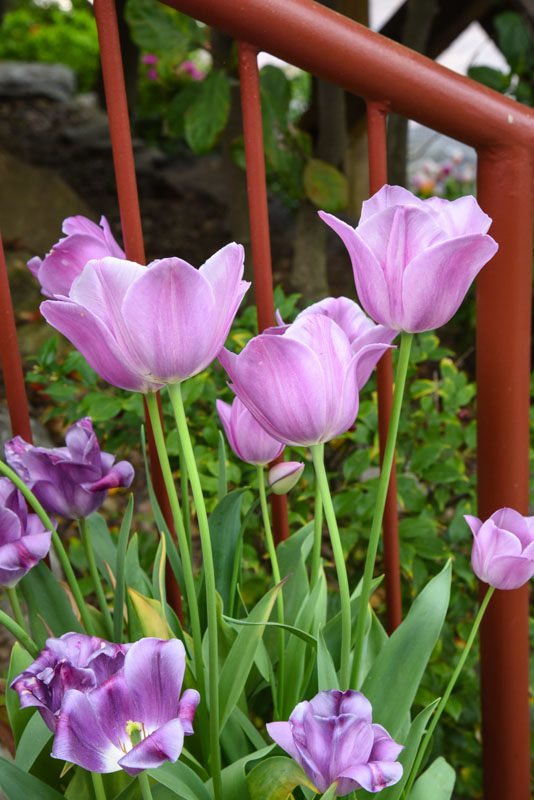 Here the Lilacs are at their peak in late April to Mid May joining in on the fun. Click here if you want to know how to grow them from cuttings.

Hyacinths, Hellebores and Windflowers are also going strong.

Mid Season
Mid May to early June come the Iris, Clematis, Forget Me Knots, Allium, Creeping Phlox, Foxgloves, Peonies, Poppies and Violas. This is when my garden really starts to put on a flamboyant show.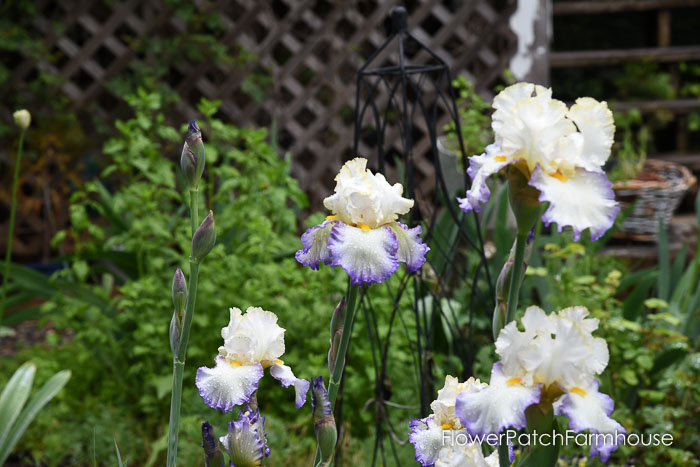 I am sure there are many more that bloom alongside these in other gardens but this is what I have.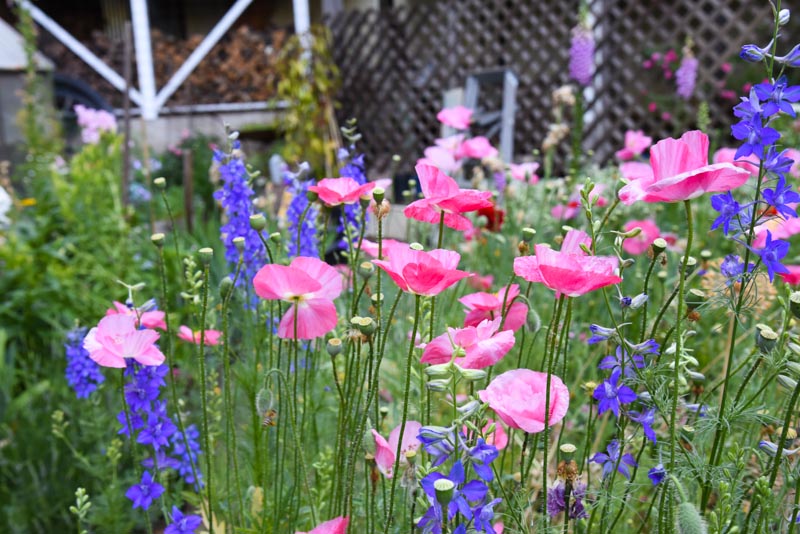 My roses begin about the same time as the Iris are in mid bloom and they take over the show as the Iris fade away. The roses put on a grand show at the beginning then settle back into continuous, if less generous blooming for the rest of the Summer.
I grow primarily heirloom and David Austin English roses for their toughness, disease resistance and gorgeous scent.
Later Season through to Frost
Late June, early July is when my Rudbeckias (aka: Black Eyed Susans), Daisies, Asiatic Lilies, Larkspur, Delphiniums, Hardy Geraniums, Echinaceas, Cosmos and Poppies all begin to start to open up.
Most will keep on blooming until frost as long as I keep them dead headed. I just chop and drop as I walk through my gardens most mornings, that means I use my Bypass Pruners to cut off the fading bloom so the plant puts energy into producing more and let the clippings drop to the ground to compost in place, if you prefer you can carry along a bucket to put them in and haul them to your compost pile. . (for a list of my favorite garden tools click here)
Like the roses there is a first flush of blooms then they keep blooming but not quite as lush as at the beginning. The Oriental and Trumpet Lilies come on the scene in July.
Dahlias are a new favorite of mine, they bloom from early summer on through to first frost, they are a fabulous cut flower too. The more you cut the more they bloom. Click Here to see how I get more by taking cuttings in Spring!
There are tons of annuals you can plant from seed or buy small six packs of at the garden center that will also continue to bloom through the hot part of Summer to add even more color. Petunias, Zinnia's, Alyssums….the list goes on.
Late Season
Later the Asters begin alongside the Autumn Sedums and Tall Phlox continue the show.
Of course as I always say, what grows well in your region may well be something quite different than in mine. Find neighbors that garden, visit local greenhouse and garden centers to pick the brain of a trained expert. And don't forget about bright colored foliage plants, they are as pretty as flowers!
I wish you gardening success and a bloomed filled Summer!
Happy Gardening.