You can Propagate Lilacs from Suckers
Lilac suckers, also known as lilac shoots, are a much faster way to start new lilacs than cuttings. Spring is a great time to do this as the soil is moist, easy to dig and the suckers are rapidly growing.
Today you are going to learn how you can propagate lilacs from suckers. You're going to love this one because it is so easy and you get a lovely new lilac in short order!
All it takes is a sharp shovel, a bucket of water, and a lilac. Read on and I show you how easy it is.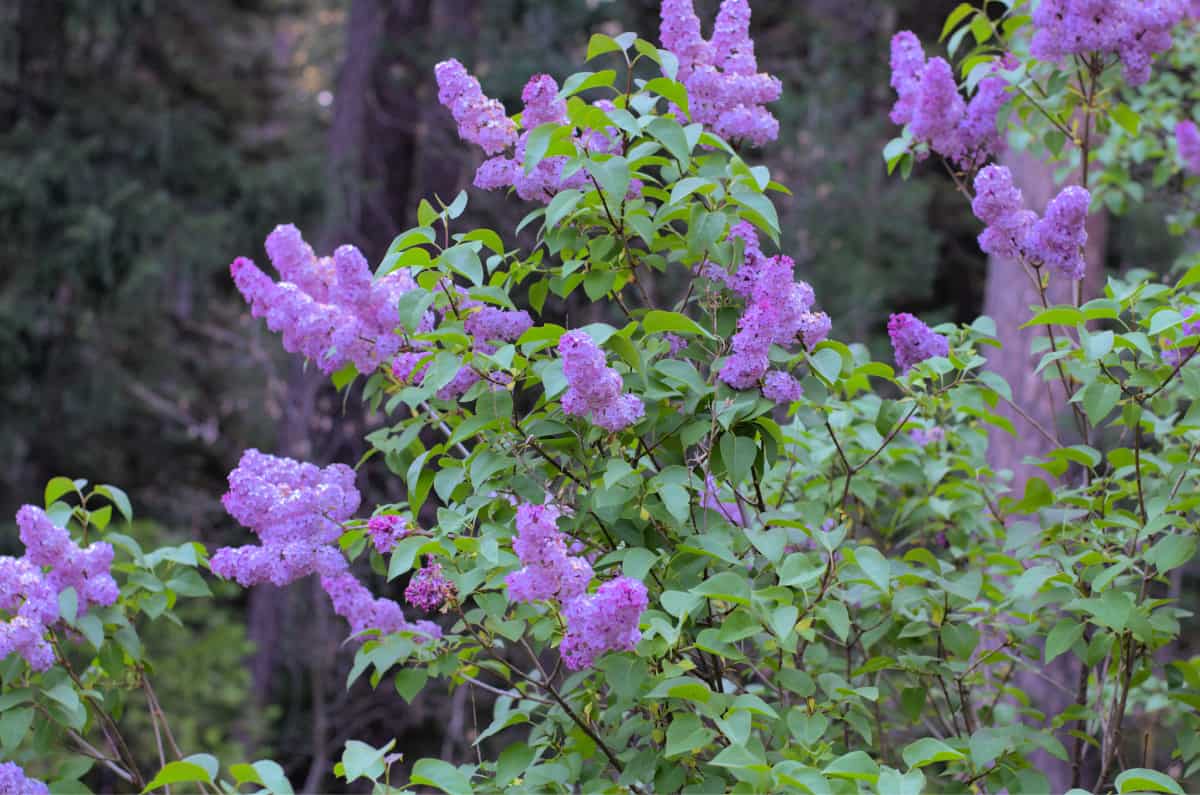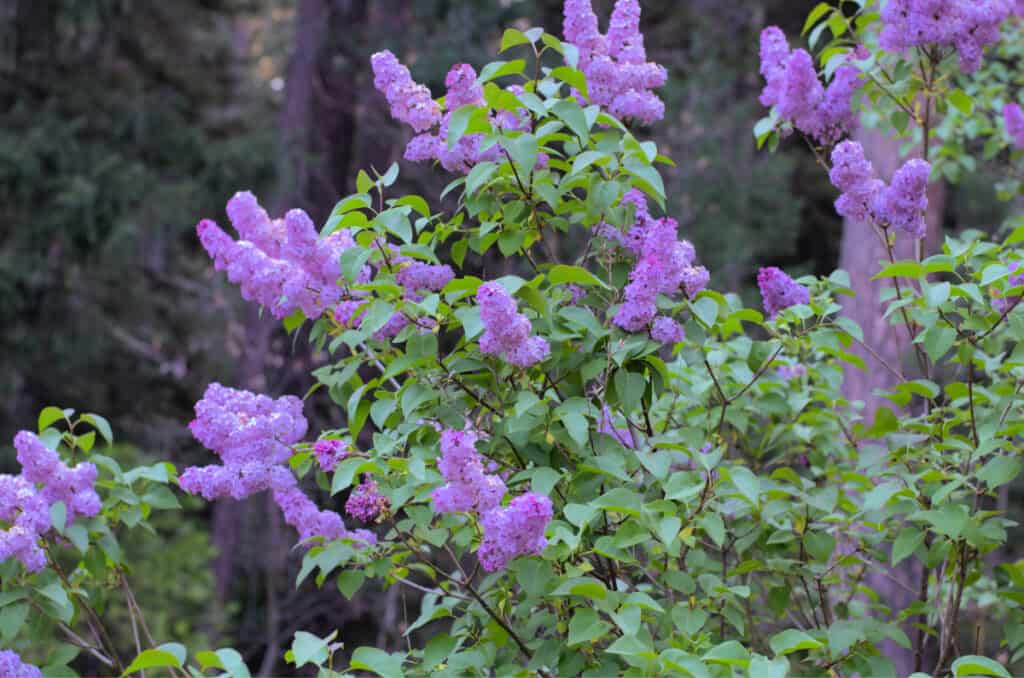 This post contains affiliate links. If you make a purchase after clicking a link I may make a small commission at no added cost to you.
Why Propagate Lilacs from Suckers or Shoots
This method to propagate lilacs from suckers is easy and you get a new plant that blooms much faster than you would get from cuttings.
My How to Grow and How to Root Lilacs from Cuttings are two of my most popular posts in the Spring. It seems Lilacs are a favorite of many people.
Propagating lilacs from suckers is a great way to create new plants that are genetically identical to the parent plant.
Be sure to watch the video at the end. I was able to convince my neighbor to let me dig up a sucker of the Lilac you see in the top photo!
NOTE: this will not work if the lilac you are taking the suckers from is a grafted variety. Look at the trunk of the lilac between 6 inches and a foot from the ground. Is there a knobby area with a change in the appearance of the bark? If so then the Lilac has been grafted and what you see on top is not what the suckers will grow to look like.
Related: Garden Zones and what you need to know about them!
What are Lilac Suckers
Suckers are shoots that grow from around the Lilac base. Some feel they can be a menace but most folks just cut them off with a mower or weed wacker to keep them in check.
This post contains affiliate links. If you make a purchase after clicking on a link I may make a small commission at no added cost to you.
This is a white Lilac in a friend's yard. She said I could come to dig up all the suckers or shoots I wanted.
Now it does take a good sharp shovel and a bit of muscle but it is not too hard.
Find some suckers that are far enough away from the parent bush to get in there with a shovel and have some leverage.
This soil was super compacted so I didn't get as much root as I would prefer yet it still worked.
If the soil is loose around the mother plant you can simply pull out the soil from the base of the sucker or shoot and travel back from its base to the base of the mother plant.
Dig it out enough that you can see roots on the sucker. Use a pair of pruners to cut through the sucker as close to the mother plant as you can. This ensures you will get as many roots as possible.
More roots mean a faster-establishing plant.
How to Dig Lilac Suckers
So back to the hard soil that you can't easily dig with your hand tools…
Place your shovel between the mother plant and the sucker. Get as close to the mother plant as possible to get plenty of sucker length that is underground.
With a good push with your foot shove the shovel straight down and cut through the sucker root.
You will have to put your weight into it, slicing through can be tough. (having a sharp shovel is helpful)
Slice down all around the sucker and pop it up out of the ground, hoping you have a good portion of the root.
My latest acquisition cuts right through the roots like a hot knife through butter, it is called the Root Slayer! I love this shovel.
Dig up as many lilac suckers as you can. You may lose a few but so far I have had 100% success rate with this method. If you dig up plenty you can be assured to have one survive and if all survive you can always give away what you don't want to keep.
Soak them
Keep a bucket of water nearby and put them right in it. Keeping them moist helps to lessen the shock and will keep it hydrated until you can pot them up.
I had something come up and could not get to them right away but they seemed to do fine in the water for a few days. They were kept in the greenhouse but a shady spot in the yard will work just fine too.
Potting the Lilac Suckers
With some I had to cut the large roots back so it was easier to fit them in the pots, the smaller roots will be fine to get started.
Fill some 1-gallon pots or taller 4-inch pots with potting soil halfway then place the lilac sucker or shoot into it before filling the pot the rest of the way with soil.
I had to use the larger diameter pot for this mass of roots.
Propagating Lilacs in pots
Some of the Lilac bushes I had rooted from cuttings were still in their containers and had suckers coming up in the pots.
So I decided to divide those as well. It was quite simple as the roots were not that big yet.
For potted lilacs, you just pop the Lilac out of the pot. These in the photo really do need to be potted up, planted in the garden, or divided and I opted for dividing.
Grab a garden knife or you can do this with a sharp shovel and slice through the entire root mass between the center-rooted cutting and the side shoots, which are the suckers.
Now repot them up in separate pots with fresh potting soil.
You can see the mother plant and two daughter plants all in their very own pots.
I did this a few weeks ago and they are growing strong and healthy. Not even a bit of droop from shock. I ended up getting so many I had plenty of lilacs to share with friends and family.
Transplanting Lilac Shoots
You do not have to put your freshly dug suckers or shoots into pots. You can plant them directly into the ground.
To plant your freshly dug lilac sucker in the ground, dig a hole deep enough, and loosen up the soil some by digging around with your shovel.
Place your lilac sucker or shoot into the hole and fill back with the loose soil. Gently firm it in with your foot. Water it in well.
Keep your fresh planted lilac watered until it is established. This is best done in Spring before the temperatures get too hot so the roots can start to get growing and be able to bring up water. Keep a close watch on it for a few months.
And that is how you propagate lilacs from suckers. Lilac propagation is how you get a lilac just like Grandma's.
I wish you a sweet-smelling garden!
Watch me dig up some lilac suckers with a chipped shovel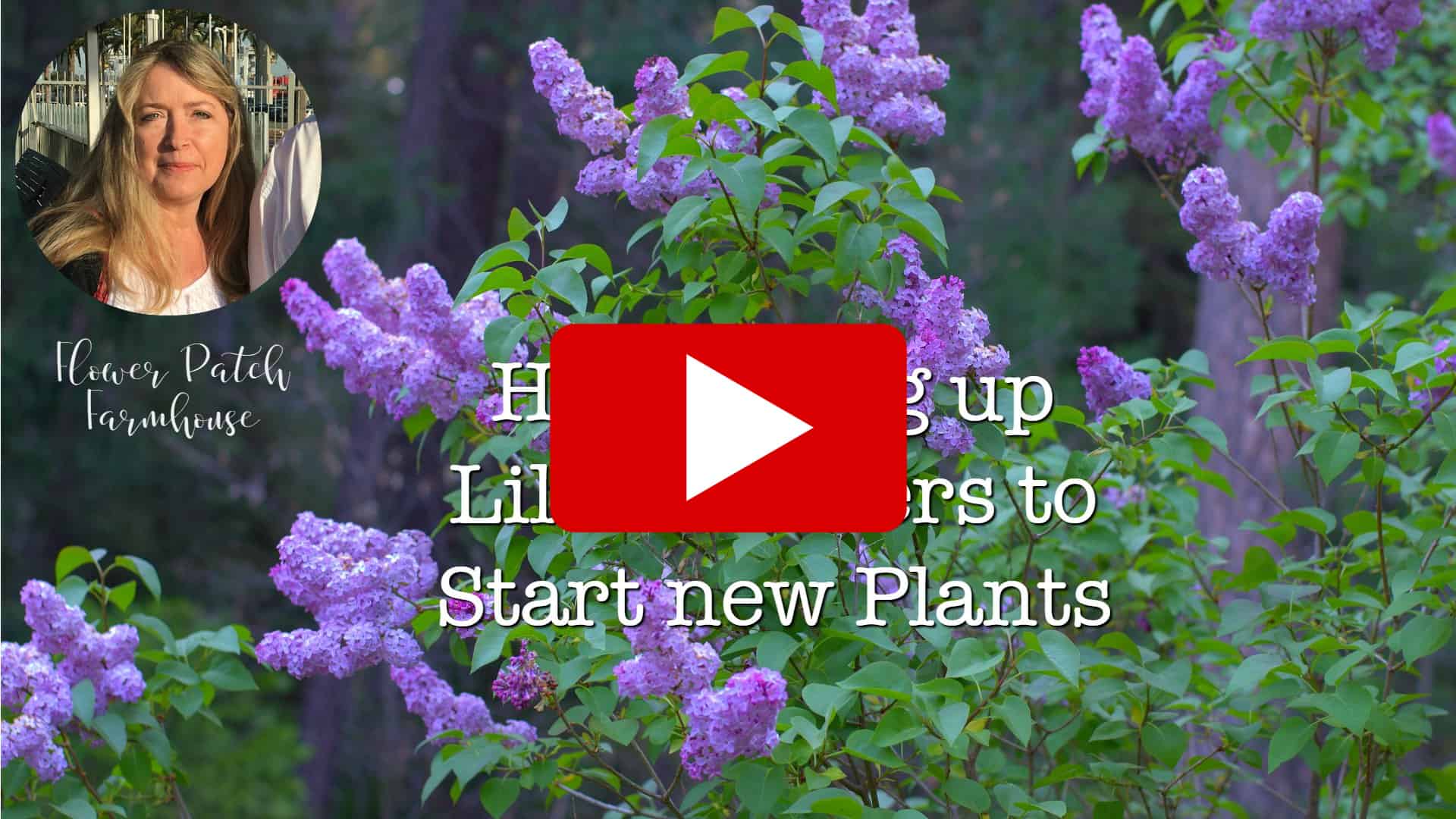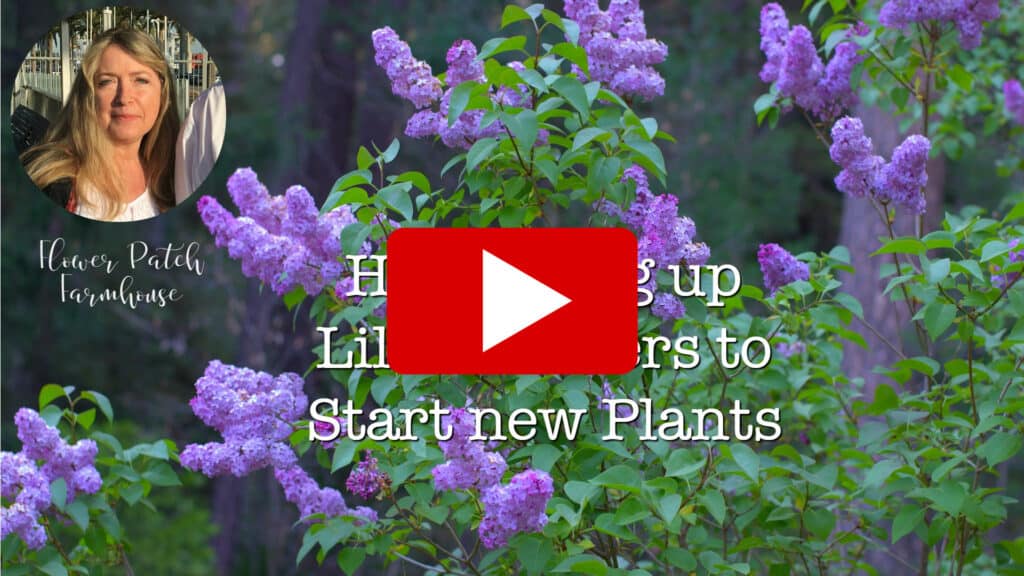 Just one more note, I credit my chickens and their leavings (doo) with a lot of my success in gardening, a great soil builder. But you don't have to have chickens to build your soil.
easy organic soil
Build Healthy Soil
Building healthy soil is not only a budget-friendly way of gardening but it is better for the environment than bagged fertilizers. See how easy it is!
Want more garden and DIY fun? Sign up for our newsletter to be notified of the latest and greatest. No worries, it's free.