California lilacs, also known as ceanothus, are a group of evergreen and deciduous shrubs that are native to California and the western United States. They are part of the buckthorn family, Rhamnaceae.
These plants are prized for their showy, fragrant blooms and their ability to attract bees, butterflies, and birds to the garden.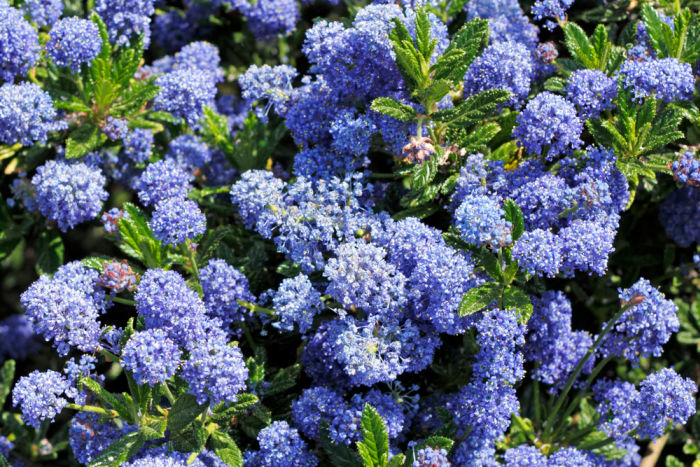 In late winter and early spring, these are blooming all up and down this mountain and down into the San Joaquin Valley. They are drought tolerant and fire resistant which is highly valued in our climate and conditions.
In this blog post, we will provide you with everything you need to know about growing ceanothus, including planting instructions and some popular named varieties.
Planting Instructions
Ceanothus is a relatively easy plant to grow, but it does require some specific growing conditions. Here are some planting instructions to help you get started…
Choose the Right Location
Ceanothus prefers full sun or light shade and well-draining soil. It is important to avoid planting in heavy clay soil or areas with poor drainage, as this can lead to root rot.

If soil and drainage are less than ideal, place rootballs on a mound a little higher than the surrounding grade. Or try to plant on slopes so the surface runoff drains more rapidly.

Though a plant may state it grows well in any particular zone it must be noted that conditions play a big part. Some Ceanothus do best planted along the coast and won't last long inland.
Watering
In the first year, water deeply once a week. After that, ceanothus will require only occasional watering, especially during dry spells. (some will need none at all)

Ceanothus is often claimed to be short-lived, but that may be caused by too much summer water and soil amendments. California native plants are generally intolerant of all of these.
In their native habitat in the wild, ceanothus plants have a natural life cycle of 10-25 years. In gardens people tend to over water or feed them and they do not last as long.
Mulching
Apply a 2-3 inch layer of mulch around the base of the plant to help retain moisture and suppress weed growth. I would use dried pine needles or bark mulch.
Pruning
Ceanothus should be pruned just after flowering to promote bushier growth and remove dead or damaged branches. Do not prune during wet weather as they are susceptible to a canker.

Be sure and research your particular variety of California Lilac as some do not tolerate hard pruning, so tip pruning is usually the way to go.
Fertilizing
Ceanothus does not require fertilization.

Quote from University of California site: "Several members of the genus can form a symbiotic relationship with soil microbes and fungi, forming root nodules that fix nitrogen."
This is a reason why fertilizing is not normally recommended. Adding fertilizer may kill good micro-organisms and make room for the bad ones. Ceanothus plants are better left fending for themselves.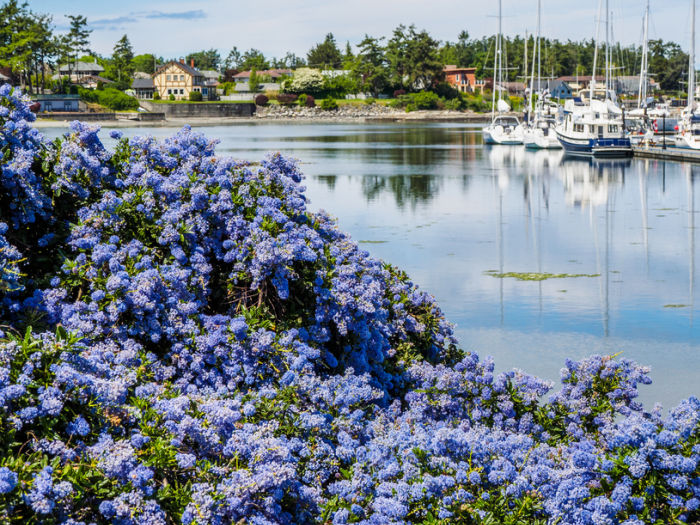 If you are looking for common Lilacs aka Syringa vulgaris then you can go here.
Named Varieties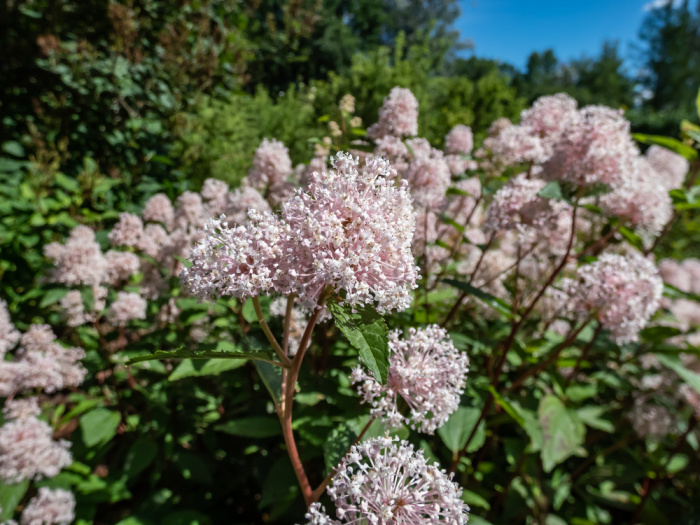 There a more varieties over on Annies Annuals Website and I am sure you can find local nurseries that carry some too.

In conclusion, ceanothus is a beautiful and easy-to-grow shrub that is perfect for adding color and fragrance to your garden.

By following the proper planting instructions and considering some of the popular named varieties, you can create a stunning ceanothus display that will delight you and your guests for years to come.
The wild variety that grows profusely around us is a lovely white color and the scent is pungent yet pleasant. They grow with no irrigation during summer and we get no summer rains. They typically bloom in late May to mid-June.