Building my She Shed or as I prefer calling her, my Cottage Studio.
Building my She Shed or Garden cottage studio was a fun DIY we did together. I show you how we put her together step by step.
For a look inside I have a link at the bottom of this post that will take you to the post all about it.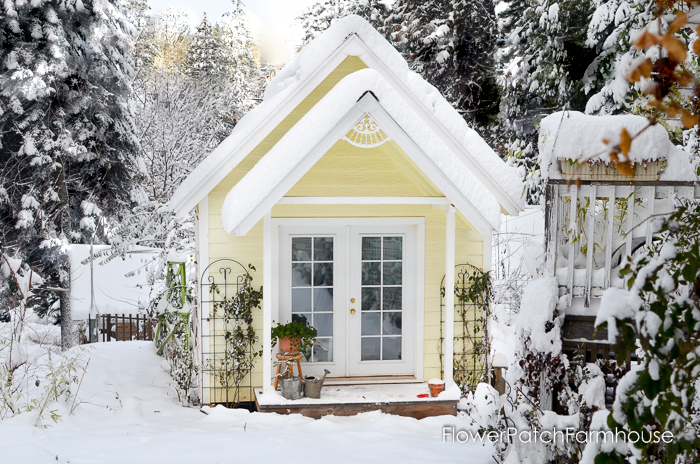 Also known as Pamela's Pleasure Palace (I wanted to make a sign for the front that read that but my hubby thought it would send the wrong message)
About 15 years ago on December 25th, my husband and I began to build my little backyard cottage. It is my most favorite place to be when I am not in my garden.
Want to Build this She Shed? Click here for the plans!
Beautiful in All Seasons
Click here to see it through the seasons...I especially love Summer.
It is surrounded by flowers and my garden.
You may think we were crazy starting on it in the dead of winter but at the time we had a large shop space we could build it inside of.
My husband designed it in panels that could be taken apart for moving it to our backyard.
He also designed it 12′ x 12′ to minimize waste of any material.
The plans give details of building it from the ground up. Of course you start with the floor. My husband made sure it was perfectly level.
Getting Started
See all that insulation towards that back wall.
We super insulated so it would be easy to heat. We don't get very hot summers so cooling was not an issue, though the insulation helps that as well.
The high ceiling also aids in keeping it cool when we do get a hot day.
She Shed Walls
Each wall was built individually on the flat level flooring of the cottage, raised into place and secured.
Not permanently secured as we knew it was going to be moved after building but secured enough to square everything up.
This is the front wall, you can see the opening for the French doors. I knew I would want to work on furniture in my studio cottage (aka she shed) so a wide opening was essential.
Next came the back wall..(trust me, the walls aren't crooked, it is my photography)

Since it was only my hubby and I we had to use some cheats…here is used a fork lift to lift up the top back gable end into place and hold it so he could secure it. On site you would use a couple guys, I imagine.
A Studio Cottage needs Lots of Windows
See the little square up in the middle of the gable end, that is a little window that works great for letting out hot air in the summer, it is in the loft area.

Next is the side wall..complete with holes for windows.
I wanted as many windows as I could get. I am now thinking I need a skylight too but that was not built into it but I feel it would be a great addition.

She Shed Loft
After both walls are up it is time to add the loft.
A great place for storage but when my daughter was younger she had a feather mattress tossed up there and she would lay and read in the loft while I painted away below.
She loved it in my studio as much as I.

He framed it in and I nailed down the loft flooring.
Hmm, seems I missed a step, the ridge beam was installed before I nailed on the flooring. Oh well, the plans have the step by step better than my photos.

Sheeting
It starts to really come together swiftly once it is all framed up. Add some sheeting and windows and you are almost there.

Moved to site (our backyard)
Next it was moved on site. It was several months later before we could bring it home as we had snow on the ground.
But once it warmed up and we could haul it home we did!

The struggle for the guys putting it up on site was even though we had meticulously made sure it was all square when we built it, having it sit for a few months caused the lumber to dry out and shrink some.
That made it a challenge in getting it to all square up again. Lesson learned!
But they did it.
Porch
A sweet little porch was added.

And then Voila'! A wonderful little cottage (she shed) is born…

Paint
Add a bit of paint and you are ready to go…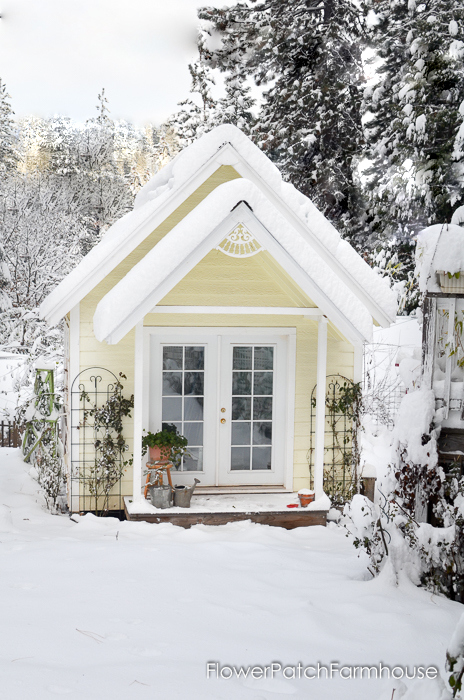 Now you have a sweet little space to spend cold winter days in comfort.

You will enjoy it just as much in Summer if not more!
I wish you Happy Building of your She Shed / Garden Cottage Studio.
For a complete set of plans for this project just CLICK HERE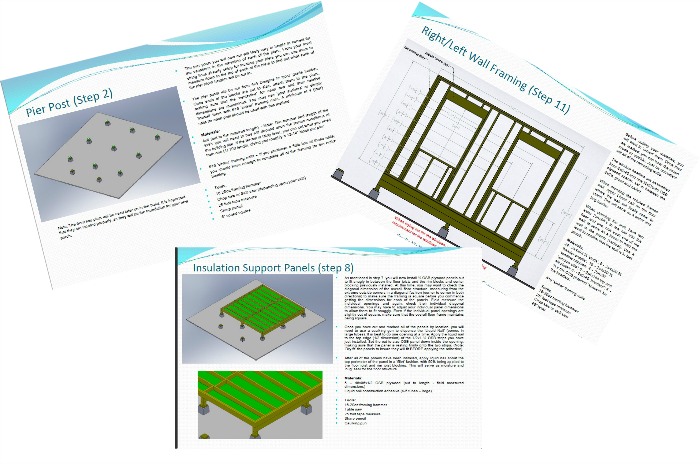 These are 31 pages of step-by-step, very detailed plans with a materials list.

I loved reminiscing about building my sweet little cottage and I hope you enjoyed it too. It was a lovely step back in time for me.
Thank you for coming along!
Please PIN and Share