Seed starting mix Vs Potting Soil
Do you need seed starting mix? Seed starting can be an easy way to get tons of plants on a budget. Especially if you want special varieties!
I see it all the time, garden enthusiasts showing how they start seeds and stating that you must use seed starting mix. Is that completely accurate?
In short, no. I have been seed starting for my garden for 20+ years and I have tried many methods.
Note: the one caveat is if you live in a very high humidity climate seed starting mixes do help to keep fungal problems at bay. You can also sterilize or pasteurize potting soil. But that is an extra step and buying the seed starting mix may be a better option for you.
I decided to create this test to put my money where my mouth is. I have never done a side by side test to really see if my previous experience was correct or just what I thought was happening.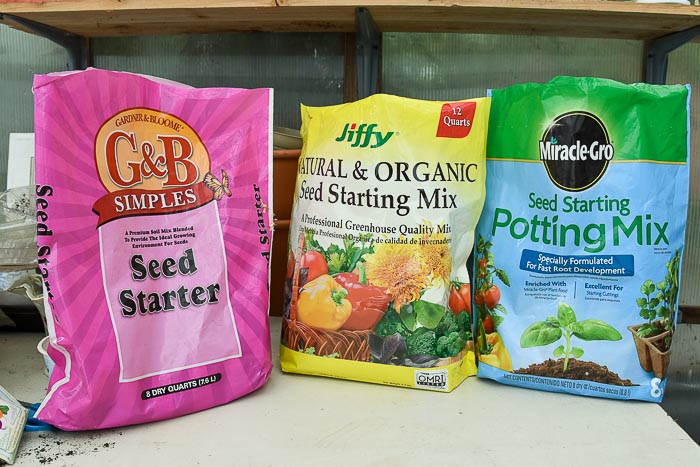 This post may contain affiliate links. If you make a purchase after clicking a link I may make a small commission at no added cost to you.
I am testing 3 different brands that were readily available in my area. I also have some regular potting soil that I mix with a little bit of perlite to make it a bit lighter.
My potting soil mix is 3 parts potting soil, 1 part perlite.
Seed starting mixes usually are higher priced than potting soil so if you live in a drier climate then using potting soil as opposed to seed starting mixes can save you money. Plus as gardeners, we usually have some kind of potting soil around so the convenience factor comes into play.
Related: DIY potting soil
I have an entire article dedicated to Seed Starting. I use budget-friendly methods that everyone can try and be successful with.
Seeds to be Germinated
Today I will be using these two types of tomatoes. Both of these are a favorite of mine and I try to grow them every year.
Costoluto Genovese is a fantastic sauce tomato. It is yummy for eating too but this is my favorite tomato for creating my Oven Roasted Marinara Sauce. I usually use San Marzano with the Costoluto.
The smaller tomato is called Camp Joy Cherry, they come out to be about the size of a ping pong ball rather than a cherry tomato and the flavor is hard to beat. Even my friends who swore by Sun Gold switched over to this one as their favorite once they tasted them.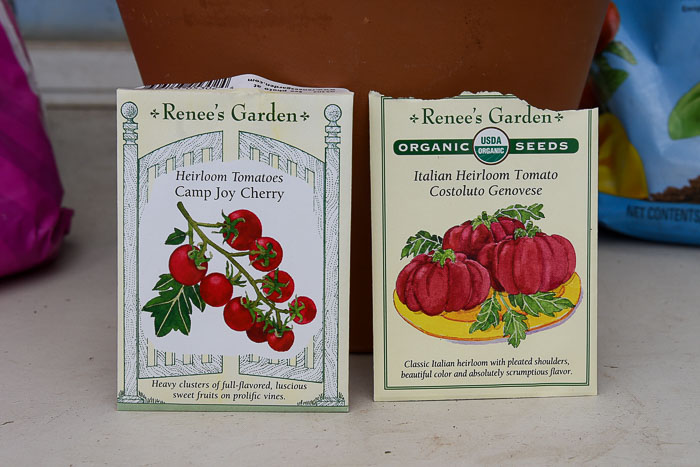 Fill containers
For this trial, I am using recycled 6 pack containers. I fill 1 of each container with one of the seed starting mixes and one container I fill with my potting soil mixture.
I don't pre-moisten any mixtures, it is easier to fill the containers when the mix is dry. I show how I safely moisten them after they are planted.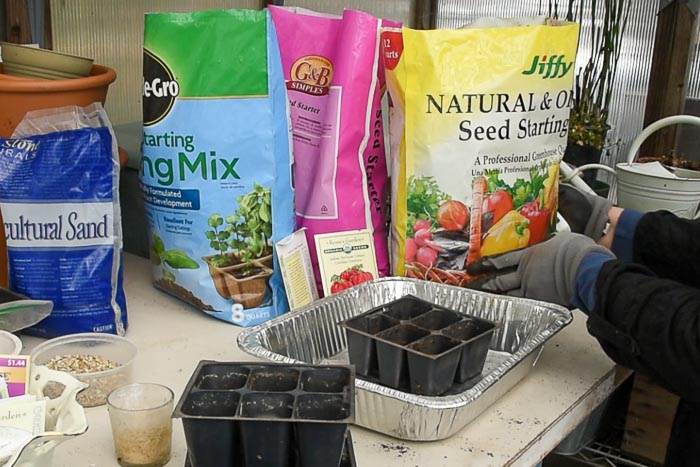 Plant the Seeds
Following the advice on the seed packets sow the seeds to the recommended depth. With tomatoes it is very shallow. Just gently pressing them into the soil and making sure they are covered is usually sufficient.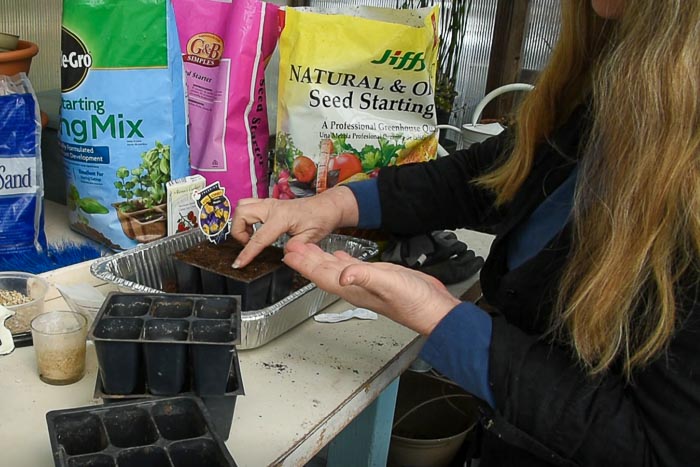 Marking the Seed Containers
To keep track of which seed mix you used it is wise to mark each one and make sure you note the name of the seed you planted.
I kept the Camp Joy seeds on one side of the six-pack and the Costoluto Genovese on the other.
I am always recycling, I use markers that have come from plants I have purchased previously.
Sanitize first with either a bleach-water solution or I keep a spray bottle of my handy DIY cleaner in the greenhouse. See that post for the recipe.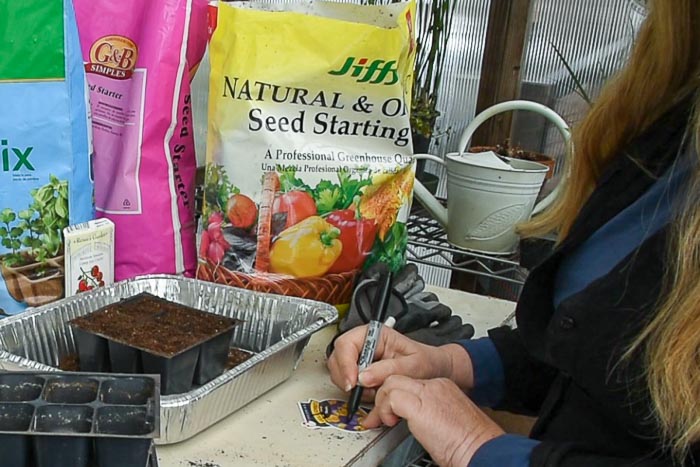 Water your seeds
Now that you have the seeds all planted it is time to get them watered. You can spritz with water in a spray bottle but I prefer to bottom water.
Tepid or warm water is best. I have an inch or two in a large tray-like container. (this one was recycled from a gathering, cleaned and sanitized)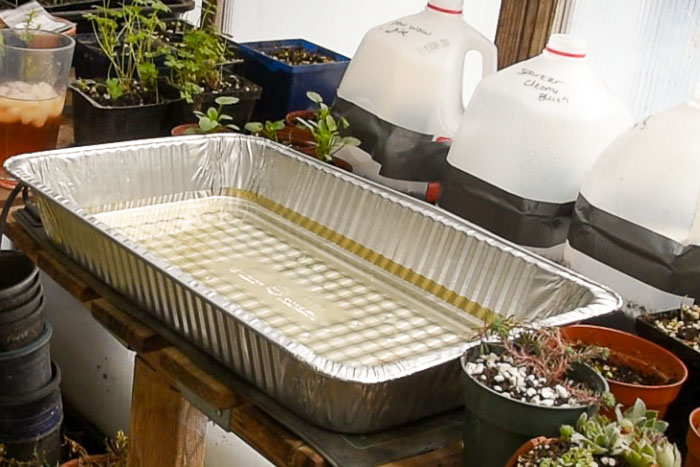 Place the 6 packs into the water and let them absorb for 24 hours. Some wick up water faster than others but allow the full time to be sure they are good and moistened.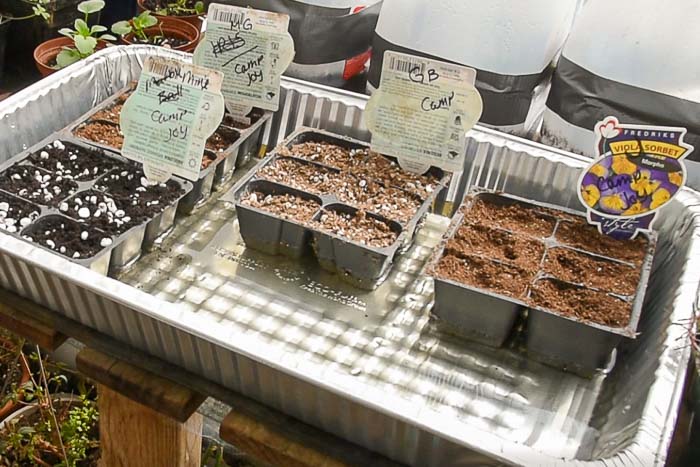 Germinating Tomato Seeds
Place the six-packs in a warm, bright place and wait for the little seeds to germinate. Right now it is still so cold I have them on my plant rack inside under lights.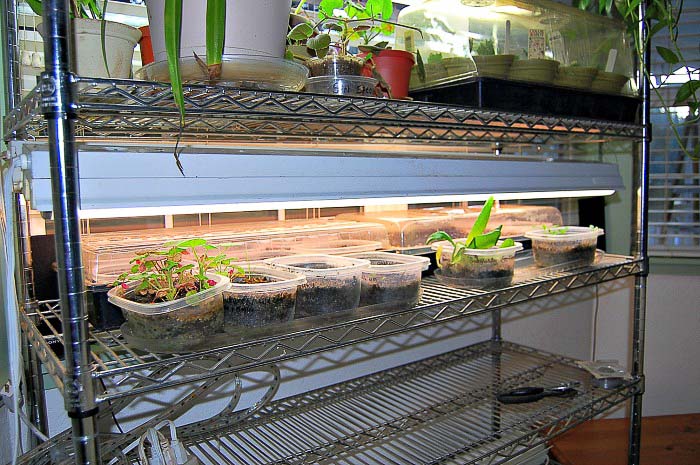 Once they germinate and get their second set of leaves I should be able to take them out to the greenhouse. We are to have warmer temps and lots of sunshine next week so they should do great. Right now our nighttime temps are getting down into the 20's.
Seed starting mix video
Results?
I will be sure to share in a couple of weeks what happens. If you want to be informed of my latest updates just sign up below.
UPDATE: see how the test came out here, it surprised even me.
Please PIN and Share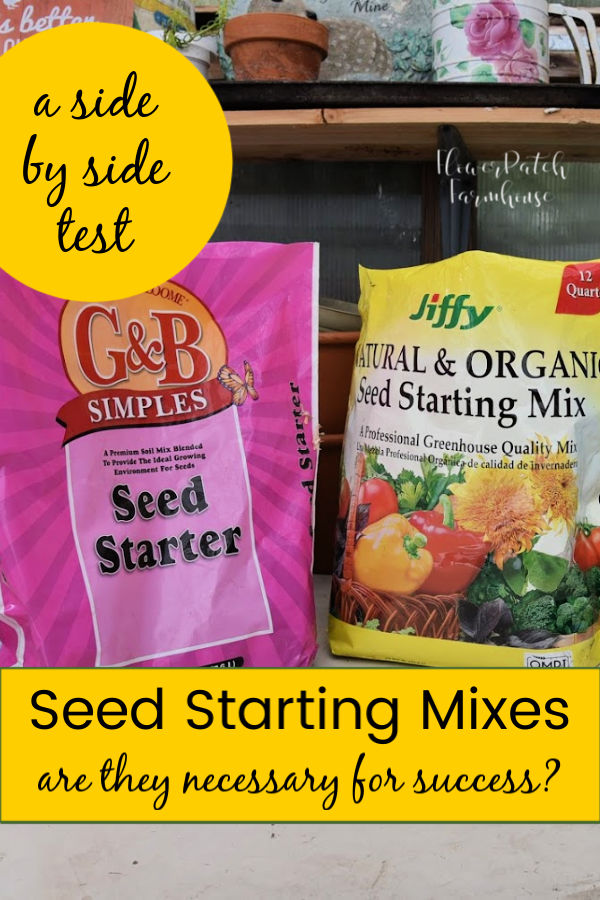 Until next time…Happy Gardening!