My best meat marinade is not only delicious but it tenderizes tough cuts of meat. I use this also on chicken and pork, making it the universal meat marinade.
You are going to love my best meat marinade. Simple using pantry staples for a quick and easy way to add a punch of flavor to your meats.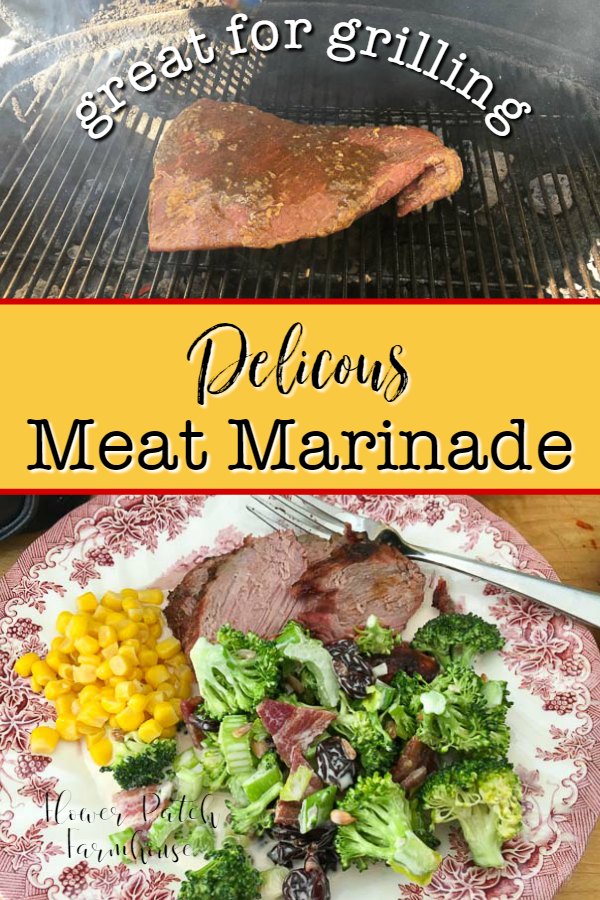 My best meat marinade will rock your meat!
I have tried many marinades in my 40+ years of cooking and we always come back to this one. Experimenting for different flavors is something I love to do and yet this is my tried and true favorite. This recipe, a variant of one my cousin sent me and it was used on elk steaks in her household to flavor and tenderize them.
Why marinade your meat?
Just as I said, to make your meat tender and even more delicious. There are inexpensive cuts of beef and other meats that benefit from marinading. Tri-tip roast, top sirloin steaks and even chicken breast that can become dry and tough in cooking. Marinading is the ticket to making these cuts tender and juicy.
What is in the marinade and why does it help?
The acidic ingredients is what helps to break down what causes meat to be on the tougher side and the oil helps seal in juices and retaining moistness. Who wants a dry piece of meat? Some dispute the oil helping to retain moistness in meats but I have found it held true in my cooking experimentation with marinades.
Of course the herbs and spices add flavor punch that takes the delicious meat up a notch no matter how you cook it.
My Best Meat Marinade, absolutely delicious
A universal meat marinade the helps tenderize tough cuts for juicy results.

Prep Time 5 minutes

Total Time 5 minutes
Ingredients
1/4 cup oil (I use avocado oil but you can use what you cook with)
1 teaspoon Celery Salt
2 Tablespoons apple cider vinegar (you can use lemon juice too)
2 Tablespoons Liquid Aminos (or soy sauce)
1 Tablespoon dried minced onions
1 teaspoon granulated garlic (or garlic powder)
1 teaspoon black pepper
Instructions
Place and mix all ingredients into a gallon size resealable zip lock bag or dish suitable for you cut of meat. Place meat in marinade and coat thoroughly.

Let sit in marinade in refrigerator for at least 8 hours (I prefer 12 to 24 hours) Turn meat over in bag or dish repeatedly throughout the marinating time to make sure it marinates evenly.
Notes
You can substitute fresh garlic and onions if you prefer. We grill our meat and pour the extra marinade on when we toss the meat on the bbq.

I sometimes place the dry ingredients directly on the meat then submerge into the liquids and other times I mix all the ingredients together and then toss in the meat. It is faster and easier to just mix the ingredients together before adding the meat.
Next up I will share how we bbq our tri tip roasts for a fabulous result!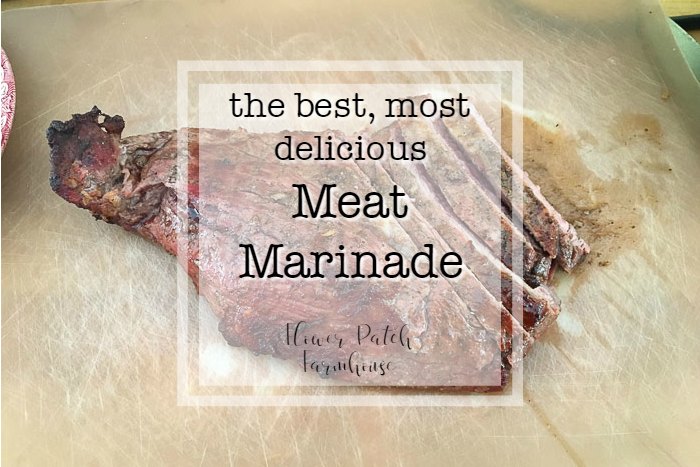 Looking for more easy recipes.
You will love these!
Lime Basil Grilled Chicken
Fabulous Broccoli Salad
Soft & Chewy Pretzel Rolls (they really taste like pretzels!)

Be sure to PIN and save this recipe for later!
Happy Grilling!