Scrumptious Cherry Scones!
Scrumptious Cherry Scones, a tasty treat for afternoon tea or anytime you want a delicious scone. I add a special ingredient to bring out the flavors!
I don't have a big, sweet tooth. Maybe that is why I love scones, Authentic scones are not very sweet and my scrumptious cherry scones are extra yummy.



I am always disappointed when I see the heavily iced creations that some bakeries try to pass off as scones in the U.S.
Real scones are basically a slightly sweetened biscuit with a bit of egg added into the dough.
The sweetness comes from the preserves or jams served with it.
And the clotted cream to top it off…mmmmm.
Heaven!
But I have yet to find a good clotted cream in the U.S. so I substitute with a rich, thick, whipped cream.


The dark chunks you see in these scone are dried cherries.
I only use the dried cherries from Costco, all others I have tried just do not taste like cherries.
These do!
Now on to the recipe.
Yield: 8 scones
Scrumptious Cherry Scones!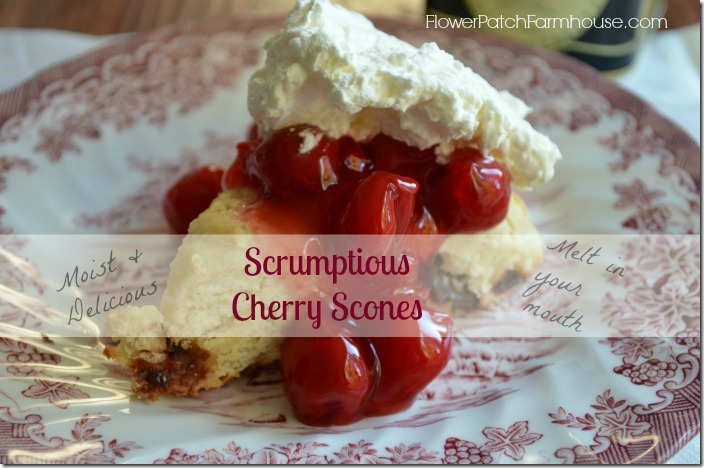 A delicious tea time or snack treat. Dried cherries give these moist delicious scones a zing of flavor.
Ingredients
2 Cups all purpose flour
2 tsp baking powder
1/4 tsp baking soda
1/2 tsp salt
2 TB of sugar
1/4 cup butter
1 slightly beaten egg
1/2 tsp Almond Extract
1/2 cup Buttermilk
1/3 cup dried cherries
Instructions
Let cherries soak in buttermilk while combining other ingredients.
preheat oven to 400 degrees
Sift together flour, baking powder, baking soda.
Add salt and sugar.
Cut in butter until fine and crumbly.
In separate bowl combine buttermilk, cherries, almond extract and egg.
Mix into dry ingredients.
Plop dough out on slightly floured surface.
Knead dough a few times gently, not much, just a few times.
I put the entire ball of dough on baking pan covered with parchment paper and pat out to a 1/2 inch thick circle and cut into 8 wedges.
Don't separate wedges just bake as is.
You can cut the scones out with a biscuit cutter or into other shapes if you prefer.
Optional: Brush top with buttermilk and sprinkle a bit of sugar on top for a bit of glitz.
Bake at 400 degrees for 12 minutes
I serve mine with cherry pie filling instead of cherry preserves as I have yet to find any preserves that actually taste like cherries.
And of course they are not complete without a big dollop of heavy whipping cream.
And that is my cherry scone recipe.
Grab your fork and Enjoy!

You will enjoy these too!
Almond White Chocolate Scones
Lighter Strawberry Scones
Horseradish Mashed Potatoes