Cleaning Up is Hard to Do!
Cleaning Up is Hard to Do
January is an all around clean up and organize month for so many. I am not usually one of them but my studio cottage had gotten to a point it really needed a good going over and I have had requests for interior photos.

After viewing the gorgeous outdoor photos of my fabulous Studio cottage / She Shed everyone probably thinks it is a wonderfully decorated space (and it really deserves to be) instead of the fully packed work space it actually is.
I usually keep it relatively organized but life has been so crazy that I am rushing out to the studio when I get a chance and painting then rushing to do whatever else is on my plate.
It has just gotten out of control.
I like an organized and clean work space but I have not stopped long enough to do the job right.
Well that ended when I got a request by a production company for photos for their new program they are creating about She Sheds. They already have exterior shots but then they wanted interior.
YIKES! I could not send them these. I am sure you will agree once you see it.
As I walk you around I will talk about some ideas I have to change it up.
This back corner I want to use for staging so I eventually need to either shorten my workbench table or remove it completely. It is 6 feet or more long and just takes up more space than I wish now. It has been a great workhorse for me but I shall find somewhere for it around here. I may wish to use it again in studio so I don't want to just get rid of it.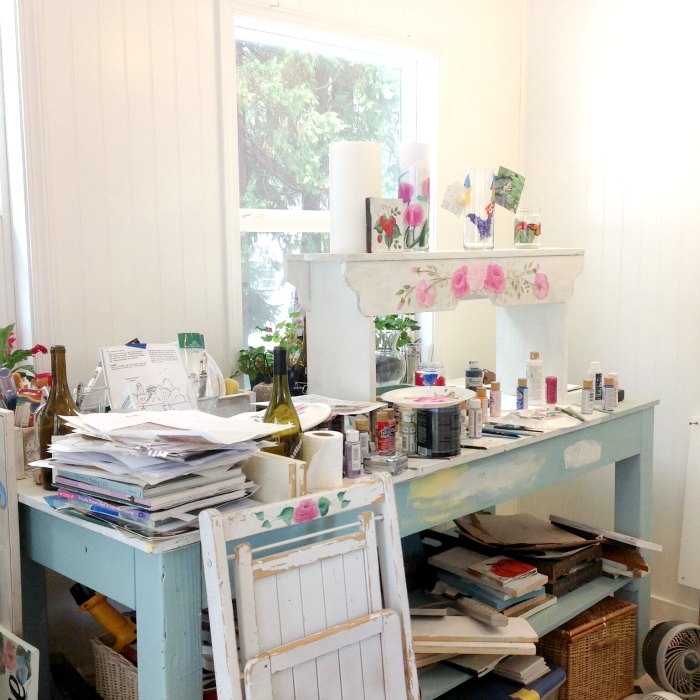 All these photos are not particularly good as it was a dark, rainy day and I took them with my iPad so please bear with me.
My DSLR was buried somewhere in this mess.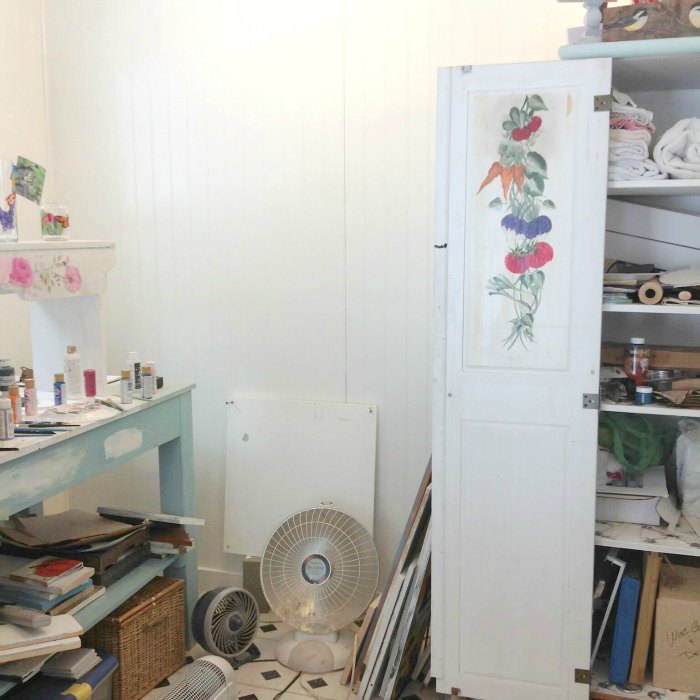 The armoire also is bulky but it holds so much stuff for me that I hesitate to remove it. Though if I had a spot in the garage I would place it in there and make myself walk to get any supplies I needed from it.
Inconvenient? Yes, but worth it to have more open floor space in the studio.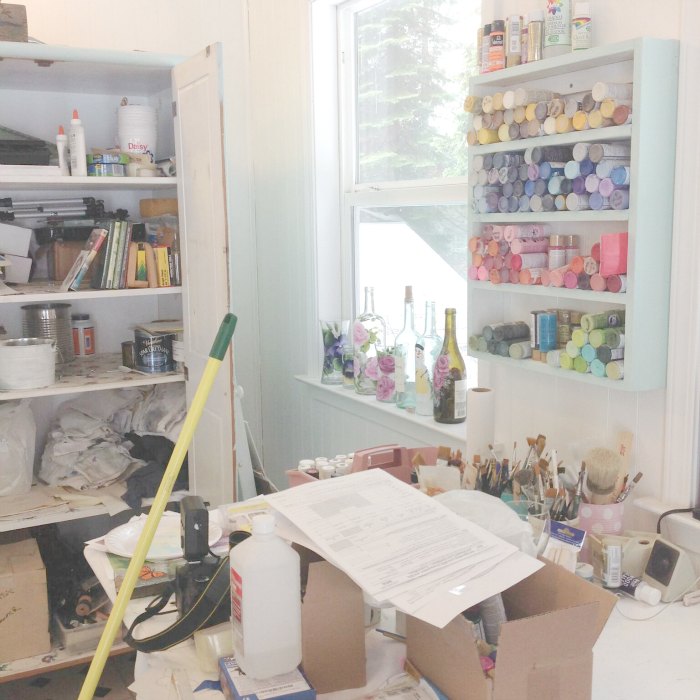 Here is the other side…

I ran out this morning and took these photos for you and I used my better camera.
I had gotten a box full of enamel paints to try out and it had been sitting in its box. I would dig thru the box when looking for a particular color. I decided to corral them in my little Rustic Box/Crate. It works great and is much more pleasing to the eye than that cardboard box.

I am placing my painted vases up on the shelf above the French Doors for now. I need to make some little curtains to hang around the sink base in the corner, it will hide the mess stacked underneath. I place my little hand vac and other tools under there.
All the plants in the windows I keep in the greenhouse in warmer weather, they just need a heated space when the temps drop to freezing in the winter.

Though getting this all cleaned up is a lot of hard work it will be worth it in the long run. I will be working up on the mountain all week and next week so painting will take a back seat. But if I get a chance to paint at least the space will be easier to work in. And hopefully I will be able to find what I need more easily.
I did paint a bit on my work table. I couldn't resist, it just looked like it needed a rose…

I hope your weekend has been productive and enjoyable.