Paint a Swallowtail Butterfly Stepping Stone, a simple project to add some color to your cottage garden path.
It is so easy to paint a swallowtail butterfly stepping stone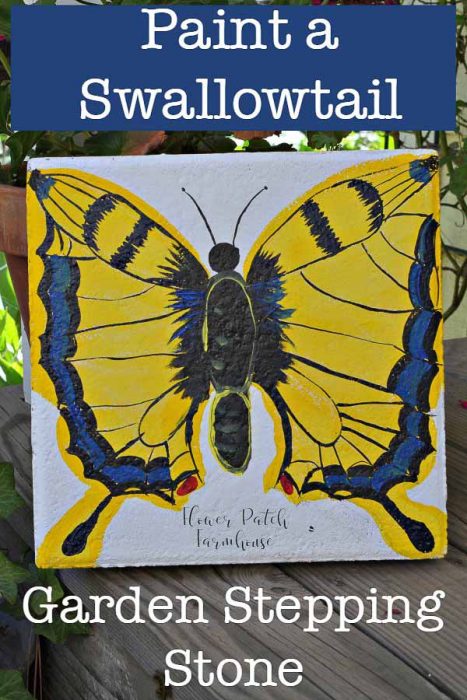 I had an enthusiastic response to my Monarch stepping stone and promised to paint another. To Paint a Swallowtail Butterfly stepping stone is just as easy.
This is my first time around with the Swallowtail and I am pleased with how he turned out. He is a little wonky but now I know what I will do differently the next time.
I prep by paver with a good blast with a hose then let it dry thoroughly. I roll on a coat of exterior house paint or Plaid folk Art Multi Surface paint. Annie Sloan chalk paint will work well to as it breaths, it won't chip or peel. I have not found any other chalk finish paint that works the same way only Annie Sloan has not peeled.
For your convenience I have included a supply list.
(affliate links are included, please see disclosure page for more info)
For the paint colors just use what you have that is similar, this does not need to be exact.
Supply List to Paint a Swallowtail Butterfly Stepping Stone
Plaid Folk Art craft acrylics (regular or multi-surface will work):
Sketch on your pattern, I just looked at a photo and did my best. (I can't draw to save my life but I managed to achieve the likeness). Next time so I can be more precise I will draw it out on a piece of paper then transfer the design to my paver. I made the pencil lines darker than I usually would so they would show up well in the photo.
Coat the wings with the Medium Yellow and a 3/4 inch flat brush, I put it on fairly heavily..
While it is still wet I blend in some of the sunny yellow from the center out, leaving the outer edges the darker yellow. I put in some white for highlights too following the wing shape as I stroke in the lighter color.
I use Licorice (black) and a #12 flat brush to paint the body and head.
Once it is dry I use white chalk to draw on where my detail lines will go. Chalk makes it easy to wipe off and begin again if you do not like where your lines are.
Start adding your detail lines with the chisel edge of your brush or a liner brush. I debated outlining the very outer edge or not. I did not on this butterfly but I may add it so the edges are not lost.
With the chisel edge of the #12 flat brush lightly stroke on the wider detail areas.
Around the body as well. Then I added some lighter color details to the body itself.
Add in the blue around the wing and a bit by the body for a pop of color.
And the little red dots.
Once it is all dry then coat it a few times with the Spar Urethane.
Now you have an addition to your painted Paver Collection.
This will look beautiful in any garden.
Other posts you may enjoy:
How to Build a Garden Bench
Paint a Monarch Stepping Stone
Paint a Flower Stepping Stone
6 Ways to DIY Concrete Stepping Stones
Enjoyed this? Please PIN and share!