Paint a Monarch Butterfly Stepping Stone
Paint a Monarch butterfly on a plain concrete paver to create this beautiful garden art. Paint an entire path of butterflies to enjoy year round.
How to Paint a Monarch Butterfly Stepping Stone one stroke at a time. Easy enough for beginners and kids. More butterfly tutorials to come so be sure to sign up for our email updates.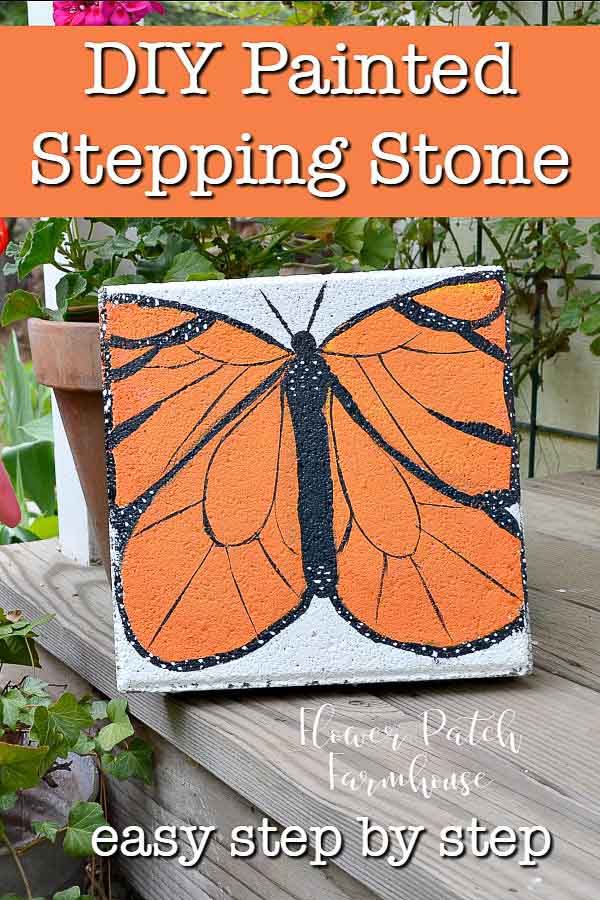 Do painted stepping stones last?
Before I painted and shared these painted paver tutorials I wanted to let them get a good dose of hot summer sun followed by a cold rainy/snowy winter to see how they would hold up over a period of time without having to cart them inside or move them at all. I was more than pleased with how the painted pavers have held up.
A complete supply list is available at the end of this post.
Base Coat concrete paver
As with my Flower Stepping Stone, I started with Zinser Bullseye sealer paint. The cement paver is very pitted and the paint just sinks in. The extra prep is worth it. Start a day ahead, lay out several pavers and just coat them with the white paint. A roller is easier than a brush but you can use a brush.
Update: I have found that doing one thin coat works better. The thicker coat I put on the Swallowtail butterfly stone peeled whereas the Monarch has lasted very well even out in the weather. Also I now use Plaid Folk Art Multi Surface in stead of Zinser.
Let your white base coat dry thoroughly.

Sketch in stepping stone design
Draw on your butterfly. I just free handed this one, and though I can now see what needs changing this is not bad for my first go.
Outline with your black paint using the chisel edge of your brush and paint in the body. Let it dry. As you can see I failed to let it dry and I dragged black into my orange when I tried to fill in the wings.
Save yourself some trouble and let the black dry. To speed up the drying time use a blow dryer on it on high heat.

Basecoat paver painted design
Paint in a coat of orange, let dry. Add a second coat of orange to keep a deep color.
While the second coat of orange is still wet mix a bit of yellow into the orange to lighten it up and let it fade into it as you approach the wing edges, you want it to gradually blend in. The first yellow I used was too mellow so I grabbed a brighter one and liked the effect much better.

Tidy up outlines
Go over the black lines again with the chisel edge of your brush, neatening up where you may have gotten orange onto the black. Keep adding your details lines.

Paint stepping stone details
Add some white dots with a pencil tip or a liner brush dipped in white paint. Make them randomly casual and not lined up. Add some to the body as well.

Seal your painted paver
Once this is all dry then you can coat it with the Spar Urethane using a large brush. Give it at least 3 coats, letting it dry between coats. Let it cure for a few weeks before exposing it to wet weather.
Update: Plaid FolkArt multi-surface or outdoor paints are self sealing.
There you have your beautiful Monarch Butterfly stepping stone. Don't try to go for perfection, the fun and uniqueness of each one is what makes for our own style.
Flora the Flamingo gives her smile of approval.
Here is a supply list for this project:
Cement pavers (available at Home Depot, Lowes or your local garden supply)
Folk Art Pure Orange
Folk art Pure Black
Folk Art Wicker White
Folk Art Daffodil Yellow
Rustoleum Spar Urethane exterior
Brushes:
Note: I would use old brushes as the rough cement surface really chews up the brushes
Royal Majestic Wash set (I used primarily the 3/4 in for this project)
Brush Caddy (imperative for getting your brushes really clean)
Loews White Nylon brush set (my favorite brushes for applying the Urethane and for base coating)
For more painting tutorials please see my painting Website: Pamela Groppe Art