Want a pretty boxwood hedge but don't want to spend big bucks? I hear you. The answer is to take boxwood cuttings and root them. I share how I propagate boxwoods and how easy it really is!
Propagating boxwood with cuttings is super easy but it does take a bit of time. It may take a good three years or more before you get boxwood plants to grow large enough to form a hedge in your garden but the cost savings is substantial.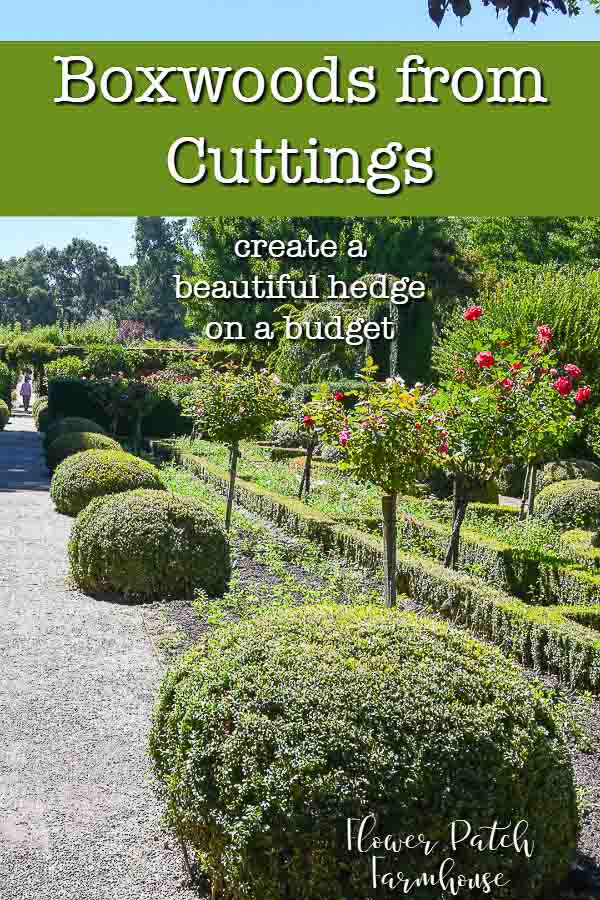 It is May and I am working towards a more tidy garden. If you have been reading here long you know I tend to embrace the less than neat and formal style of gardening. The loose, wild cottage garden is more my thing.
Yet I find I am craving a bit more order. I feel I can achieve that with some green structure that will carry through winter, providing interest when nothing is in bloom. I am not going for rigid straight lines, so no worries on that score.
I love boxwood (Buxus) and how versatile it can be. Many varieties keep their green color through the winter and can be shaped into topiary.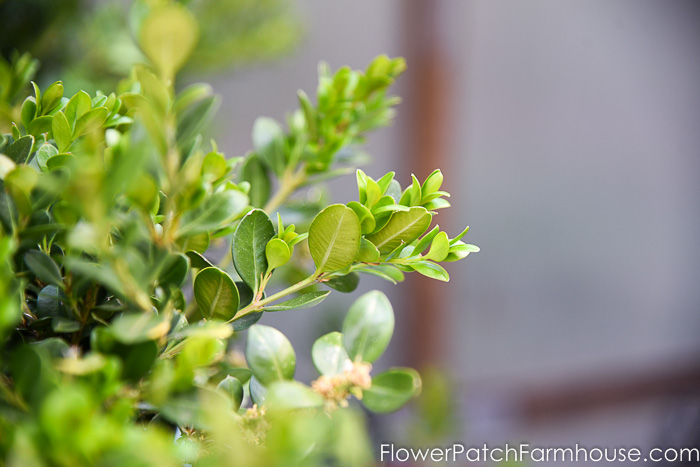 Not only does a boxwood hedge bring a touch of order to the garden without being too fussy but it has the added benefit of also being deer resistant.
Planting enough boxwood can get expensive very quickly if you want enough to create a nice hedge. So what is a budget minded gardener to do?
Take cuttings from an existing boxwood and propagate a ton of them.
Note: use only boxwoods that are no longer patented. Also, use boxwood cultivars that don't have the nasty cat pee scent. (those are usually english boxwoods that stink)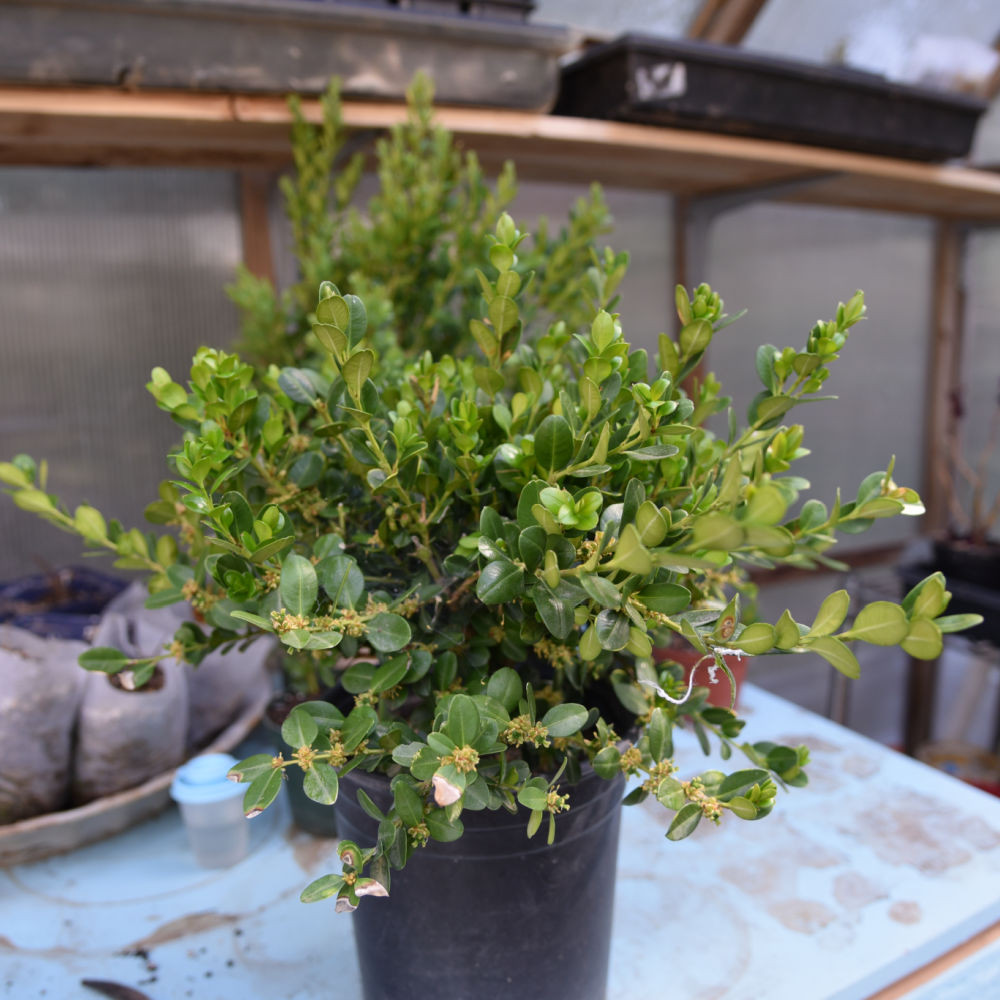 When to Take Boxwood Cuttings
A good time to start boxwood cuttings is when you trim your boxwood shrubs in Spring. You will have dozens (if not more) cuttings to use from your trimmings. (many also prune again in late Summer, typically mid Sept)
Start with a nice healthy boxwood, this one happens to be in a container.
As you can see this Winter Gem Boxwood has fresh green growth. It is a bit more chartreuse in color than the previous growth.
The fresh growth is perfect for cutting material.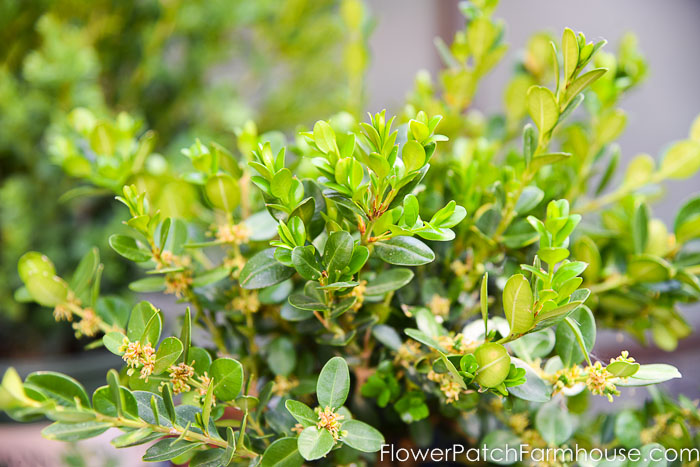 How to take Box Cuttings to propagate
If you are just getting started you can do like I am here, take a nice potted one to clip cuttings from.
Use sharp pruners or a knife and cut off a 4 to 6 inch new growth stem from the boxwood plant. I use my pruners but some claim this pinches the stem preventing rooting. You can take a sharp knife after taking the cutting from the plant and re-slice if you wish.
Prepare boxwood cutting to root
I create a fresh spot for roots by pinching/stripping the leaves off. This opens the stem a bit so I figure that is why I don't have trouble with using pruners in place of a sharp knife to take cutting.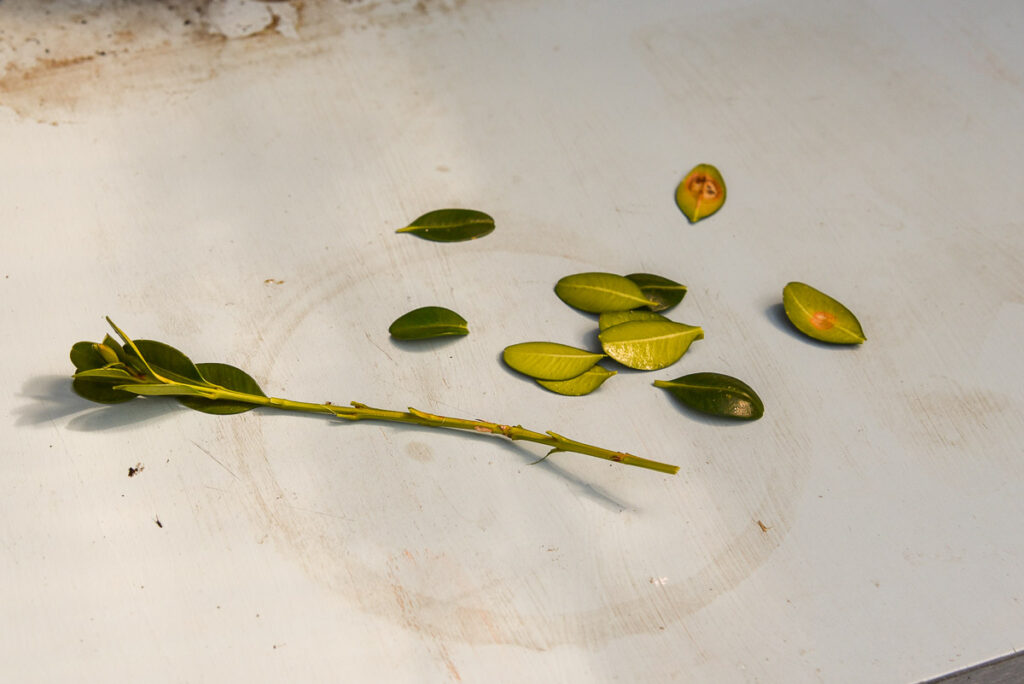 Pinching the leaves off prevents too much damage to the stem as pulling them can strip a bit too much from the surface of the cutting. I am not always that careful and have not had issues yet but thought you may like to know that.
Now that the leaves are removed dip the cuttings into rooting hormone (this is optional)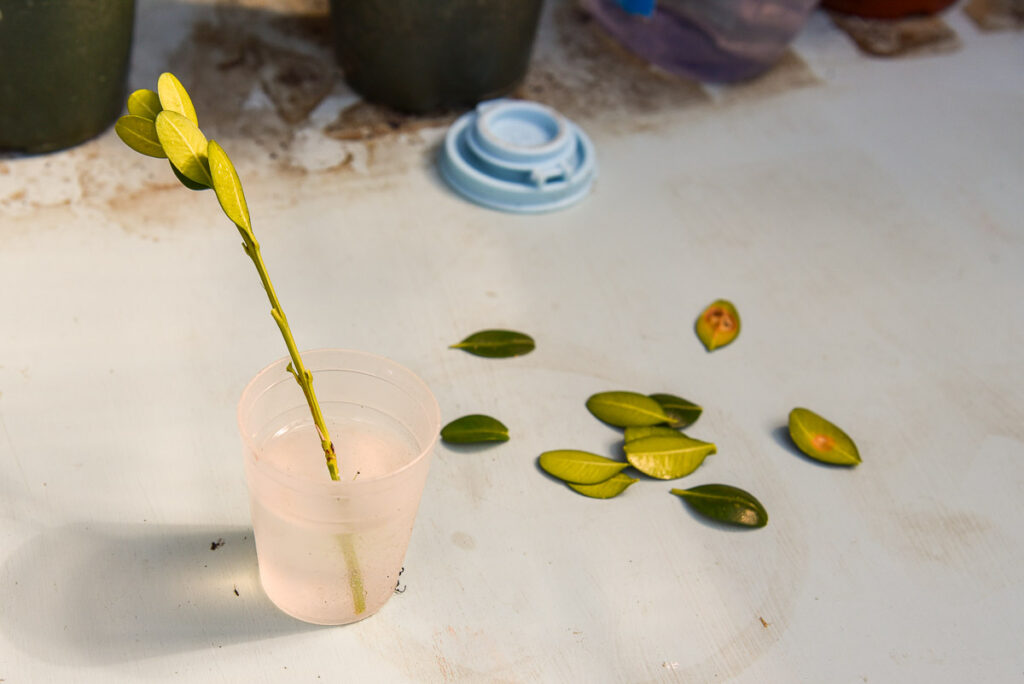 Place boxwood slips into potting medium
Using a dauber of some sort (I used a sharpie back end) to create a slot to place your cutting into your pot of soil (I used my diy potting soil) By creating a hole in the soil you prevent the rooting hormone from getting removed as you slide in the stem.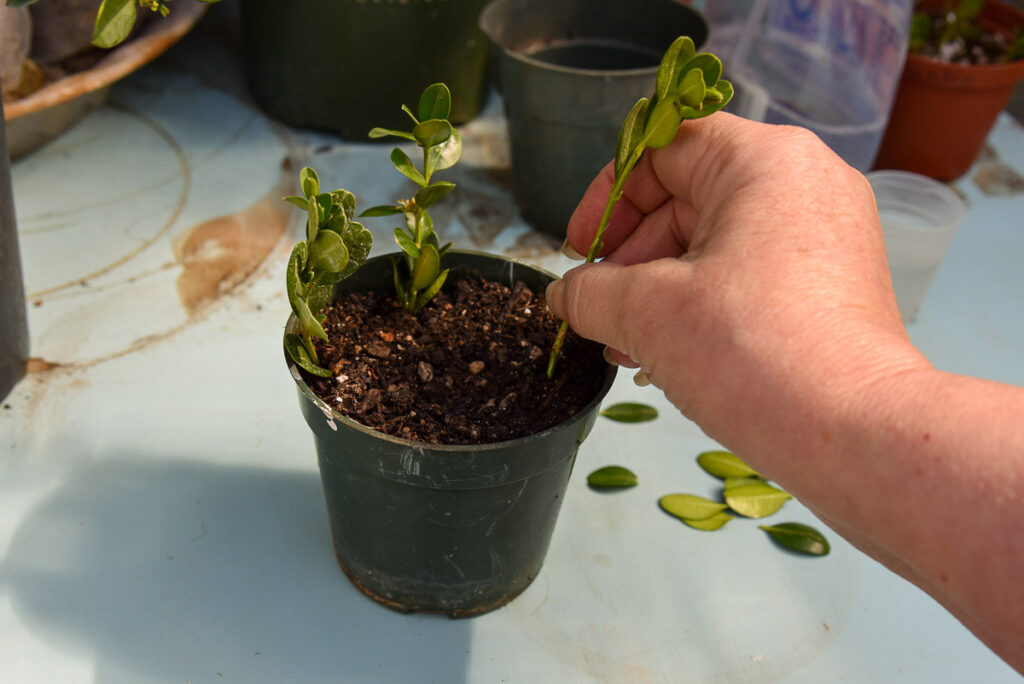 I place several cuttings into the pot. This is a 3.5 inch pot and I fit in about 4 or 5 to a pot. Firm the soil in around the stems.
Water the cuttings well. You can cover the pots to maintain moisture as I do in this post.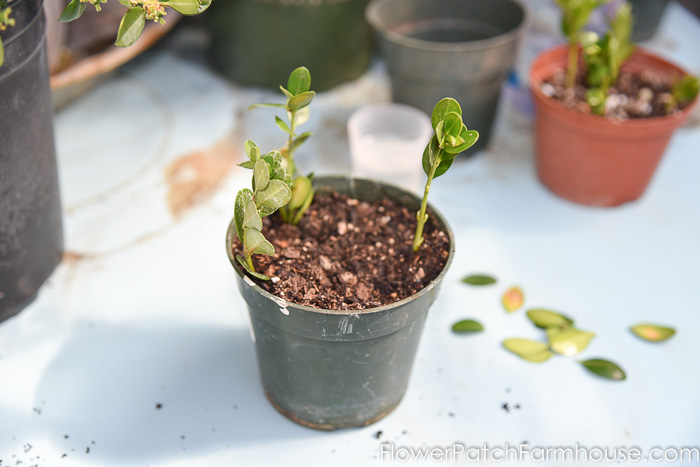 Boxwood Propagation success
I have read that rooting of the boxwood cuttings should only take about 3 or 4 weeks but for some reason mine take longer.
But many do root. Look at those healthy roots!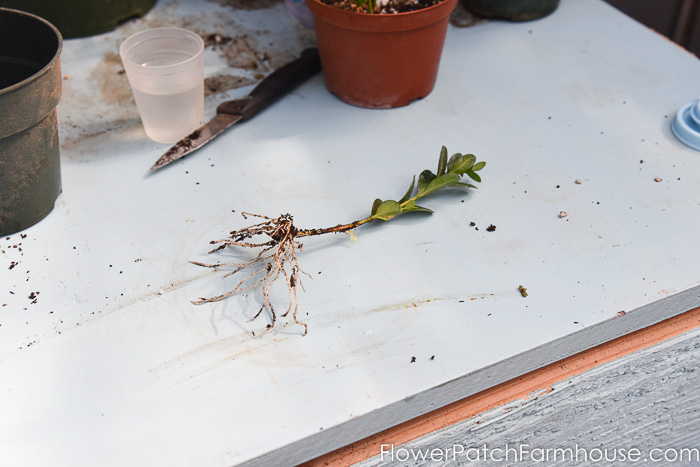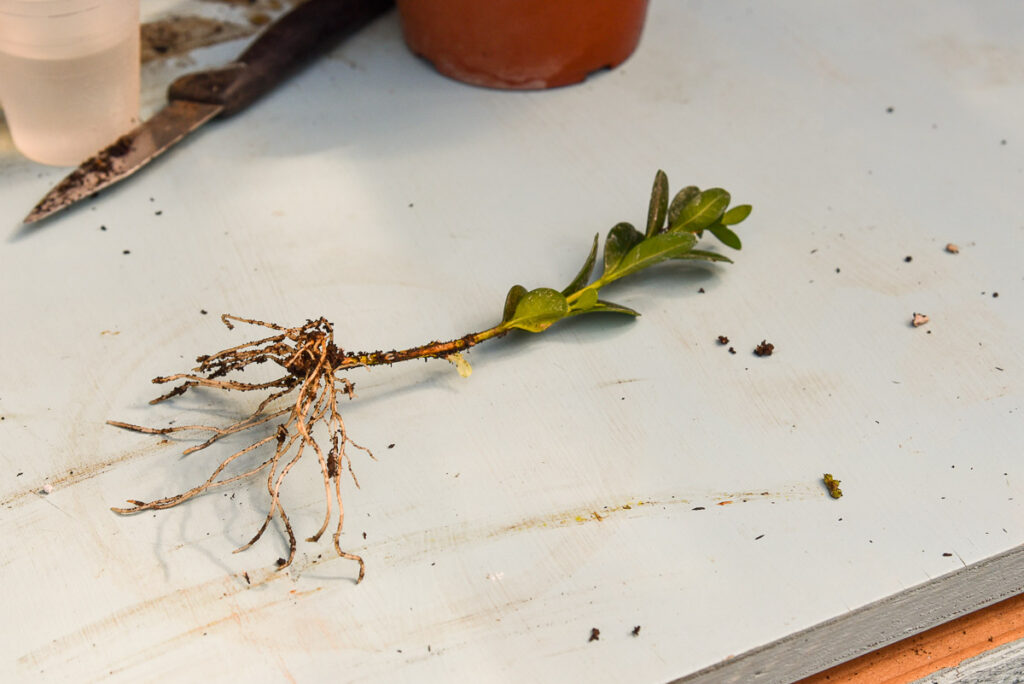 In my video I share how I pot up this rooted boxwood cutting to grow on into a beautiful bush or shrub.
I am working also on starting a ton of boxwood cuttings directly in my garden. I will be sure and share how that works out.
Have you ever started boxwood cuttings? What would you do differently?
More you will enjoy
Roses from Cuttings
Propagate Lilacs
Start an Easy Garden
Happy Gardening!