A healthier Strawberry Cream Scone, quick and easy for a yummy treat. Serve with coffee for breakfast, an afternoon snack or enjoy as a dessert.
What can make delicious Strawberry Cream scones healthier?
Trading out some of the fat without losing flavor…read on for the secret ingredient that makes these so deeee-lish without all the fat!
PIN for later!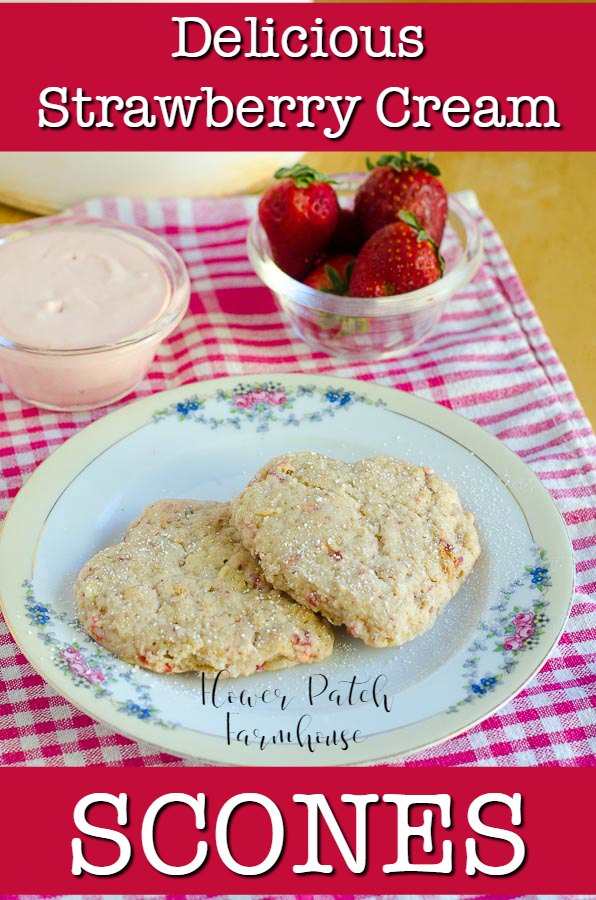 I love scones. They are a lightly sweet treat without having a ton of sugar in them. And when you trade out some of the fat for a healthier option then it is a win win.

I love scones. They are a lightly sweet treat without having a ton of sugar in them. And when you trade out some of the fat for a healthier option then it is a win win.
I have been wanting to make these since I came across the recipe in Tea Time magazine but since I live so far from a source for the freeze dried strawberries it took me awhile to get to them. If you were to use fresh strawberries the scones would turn mushy but the freeze dried give you all the flavorful strawberry goodness without the extra moisture.
Reduced calorie Strawberry Cream scones?
So what did I use to eliminate some of the fat? Easy…exchange most of the cream for plain greek yogurt.
You maintain all the flavor and moisture while losing the fat.
Yield: 18 to 20
Healthier Strawberry Cream Scones with Toasted Almonds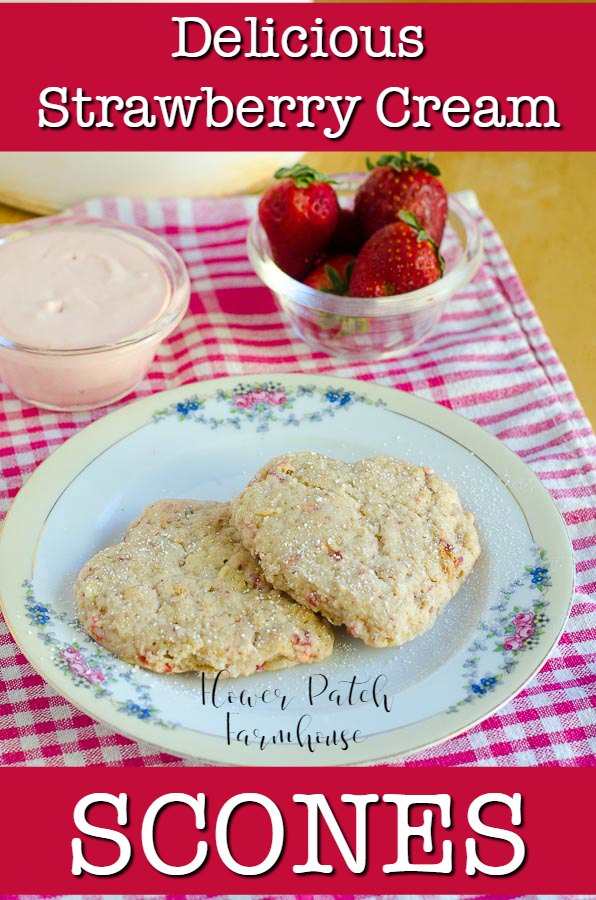 A healthier version of a tea time treat.
Ingredients
2 cups all purpose flour
1/3 cup sugar
2 Tablespoons brown sugar
1/4 teaspoon cream of tartar
1 1/2 teaspoons baking powder
1/2 teaspoon baking soda
1/2 teaspoon salt
4 Tablespoons butter
1 package freeze dried strawberries (I got mine at Trader Joes) 1.2 oz package
1/3 cup toasted almonds
1 5.3 oz container of Plain fat free yogurt (I chose Chobani)
1/3 cup cold heavy whipping cream
1/2 teaspoon vanilla extract
1/4 teaspoon almond extract
Brown Sugar Cream
1/2 cup cold heavy whipping cream
1 Tablespoon confectioners sugar
1/4 teaspoon vanilla extract
1/4 cup creme fraiche (or sour cream)
3 Tablespoons brown sugar (preferably light but I used dark and it worked fine)
Instructions
Preheat oven to 350. Line baking sheets with parchment paper. In large bowl (I used my Kitchenaid Mixer), combine your dry ingredients except strawberries and almonds. Cut in the butter until mixture resembles course crumbles. Add strawberries and almonds, stirring to comine. (the strawberries in my package needed a bit of crushing as they were so large but my mixer did it for me, if you are mixing by hand I would break them up a bit). Set aside.
In a smaller bowl or large mixing cup, combine yogurt, 1/3 cup cream, vanilla extract and almond extract. Add liquid mixture to flour mix, stir well until mixture forms dough.
Turn dough out on a lightly floured surface (I put parchment paper down on the counter and added the flour on to it), knead gently a few times. Roll dough with a rolling pin until it is 1/2 inch thick. Cut into shapes with a cutter (I use hearts) separate dough into to balls and flatten to cut them into wedges. Place scones 2 inches apart on pans. Bake until edges of scones are golden and a wood toothpick inserted in center of scone comes out clean. Approx. 20 minutes.
Serve with Brown Sugar Cream
To make the brown sugar cream I use my insertion blender and the cup it comes with but you can do this in a mixing bowl.
Combine ingredients for the brown sugar cream in a bowl and mix with a hand mixer until it forms soft peaks. I added a bit of red food coloring to make it pink for the fun of it but there is no need to do so.
You can also whip the cream, confectioners sugar and vanilla extract first then fold in the Creme Fraiche and brown sugar until incorporated. Refrigerate for about 2 hours in covered container.
Notes
Adapted from recipe in Tea Time magazine May/June 2014 issue
How to toast almonds
I wanted to show you how I toast the almonds. I just spread them in a dry fry pan and let them toast. Some of these were too dark so keep watch and get them just barely golden. If they get too toasted they have a sharp flavor that detracts rather than enhances.
For mine I used a heart shaped cutter. Rolling the dough out on the floury parchment helped with them not sticking.
When the instructions say have them two inches apart on the baking sheet, they mean it…I had mine too close and they tried to meld together during baking.
I was in a hurry and did not want to use 2 baking sheets. The baking sheet I used is 16″ x 20″ and I really should've used 2.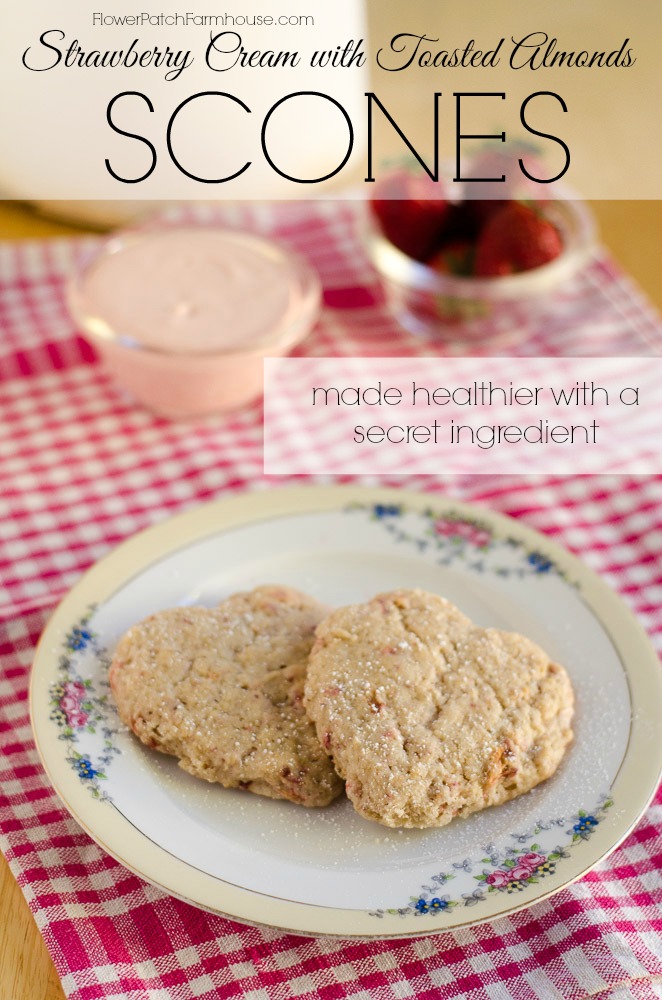 These scones were a huge hit with my hubby and we both loved the Brown Sugar Cream with them. I also sliced strawberries to top them but failed to get a photo of that so use your imagination!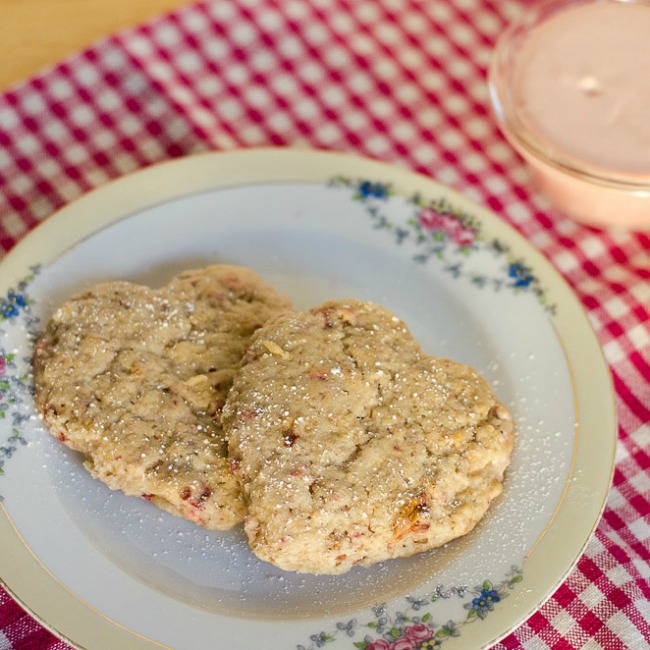 Enjoy!
Want to really add some deliciousness to your scone? Try this Strawberry Cream cheese frosting to top it!
More recipes you will enjoy!
Buttermilk Strawberry Shortcakes
Easy summer salad
Juicy Delicious Burgers