Smoky Beef Burgers with Barley is a great way to cut down on the fat but keep your burger juicy and delicious. A secret ingredient makes it taste great.
I know that sounds a bit different. I mentioned before that I was trying new ways to stretch the meat dollars around here. My husband is NOT going to put up with vegetarian meals. He is a self professed carnivore and proud of it.
That being said I did make sure he was on board with the testing out of recipes that cut back on the meat and filled in with some other option.
But it HAS to taste good. I am not into self deprivation, mealtime is always an event for us. We love to cook together making awesome culinary delights then relaxing while eating our delicious meal with a beer or glass of wine (living in wine country has its perks as does having friends that work at local wine tasting rooms that bring you the leftovers from the weekend)
Burgers are a favorite for both of us. So we thought to experiment on doubling how far a pound of hamburger meat goes in making our special burgers but still have the same awesome flavor.
We were both surprised at how juicy and tasty these turned out and is how we will make them from now on.
Yield: 6
Smoky Beef Barley Burgers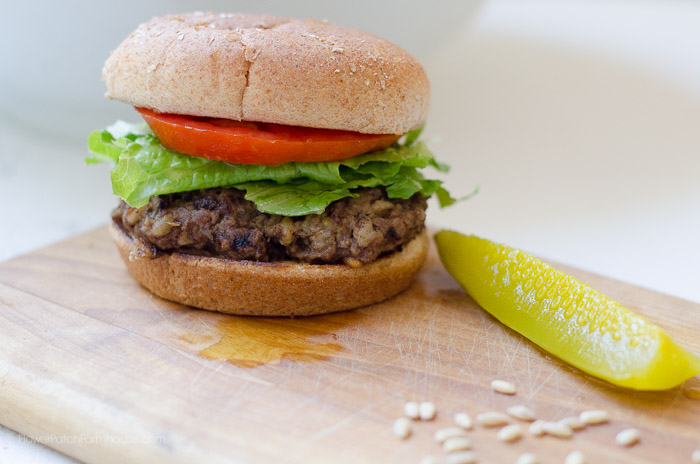 A delicious way to stretch your grocery budget. Take an old favorite and make it even better by adding in this ingredient.

Prep Time 15 minutes

Cook Time 10 minutes

Total Time 25 minutes
Ingredients
1 pound ground chuck or lean ground beef
1 cup cooked barley (I cook mine in beef stock to give it extra flavor)
1 medium egg slightly beaten
4 teaspoons Worcestershire sauce
4 teaspoons Liquid Smoke
1 teaspoon Dried onion flakes
1/4 teaspoon pepper
Salt to taste
Instructions
Put all ingredients (except salt) into a bowl and mix thoroughly. You may have to get your hands in there to really work it together. Pat out into 6 large patties, salt them and fry in pan with 2 Tablespoons of olive or veggie oil.
Cook until done, I like mine not pink at all and even then these were not dry.
I had my barley pre-cooked so I will not add it to the cooking time.
Notes
If you prefer you can add salt to the mixture before forming but there are some that think it changes how the meat cooks making it less desirable. Do what you want or test it both ways and see. Bon Apetite.


The only thing that would've made these any better would've if we had bacon and cheese to layer on them. Unfortunately we were out of both when we whipped these up.
Another perk, they were just as juicy and delicious reheated the next day.
We like to butter and toast in a pan our whole wheat buns before layering on all the tasty condiments and burger patties.
If you are looking to stretch your burger meat you can't beat this. I typically make 3 patties from a pound of meat (my hubby likes his burger big) so getting six patties out of a pound without losing flavor was great. And the secret to making it extra delicious is the liquid smoke. It adds the outdoor cooked flavor without having to heat up the grill.

You should definitely give this a try and if you do, please tell me how you liked it.
Do you have a great burger recipe?
I would love to hear about it, we are always up for something new.