Garlic Mushroom Beef Tips
Garlic Mushroom Beef Tips
A satisfying easy dinner recipe for those busy weeknights. Even better as leftovers!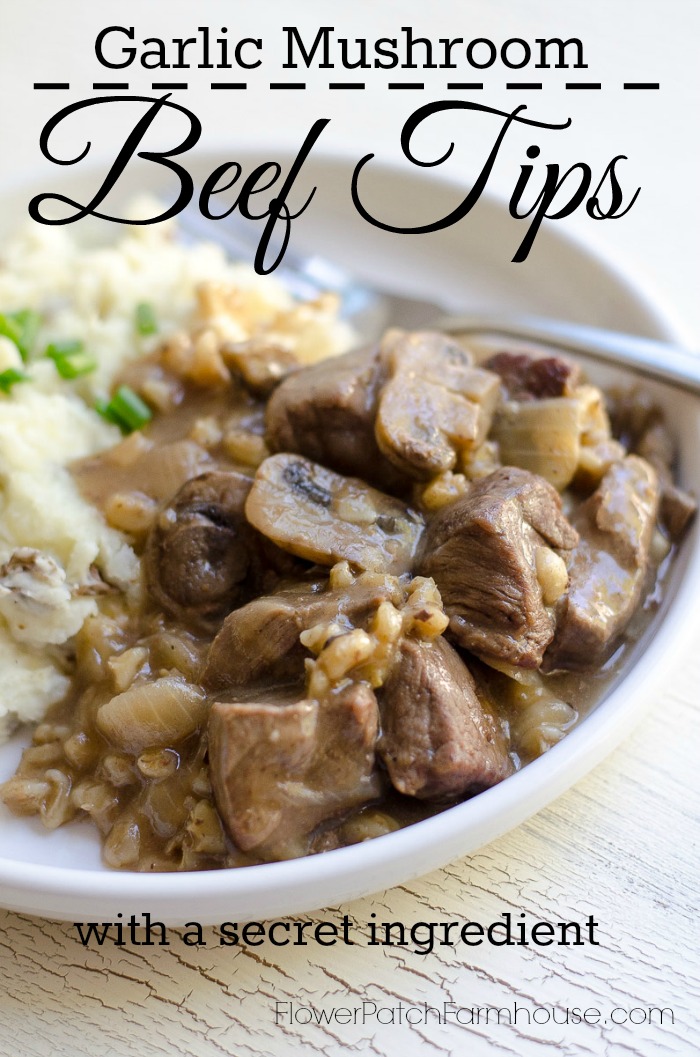 Pile this over roasted garlic mashed potatoes for a garlic loving party. Mm mm, hot and deeeeelicious.
You probably figured out what the secret ingredient is if you were around for my Smoky Beef Barley Burger recipe. You can spot it in the photo above…it is barley.
My wonderful new addition to many beef recipes to stretch my grocery budget. What is so great is it makes the dishes even better. For example, the burgers stay juicy even when reheated. You know how leftover burger patties can get dry after a day or so in the fridge, but not so with the Beef Barley burgers. So give it a try, you might be pleasantly surprised.
What makes this recipe so easy is buying beef stew meat. It is already cut in chunks for you. Dicing the onion is fast and easy for most folks or you can use dehydrated onion flakes if you are in a pinch (just let it simmer a bit longer to be sure they are re hydrated for you).




Yield: 6
Garlic Mushroom Beef Tips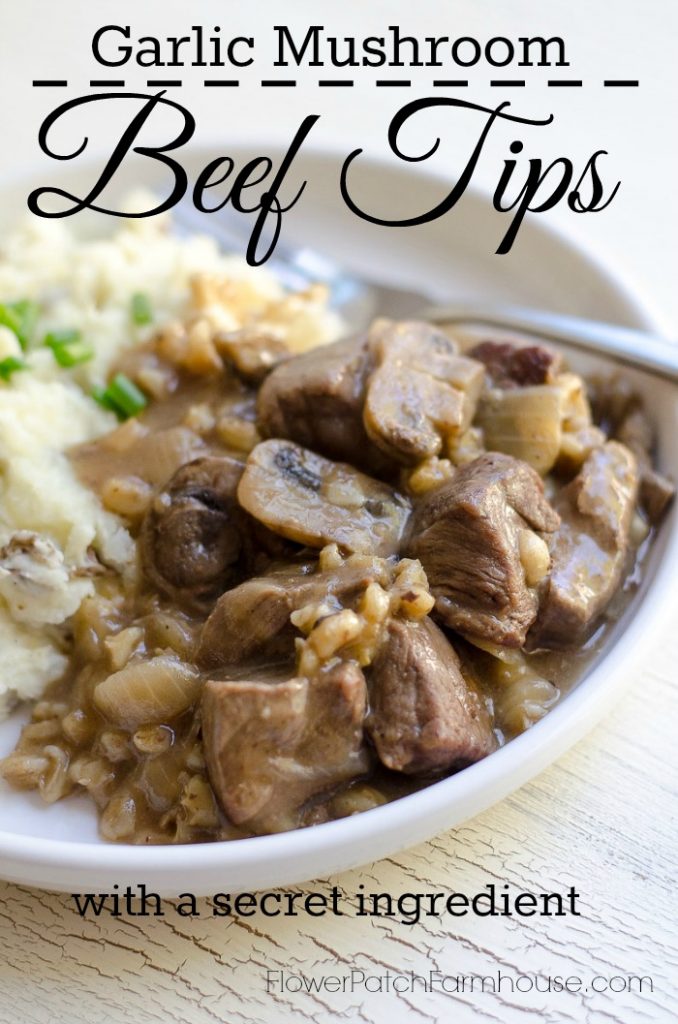 A filling and budget friendly recipe that is quick and easy to prepare on any busy weeknight. Serve with mashed potatoes or just a salad for something lighter.

Prep Time 10 minutes

Cook Time 15 minutes

Total Time 25 minutes
Ingredients
2 Tablespoons Olive Oil
2 pounds beef stew meat
1 cup cooked barley
1 8 oz package of sliced mushrooms (or more if you like)
1 cup diced onion (if you use the dried minced make that 1 Tablespoon)
6 cloves pressed garlic (you can reduce this to taste, my husband likes a LOT of garlic)
salt and pepper to taste
1 cup beef broth ( I use Better than Bouillon Beef Base)
1 tablespoon arrowroot powder for thickening (or you can use flour or cornstarch, whichever you prefer)
Instructions
Pour olive oil in large skillet, saute onion until just soft on med high heat, about 3 to 5 mins. (if you don't have a large enough skillet remove onions from pan and cook meat in two batches at a time so you can get that good sear on it, then return onions to meat)
Scoot onions to sides of pan so center is clear for meat.
Turn up heat to high.
Add beef stew meat and let sear on one side, add salt and pepper.
Turn over meat and add mushrooms and garlic.
Turn heat down to med high.
Let them cook down a bit then add barley and beef broth.
Bring back to a boil. Turn down heat to a simmer
Add thickening agent (for me arrowroot powder mixed with 1/4 cup water), stir as broth thickens.
Let simmer for about 5 mins.
Now serve over your favorite mashed potatoes or noodles.

I have used this on many cuts of beef. If a ball tip roast or london broil is on sale I just cut them up into chunks myself to make this.

Happy Eating!

You May Also Enjoy