How to Decorate a Farmhouse Garden Bench
How to Decorate your DIY Farmhouse Garden Bench
Not long ago I shared a DIY Victorian Farmhouse bench that has been very popular. Everybody loves a good garden bench, it seems. And building this one is so easy everyone can do it. Now that you can build one I am going to show you a few ways you can decorate a Farmhouse Garden Bench with paint.

I have built many of these over the years and I still love building them. This one I recently repainted RED for a bright spot on my back deck. Those are a couple of six packs of violas I could not resist buying. We have been having such warm January weather that the violas are already growing like weeds and I need to get them into some pots. Even if it gets cold again they will do just fine. I am loving this bright red on the back deck right now, it really adds a spark of color to the drabness of winter.

Looking back through old photos I was so surprised to see that I have been building and painting these benches for over 10 years.
My! how time flies. I thought you would enjoy seeing how you can decorate these, if you wish to take an artists brush to them..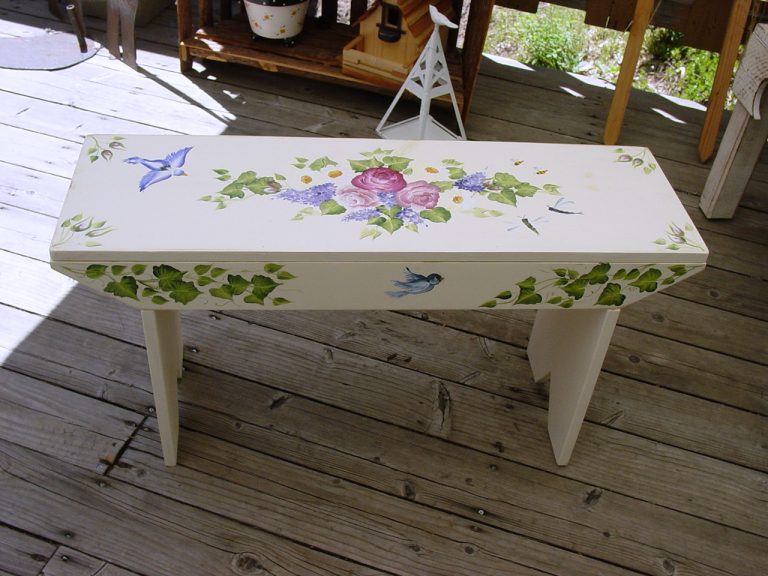 I love this one and I am going to do another, the bright colors are so uplifting. I have tutorials available on the Daisies, the Lilacs, and the roses.

I love the bluebirds and fun bugs painted on it and I want to do more Iris' painting soon.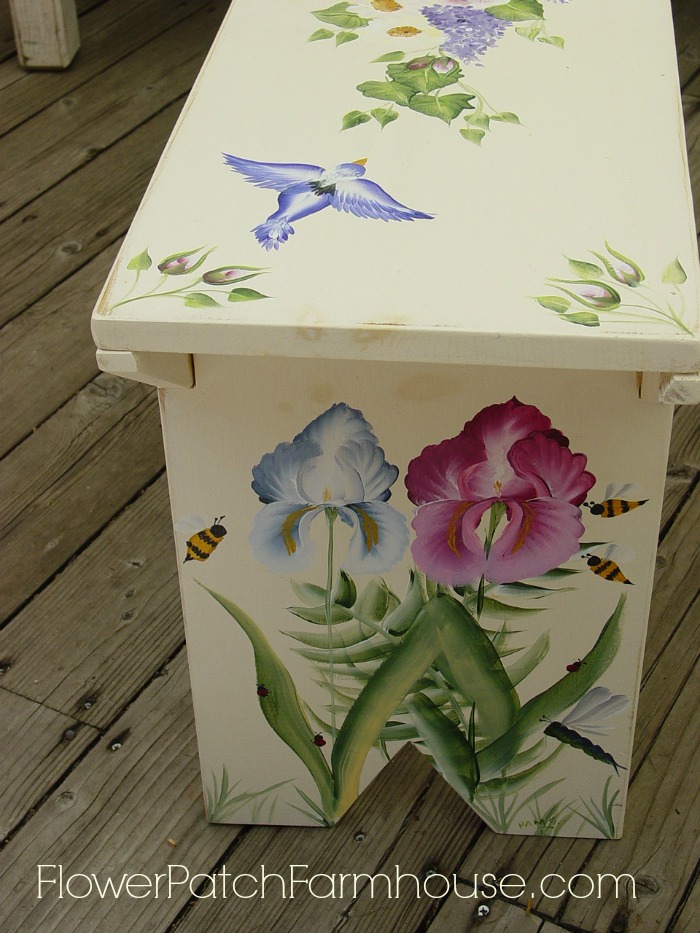 One last shot of the side, love the fanciful Bluebird in flight. These are fun little whimsical birds, that were fun to paint as I was not going for any kind of realism, just cuteness.

This next one I spent a lot of time on but I do love how it turned out. I need to paint more scenes on things.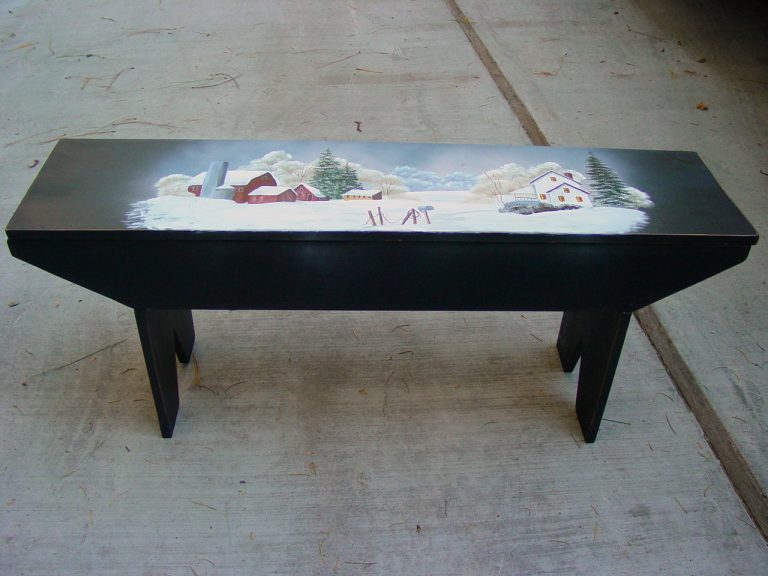 I did not dream up this scene, it is actually pattern from a book by Debbie Toews, I have several of her books. She makes it so easy to get a great result with her step by step directions. You will notice this bench and the Birds and Bees bench are cut differently than the first two benches. Same DIY basic pattern for the bench I just did not do the scrolly cuts and went with angled cuts instead.


One last bench for today..this one shows how far I have come in painting my roses…they weren't bad, I just like them better they way I paint them now.
So take heart, even if your painting efforts are not what you would like at the moment, just keep practicing and you will find your way.

My Morning Glories still leave a lot to be desired but I will practice those too until I can paint them to my satisfaction then I will share how to paint them with you all.

If you follow me on Instagram or Facebook you got a look at my latest attempt to paint a Cardinal. I am finally getting it down and will be back with a tutorial and video of how to paint them ASAP! Also I have another tutorial on a different way to paint a daisy than what I have shared before, it is easier and faster but still just as pretty.
Please PIN if you like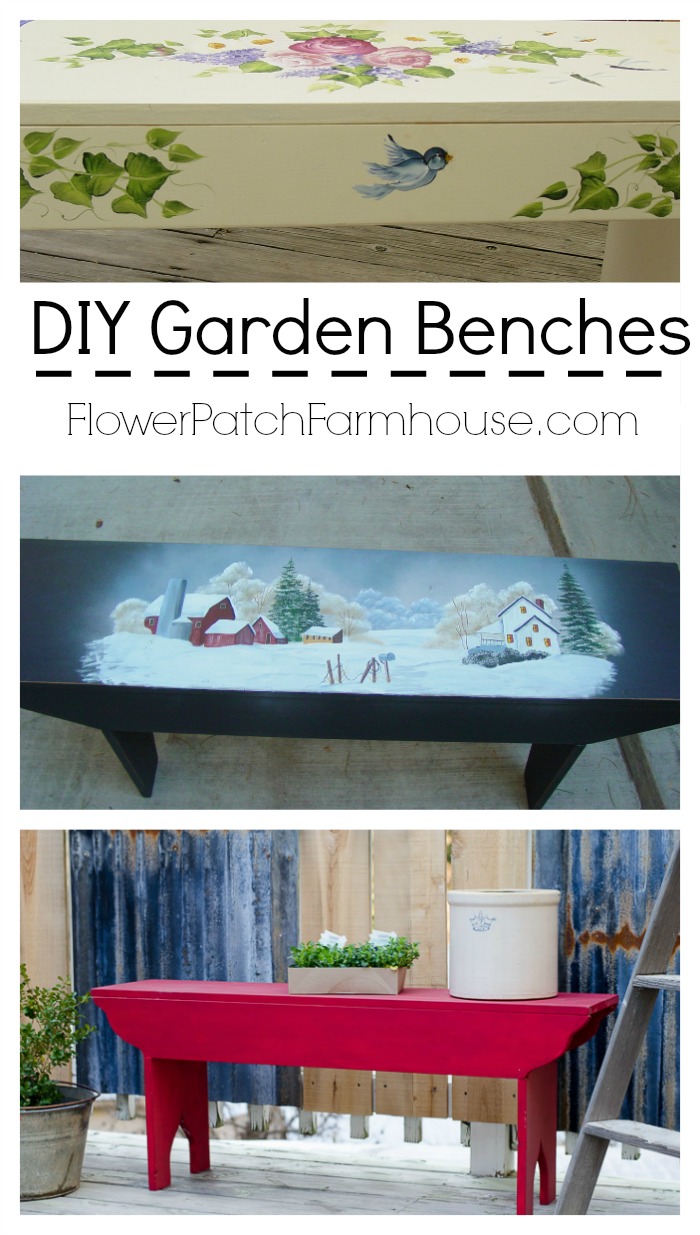 Happy Painting and Bench decorating!

Metamorphosis Monday