Build Your Own She Shed, Tiny House
Build your own DIY Crafting Cottage, She Shed or Garden shed. This is a sweet tiny house design to fit your backyard. A link to downloadable plans included.
The She Shed movement is growing faster than you can imagine. There are kits you can buy and many are investing in the pre-made sheds then fixing them up into sweet little backyard getaways.
If you added a bathroom you could even use this as a tiny house.
I looked into buying a pre-made shed then converting it. Want to know why I didn't?
Want to build one yourself?
Download and print the 30-page ebook plans with the supplies list.
Why we built my She Shed
My husband convinced me he could build the little cottage for much less than purchasing a pre-made shell of a shed.
Yep, he convinced me for the cost of that shed and the improvements I wanted to make that he could design exactly what I wanted and do it less expensively.
So that is how this little gem of a She Shed came to be.
In summer it is surrounded by flowers and my garden.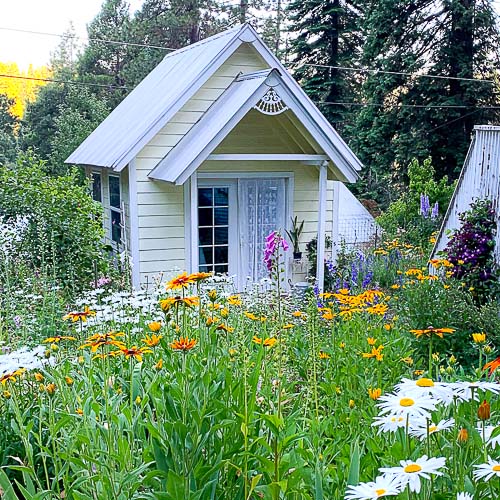 This post contains affiliate links. If you make a purchase after clicking a link I may make a small commission at no cost to you.
Would you like your own little space like this?
I don't blame you!
I love mine and use it nearly daily. It is placed behind my house and is convenient to get to Summer and Winter.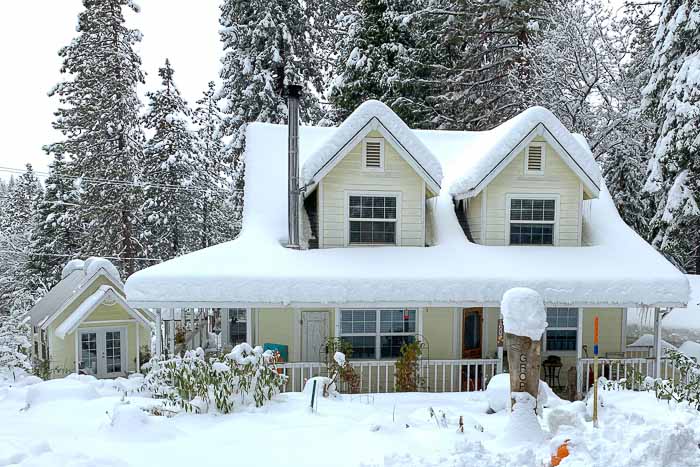 I confess to being inside it in winter more, that is when I do more painting and doing videos for my art website: Pamela Groppe Art
With heat and running water it is a snug little spot to create in.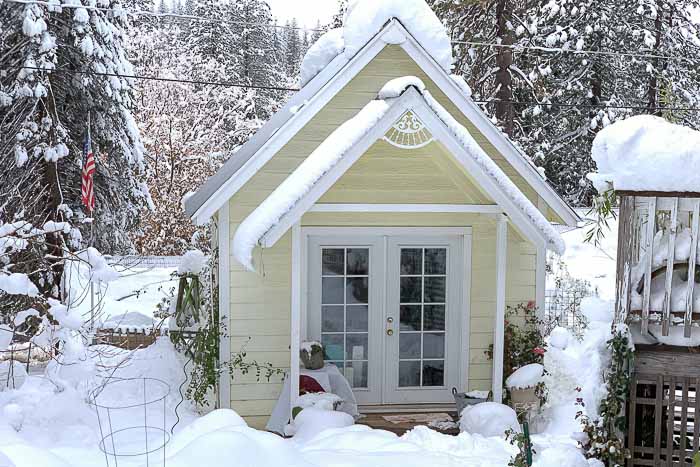 Cheryl's She shed dilemma
When I saw the State Farm commercial with Cheryl's She Shed burning down I checked into making sure our homeowner's insurance covered my sweet little cottage.
Thankfully it was easy to get it added and the cost was well worth it. So if you build or get a She shed for yourself be sure to call your homeowners insurance and make sure it is added to the policy!
Would you like to build your own sweet She Shed?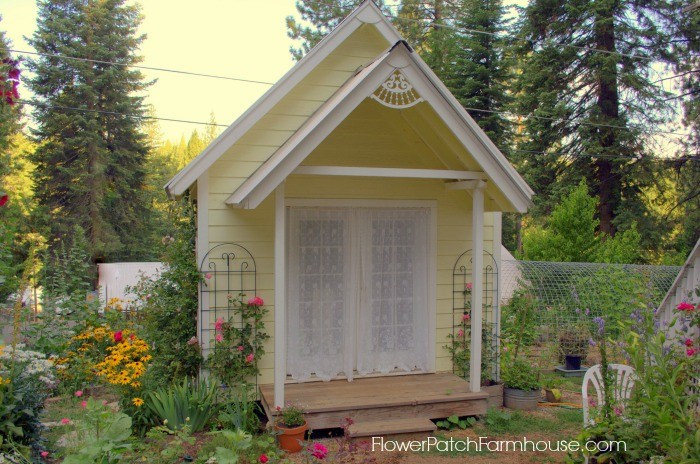 My husband created full plans for anyone who wants to build their own and the link to purchase is right here and I will link it again further down in this post.
Press here to get the full plans.
Note: These plans are over 30 pages, it is detailed with a supply list and dimensions. You may wish to have it printed at an office supply rather than at home.
It may be more cost-effective than printing at home.
I actually was able to help build this and we had a wonderful time. We built it in 2005 and it has paid for itself ten times over.
get the detailed building plans
3o Printable Pages
Just imagine having a space to create, think, or just relax! You can with these plans. Make the porch larger, add a bay window, or whatever you can dream up.
If you haven't seen that post where I share a photo step by step of the building process you can find that here.
Another photo of my She shed in summer.
When we first set up my little cottage She Shed there were only tall trees surrounding it. No garden, lawn, nothing!
Once the trees came down I had a clean slate to create a garden to accent my space and make it even better.
So I did. I planted and planted until it is a blaze of color all summer long. I can paint with the French doors flung wide open and enjoy my garden.
Inside my little cottage she shed
Are you wondering what the inside looks like?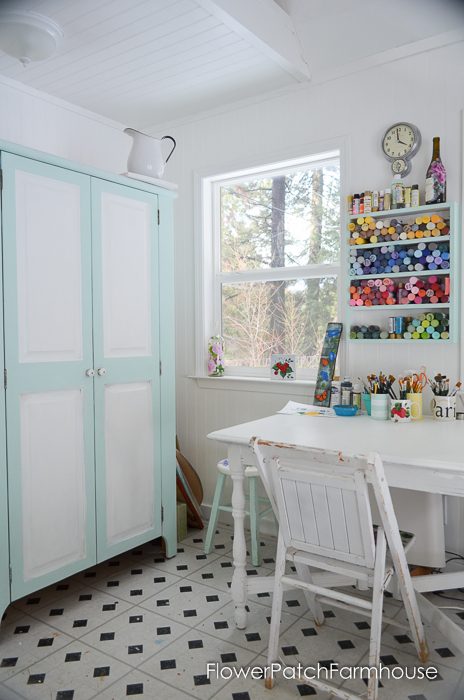 The photo below was when I had a lawn. That area is now my Secret Garden filled with flowers, paths, and a DIY birdbath fountain. It is very popular in Summer with Hummingbirds!
Did you know that my space was featured in a best-selling book? You can see it here.
It's called She Sheds: a Room of her Own.
Now that you have seen my sweet little She Shed it is time to share how you can get the plans to build one for yourself.
This little cottage measures 12′ x 12′ outside dimensions, not including the small front porch.
My handsome hubby worked long and hard trying to make the plans simple as he can while being comprehensive.
The plans include a supply list, list of tools needed, graphics for each step with measurements for this 12′ x 12′ cottage.
It includes 31 pages of step-by-step instructions with diagrams and links to helpful resources.
Want to build one yourself?
Download and print the 30-page ebook plans with the supplies list.
Note: this is a digital product, nothing will be mailed to you. Download to print. Personal use only.
Happy Building!
Share a photo if you build one, I would love to see it