Flower Patch Cottage Studio update
Flower Patch Cottage studio update, I did not make it completely in 30 days.
Like many of my fellow creative bloggers I made a goal to clear out Flower Patch Cottage (some call a She Shed) and get it organized by the end of January. You would think that was plenty of time for such a small space but all the reasons it was in such a mess still existed.
When we began I showed you how it looked…
If you want to see it all just click on over to the post that got us started….Organizing my Flower Patch Cottage.
I did an update halfway through but progress was hard to see. I had wanted to remove the armoire as it takes up so much floor space. Instead I ended up just purging it and re-organizing many painting supplies in it. At least when the doors are closed it looks tidy.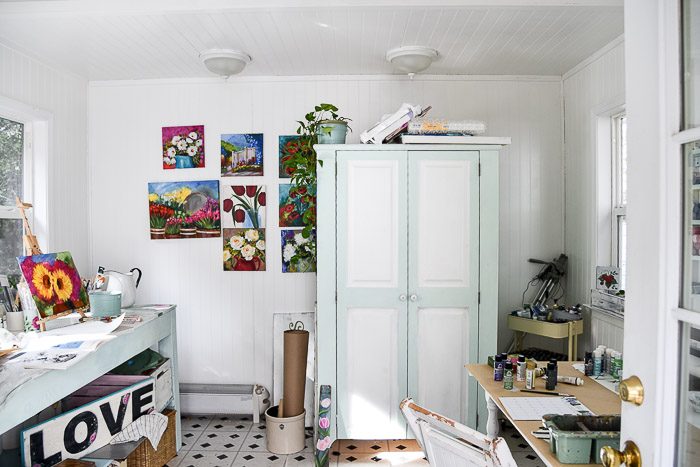 My mental debate is whether to remove the workbench or the table (one is on the right and the other is on the left)
I am getting an easel and it will be towards that back wall so something needs removing.
The cart beside the armoire to the right is from IKEA and it holds quite a few of my most used paints. I like that is easy to move around and I can easily see what is on each shelf.
The paint shelf above the table will come down. It is hard to reach from across the width of the table and I have found that when I go to take down a bottle of paint then others tumble off. It was a great try and it would work for other types of storage but not acrylic paint bottles. It would look really cute with tea cups and saucers.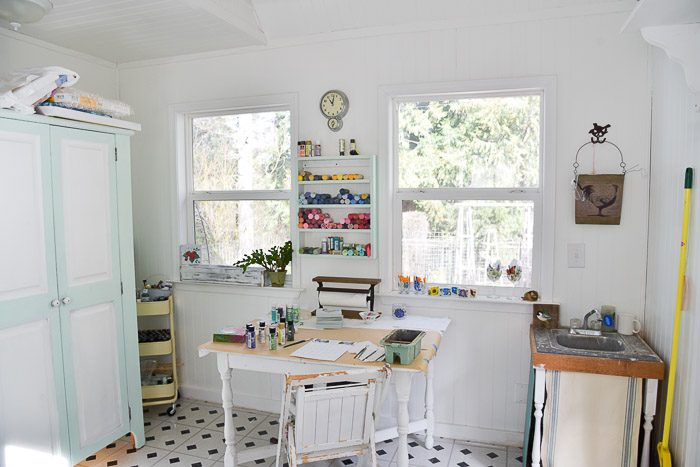 The paintings on the back wall will come down and more of the items under the bench will be either gotten rid of or moved to the basement under my house. Some of that stuff is packaging materials from when I painted and sold signs. I am not using it right now but it will keep just fine moved to the basement.
As you can see the loft still needs to be finished painted, the toast color was what all the walls were painted at one time. How we missed that while painting I don't know.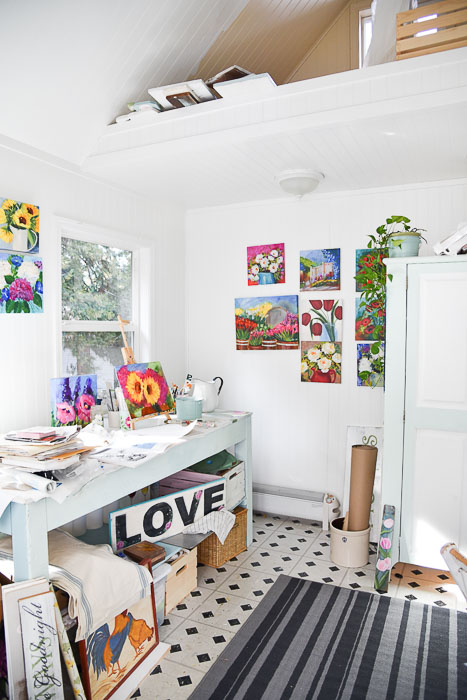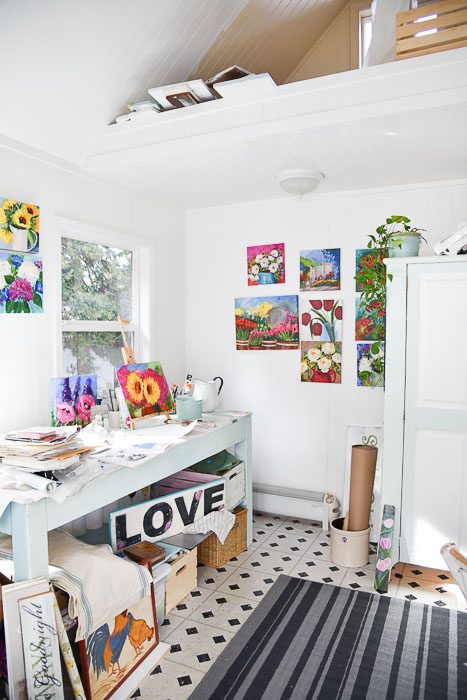 I added an inexpensive rug from IKEA to keep my feet warmer when I come in to paint during winter. I kick off my shoes at the door to try and keep from tracking in dirt. And the rug hides the paint stains on my floors.
Many of the signs on the floor are being listed on my website for sale to help get things cleared out.
What's Next
Though I did not get it completely cleared out what I did get done has helped me see how I want to go on. I still want to remove the armoire, it is just too bulky and I tend to just shove stuff into it rather than dealing with it immediately and I need to prevent falling back into that bad habit.
So that means I need to find a different storage solution for items that it houses that I will keep and use. Maybe a low bank of shallow shelves under the windows when I move the workbench or a small dresser.
I am loving my oil painting lessons and I want to start painting daily to really improve my skills. And yet I want to continue with my tutorial videos, thus I need to keep the space clutter free.
The outside always seems to look much better than the inside. Want to see the post on how we built it?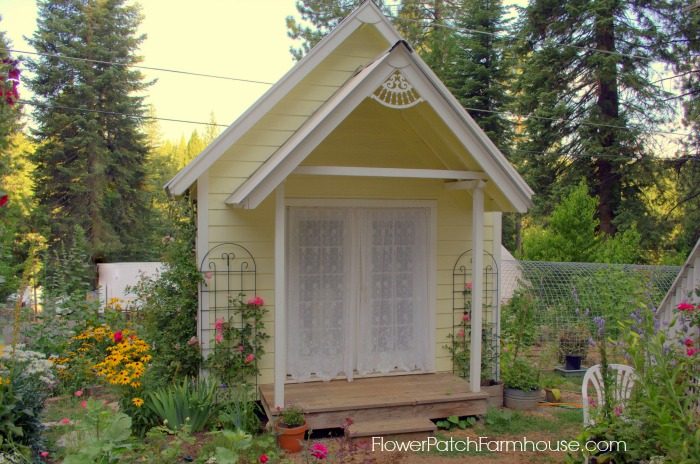 I may be done by Summer. With the warm weather we have been enjoying (though it is only February) it has been too wonderful not to spend some time in the greenhouse. My next project is to really clear it out and re-organize it.
How is your creative space coming along?
Happy Organizing!