How to build a Victorian garden bench is a simple tutorial for extra seating wherever you need it. This DIY garden bench is easy to build and can be customized to fit your needs.
How to Build a Victorian Garden Bench or you could call it a Cottage Garden Bench.
Are you ready to build something? This project is fairly easy and straightforward.

I have had this on my Summer "to do" list and am just now getting around to it. But this could easily be a Fall project.
An easy DIY!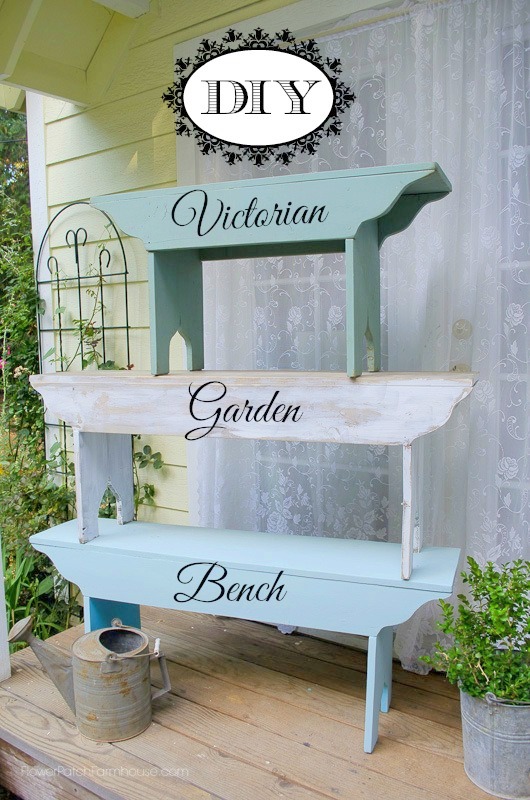 Use it on your front porch, in the garden or even in the house. Dress her up in pumpkins, potted mums or just leave her plain.
She is a pretty thing all alone. Now to the nitty gritty of how to get her built.
I used standard pine lumber from the local lumber yard.
Materials List
One 1 x 12 at 8 feet long (for seat and legs)
One 1 x 6 at 10 feet long (for sides)
you could use an 8 foot board but it would be just barely long enough
nails or screws, you choose
Wood glue
Cut your 1 x 12's
1 Seat @ 48″ long
2 Legs @18″ long
Cut your 1 x 6
2 Sides @ 48″ long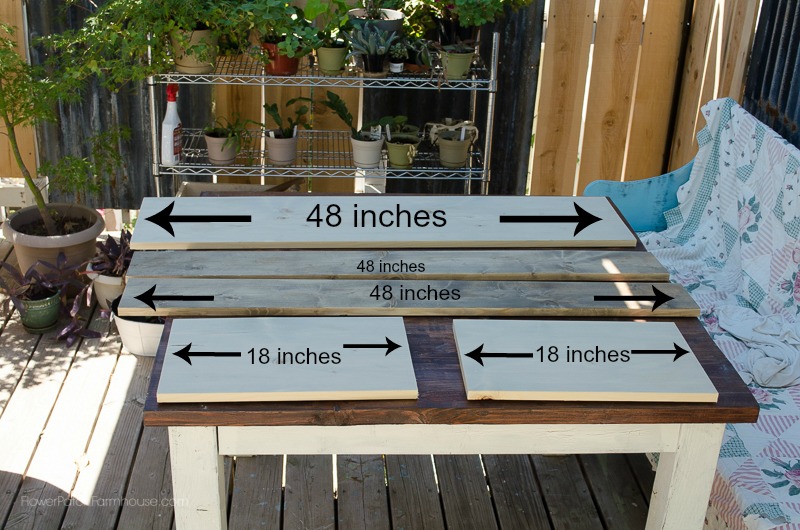 I used a template for the curves.
I have a pattern available just fill out the form below to get access.
Now it is time for the fancy cuts. I used my Ryobi jigsaw. (I LOVE this saw!)
Cut the side pieces and the legs following the outline of the template.
Legs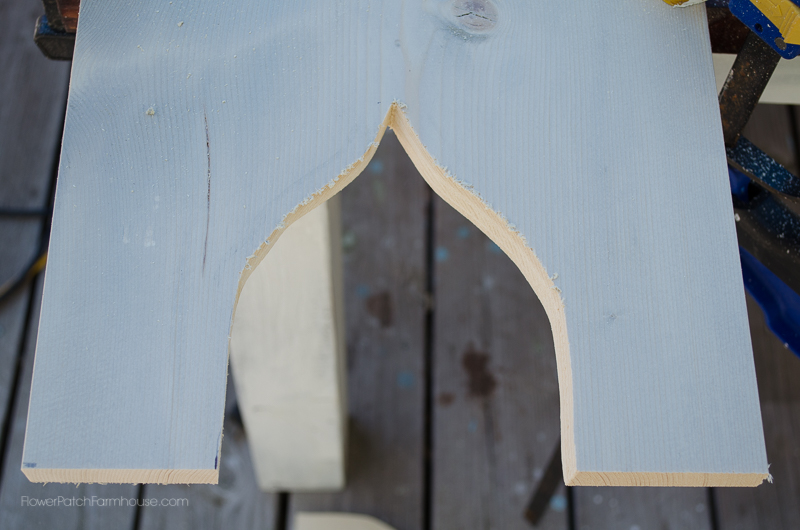 Sides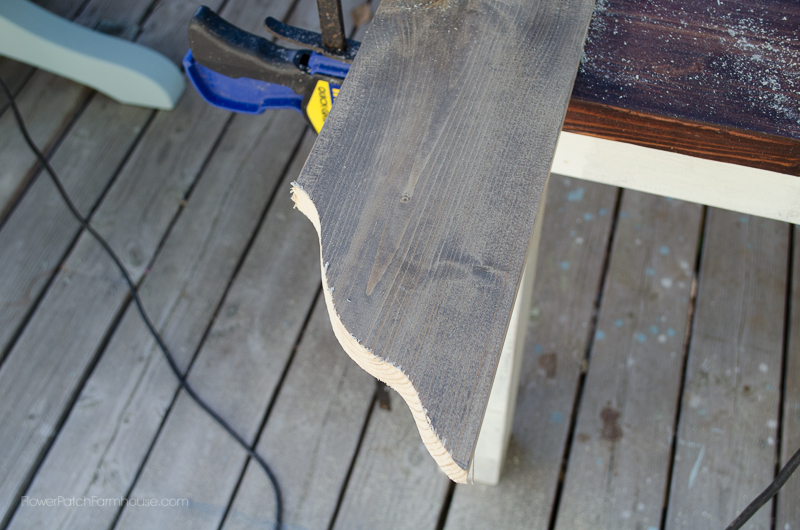 You also need to cut insets into the legs. This is just the depth of the side boards by the height.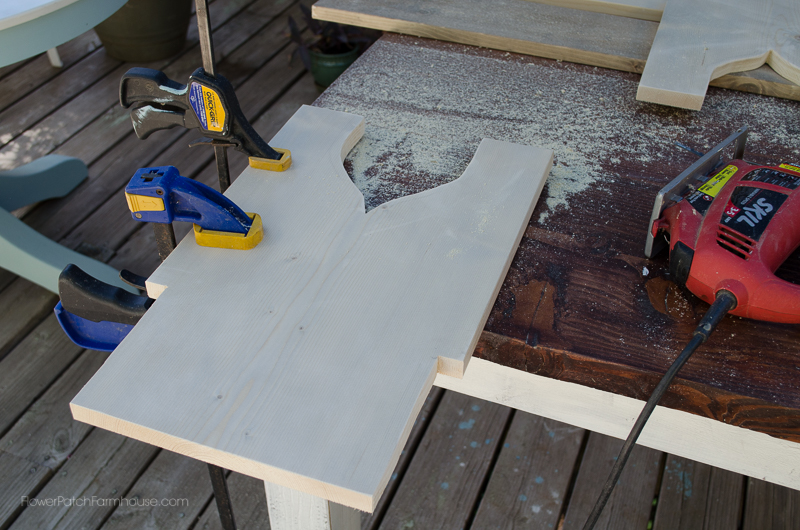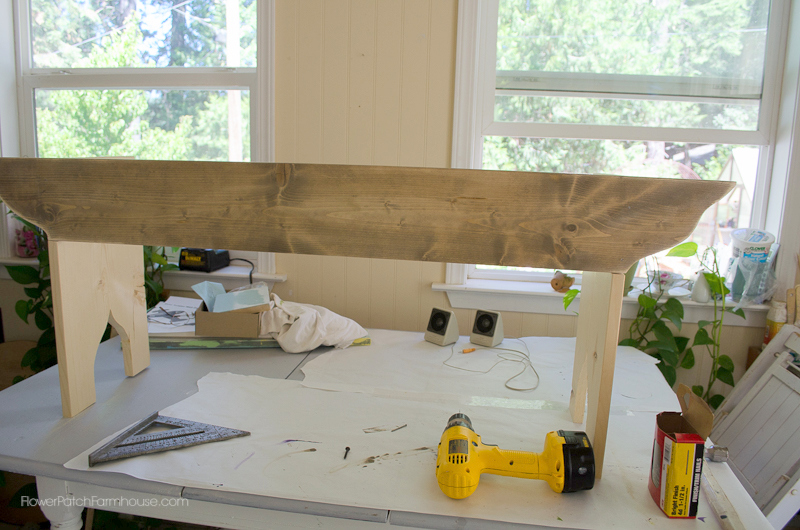 Now set the legs on a level surface on their sides.
I managed to do this by myself but an extra pair of hands at this point is helpful.
I used a speed square to keep it square. It is the metal triangle on the left in the photo below.
I placed it in the corner where the legs and side piece meet. Sorry I did not photograph that process, obviously my hands were full.
I nailed the sides into the legs.
Can you see how the side piece fits into the inset cut into the legs?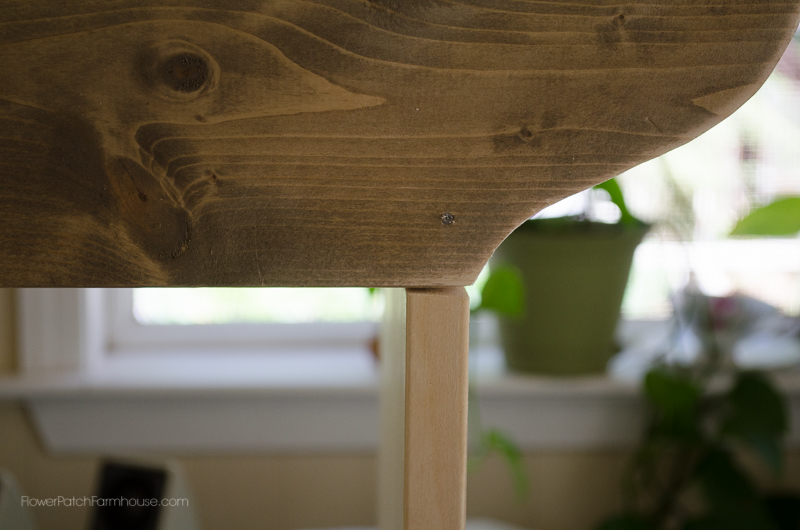 The next side is easier since the attached side holds the legs for you.
You still need to use the speed square to get it to square up well.
I used finish nails so I could counter sink them and have them virtually disappear but you could use screws or even make this with a Kreg Jig if you have it.
You can see that not all my edges line up perfectly. That is fine by me and I don't fret it.
These boards were a little wonky and had a bit of a twist to them but they still do the job if you are not a perfectionist.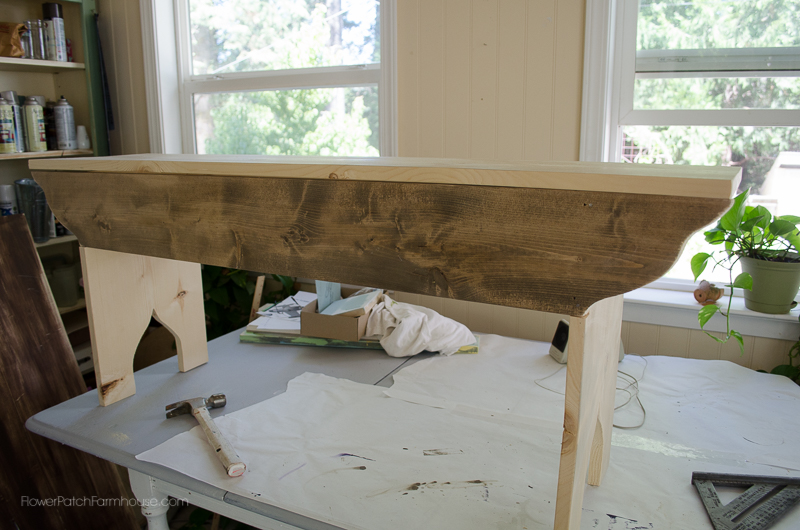 Now nail on the top. I did not show the gluing process but basically you put glue wherever wood edges meet to help keep it all together.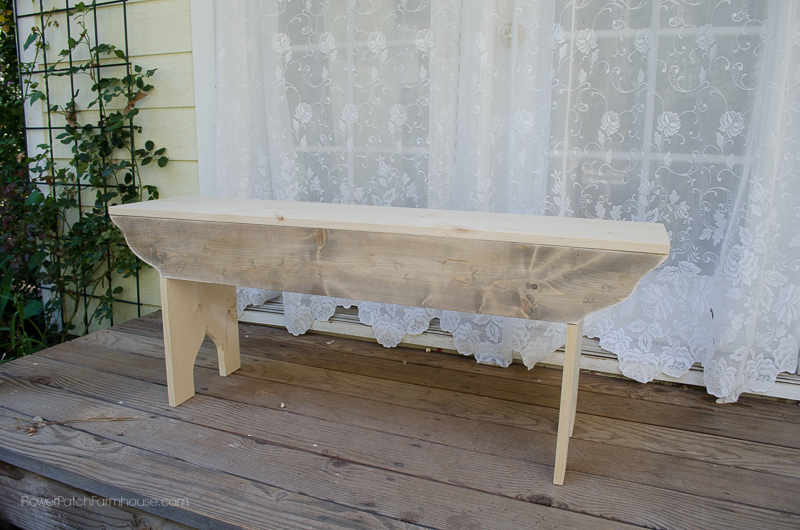 Now you are ready for paint.
I used my Rustic Aged Wood in 4 Steps on this one..with the top coat being DecoArt Chalky Finish Paint in Everlasting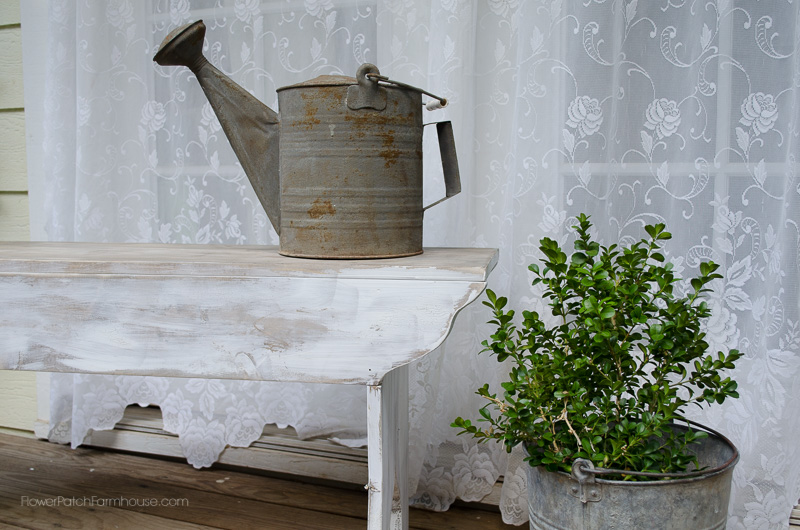 the one below is a custom mix of DecoArt Chalky Finish paint, mixing is so easy, just be sure to write down what you do so you can repeat it.
I love this Sky type blue I mixed up.
You can also make a custom size, the bench on the top in the photo below is 36 inches instead of 48
This is such an easy project to change around.
Painted up for Fall on the She Shed porch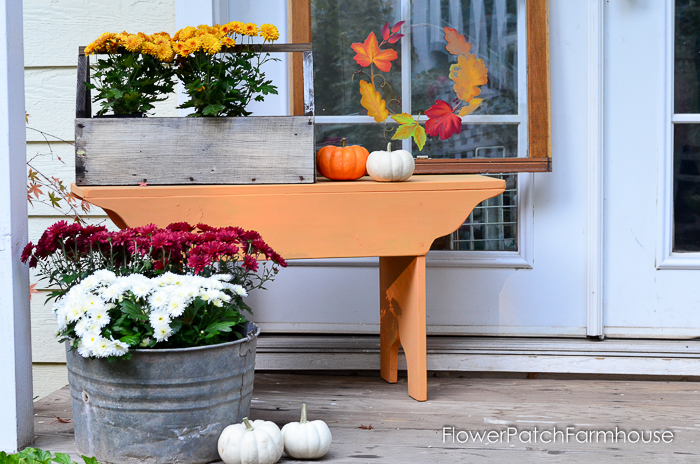 For another bench design CLICK HERE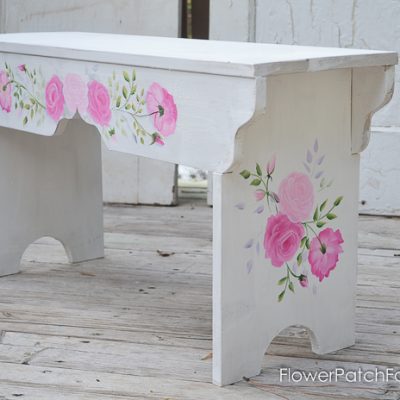 If you make one I would love it if you shared with me.
Any ideas for how to decorate with one of these?

I think a bright red one would add a great pop of color to my porch.
Happy Building!
The Free Bench pattern is available in my Subscribers Resource Library, fill out the form below to get access! If you are already a subscriber there is no need to fill out this form, just head to the Resource library and put in your password!