DIY Thrift store stool makeover with decorative painting. This little gem will make a beautiful little side table or extra seating in your home decor. See how I turn a shabby little stool into a piece of art.
From shabby to Chic DIY Stool Makeover. When I bought this little stool it did not look any better than its counterpart. With some paint and a brush I was able to turn it into a piece of art.

This post contains some affiliate links attached to some photos, please see my disclosure page for more info if you wish.
Sometimes the homeliest things can be given a new life with a bit of elbow grease, sand paper and paint. This little stool did not get a before photo so I thought to share another that looks just as bad. It will get its day in the sun after getting worked over, and very soon.
But today it is all about the little stool and its beauty treatment. What I like about these stools is they make a great makeshift side table, they are small enough to fit in narrow spots but are a lovely size to set your hot cup of coffee (or tea) down beside you.
I started with the legs, I painted them in DecoArt Chalky Finish Paint in Refreshing. It looks more mint green in the paint tub but turns out to be a bit more blue when dry. I still love it.
Once dry, I sand down the edges to reveal the wood beneath, just a touch here and there. The seat received a couple coats of DecoArt Chalky Finish in Everlasting. It is a great contrast to the blue/green.
The top cried out for a floral design with maybe a little friend. I started with the leaves so they would set to the back.

next the roses get added but one turns out to be a flop so I wipe it off with a damp cloth.
I do it over and it looks better, paint one more rose then add our little friend and we are done.
I love a simple little transformation that turns an ugly duckling into a beautiful swan. Would you like to learn to paint roses, CLICK HERE. I have a painting pattern available so you can paint this too, with the step by step instructions for painting the roses and the bird.
If you enjoyed this please PIN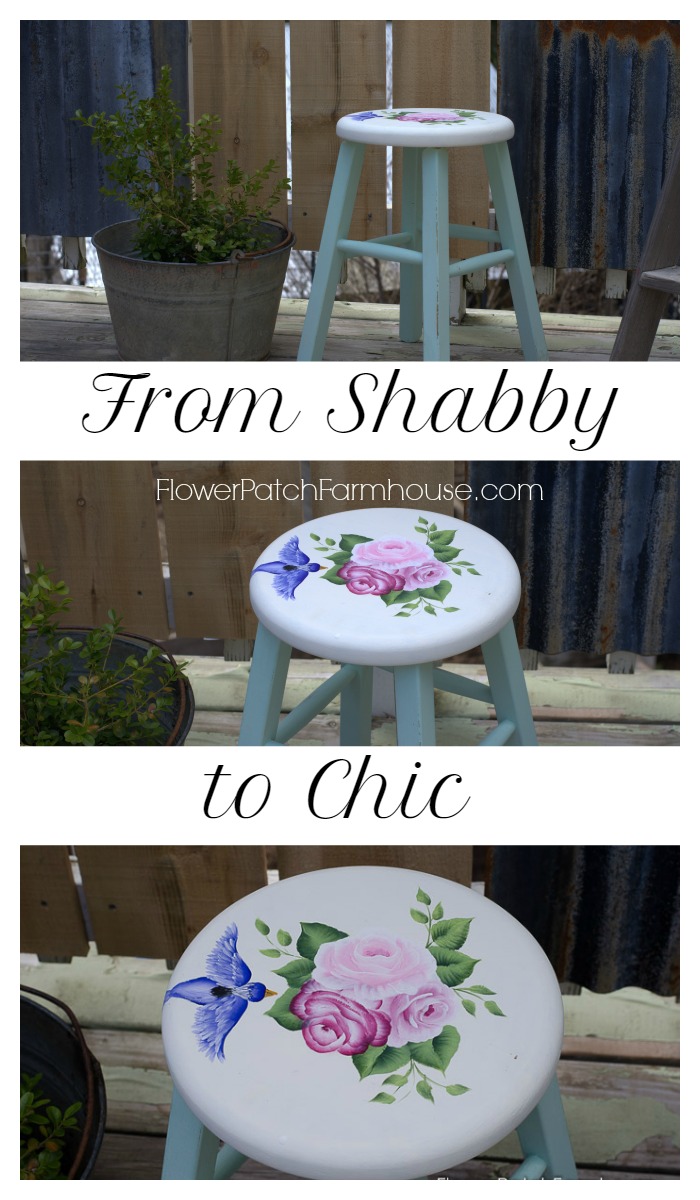 Happy Painting!

You May Also Enjoy