The weather around these parts has put me more than in the mood for Spring and all the glory that it offers.
It actually got near 70 yesterday and we have wonderful sunshine.
I spent part of yesterday afternoon in my greenhouse, oh what fun.
I also photographed how I Spring prune my Clematis, it has already started to bud out.
I collected the seed clusters still hanging on it. Supposedly it is the wrong time of year to start clematis seeds, but I am always trying things the "wrong" time of year so I will pot them up and give it a try.

Here are some sweet greenhouse inspirations for you.
(Click on photo to go to the actual post and if you wish to pin to Pinterest, please pin from original post.)
This fun greenhouse always makes me smile…I had to share more than one photo..

Penny's Vintage Home
I love the use of repurposed items.


Gotta spare dresser…I have seen this done before but I just love hers.
Another great little cottage made with repurposed materials.

Shabby Story
I don't think this one below repurposed, I just like the set up, even the rain barrel looks lovely. I need a few of those.
Barb collected old windows and her hubby built her and greenhouse attached to the house. She shares photos through the year of how she uses it.
These more than put me in the mood to somehow dress up my greenhouse.
Of course I always enjoy sharing my little Cottage, though it isn't a greenhouse. I can't wait to see the flowers blooming all around again!
I have an entire post on how we built her along with a link to the plans. Click on photo to go there.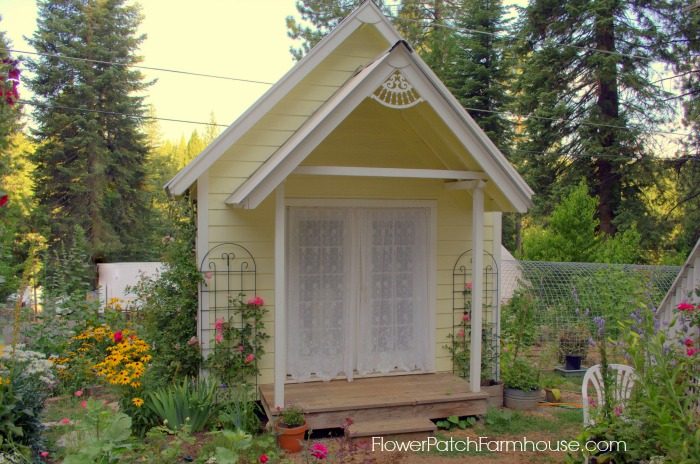 This potting bench also caught my eye. I really like the caster to move it around and the dragonfly hooks just make me smile.
There are some quite ingenious home made greenhouses out there. Have you found one that strikes your fancy?
Happy Springtime!