DIY Terra Cotta Pot Fountain
A DIY terra cotta pot fountain from a video tutorial. It looked easy enough but I was in for an education! So to make it easier for everyone else I made some modifications and I have even more in mind.
I saw this fun DIY terra cotta pot fountain tutorial on YouTube. It looked easy and I ran out to buy all the necessary items to build it.
Let me just say I started this months ago and every time I went to work on it there was some snafu or other. What to me should've been a simple afternoon project turned into something much more.
I admit, it may just be me so if anyone tries to make the original and nails it, please do share. I will link to the original at the end of the post.
This post is not really a full tutorial but a recap of what I did and the changes I made to the original to make the whole process a bit less tedious.

It doesn't look too bad, does it? When you see the original you will find where this one is lacking but I am done with it for now.
If I feel industrious I will forge on to make the adjustments to make it better but in the meantime, this will have to do.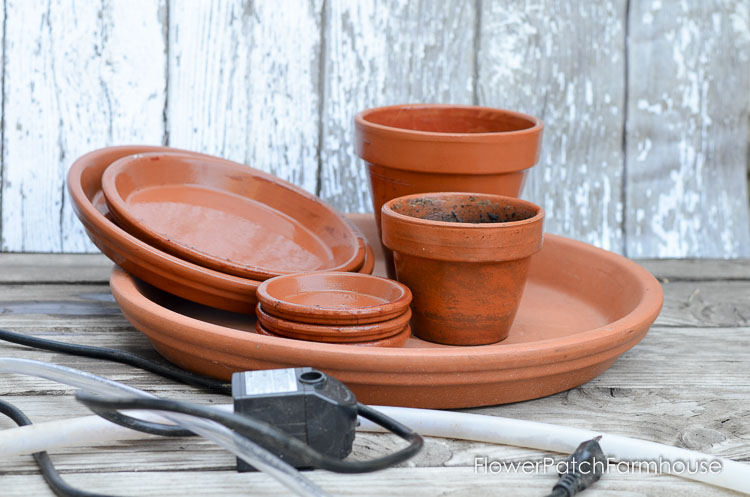 First off I could not find the exact size pots that the instructions called for so that was ding #1. But we got close enough to do the job.
The sizes for the original will be in the link at the bottom but you can do what we did and go with sizes that are close if your garden center does not have the exact ones.
The pump is one I had on hand but I will link to one similar.
I sprayed the largest bottom dish with a few layers of Thompson's Water Seal clear multi-surface waterproofer.
I let each layer dry between re-sprays. This stuff stinks so do this step outdoors.
I soaked in water for a few hours the pieces that needed to be drilled and/or filed so they would contain the dust and help, supposedly, prevent breakage.
I drilled the top plate as recommended for the hose to go through. This step was fairly simple and easy to accomplish.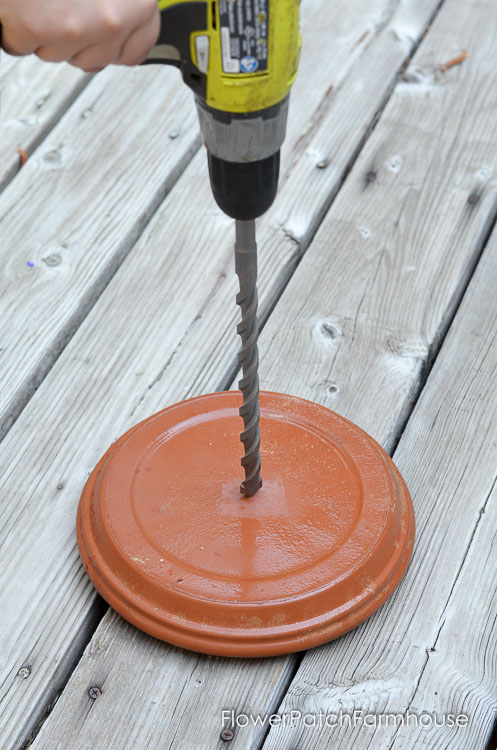 But then came the filing of the notches in several pieces. This is where you really find it tedious.
After filing FOREVER, you find you made very little progress and the rasping on the pots or dishes was like fingernails on a chalkboard. I had a friend helping me and we both got really tired of it quickly.
We even got a much more aggressive grit file and turned it over to my husband to try and he found it just as annoyingly laborious.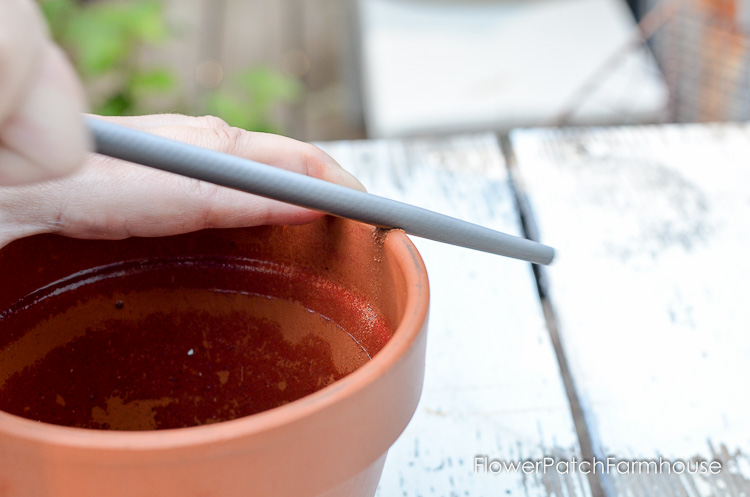 I know there must be a power tool that can get this done better and faster. Maybe a drum sander?? I even took my Dremel to it but I don't think I had the right end piece.
Modification 1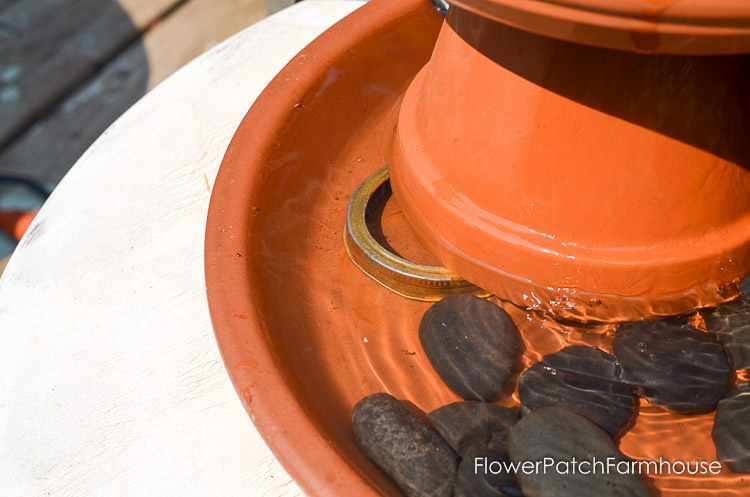 In the orgininal plan the largest pot has notches for the water to get under the lip to the pump and for the cord to come out. Instead of filing notches for hours upon hours I just lifted the pot with some old canning jar lid rings. You can use anything that will give it enough height for the water to get under and room for the cord.
I covered them with rocks but unless you are looking directly down on it you really don't see the rings.
Modification 2
You can see the water pours over the side of the terra cotta dishes rather than just through the spout and that is because my spouts are way too small. I gave the dishes sitting atop the pots a bit of tilt with 2 pennies stacked under one side, I used 3 pennies for the lower dish.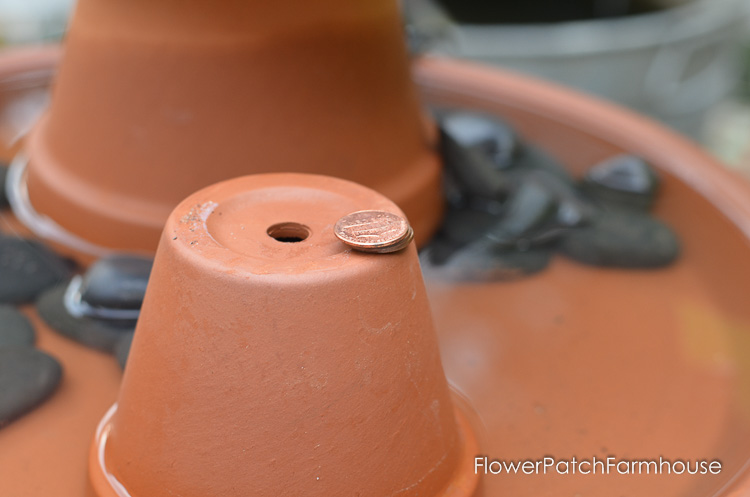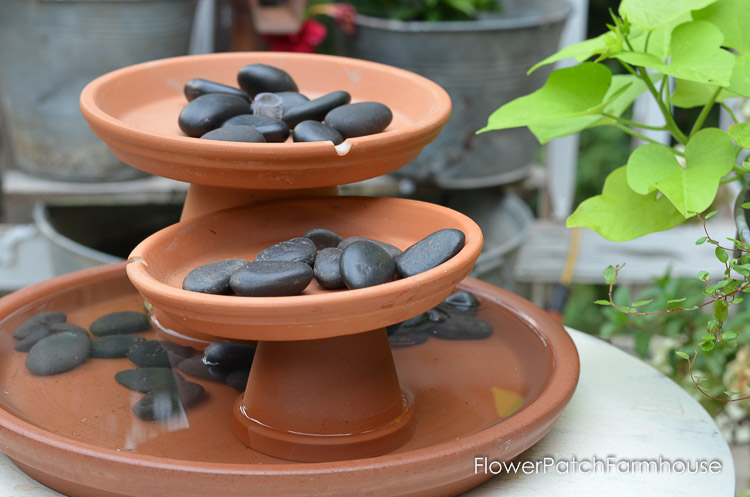 It does a good job of directing the flow of water.
The trickling sound is still wonderful despite it not being perfect.
Modification 3
The hose I had to get to feed from the pump ended up being a much larger OD than I had anticipated so it really puts out the water. I hide it with the rocks as it isn't the prettiest thing in the world but I was not going to try and file large enough divets in another terra cotta dish to set a potted plant on for something pretty. I could find another method of making a raised area for a potted plant and I may do that I come back and how you what I devised but for now, just rocks to hid the hose.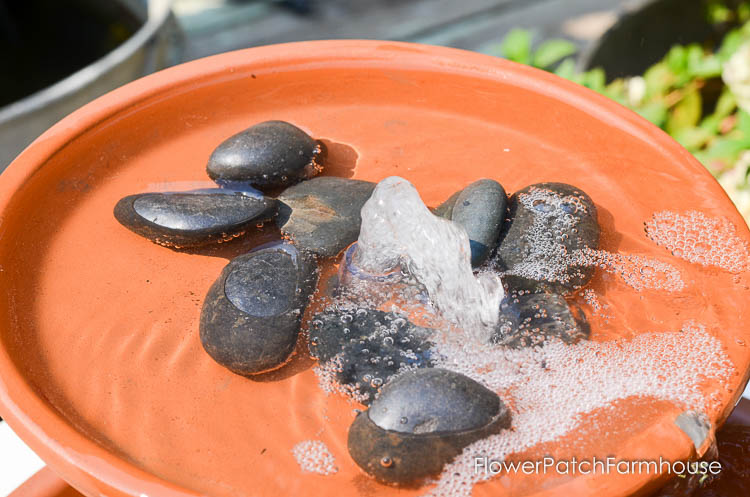 At least it is clear and not ugly black tubing. The stones do a good job of disguising it.
Here it us in action, despite it not being just right it does create a lovely, soothing sound.
NOTE: I have found some neat things to modify this fountain and am working on that now. Check back soon and/or subscribe for updates. I will send out a notification when I have posted the newer version.
UPDATE: After even some modifications I just was not thrilled with this fountain so I dismantled it and am using the components for other projects.
Here is the original fountain tutorial that I based my version on.
Menards Terra Cotta Fountain
I wish you a successful fountain building!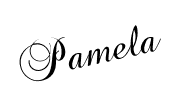 Save for Later PIN