The Best Oven Roasted Tomato Sauce
The Best Oven Roasted Tomato Sauce, super easy and you can add all that extra zucchini too. Win, win!
Its that time of year when many are getting a luscious harvest of tomatoes, zucchini and other yummy, homegrown veggies. Would you like to know how you can easily preserve some of that garden goodness to enjoy during the cold depths of winter? Oven roasted tomato sauce to the rescue!
This post contains affiliate links. If you make a purchase after clicking a link I may make a small commission at no cost to you.
This sauce is fantastically versatile. If I omit the Italian seasonings when preparing it then I can also use it for a version of chili colorado that I have made up. (yes, I know authentic chili colorado does not have tomatoes in it, as I said, I invented my own version)
So, you have an abundance of tomatoes and zucchini, now what? Well you can go through the effort of peeling your tomatoes the usual way by dipping them in boiling water for a few minutes then transferring them to a ice water bath, then slipping the skins off but you only really need to do this if you are planning on canning the sauce in a water bath>
For my oven roasted tomato sauce I used my Costoluto Genovese tomatoes combined with the San Marzano tomatoes, and sometimes Ace tomatoes. The Costoluto are fantastic for sauces, they are not pretty for slicing but the flavor is the best sauce tomato and rivals the San Marzanos (though I really like those too).
If you use regular slicing tomatoes they will typically cook down to nothing as they are mostly water. That is why I use a paste tomato or the Costolutos, they are meaty enough not to cook away.
I cored them with my strawberry huller and did not bother to peel. The lumpy ones are the Costoluto tomatoes.
Oven Roasted Marinara with a Secret Ingredient!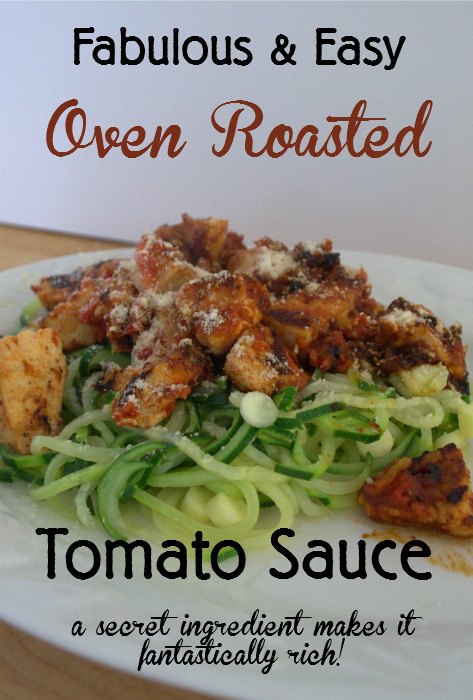 A great tasting marinara sauce that surpasses any other in flavor and adding the secret ingredient makes it even tastier!
Ingredients
4 pounds sauce tomatoes
1 large onion
5 cloves of garlic
1 zucchini (optional)
I popped them into a roasting pan with a yellow onion quartered, I peel about 5 or 6 cloves of garlic and press them into the tomatoes then put into a 400 degree oven. This batch I altered a bit as I had some fresh jalapenos on hand, I did seed and remove the white membrane from them. How much onions and garlic really is up to you. I don't like garlic to overpower the flavors so I am more reserved than many people.
I chop up some Zucchetta also known as Trombolina squash, you can also use any zucchini you have too much of. I just cut it into large chunks. It all cooks down easily enough without the added work of chopping stuff smaller. The zucchini seems to give the sauce a richness that I have not gotten with just tomatoes alone. It is my secret ingredient and it is a great way to use up excess zucchini!
Drizzle it all with olive oil, how much depends on how many tomatoes you are cooking down. For 4 pounds of tomatoes I would guess about a 1/4 cup of olive oil. Since I usually eye ball it I can't really be precise. Sorry.
I place it in a 400 degree oven and set the timer for 30 minutes. After 30 minutes I stir it all and put it back in for another 30 minutes and I stir again. I let it cook down in 30 minute increments until it is the consistency I want.
You can actually keep adding more as it cooks down, more of everything and keep on cooking it. If I don't have a lot to cook down I use a regular pyrex casserole pan, 9 x 13.
I don't know if you can see it or not but around the edges some of the tomatoes have charred a bit, that is great, it gives it a delicious flavor, the longer you roast the thicker it will get. You choose how thick you want it. Salt and pepper to taste.
I use my hand blender to puree it once it has cooled a bit. I love the little chopping attachment.
Back to the recipe…sorry I got distracted there…
Sometimes I have added the oregano and basil, cooking them in before it is done and then it is ready as marinara when I pull it from the freezer. I do not have a pressure canner so mine has to go into the freezer. I freeze it in 2 cup batches. We use the marinara version for our Chicken Parmesan and Pizza sauce.
If you wish to can this is a hot water bath you need to remove the tomato skins and do not add the oil.
And that is it. Super easy and delicious! You can't get much better than that.
Happy Veggie Roasting!