My Quick and Easy Weeding a Garden Path
Sometimes weeds get ahead of you and you need a quick fix in pathways. Here I share my quick and easy weeding a garden path technique.
With being either out of town or working on projects not garden related a few spots in my garden got out of control. I needed to do a fast and easy spruce up on my garden pathways. Today I am going to share my quick and easy weeding a garden path trick!
This is what I was facing this morning as I sat sipping my coffee in the garden. (sorry for the less than optimum photos, I was in a hurry and used my phone but you get the gist of how messy it was)
Yes there actually is a stone pathway under there somewhere.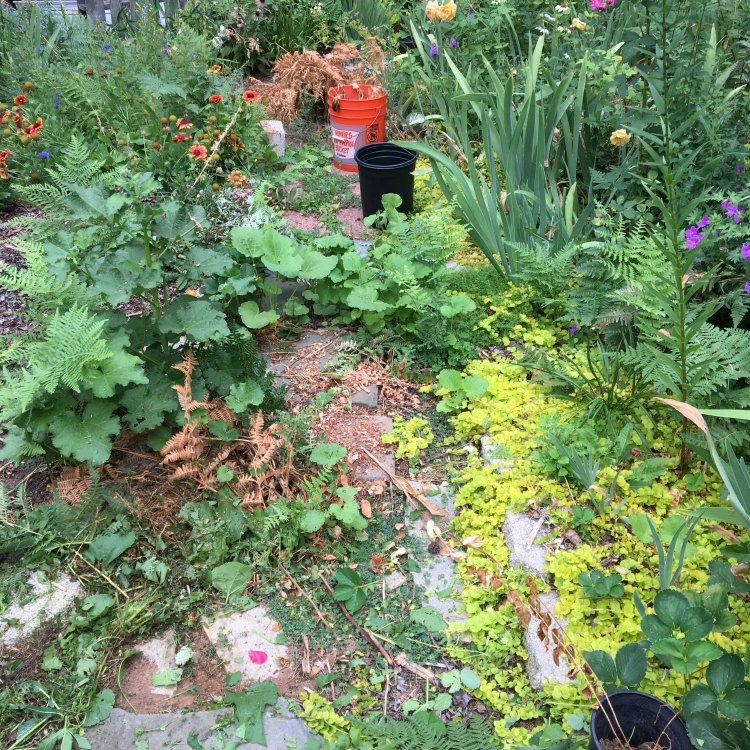 It bugged me to no end. I had a ton of other chores on my list today which were vitally important but I just couldn't ignore this another day. This path runs to the right of our cement walkway and the next photo is to the left.
I had just started on this path below when I thought I should share with you all and whipped out my phone to shoot some quick photos.
Easy weeding a garden path
Some of you may be facing more weeds than time to pull too and just might want to know my quick trick for weeding a garden path.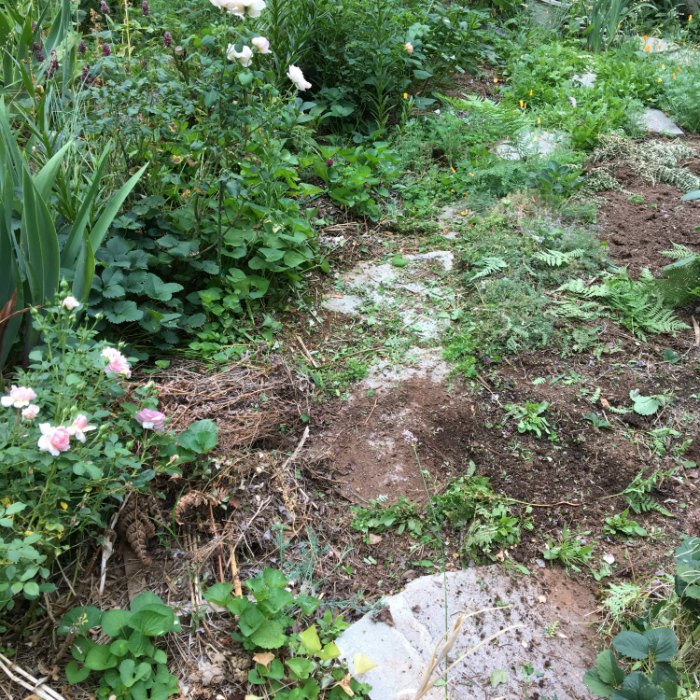 I allowed myself half an hour to tackle both paths so I needed my secret weeding and clean up weapons.
My best tools for weeding a garden path
My trusty, dusty Ryobi line trimmer and Ryobi blower. These both run on the 18 volt battery that powers my screw gun, nailer and circular saw. I have a few batteries so I can switch out to a new one easily when one runs out. (this is not a sponsored post, I just really love these tools)
See that Lime Thyme to the right of the line trimmer? I edged that with the line trimmer too, it was growing over the sidewalk and needed a hair cut to keep it in line.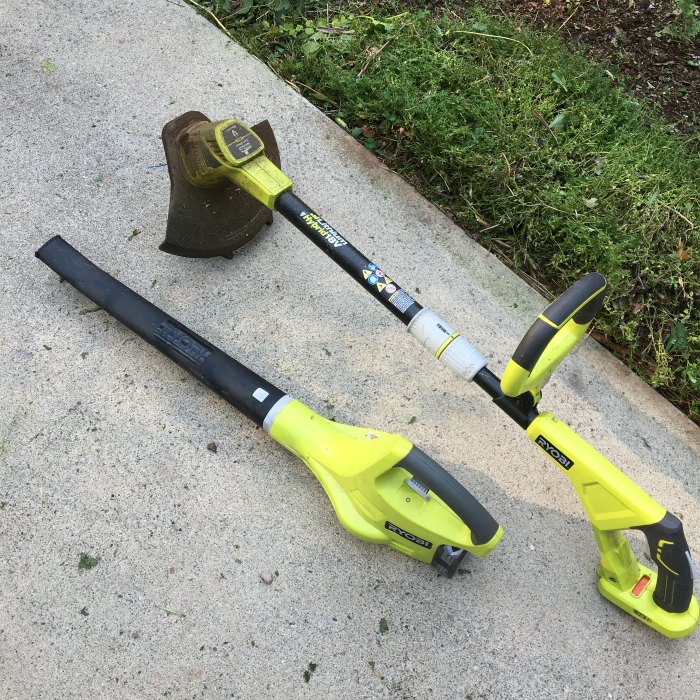 Keep at it till the weeds are clear
It took me a couple passes with the trimmer then blower to get the paths cleaned up to my satisfaction. I still need to chop out that holly hock, it is in the wrong spot and digging it out to replant would be impossible, they have the deepest tap root.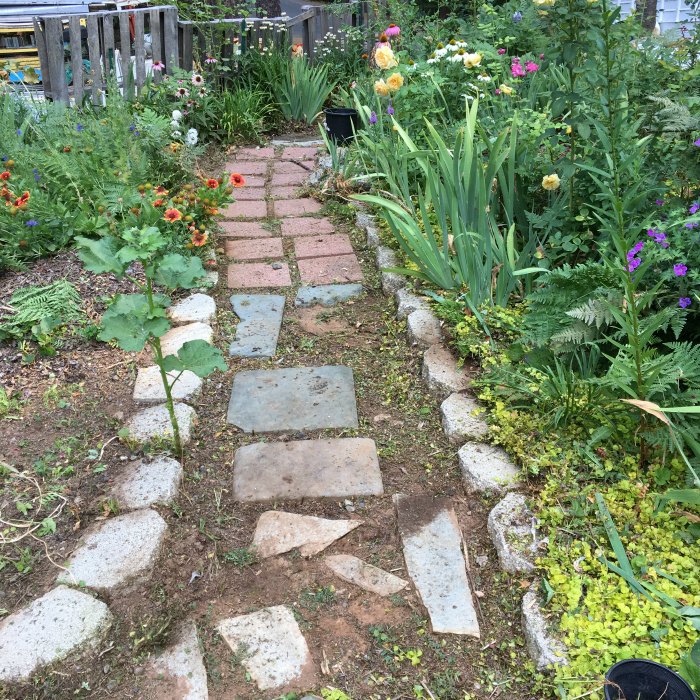 30 minutes and done
If I had tried to hand weed these paths it would take me hours instead of a mere 30 minutes. I was able to go about the priority chores on my list today with the satisfaction of knowing this was tidied up. I still need to take the hose and a spray nozzle to clean the dirt off the flagstone and pavers.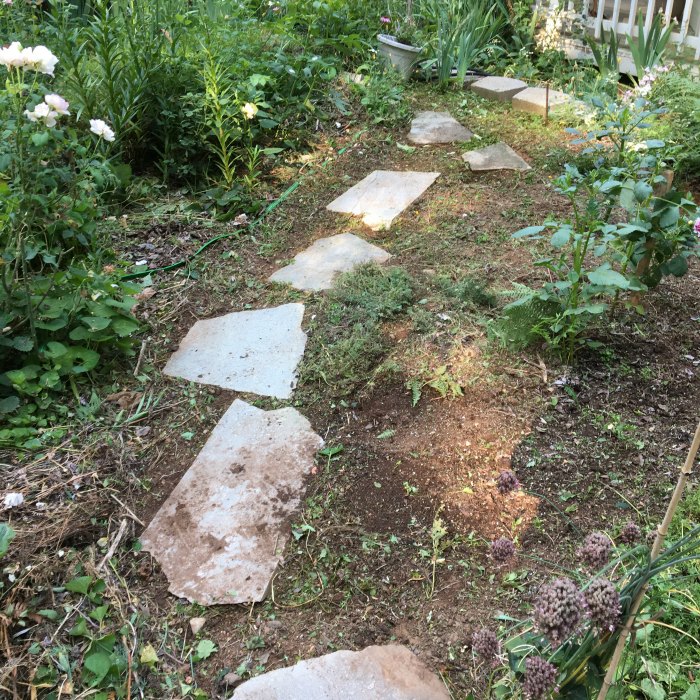 Some may think that hand weeding would've gotten more root out and thus prevented the weeds from returning but I have so many seeds that fall from my flowers and the birds drop seeds as well that it doesn't matter if I get the roots of existing plants in the pathways as more will just reseed. I need fast and easy weeding.
I may try some ground covers planted between the stepping stones. Click here to see my favorite ground covers They may get thick enough to choke out any weeds but that may be wishful thinking, it is worth a try.
What I really love about my Ryobi line trimmer and blower is they are light weight, easy to maneuver and don't make my back hurt. A fully charged battery lasts just long enough to get plenty done before I have pushed myself too far and make myself hurt the next day. When a battery dies, I know to take a break. I put the battery on the charger, grab some ice tea to sip for a few minutes, stretch and load a new battery in to my tool then continue on with my task.
(I was not compensated for this post, I just really love my Ryobi tools)
Next on my wish list is this Power Washer…I have some siding and a deck that can use some help.
Happy Gardening!
More you will enjoy!
Gorgeous Ground Covers You Can Grow
Guide to Successful Plant Propagation
All About Roses