Best Instant Pot Chicken Tortilla Soup
Do you want the best Instant Pot Chicken Tortilla soup recipe? I have tried a few and this recipe is the one that has all the flavor and spicy, delicious goodness you want in a chicken Tortilla soup. It is so good you don't even need the tortillas!
This turned out to be the Best Instant Pot chicken Tortilla soup! My husband loves a good chicken tortilla soup and I was determined to find one that had the depth of flavor that makes it stand apart from all the rest. I tested several recipes but I had to modify them to get the flavor we were looking for.
Pin for later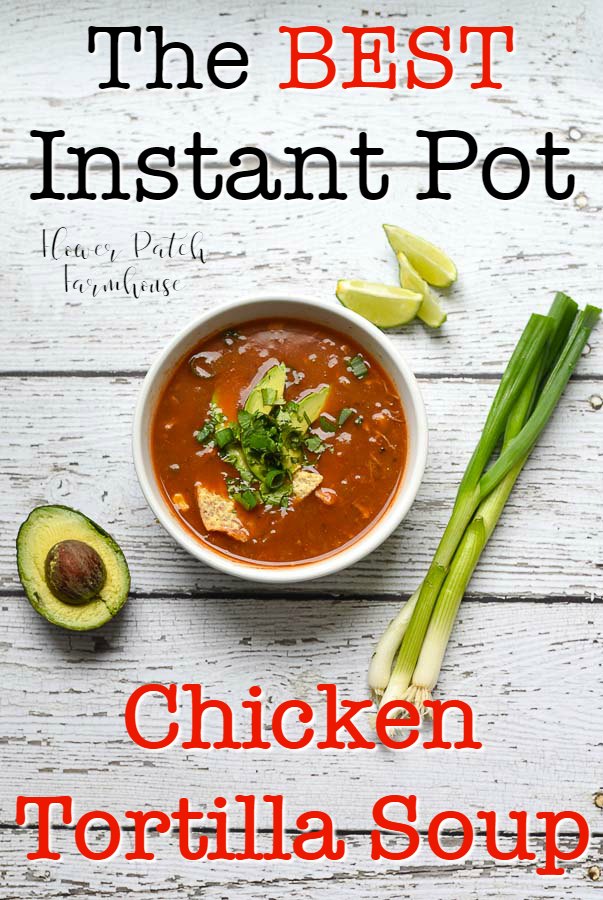 This post contains affiliate links. If you make a purchase after clicking a link I may make a small commission at no cost to you.
Is it the easiest? No, but it is the tastiest, and what is better…it uses up some leftovers and freezes well!
You start with the leftovers of a roasted or rotisserie chicken. Yep, make a roasted chicken one night and use the leftovers for this. I will share a recipe soon on how I roast a chicken on the Weber but I also use up the leftovers of a store-bought rotisserie chicken. Usually Costco rotisserie chicken.
You can use chicken breast or thighs but the real flavor comes from stewing the chicken with the bones.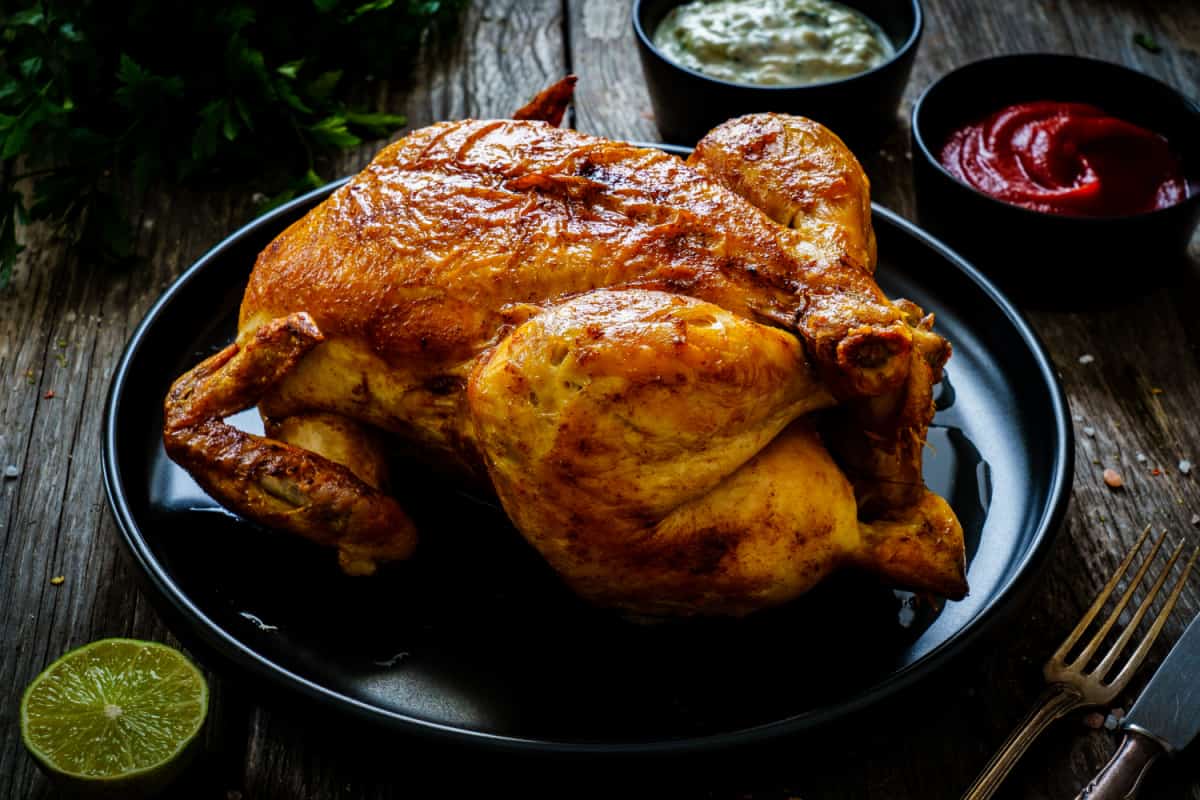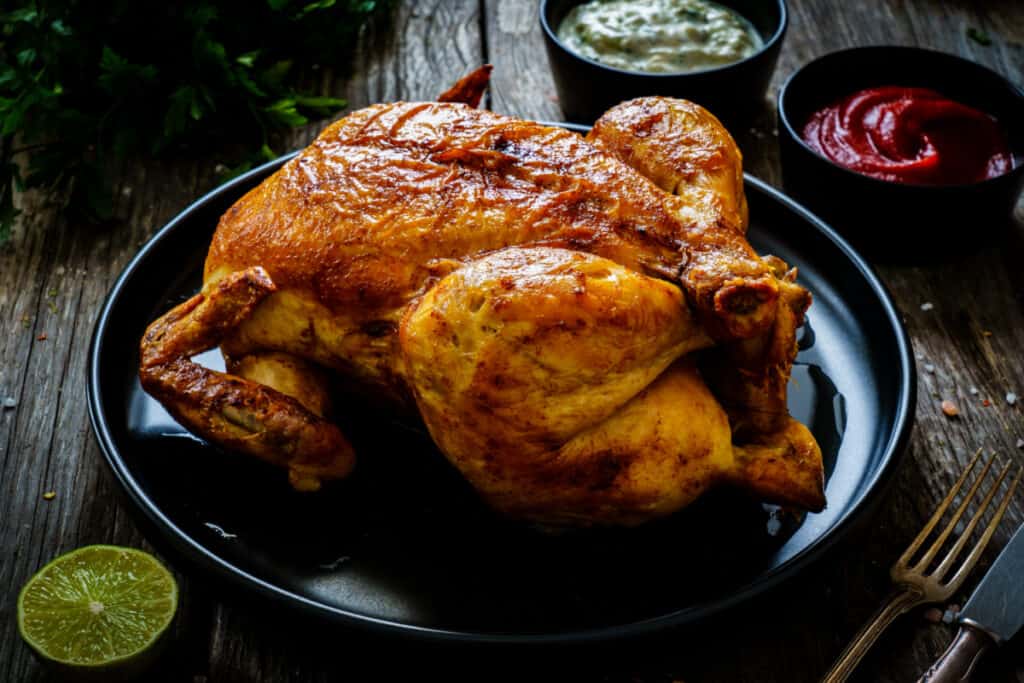 Note: when using a leftover roast chicken the amount of actual chicken will vary. There is no set amount, it would taste good with just the broth. To guesstimate I would say a couple of chicken breasts or three thighs would be more than enough. And even that is hard to nail down. Have you seen the size of some of those chicken breasts these days? Monsters.
The moral of this story is, add chicken to your taste. Like more chicken in your soup? Go for it. Don't have that much? It will still work just fine.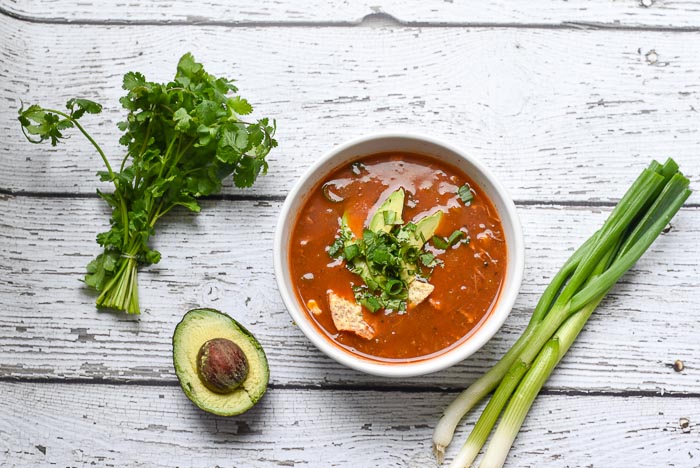 This is a link to the actual Instant Pot that I own. I love it and it is the perfect size for the two of us.
If you make this please let me know what you think. We have eaten so much of this soup this winter you would think we would be sick of it and yet we are not. It is just that good.
Best Instant Pot Chicken Tortilla Soup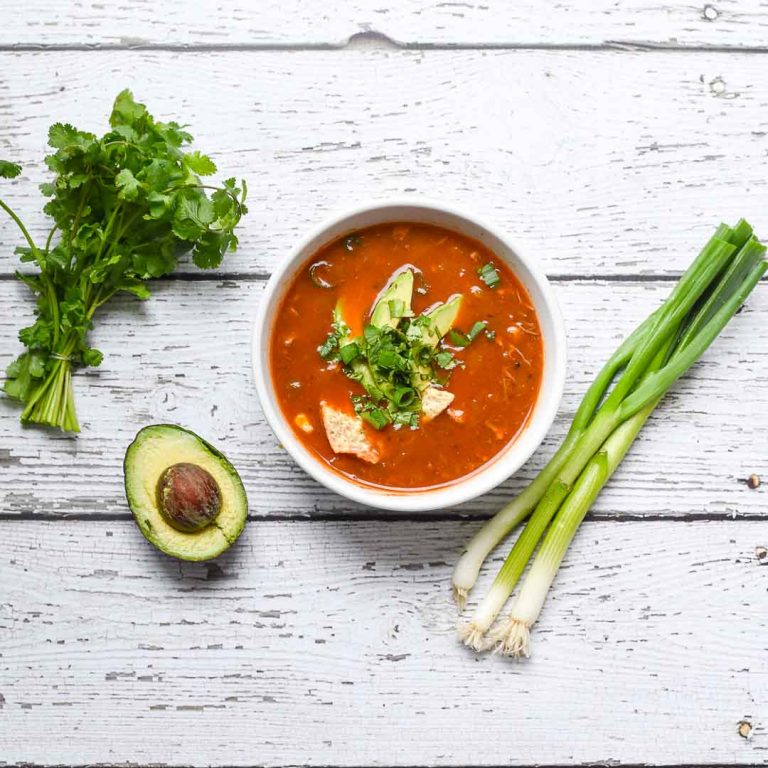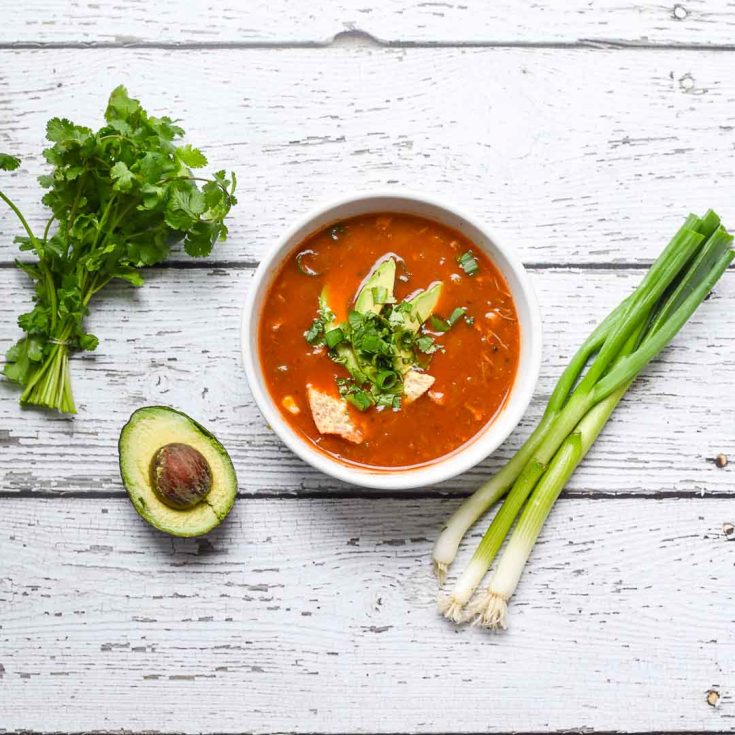 Easy yet oh so delicious chicken tortilla soup with intense flavor that satisfies!
Additional Time
10 minutes
Ingredients
Leftover roasted or rotisserie chicken (see options in notes)
5 cups of chicken broth (canned or from stewing a chicken)
1 tsp granulated garlic
1/2 of an onion, diced
1 1/2 teaspoon chili powder
2 teaspoons cumin
1 teaspoon paprika (I like smoked)
1/2 teaspoon red pepper flakes (optional)
1 teaspoon Mexican Oregano
1 - 15 oz can of tomato sauce or diced tomatoes
1 - 5 or 7 oz can of diced green chiles
1 - 15 oz can of corn or 1 cup frozen
1 - 15 oz can of black beans, drained, rinsed
1 tablespoon Better than Bouillon Roasted chicken base
Garnishes:
Grated cheese
Tortilla chips
Cilantro
Sliced green onion
Jalapeno
Avocado sliced
A squeeze of lime
Sour Cream
Instructions
Place leftover roasted (rotisserie chicken) into Instant Pot. Cover with water to a little over an inch above the chicken. Put the lid on Instant Pot, lock like and set on Manual Pressure for 30 minutes.
When it is done let pressure release naturally for about 10 minutes. Quick-release rest. Let the chicken cool so you can handle it comfortably.
Remove the chicken from the pot and place in a colander or mesh strainer. Strain broth into a bowl to remove any floating bits. Remove chicken bones and put de-bone chicken back into the Instant Pot.
Add the strained broth and all other ingredients into the Instant Pot. Place the lid on and cook on Manual High pressure for 10 minutes. This melds the flavors together quickly. If you don't have an instant pot then simmer on the stove for 20 minutes or more.
Notes
You can certainly use boneless chicken breast or thighs but you do lose the intensity of flavor.
Stew a chicken ahead of time and freeze both the meat and broth to make this recipe at a later date in less time.
This soup also freezes well.
Here is a recipe that uses only chicken breasts over at A Cedar Spoon and this next gal at Damn Delicious uses chicken thighs.
Happy Soup Making!