Blueberry White Chocolate Almond Scones
Isn't that a mouthful but I just couldn't leave out one. The blueberries, white chocolate and almonds all play a major roll in the absolute deliciousness of these scones.
I am not one for overly sweet scones. The sweetness should come from the condiments you slather on later, like clotted cream….mmmmm (can't get no real clotted cream around here, doggone it!) and jam.
But even though these have the white chocolate in them they are still not too sweet. I am still working on the food photography and here is the shot that many Facebook followers picked but I think it was because they all liked the blue dishes. I do love my transfer ware too but they steal the show and you are distracted from the scones, at least to me.


The scones should have been gussied up a bit for the photos with maybe a drizzle of blueberry syrup or the powdered sugar. But the flavor more than makes up for my pitiful photography efforts. I really need to work more on staging.
These scones are very easy and you don't even need to cut out fancy shapes, I did that for fun. Usually I just cut the circle of dough into triangles..like this.

These lovely triangles bake up into these beauties..

I know, you are thinking lets just get on with the recipe…okay, here ya go..
Yield: 8 scones
Blueberry White Chocolate Almond Scones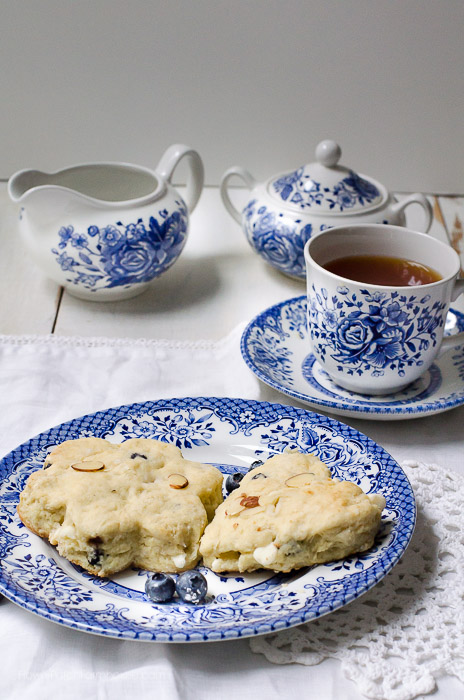 A delicious scone recipe for tea time or make it a light dessert, you can even enjoy these for breakfast if you wish.

Prep Time 15 minutes

Cook Time 15 minutes

Total Time 30 minutes
Ingredients
2 1/3 cup flour
3 Tbsp sugar
2 tsp baking powder
1/2 tsp baking soda
Dash of salt (about 1/8 tsp)
1/2 cup cold butter cut into pieces
1/2 cup dried blueberries (I get mine at Costco)
1 cup white chocolate chips
1/2 slivered or sliced almonds
2 eggs, slightly beaten
1/2 cup buttermilk
1 tsp almond extract
Instructions
Preheat your oven to 400 degrees
Put your dried blueberries in the buttermilk and let soak while you assemble other ingredients.
In large bowl, combine flour, sugar, baking powder, baking soda and salt. (I used my Kitchenaid mixer)
Cut butter into flour mixture using a pastry cutter or a fork.
Add in white chocolate and slivered almonds, mix well.
Add slightly beaten eggs and almond extract to buttermilk/blueberries.
Add buttermilk mixture into dry ingredients.
Turn dough out onto a well floured surface, knead dough lightly, 4 or 5 times and form it into a ball.
Place onto a well greased baking sheet (I use parchment paper, works great for me) and flatten into a disk about 3/4 inch thick. (I cut the ball of dough in half and made two disks so the scones would be smaller)
Cut into 8 wedges and separate slightly.
Brush each scone with a bit of milk and sprinkle with a wee bit of sugar (optional)
Bake at 400 degrees for 15 - 18 minutes, or until edges are golden brown.
Notes
This is a modification of my Cherry Scones..recipe also on this blog


If you like this PIN and save for later…

What would you have done to stage the scones better?
Any hints and constructive criticism is appreciated.
My chickadee painting tutorial video should be finished uploading soon and I hope to have that ready by Tuesday. Barring any weird blips with it loading to YouTube! Those have been known to happen.
Happy Baking!

You may also enjoy