Lets find out about gorgeous, easy ground cover plants you can grow in your garden. They are great for hard to maintain areas that you just want to look better or keep weeds down in.
I am a big fan of low growing, matting plants also known as ground cover plants. They are so wonderful between stepping stones, great as edging a bed and used in rock gardens.
There a so many to choose from but I will share ones I have actually grown and had success with. All of these make gorgeous ground covers.
Creeping Chamomile (Chamaemelum nobile) ground cover plant
Yes this is the short brother of the relaxing, sleep inducing herb. It is used as a lawn replacement in many areas.
It takes foot traffic once established and with each step you get a sweet apple fragrance that is delightful.
This particular variety is Roman Chamomile and creates a thick mat and flowers later in the Summer.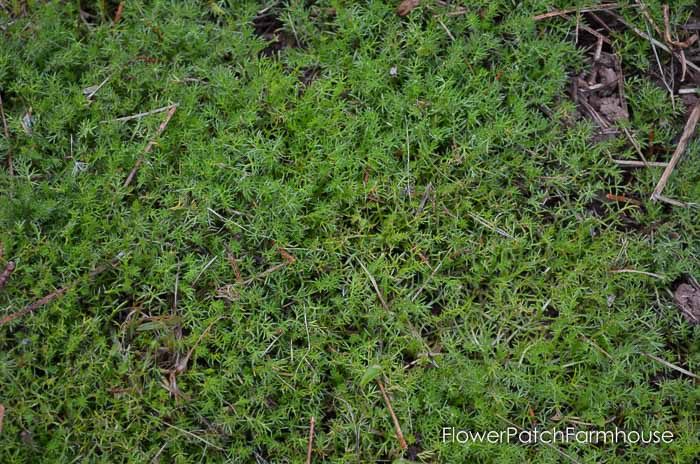 It is fairly easy to transplant. I just dug up some clumps from an well established area and poked them in the ground between new stepping stones pavers I am placing in my Secret Garden.
It grows great in Zones 4-9. It will fill in to create a carpet of green between the concrete pavers and soften the look of the edges.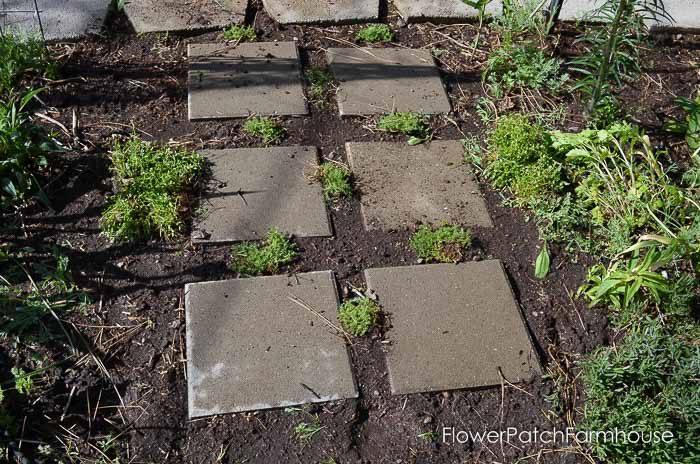 Lime Thyme (Thymus citriodorus)
The plant along the outside edges that looks a bit ragged is Lime Thyme.
I had just transplanted it from a larger clump. It gets its name from the citrusy scent and not its color.
Unlike Lemon Thyme, Lime Thyme is not really good as a culinary herb as it does not taste as well as it smells.
Lime thyme grows in my garden in both full sun and part shade. Once established it is very drought tolerant.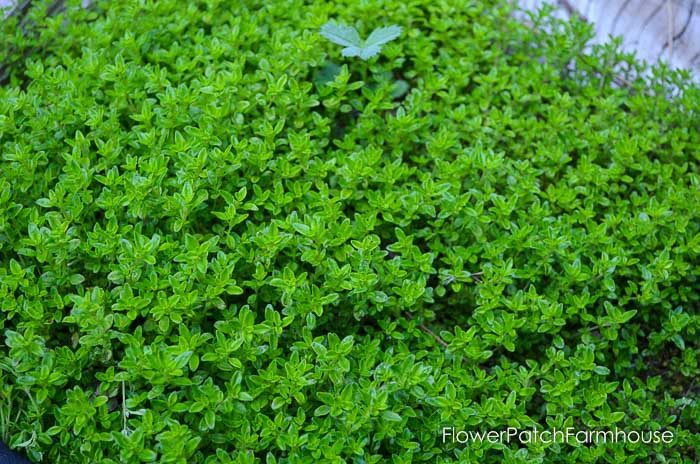 Lime Thyme starts out very chartreuse in the Spring and settles into a bright green for the rest of the summer.
It gets up to 6 inches tall but I easily trim it with my weed whacker. Lime thyme dies back in winter and can look like it is dead.
Don't despair, it comes back with a vengeance when warmer weather arrives. You can see the Lime Thyme starting to creep over my board walk in the photo below.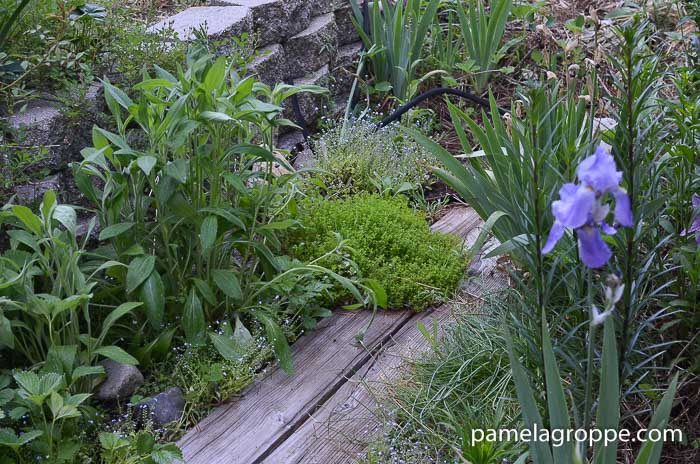 Woolly Thyme (Thymus pseudolanuginosus)
Woolly Thyme is very different from the Lime Thyme.
It has blue grey leaves that are fuzzy looking. Woolly thyme blooms small lavender flowers intermittently through the summer and in my garden stays a bit shorter than Lime.
Drought tolerant and perennial in Zones 4-8 but I say probably even higher. It likes full sun but can take partial shade.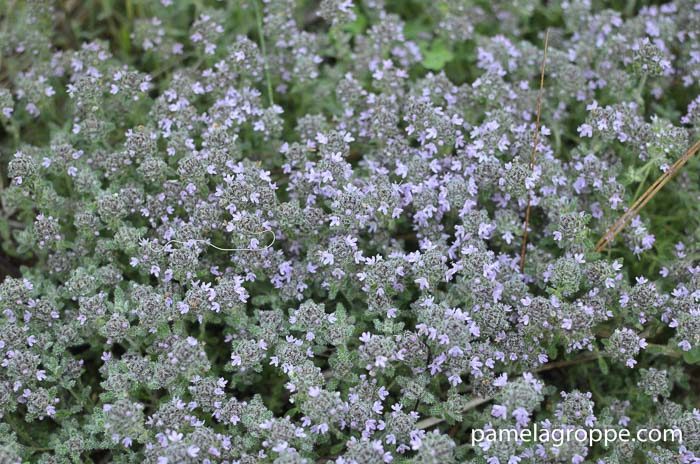 It creeps along at a sedate pace and is well mannered in my garden but others have said it can get become a bit of a bully.
I treat it the same as the Lime Thyme in that I just whack it back with my weed whacker when it needs a trim. It takes foot traffic and has the spicy Thyme scent. Woolly thyme can be used as a culinary herb.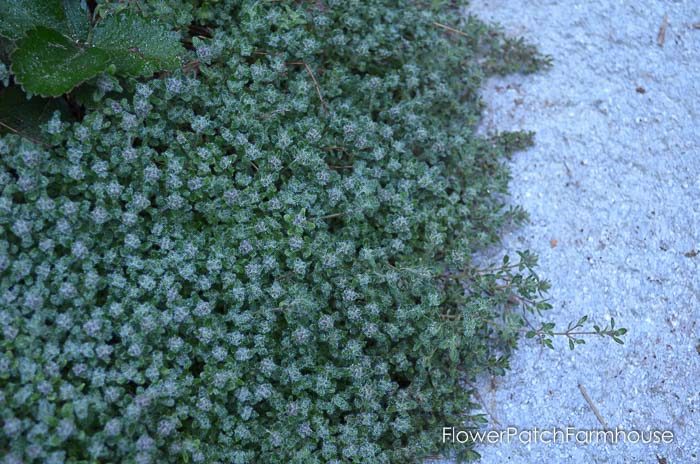 The photo above was taken more early morning so it is a bit darker but you can see how it creeps over the flagstone here and is quite thick.
I also have Lemon Thyme, Elfin Thyme, Creeping Thyme and Ruby Thyme.
Creeping Phlox (Phlox subulata)
Creeping phlox is one of my Spring favorites as it brightens up the garden before much else is blooming. I have both the lavender and bright pink.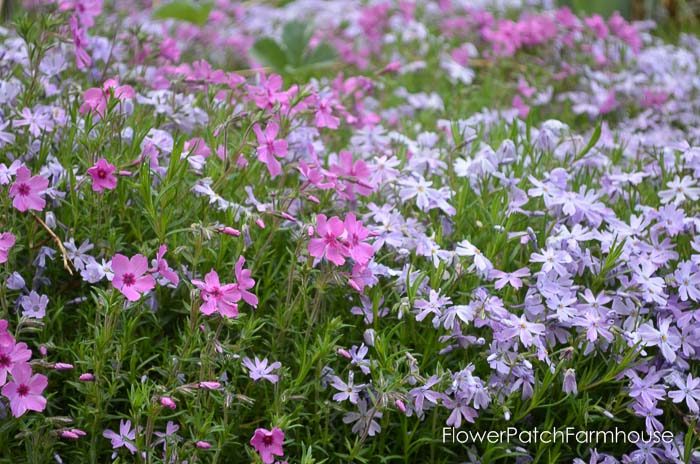 The lavender blooms first then as it is just starting the fade the bright pink starts blooming in earnest making for a bright show.
It creeps along at a tolerable rate on most soils. Where I have my creeping phlox planted the soil is very rocky and shallow yet it thrives, and it is easy to pull up from where you may not want it.
Creeping phlox gets to 4 to 6 inches tall and will cover banks, hills or flat areas with a carpet of color in Spring. Once it is done blooming it maintains a lush green appearance. It is hardy in zones 3-9 and comes in an abundance of colors, some is even bi-colored.
Blue Star Creeper
I became acquainted with Blue Star Creeper about 30 years ago. I had it growing under my garden bench where it got dappled sun and it filled in so wonderfully.
The the pale blue, star like flowers give it an elegant touch of charm.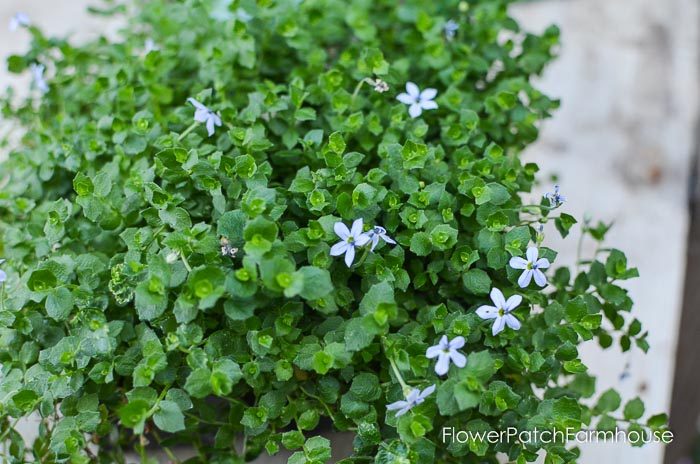 Here I have not found it invasive in the least but some in warmer regions may. Mine stays where I want it and doesn't really travel far.
I have read of others in areas like the Southeast who have found it to be a bit of a bully.
One gardeners well mannered plant can be another gardeners nightmare so be sure to do your research and any local garden center with trained personnel should be able to tell you if something is right for your area and climate or not.
There is a white one of this and I have a new one I am trying as well it is a dwarf. I will let you know how it grows for me.
Creeping Jenny (Lysimachia nummularia)
Chartreuse leaves on trailing stems that form a low growing mat that roots as it spreads. I have read this is very aggressive in areas that get rainy summers like the Pacific Northwest and I have found it to be a bit rampant myself but I can contain it so far.
What is lovely about this is it will do well in sun or shade. It makes a great shady area ground cover as the foliage really lights up darker areas of the garden.
It is wonderful as a spiller in containers as well.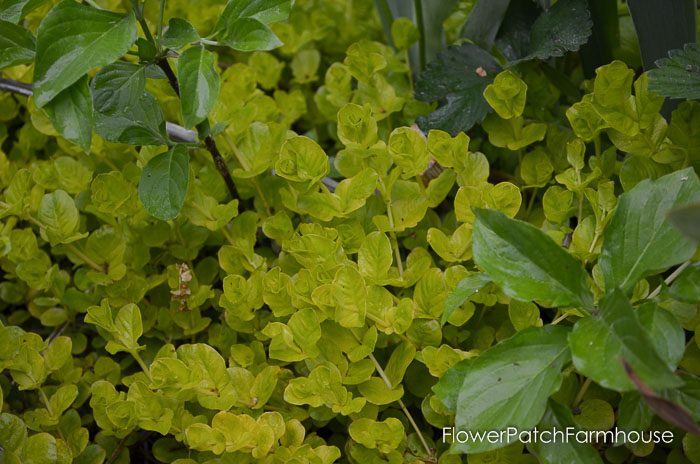 Baby Tears ((Soleirolia soleirolii)
I love this for shady areas, I have it on the North side of my studio under my bench.
I just replanted this year so it has not filled in yet but I will share a photo later on in the season to show you how pretty it looks all filled in.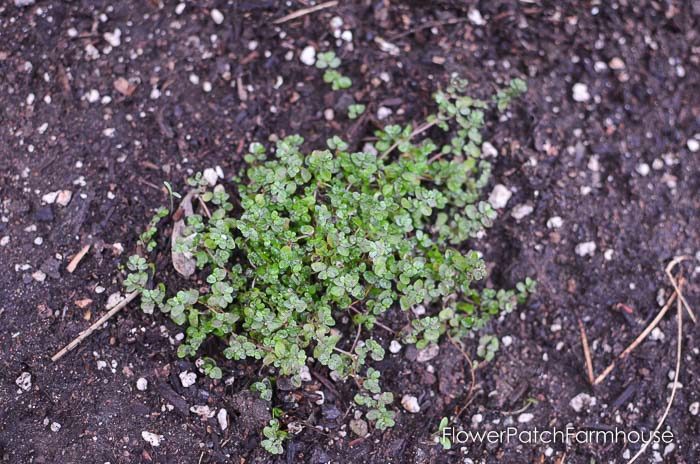 Corsican Mint (Mentha requienii)
One of my favorites for walking on as it has such a fabulous minty scent, it is the lowest growing and it is so delicately lovely. It looks a lot like Baby Tears but this one likes the sun.
You need to keep it well watered to get it to spread thickly. It goes dormant in winter and you think it has disappeared but when warm weather returns it makes itself seen. Zones 6-9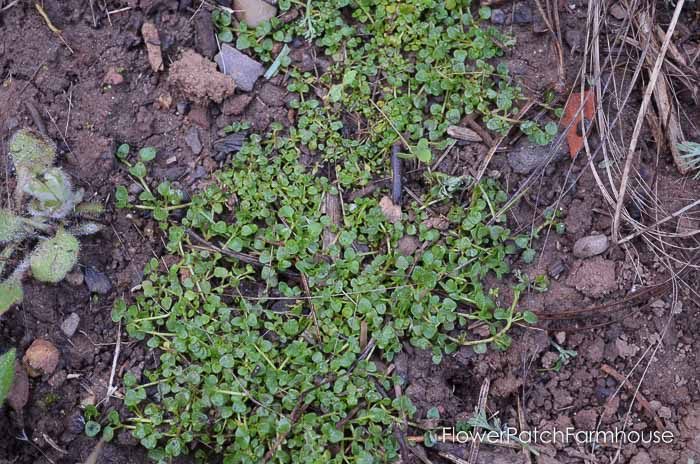 Scotch Moss
Scotch Moss is a workhorse of a ground cover. It grows in bright golden tufts and carpets an area so well it can be used as a lawn substitute. It has lovely little white flowers in Spring. It does better in part shade than full sun. It scorches in full sun in the heat of summer.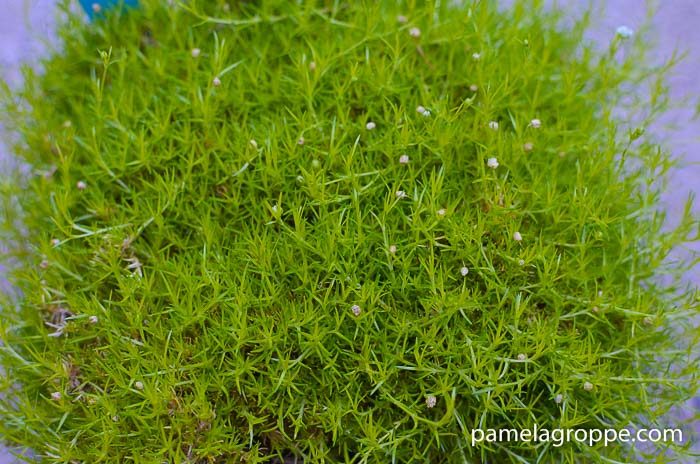 Creeping Speedwell -Veronica Replens
I have this one also in a chartreuse color and it is very slow growing, it is called Sunshine. I have read that this darker green one can be invasive for some, just fair warning.
It is similar to the Blue Star Creeper in looks. Veronica Replens will work in shade, part shade or sun. Kind of an all purpose groundcover. Zones 6-9.
I haven't grown this one long so I will have to chime in later on what I think of it after this summer.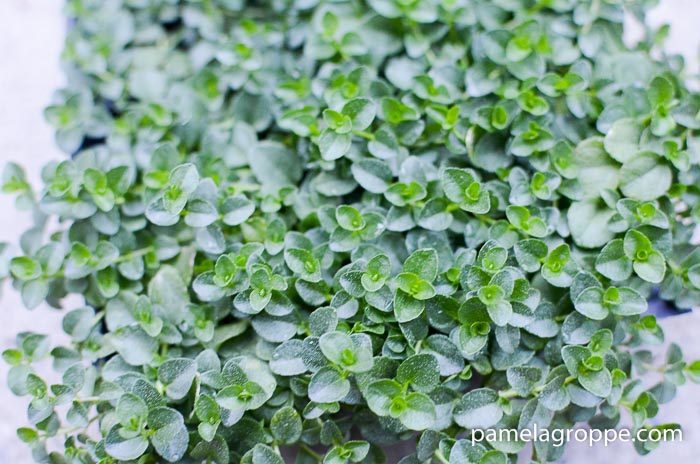 Hen and Chicks (Sempervivum tectorum)
I have several different cultivars but they all make for a great ground cover in different areas.
If you haven't thought of these succulents as an easy ground cover you are missing out.
They take tough conditions, spread out to about 2 feet and are easily divided to provide more.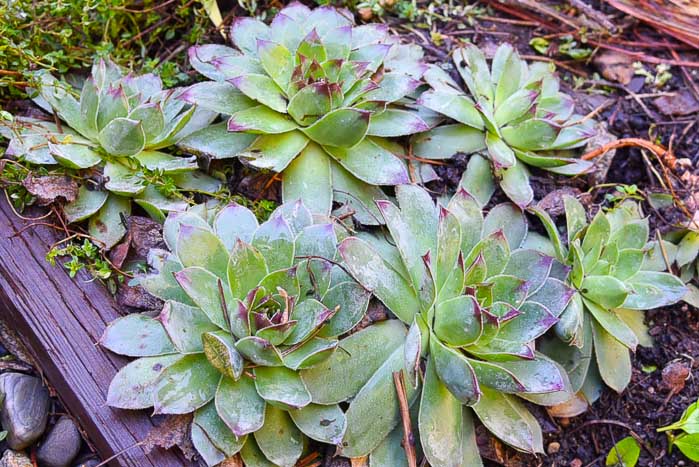 The leaves vary in color depending on which cultivar you have but all make for a lovely, easy ground cover. Meet their conditions and Hens & Chicks will reward you with an abundance of rosette shaped clusters.
That is just some of the ground covers I grow. I also have an entire collection of low growing or creeping Sedums that I will take an entire post themselves.
If you grow any of these ground covers above, please chime in and let us know how they work in your area.
Are they invasive and bullies or do they grow in a more mannerly and contained fashion?
Happy Gardening!
More You Will Enjoy
Carpet Gardening with Groundcovers
Create a Living Wreath with Groundcover Plants
Tons of Free Plants from Cuttings