I'm Dreaming of a White Garden
I'm Dreaming of a White Garden.
An all white garden can be an elegant thing and adding white to an otherwise colorful space can be an excellent accent or calming influence.

(this post contains some affiliate links, see disclosure page for more info)
White is a perfect foil for the soft pink, lavender, blue and burgundy shades of flowers in a garden.
The garden will glow when the white reflects the pale moonlight on summer evenings.
The best time to plan it all out is now, during the dark days of winter.
I will get my seeds started soon. Click here for how I start seeds!
So far this is what is on my list…
Have you seen pure white Foxgloves? They are so elegant and will bloom early on in the season..
Snow Thimble Foxglove

I love sweet Alyssum and Botanical Interests has one called Tiny Tim that they claim are far superior than Carpet of Snow so I will give it a try.
I want it to line many of the pathways and be a ground cover under roses.
Won't it look lovely along this path? Can't you smell the sweet perfume as you pass under the Obelisk Arbor (click here to see how to build one for yourself)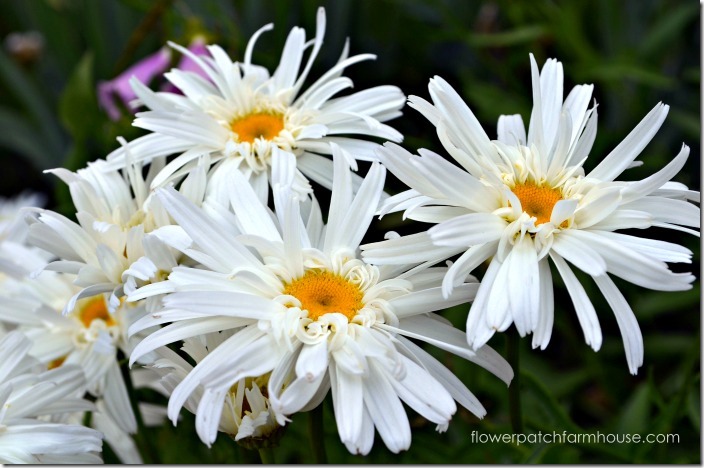 I have a lot of Crazy Daisy starts in the greenhouse and they shall find homes in the Secret Garden too. Park Seeds carries them and such a variety comes from a single packet.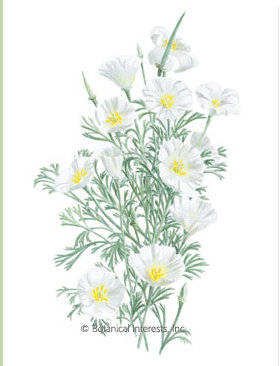 Another gorgeous early bloomer will be this Linen California Poppy. The regular California poppies I have reseed themselves so readily I have to pull them up like weeds. I can only hope that these white ones will too. Once the early bloomers fade there is plenty more to fill in.
I have tons of Feverfew that comes back every year. It is another one that reseeds itself generously but is easy enough to pull up if it grows in an area you don't wish it to. If you don't want it to reseed then but it back just as blooms fade. It will re-bloom throughout the summer.

When the poppies, foxgloves and Daisies are about done then in steps White Swan Echinacea. It is not only a not summer trooper but it has a subtle sweet scent.

Cosmos are another mid summer bloomer…and it will continue on through to Fall with regular dead heading. Psyche White Cosmos is going to be a new addition to my Secret Garden.
This year I will grow some Sunflowers…and there is a pure white one called Vanilla Ice.
I have the perfect spot for it.
But I have a shady area too that needs a spark of white…Summer Snow Impatiens are the ticket for that space.
I think that is a good list of white flowers to add to my garden.
I wish you all Happy Garden planning and may all your seeds sprout!