DIY Planter with Solar Fountain
Create this fun and easy DIY planter with Solar fountain. Using a galvanized fire ring and a old tub you can DIY this fun garden center piece. Hummingbirds love it and so will you!
Step by step I share how you can put together this simple DIY planter with a solar fountain in your garden. At the time I built this the total cost was around $55.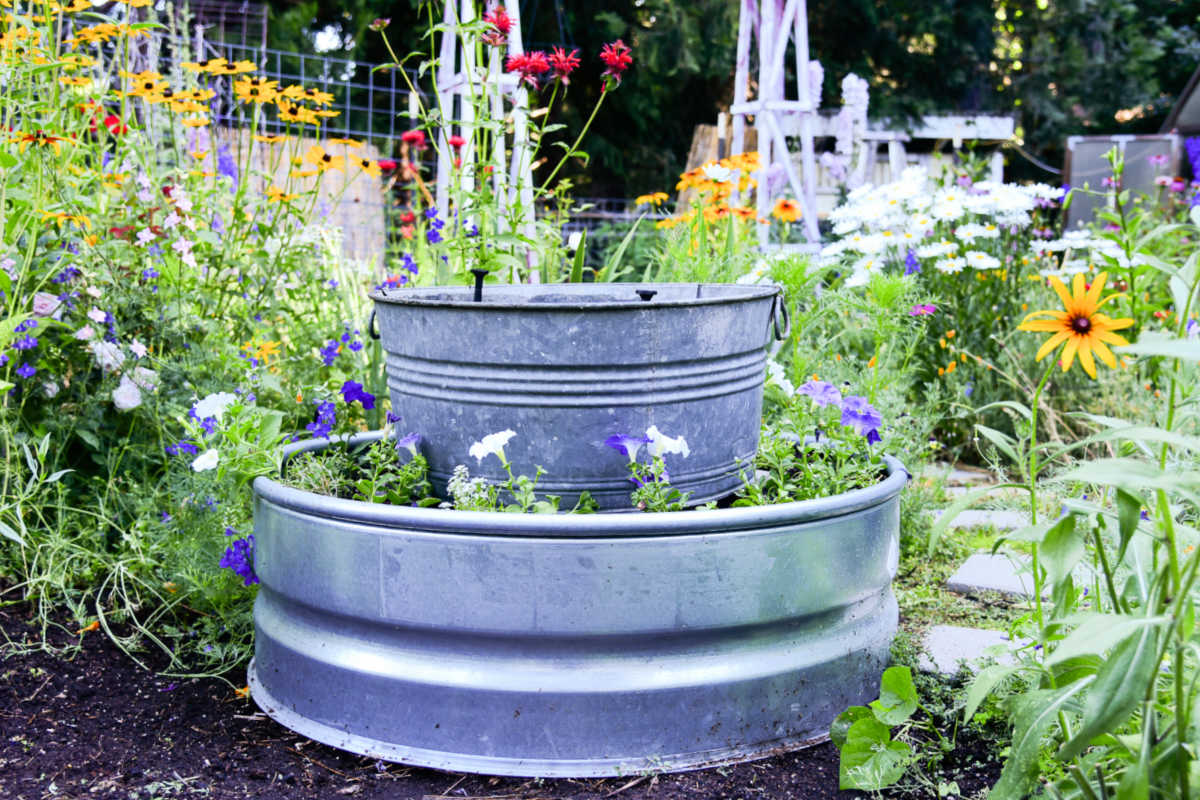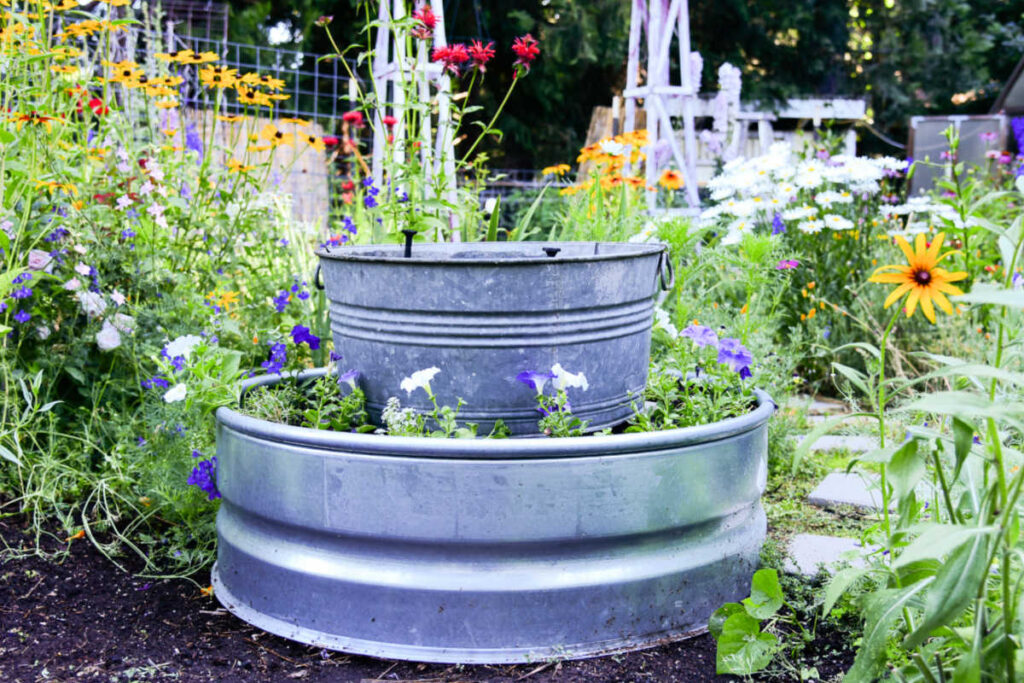 This post contains affiliate links. If you make a purchase after clicking a link I may make a small commission at no cost to you.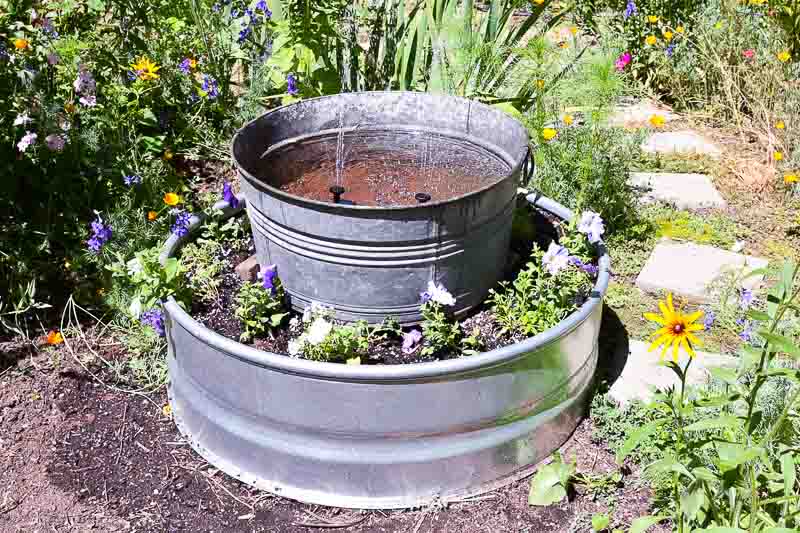 Soon the petunias and alyssum will fill in and the planter will be spilling over with purple and white blossoms.
This is the new centerpiece for my Secret Garden and I will have a pathway leading up to the four sides. That will segment the garden into 4 quadrants like a Paradise garden. I will be sure to update the photos as the planter fills in.
Supplies:
36″ Fire Ring
22″ to 25″ Galvanized Tub
3 Concrete Pavers or Cinder Blocks
Potting Soil
Solar Fountain (I have tried several, this one works great if you know how to use it. Watch how I get it started in the video)
We started with finding the center of our oddly shaped back garden by measuring from all angles.
The 36″ galvanized fire ring was purchased from a local feed supply but this one is similar.
NOTE: I should've placed wire mesh under it to prevent rodents from burrowing but failed to do so. I would advise you to be sure and include that step.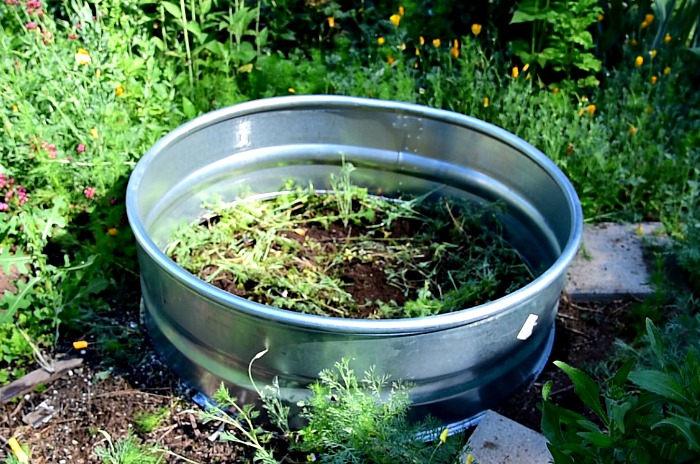 Supports for galvanized tub
Next step is to decide on a firm support for the galvanized tub. You need something solid so it can hold the weight of the tub filled with water. My husband recommended cinder block but I used the 12″ concrete pavers. I had them on hand already.
Using 3 of the concrete pavers I set them in and made sure they are placed where the bottom rim of the galvanized tub will set.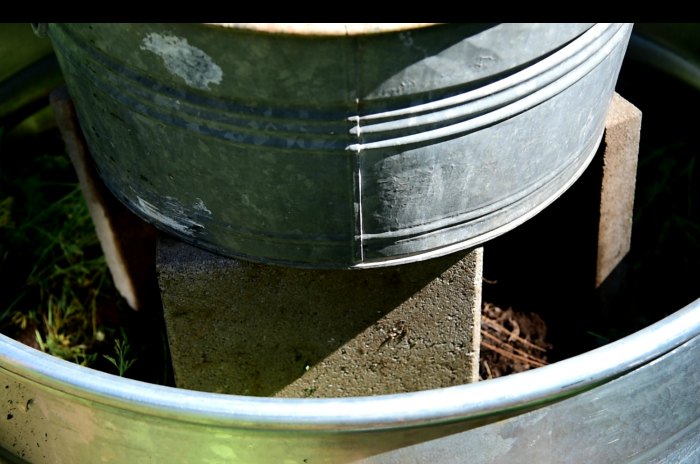 Then I filled in with pulled weeds, garden debris and some chicken litter from the pen. Water it in to settle it.
It can be tricky to keep the pavers on edge until you have it filled in enough to support them but it can be done.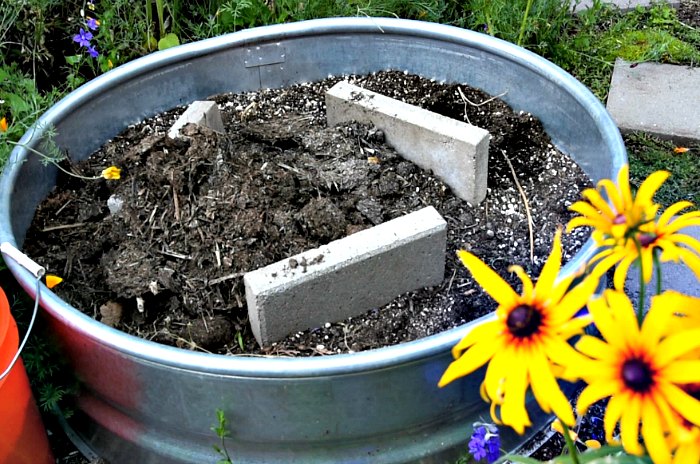 Fill with whatever you wish but leave about 6″ room for potting soil or aged compost on top. Then go ahead and top it up with the potting soil or compost.
Because mine is filled partially with garden debris it will sink down as that debris composts. I will just add more aged compost or potting soil as it does so.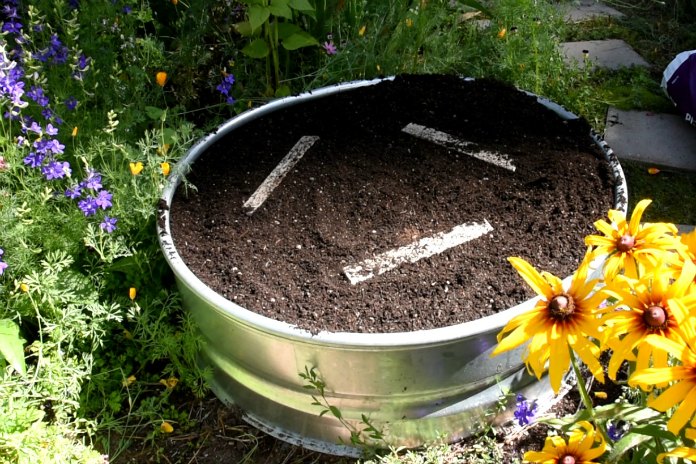 Now is the time to place the galvanized tub on top of the pavers. Center it as much as possible.
Some part of the pavers may show but they will soon be concealed by the plants we will plant in there.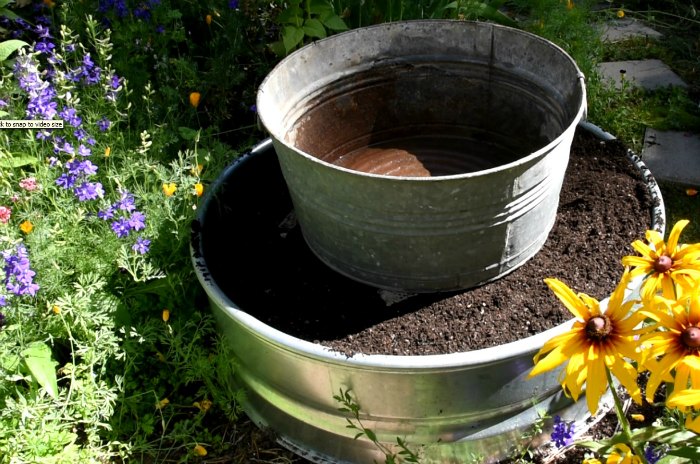 Next fill the tub with water and add your solar fountains.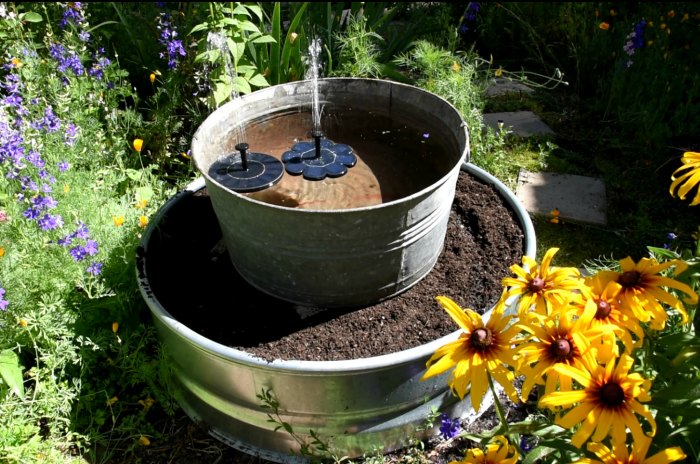 As I finish up the pathways and the flowers fill in I know this DIY planter with solar fountain will make a stunning garden centerpiece.
I will be sure to share progress shots as it changes over on my Instagram and Facebook pages!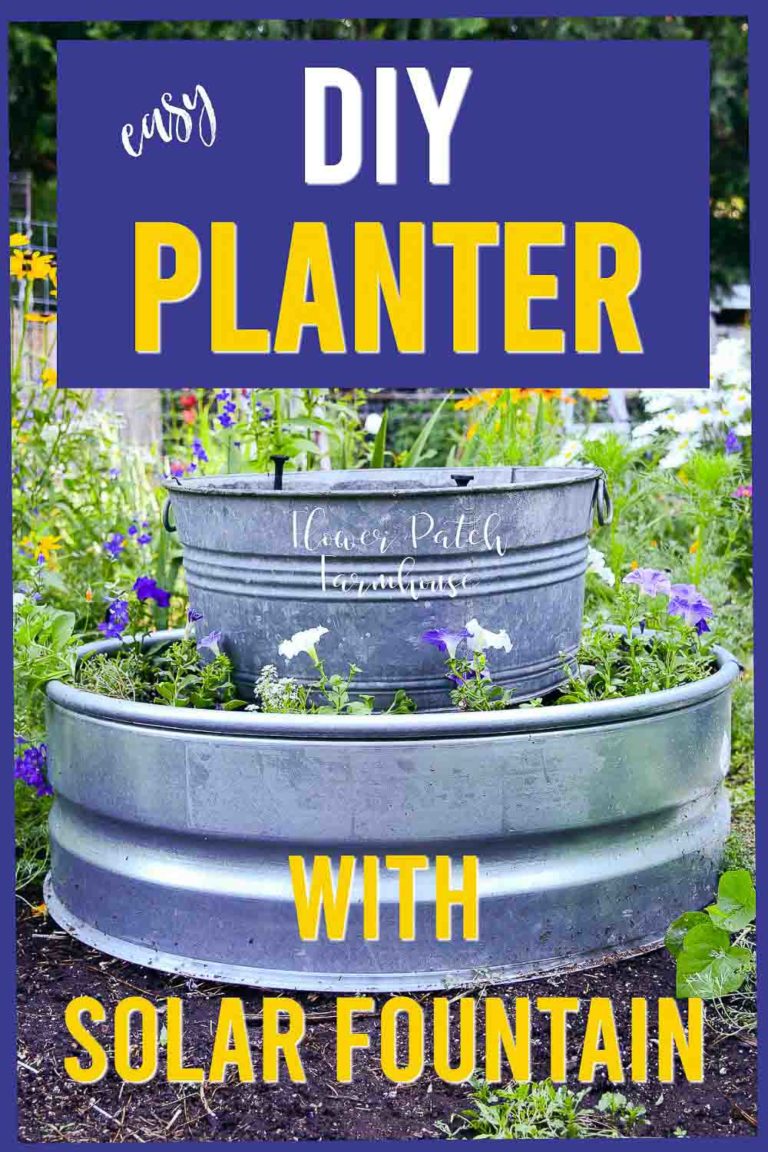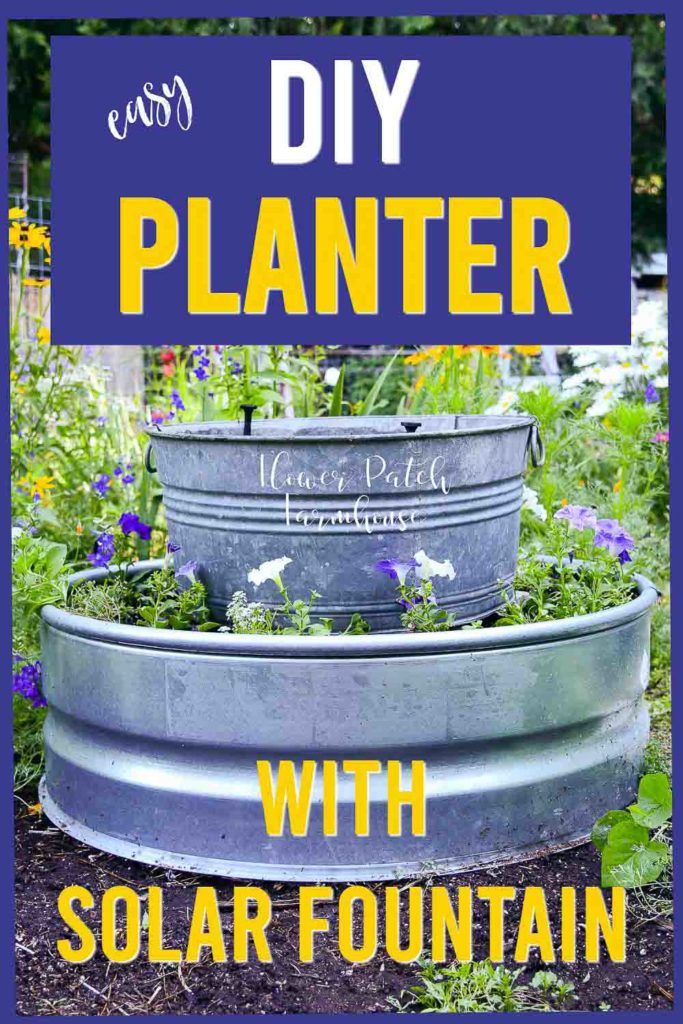 More garden tips and tricks
Buckets and Tubs garden
DIY rustic box or crate
Hummingbird Fountain
More DIY Water features
Happy Gardening!