DIY Solar Fountain Hummingbird Bath
My DIY solar fountain hummingbird bath works so well for such an easy project that I had to share. You can easily do this and what is great is you don't need anywhere to plug in for electricity!
My DIY solar fountain hummingbird bath was a hit on Instagram and Facebook. It is so easy and economical. When I thought up this idea I knew I wanted to use mostly things I had on hand. So I scrounged around my garden supplies, basement treasures and even took apart other things I had made. (the terra cotta dish came from my Terra Cotta Pot fountain) Don't worry I will replace it.
Now I have created a centerpiece planter with a galvanized tub solar fountain on top. It's beautiful, click here to check it out!
UPDATE: see the update on my fountain at the end of this post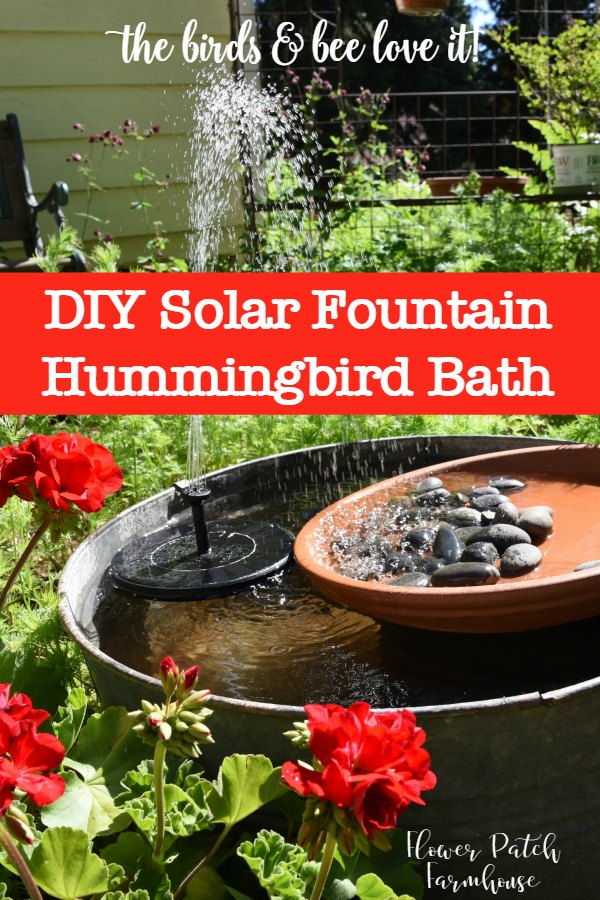 Get Started on the DIY solar fountain
Start with a deep container, I used a galvanize vintage tub. Mine is about 24 3/4″ across the top and 12 to 18 inches deep.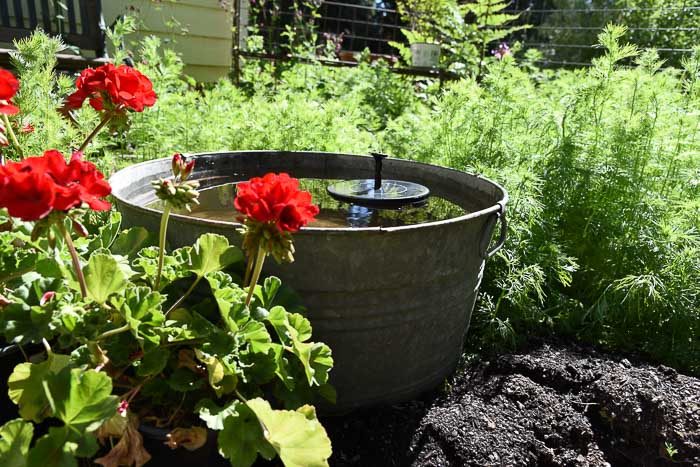 I wanted to use the larger size tub so I could fit a terra cotta dish in it for the birds to land on.
the Fountain
I bought this Solar fountain from Amazon. (this is the latest one I bought, I have been testing a few) I wanted solar as there is no plug out here and I did not want to drag an extension cord into the garden.
Several spray pattern heads come with it so use the one you like. I chose this one as it has the finest spray which I thought would work best for hummingbirds. (the other tips will get tested to see which I like the best).
I put the tip on at an angle for a reason which you will see later.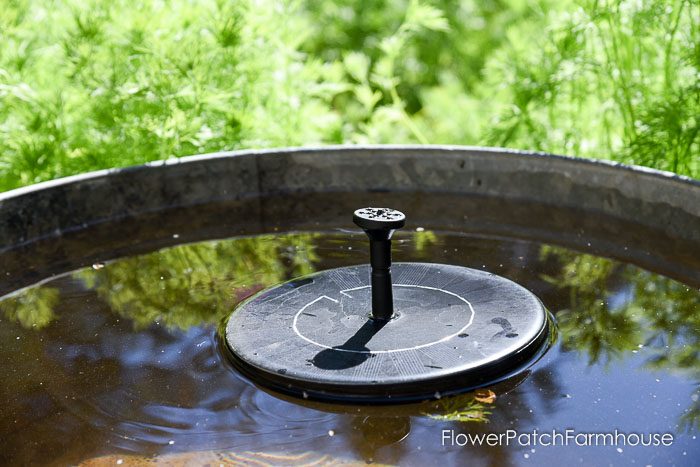 Items I had on hand
The other items in my DIY hummingbird bath fountain are a terra cotta dish with some stones in it and an ordinary black pot.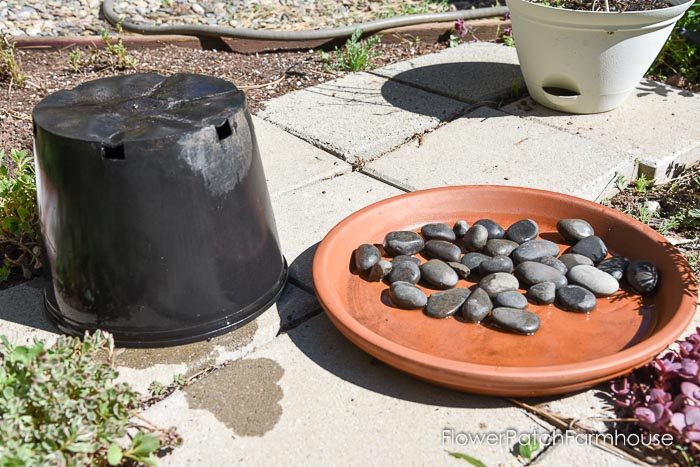 Putting the solar fountain bird bath all together
I used a pot that was nearly the same height as my tub. I sunk it down into the water upside down and let it fill so it would stay under.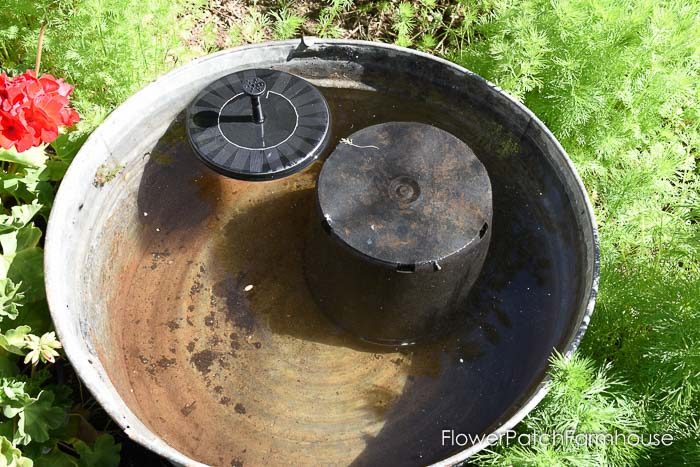 Next I place the dish and stones on top of the submerged pot and place it so the fountain spray will hit into the dish.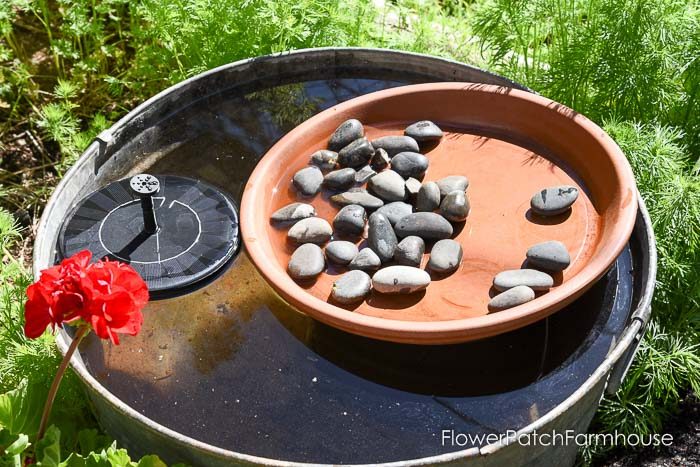 I tilt the dish so it will drain into the tub.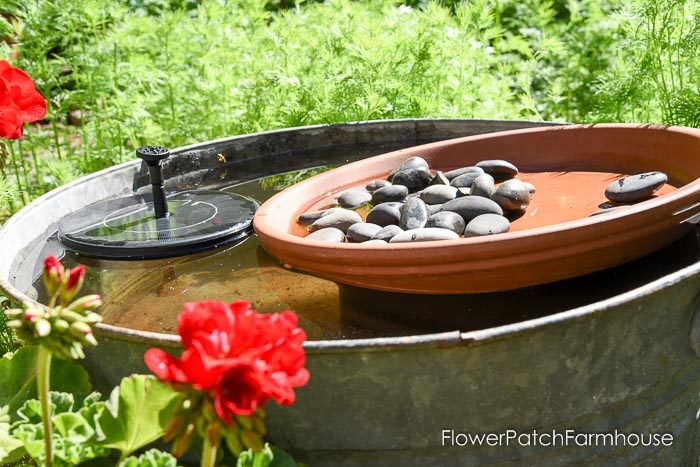 The solar fountain has a bit of room to move in front of the dish and sometimes it turns and sprays outside of the tub but since the tub is so deep it doesn't run out of water. It just waters the flowers around it.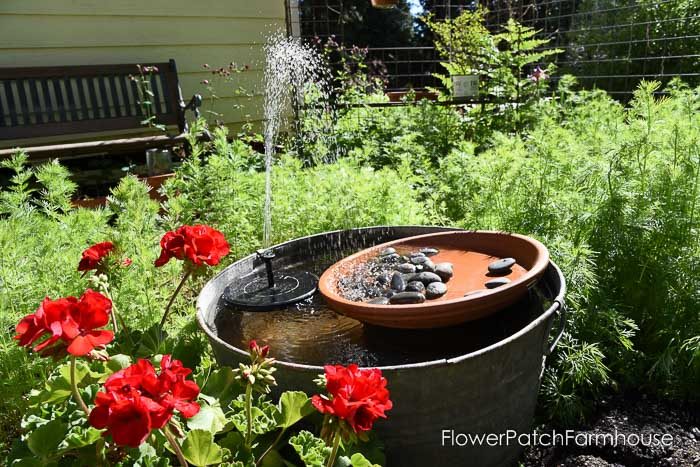 Now that I have had this running for several weeks I can say I love it and so does the birds and bees. The Hummers now come looking for the spray each morning before the sun has even risen over the trees to get it going.
I just created another for my front garden and tried a different solar fountain. It was a few dollars cheaper but it does not have as powerful of a spray and so far the hummingbirds are not using it. I could try elevating the tub but I think I would rather just purchase the same solar fountain that I used for this one in the post.
Update:
I have removed the terra cotta dish. The bees liked it but the other birds go to another shallower dish for their bath instead of this one. Plus it created shade when the water receded stopping the pump.
Let me know if you make one! I think there is so many ways we can take this idea.
FYI: Some have commented that they got one that did not work. First, there is a protective film covering the top of the fountain that needs to be removed and sometimes air gets trapped in the pump. Fully submerge the unit into the water until no bubble erupt from it. Then let it float to the top and it should begin working. I call this "burping" the pump.
Happy Gardening and Hummingbird watching!
Pin and share, I am sure there are plenty of others that would like to try this.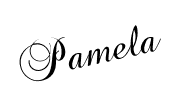 PS: want more DIY bird baths See Here Or Visit this article: Bird Bath Fountain Ideas