Greek Pasta Salad, this pasta salad is a crowd pleaser. It makes a generous amount and tastes even better the second day, so make it ahead.
YAY, warmer weather is here! If you have a family picnic, gathering or bbq coming up this quick and easy to make Greek pasta salad is a must! Prepare it ahead of time, it tastes even better the day after you make it as that allows the flavors to deepen. It is full of garden fresh vegetables.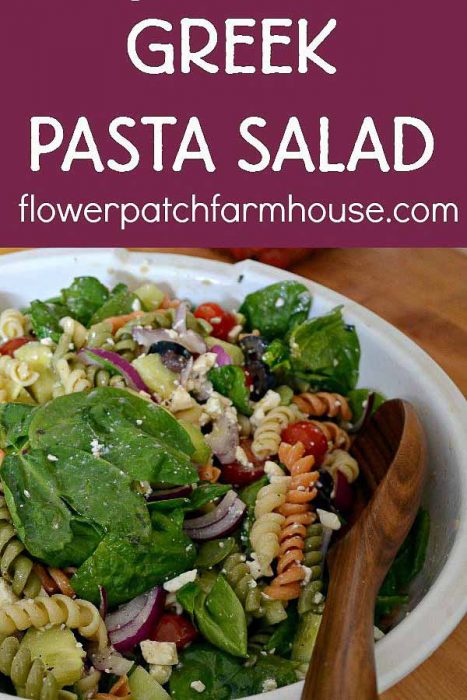 This is a great salad for a crowd. It has tons of flavor and goes wonderfully with grilled foods. Add this grilled chicken and make it a complete meal!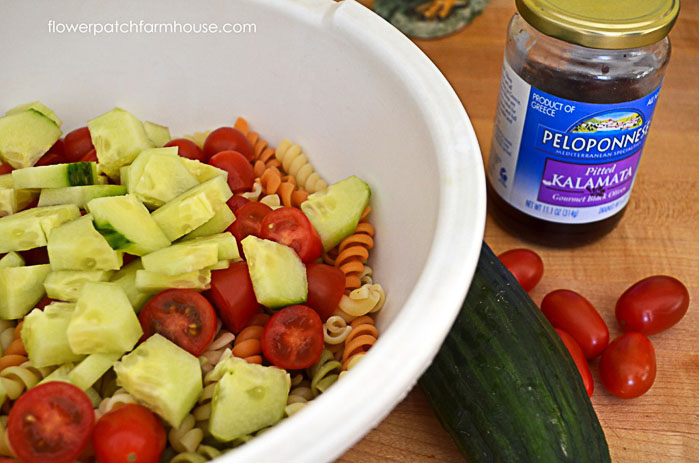 Loaded with veggies and twirly pasta for a flavor packed feast.
Feta cheese gives it a tangy zip.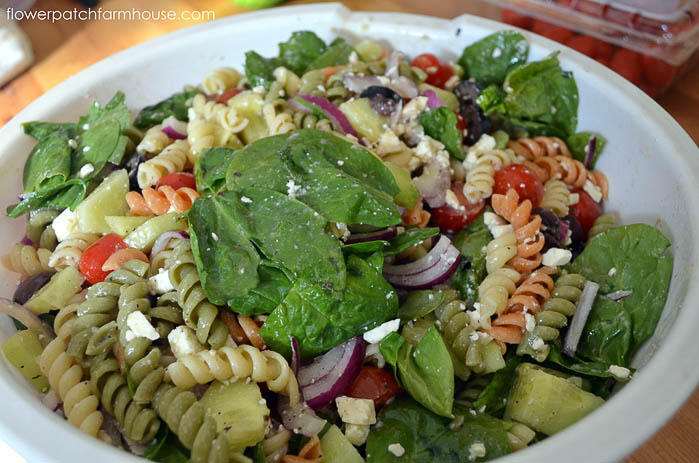 Can it get any better than that?
Greek Pasta Salad
Fabulous Greek Pasta Salad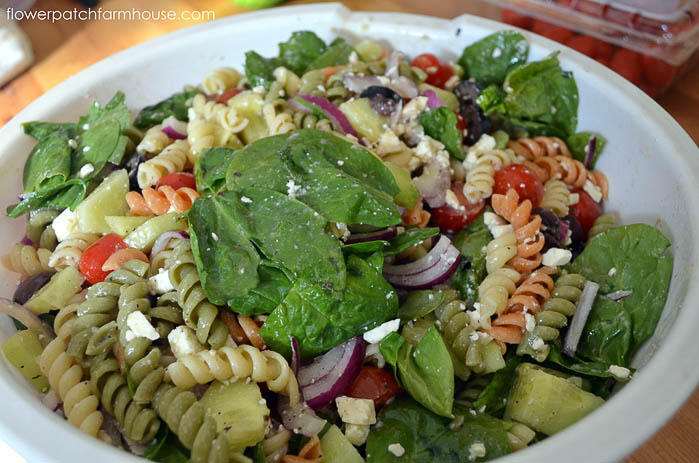 A delicious pasta salad with a greek flavored twist. Goes far so make for a crowd.
Ingredients
Dressing:
2 cloves garlic, finely minced
1 teaspoon dried oregano
1 teaspoon Dijon mustard
1/4 cup red wine vinegar
1/2 teaspoon salt
1/2 teaspoon pepper
1/2 cup olive oil
Pasta salad
1 pound tricolor Rotini (regular Rotini works too)
3/4 medium English cucumber, peeled, halved lengthwise, cut into 1/4-inch pieces (I also like to use the snacking cucumbers, no need to peel those or half)
1 dry pint cherry or grape tomatoes, halved
1/2 large red onion, thinly sliced
1 cup pitted kalamata olives, halved (I cheat if I don't have enough Kalamata I use black olives to supplement)
6 ounces feta, crumbled
3 cups firmly packed baby spinach
Instructions
Make dressing: In a small bowl, whisk together garlic, oregano, mustard, vinegar, salt, pepper and olive oil until well combined.
Make salad: Bring a large pot of salted water to a boil. Add pasta and cook until al dente, about 10 minutes, or as label directs. Drain, rinse under cold water and transfer to a bowl. Add remaining ingredients, toss with dressing and serve. (I like best when served the next day, the flavors really meld by then)

If you make this for a crowd, take a copy of the recipe with you.
You will be asked for it!
Have a fantastic weekend!