10 Great Salad Recipes for Memorial Day Weekend
Warm weather is upon us and more to come. That means lots of fresh greens and veggies.
Thankfully after a winter of stuffing myself with comfort carbs I crave lighter fare when it is warm and sunny. It helps me to trim off the 10+ pounds I put on each winter.
I don't fret it, I am past that, I just know that come salad season I can trim back down in a heart beat with some great tasting salads.


I am a lover of sweet and savory together so adding fruit to a salad is always good for me.
This Strawberry Feta salad from Bunny's Warm Oven sounds just right. It looks bright and festive too.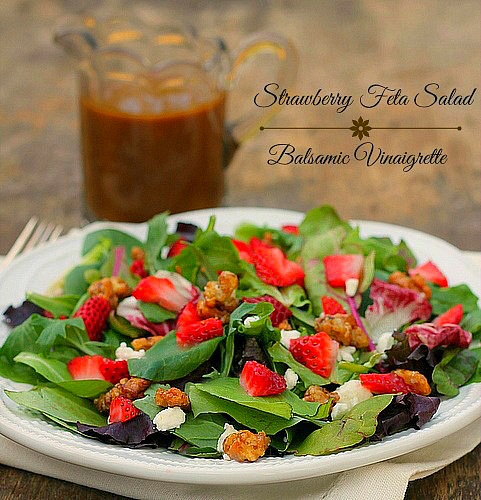 If you are not a lover of Broccoli you may just convert once you try this salad. It is a year round favorite here but we especially enjoy it in Summer with our bbq's. Just about everything tastes better with bacon!
Broccoli Bacon Salad from right here at Flower Patch Farmhouse

Here is another version From Snappy Gourmet that uses yogurt instead of Mayo. I tried to swap out the mayo for greek yogurt with ours but my hubby didn't like it. I thought it was just fine and it does lighten it up calorie wise! Give it a try, you may like it too.


Fruit salads are great for making light desserts and satisfying that sweet tooth urge. This Rainbow fruit salad from Musing of a Stay at Home Mom is almost too pretty to eat.

Just the name of this one has my mouth watering…SPINACH, CHICKEN, BOWTIE PASTA SALAD WITH TERIYAKI VINAIGRETTE
what a mouthful..but just look at it!

I have just recently come to appreciate Sweet Potatoes. Before now I just did not have much experience with them. But this salad is now on my 'gotta try' list. I am not into Paleo but I do know it is a popular diet for many right now.
Greek Sweet Potato Salad from My Life Cookbook

Here is another Sweet Potato Salad…Chipotle Sweet Potato Salad from Peas and Crayons…I love all things Chipotle!

Here is a new twist on Pasta Salad for me…Mexican Pasta Salad from A Cedar Spoon, sounds downright festive.


I love me some Cucumber Salad, so refreshing! This one is from Juggling Act Mama


A nd last but not least a Salad to feed a crowd. This one goes far so if you are making it just for your family I would suggest halving it.
Fabulous Greek Pasta Salad from little ol' me, Pamela of Flower Patch Farmhouse.


If you need to save this for later just PIN


Have a fun weekend!