How to Save a Dying Rose Bush
Is your rose dying? I will show you how to save a dying rose bush plant. It is easy and so satisfying to save a rose from dying!
Do you have roses? If you do you may one day need to save a dying rose bush. It is good to know that reviving a dying rose or other plants is possible and not really difficult.
I love my roses and this year I have had issues with gophers. They have been chewing the roots off and even into the rose canes.
This has nearly killed a few of my roses. So that is how this article was born. I figured if I am having to revive roses that are dying then maybe some of you are too.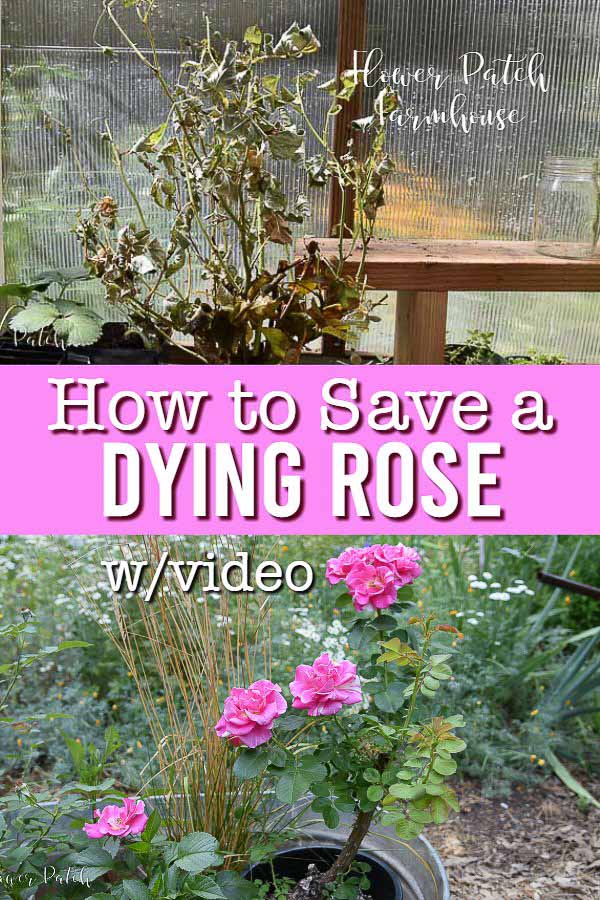 This post contains affiliate links, if you make a purchase after clicking a link I may make a small commission at no cost to you.
This is the photo of my nearly dead rose bush. It is withered and clearly dying. This is one of my Olivia Rose Austin roses. One day it was leafy, full of buds, and thriving. The next morning I find it like this!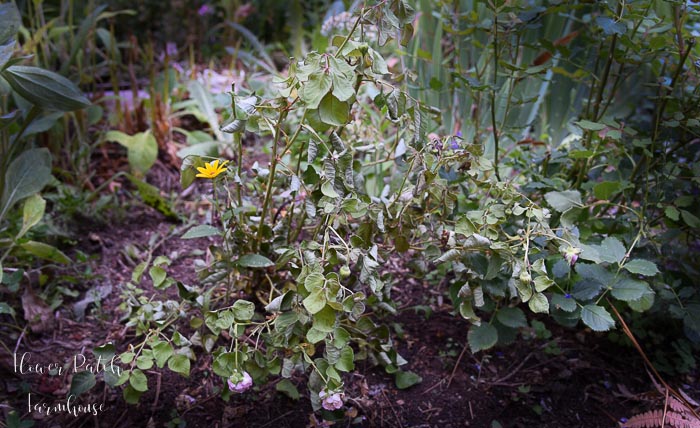 Earlier in the Spring, I had to dig up a rose and save it. At first, I wasn't sure what had happened but in the video, I share that rose that I saved and the photos in this post are of this Olivia Rose.
I really do know how to grow roses, I don't kill them usually. This is the first time I have dealt with this but I have had to move roses at the wrong time of year and this method works for that too.
This works for roses that may be declining for various reasons. If you can't tell what is ailing it from looking at the rose then it is time for more dramatic measures.
easy tips and tricks
Roses are Easy to Grow!
Find out how easy it is the grow roses in your garden. All the tips and tricks for success.
How to Bring a Rose Plant Back to Life
Let's get started with your tools. You will need a shovel, potting soil, a pot large enough for the rose (I used a 3 gallon size can), hand pruners and gloves.
Dig up the Rose Bush
The day before you are going to start digging up the rose make sure to water it deeply. This will make it better able to withstand the shock of transplanting but also make it easier to dig up.
Time to start digging.
Place your shovel far enough back you can preserve as many roots as possible.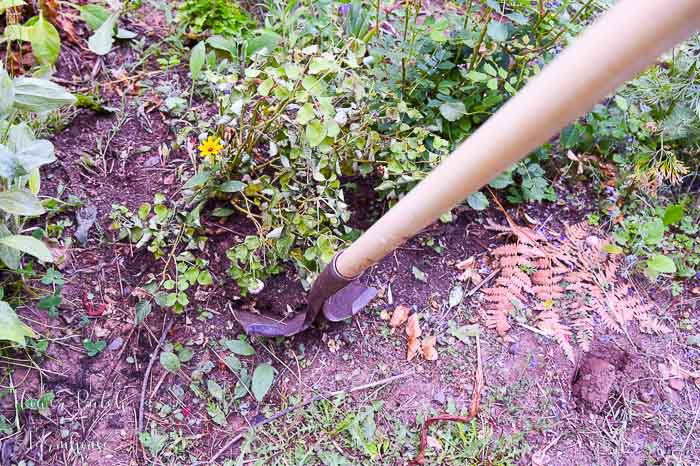 Dig all the way around the root ball then push the shovel down under it and pop the rose out of the ground.
As you can see here, mine had no roots left.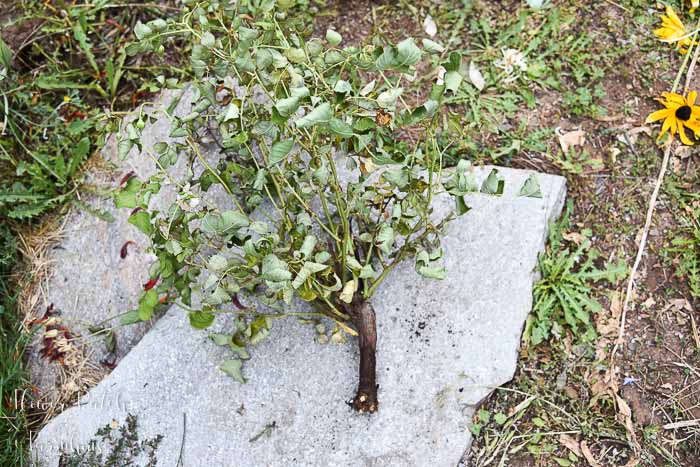 The voles or gophers have eaten them clean off. Your rose may not be struggling because of critters eating the roots off and you will have some roots.
In your case, you can trim up the roots a bit with your pruners to fit into your pot. Trimming the roots will not only make it easier to get them into a pot but will also stimulate new, healthy growth.
I am seriously worried that this rose will not recover. There are barely a couple of tiny hair-like roots left so my efforts to save this dying rose may be fruitless.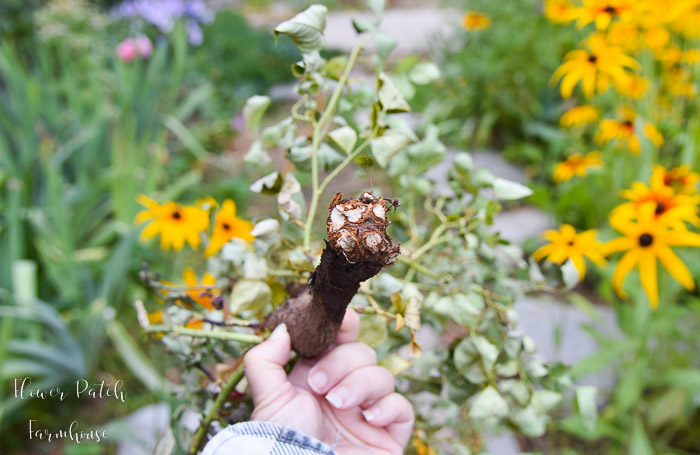 Prune and pot Rose
Fill a 5-gallon bucket or container large enough to place the rose in and let it soak while you prep the pot.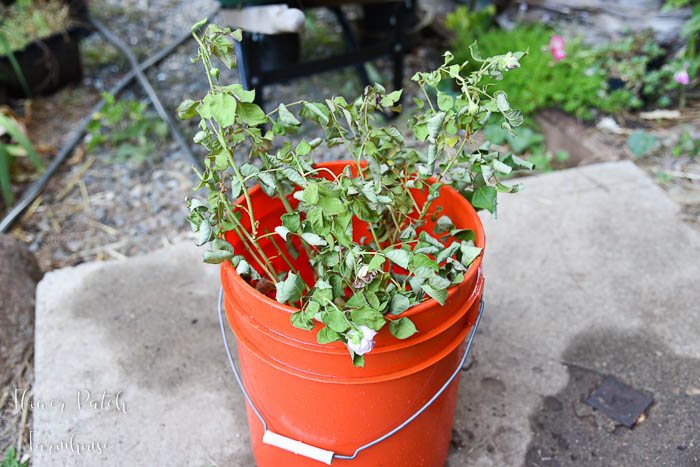 Trim off the rose canes down to 6 to 8 inches long. Remove all leaves as well.
Partially fill your pot or can with a good potting soil if you don't have your own mix.
Optional: Add some Organic REV to the water to give it a boost in redeveloping roots or just as a growth stimulant.
Settle the rose roots (or nub in my case) into the soil. Finish filling the pot until it reaches the base where the canes grow out.
This is a grafted rose, not an own-root rose. I want to keep the graft visible to make sure I do not get any canes sprouting below the graft.
I won't get into the specifics of grafted versus own root right now but typically I prefer own-root roses. One day I will write an entire post of why.
Where to place your potted rose for recovery.
Put the rose in a spot that gets mostly shade. I start the first two weeks or so in the total shade then I move the potted rose under a tree where it gets light-dappled sun.
Keep the soil around the pot moist so there is plenty of humidity. You could cover this with something to create a greenhouse effect if you prefer but I don't find it any more effective.
Keeping the soil around the potted rose and the soil in the pot moist does the trick. Keep a close eye on the rose canes for some new growth.
Once you see new growth it usually means has started growing new roots. Keep the rose in the pot until you have lots of new growth or even roses blooming.
Here is the Candyland rose I dug up and potted in May. In a couple of months it not only leafed out but it was blooming too.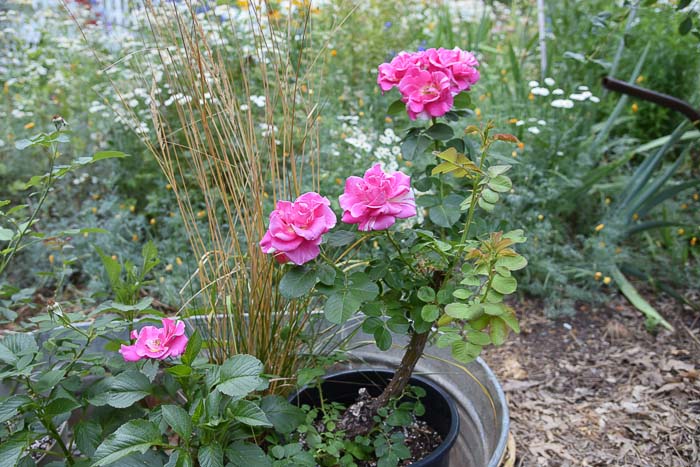 The Olivia Rose Austin rose has new shoots on it and I am hoping that means it is growing new roots.
I have a couple more months of nice weather and I will know by the first frost if it has been salvaged.
Another Olivia Rose Austin in my garden was found shriveling up and am doing the same with it. Seems the voles and gophers enjoy eating the Olivias for some reason.
I have put down some vole/mole repellent and it seems to be working. You can press here to see what I am using.
I am going to give the repellent a real long-term test. This Fall I am going to replant some lilies (winter food for voles and they decimated all of mine last winter) and see if the repellent keeps the critters away.) The results will be shared next summer.
UPDATE: The gopher and vole repellent does work but only if you keep it up every few weeks which can be arduous and expensive. So I have resorted to planting the plants that they like to chew on in pots placed into the ground. So far it is working.
And that my friends is how I save a dying rose. This is also how I move a rose at the height of summer.
Sometimes you have to move a rose at the worst times and this method makes sure you do it and keep your rose alive. You will lose blooms for several weeks but the move is successful even during the hottest months.
If critters eating your rose is not the problem and you have eliminated pest infestation or disease then you can take it to a local extension and usually, they can help identify the problem. Or even a very good local nursery can help.
Did you enjoy this? Please PIN and share.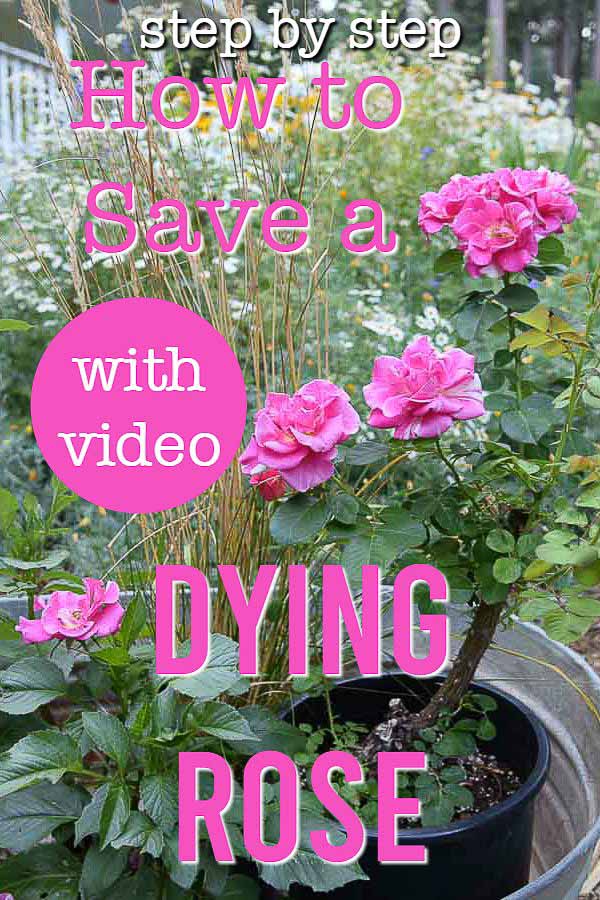 For more garden tips and tricks, fun DIYs, and great recipes just join us by filling out the bar at the top of this page.
Happy Gardening!