Easily Clean your Outdoor Rug
You can easily clean your outdoor rug, I show you how I do it. The nature of being outside makes things get dirty. Then you have kids, dogs and other humans tracking dirt all over. Thankfully outdoor rugs are made to take it and they are easy to clean!
Do you have an outdoor seating are on a patio, deck or porch? If you have a rug to make it cozier then it gets dirty. I am going to show you how to easily clean your outdoor rug to keep it looking good all season long.
Pin for later…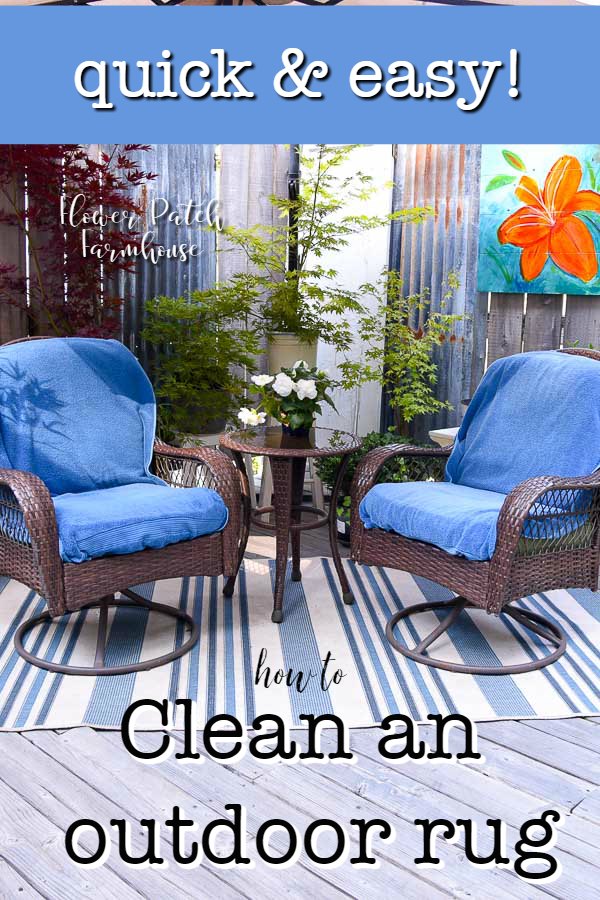 Where to get this rug
I will get this out of the way straight off the bat. I bought this rug here.
It is a 6 x 9 rectangular outdoor rug.
I have used it for 3 summers now and it is still in fabulous shape. I have brought it in and used it under our dining room table when the weather outside gets wintry. It works great indoors and out, so I should call it an indoor outdoor rug.
It also comes in other colors so you may find one that fits your decor.
How not to clean Indoor Outdoor Rugs
The one rule I wish to emphasize the most is DON'T use soap. No dish soap, laundry soap, carpet cleaners etc. They leave residue no matter how much you think you have rinsed them out. (I got that info from a professional carpet cleaner friend)
I know many others say to use some kind of soap but it really isn't the best idea. Residue attracts dirt and makes your rug dirty again faster. We don't need that.
First you should get all loose dirt and soil off and out of the rug by shaking out (mine is the 6 x 9 and I can lift if and give it a good shake) or vacuuming it well.
That alone goes along way in making the rug look cleaner. But as you can see this outdoor rug needs a good cleaning.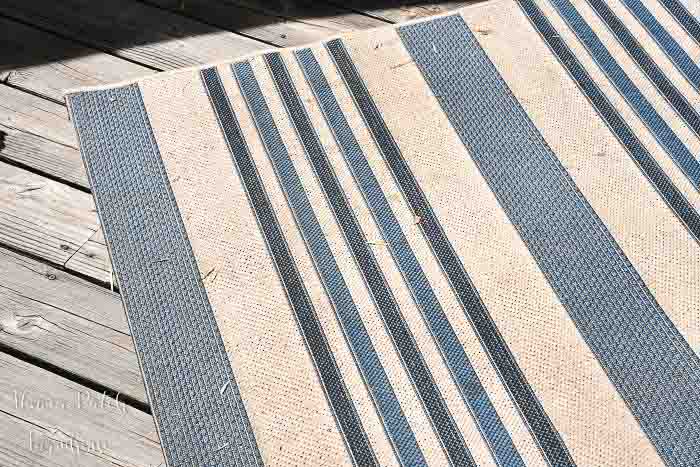 How to Really Clean Polypropylene rugs
I did say not to use soap but we did spray on my multi-purpose cleaning spray that has a teaspoon of dish soap to the gallon of water. It is diluted enough that it won't leave residue. The other ingredients bring their own cleaning abilities with them. Press here to find the recipe for the cleaning spray.
We sprayed the cleaner on in small patches as we power washed the rug. I had tried just using the water hose with a spray nozzle but that just did not get the rug clean so we whipped out the power washer.
My favorite outdoor cleaning tool
This little machine is the best investment I have made for cleaning my outdoor space. I will share some photos of other things I clean with it at the end of this post.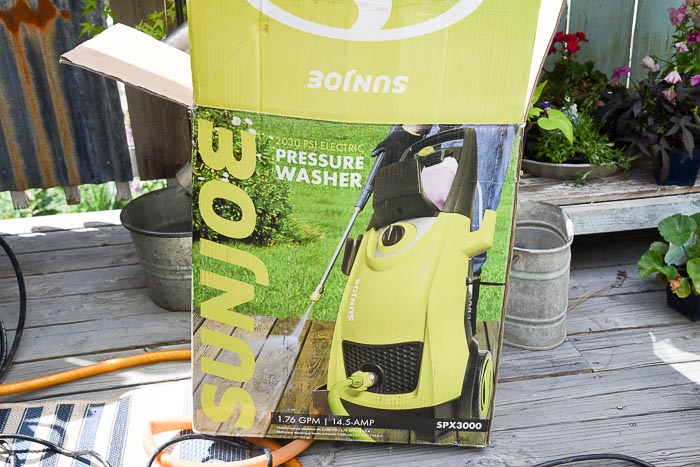 I simply hook it to a hose, plug it in and pull the trigger. It is that easy. The video shows the rug cleaning technique.
Basically the run the power spray back and forth at a moderate speed. Letting the power if the spray lift away the dirt and grime.
First up and down, then across. The we let the sun and warmth of the day dry it.
We did half and let it dry so I could show you the comparison.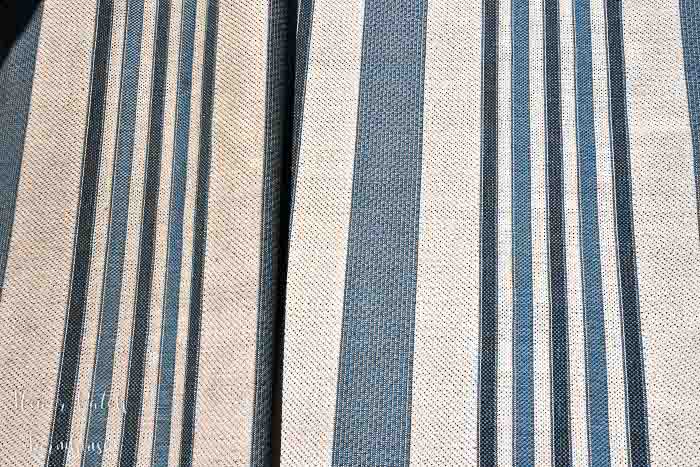 Can you see the difference? The right is cleaner and brighter and the left is
Here is another angle…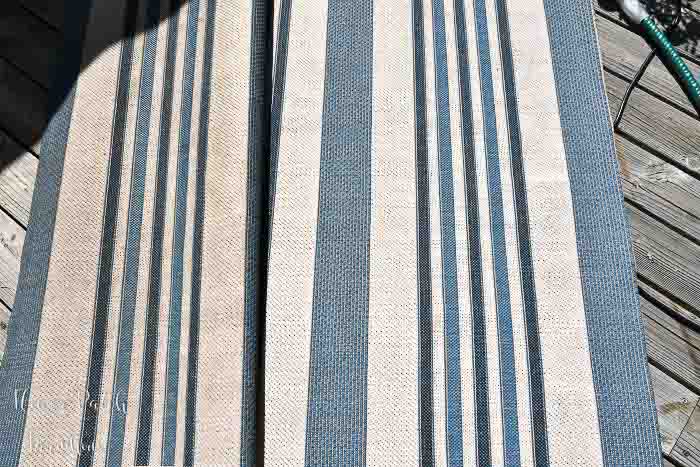 It took maybe an hour to dry the rug on an 80 degree day in the full sun.
Once it is dry I set up my Bistro Set under the umbrella and enjoy!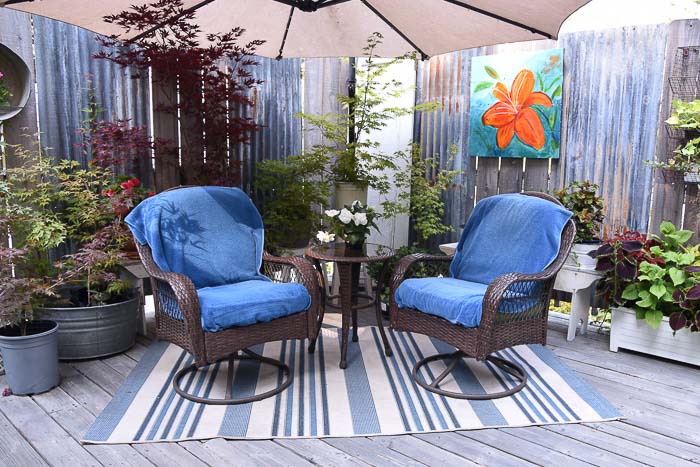 Not only do I clean this rug during the summer but also in Fall right before bringing it into my home to use during bad weather. It looks great under my dining room table.
I have always preferred my alcohol mixture for cleaning over vinegar and here is a great article on it create by a chemist.
We also use this power washer to clean the deck…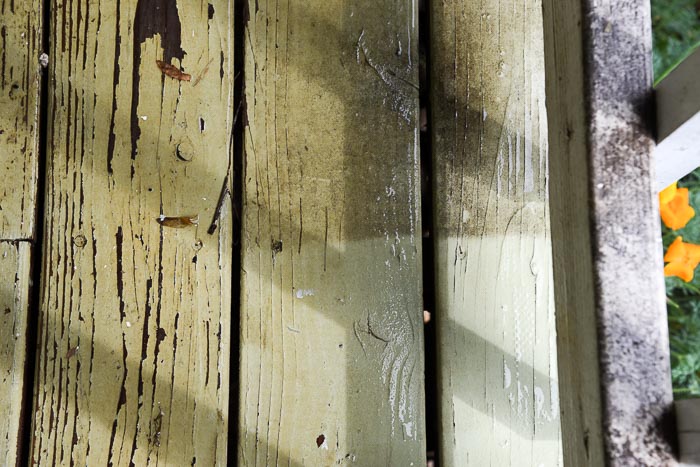 clean up plastic furniture (use with caution as some plastic furniture will peel and I had scrubbed this by hand with no success before resorting to the power washer)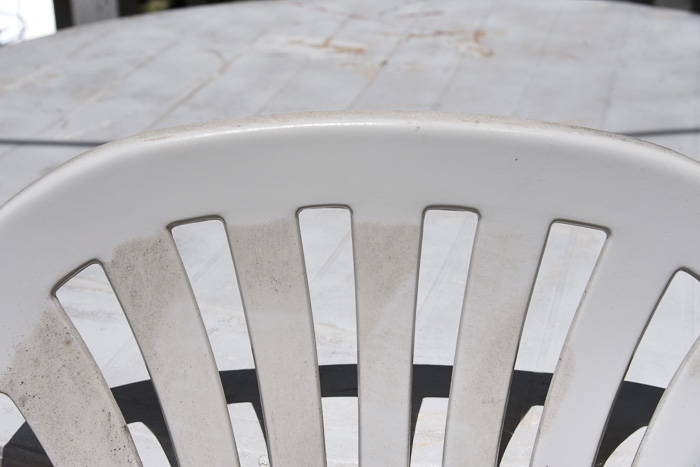 and the porch railing. We will use it to remove as much of the old paint before repainting too. But until we get to that I am content to get them cleaner.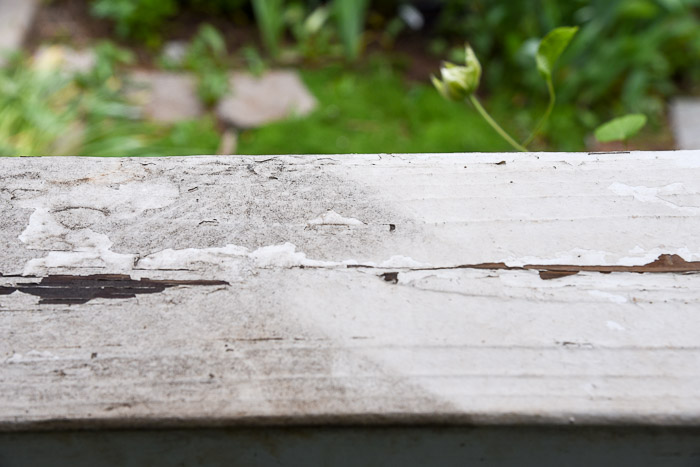 Can you see why I love my little power washer? It gets the job done!