Sow your seeds in Fall to get a jump start on many perennial and biennial plants. Get a gorgeous garden next Spring for less money.
Do you want to get flowers earlier in the Spring? Do you want to save money on plants but still have a lot of them?
If you do then select flowers that do well in your area and plant the seeds in Fall and even winter. Better yet, many of the plants can and will reseed themselves year after year. If you don't like something or if it does not do well then you won't be out of a lot of money if you choose to remove it.
Most, if not all plants that are sown in Autumn will be healthier and heartier than if you wait to start them in Spring.
Many of the plants here I am growing in my very own garden and every one of them I started from seeds. Year after year they will reseed themselves if I let them. (to prevent self-seeding see this post, Off With Their Heads!) You can have beautiful flowers by next spring and summer if you sow your seeds in Fall.
Do you want to know how to get a thick, lush border like this and not spend a lot of money?
Great, I show you how I do it and so can you!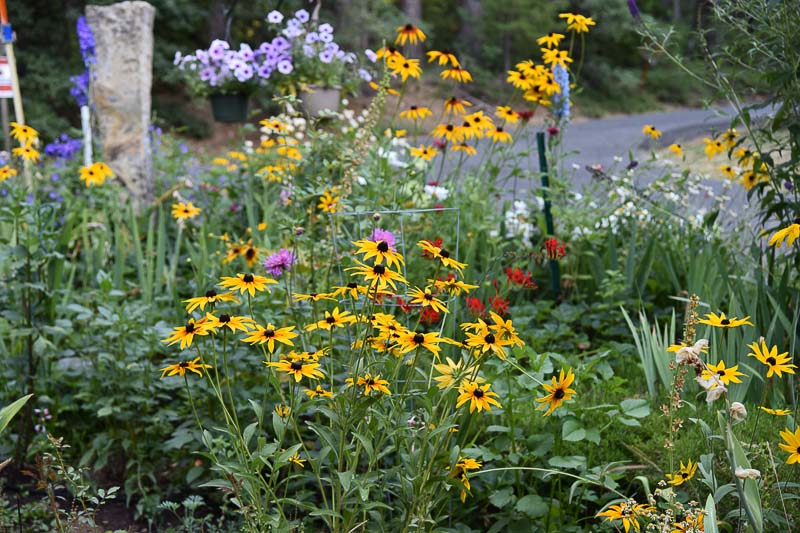 Disclosure: This post may contain affiliate links, meaning I get a commission if you decide to purchase through my links, at no cost to you. Please read my disclosure for more info.
Many of the flowers are linked to the source where I get my seeds.
Why Plant in Autumn?
Did you know that Fall is actually the best time to start a garden? If you go to that article and read it you will find many reasons why.
One reason is what I am sharing here today. Getting a head start on next year's garden for a lot less money. By starting from seeds in Fall you can get hundreds of flowers for the same dollars spent as buying them in a pot or even a six-pack. Plus you won't have all the work of starting seeds indoors.
Another key to success is great garden soil and the easiest way to get that is by composting. Building great garden soil is an ongoing process yet very achievable. The beauty of building healthy soil is you will save masses amounts of money in the long run because you won't need to keep buying expensive fertilizers and other products often pushed to garden enthusiasts.
What flowers can you plant in Fall?
There are tons of flowers you can seed in the Fall. Remember some will thrive in one area but not another so do your research and find out what does well where you live.
Plants to seed in Fall:
Daisies
Delphiniums
Poppies
Morning Glories
California Poppies
Snapdragon
Cosmos
Cleome
Larkspur
Or you can be like me and just experiment. You may be surprised.
Here are a few I grow including the Purple Echinacea…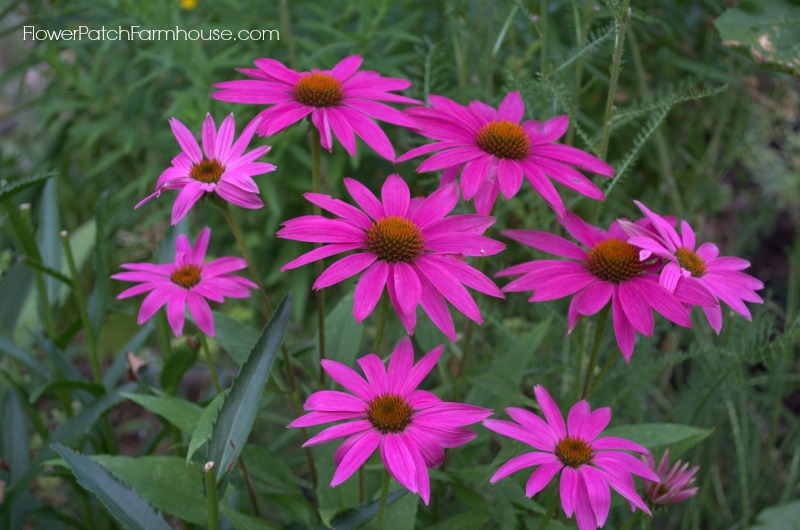 Related: How to Grow Echinacea aka Purple Coneflower
Shirley Poppies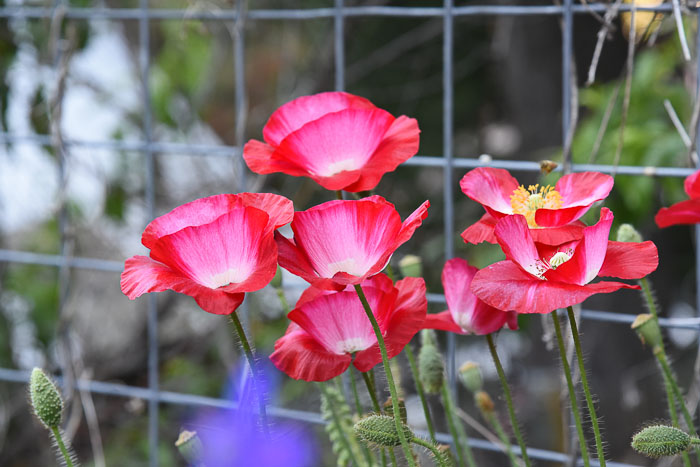 and these Forget Me Nots below…one of the harbingers of Spring.
These are a hybrid that is not invasive, some types can spread a bit aggressively.
They bloom in early spring and then go to seed, I pull them once they are all done and the seeds will fall to the ground. They sit all summer then sprout again next Spring.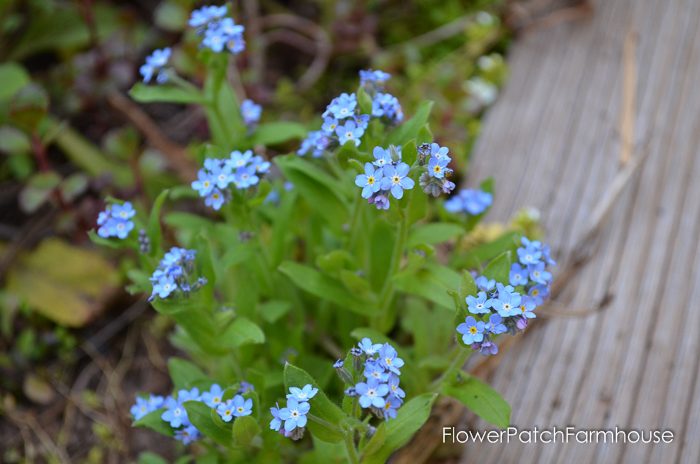 White Swan Echinacea is a personal favorite and has reseeded itself for more plants in my own garden. It blooms non-stop through the toughest heat and on into cooler Fall weather.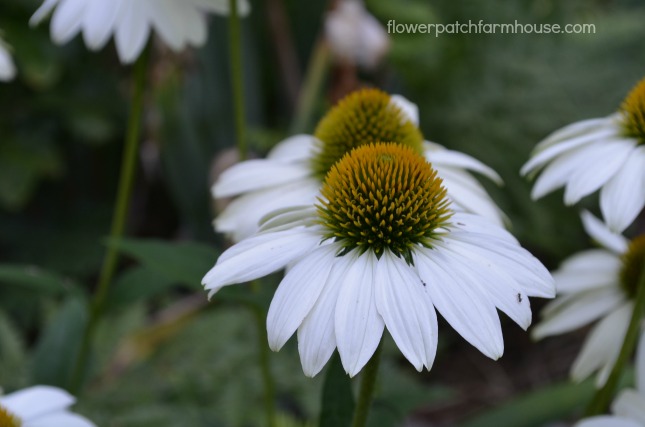 update: The white swan cross-pollinated with the regular Purple Echinaceas in my garden. The seedlings came up pink and not white. To get a White Swan plant and know that it will come true see this post on dividing them.)
In fact, all of the Echinaceas are on my list of faves for seeding in the Fall. They are fantastic for blooming non-stop during the hottest part of summer and on into Fall when other flowers are lagging.
Gaillardias are a grand performer in the garden as well..I just love them with their fiery colors and tough disposition.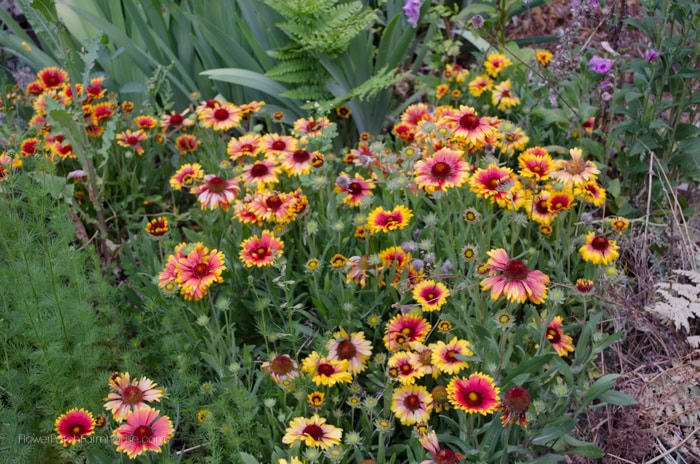 Gaillardias keep on performing even when others have stopped for the season. Just keep them deadheaded.
Rudbeckia, a fabulous one for creating swaths of summer sunshine in your garden with ease…they can be single or double blooms.
Related: How to Grow Black Eyed Susans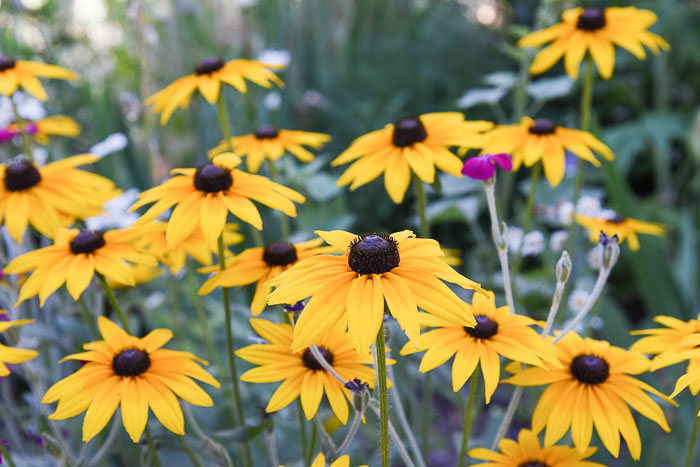 These also keep on blooming well into late Fall with consistent deadheading. They come in different shades of yellow and even burnt orange tones like these Rudbeckia Cappucino .

Larkspur are a Hummingbird favorite around here and you can keep the blooms coming by deadheading and reseeding throughout the summer. Did you know blue is one of the colors readily seen by pollinators? Yes, so bright blue can attract Hummingbirds as well as red!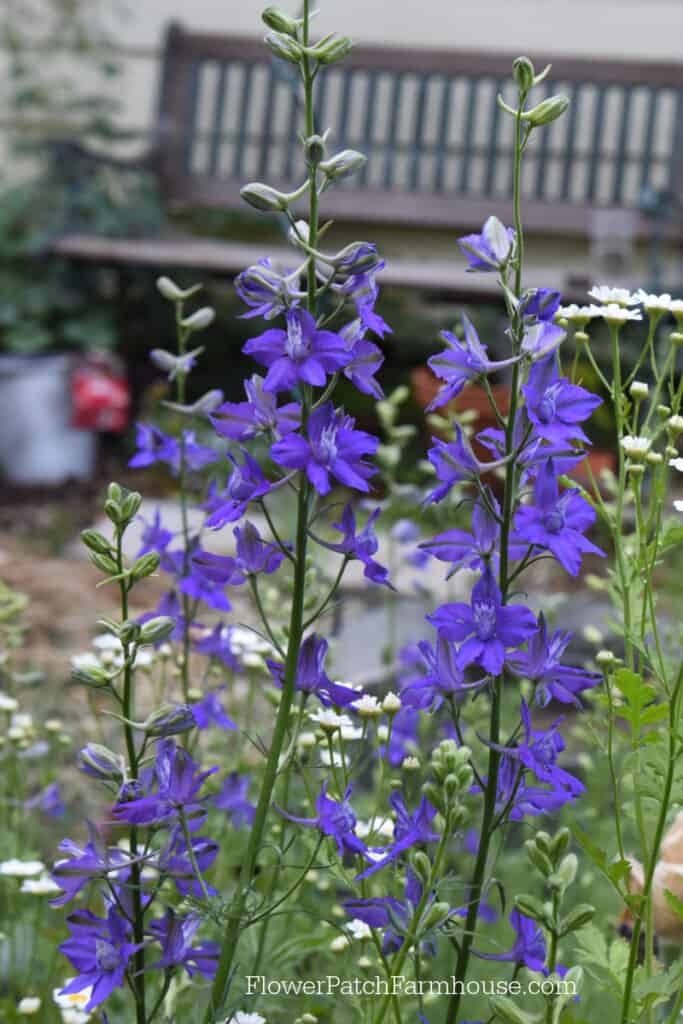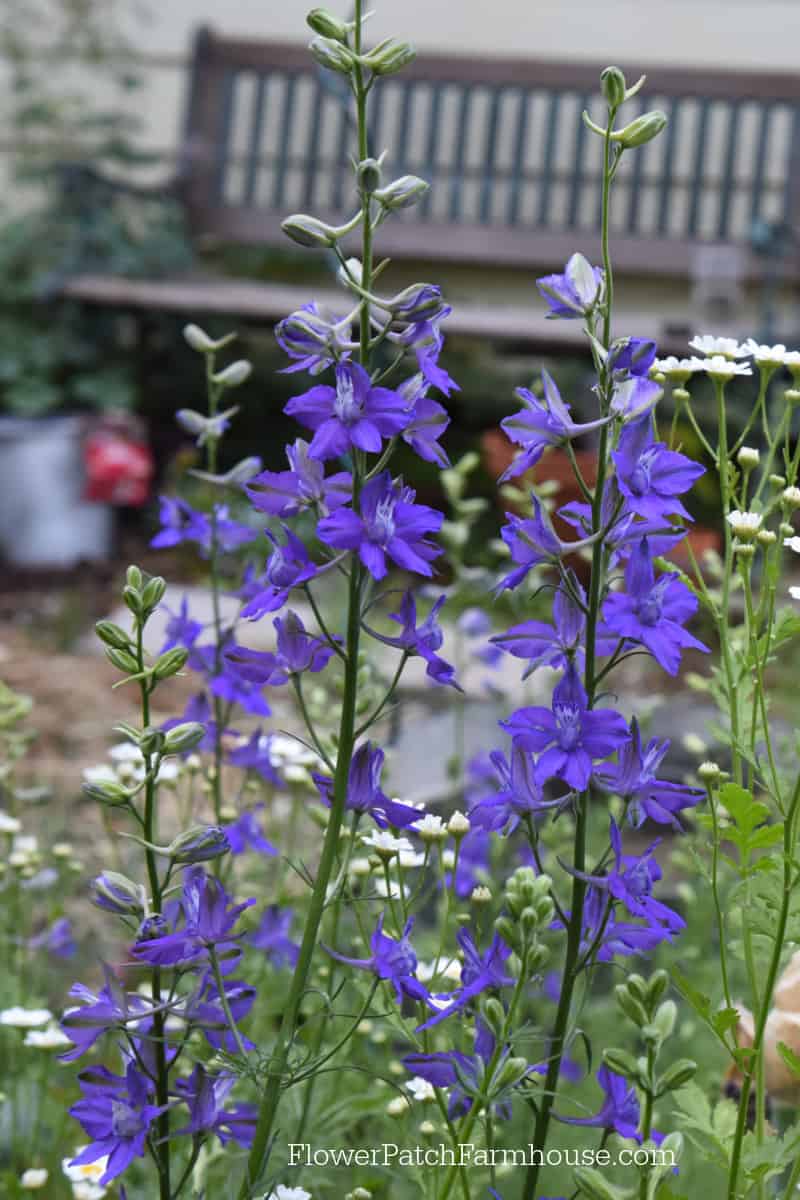 The lupine blend I grew from seeds are hardy souls as well, one of the first in Spring to bloom, they never fail to wow.

Hollyhocks are a fabulous addition, their height and vigor can be used as a screen. Some say it was used back in the outhouse days as a screen from the house so you didn't always see the privy. Some can grow to 10 feet tall and quite thick so I can see where that would work well.
Related: How to Grow Hollyhocks

As you can see I have personally grown the plants that I linked to but there are so many more. So take your pick! I linked to the flowers that I showed here so it was easier for you to find these specific ones.
Bachelors Buttons come in a variety of colors, this one bloomed all summer long for me. Bachelors Buttons also are used as a cover crop since they replenish the soil as they grow.

Before you Sow Seeds
Be sure to research any seeds you will sow and find out if they are considered an invasive species in your area. Many plants are invasive because they reseed and propagate themselves easily crowding out native species.
We love easy-to-grow plants but we don't want to create a problem either. Just because something is easy to grow does not mean it is invasive. Many claim that a plant became a pest in their garden but when it is investigated more the reality is they just did not know how to manage that plant's ability to reseed.
How to plant your flower seeds in Fall
The general routine when sowing seeds in the Fall is to clear out a garden bed of weeds and debris. Sometimes it is an area of a garden bed that already has other plants in it.
After you clear the planting area of weeds, loosen the soil a couple of inches with a small shovel, hoe dag, or other tool, spread an inch or two of good compost on top. Then sprinkle the seeds on heavily and press in with your foot. (I am not stingy with seeds because nature isn't)
Some seeds should be sown after the first frost and others you can do before. Many of my plants that reseed themselves do so before the first frost so I figure I can too.
Read the seed packets before planting
It is good to read the seed packets and do a little research online for your zone if you are planting any particular seed that is new for you. Many seed companies will also tell you if the seeds you are purchasing can be planted in Fall.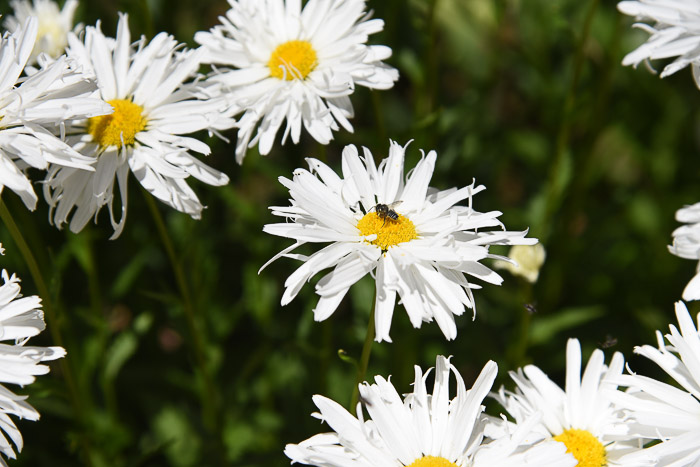 Daisies
Related: How to Grow Daisies
The results are my photos above, all of these were planted from seed in the garden in Fall.
The wonderful thing is many times once you have bought seed you don't have to again. I save my seed from year to year to replant and share. Click here to see how I save seed and get you Free Seed packet printable!
Want the check out some of my favorite garden tools & gadgets, you can right here.
Please Pin and Share!