My Delicious Peach Butter
My Delicious Peach Butter
My peach tree is outdoing itself this summer! This is the first year I have gotten such a boatload of peaches.
(this post has affiliate links included, please see my disclosure page for more info)
Typically we get a late Spring freeze that zaps all the blooms and I will get a few peaches but this year that did not happen. I guess I need to thank the climate change for that or it was just one of those years. Look at these beauties!

They are so sweet, juicy and fragrant filling my house with the sweet scent of late Summer.
I have been eating, freezing and canning peaches for days. I also have given some away for others to enjoy.
Today I am going to share my Peach Butter recipe with you all.
This is my first time making peach butter, I have made apple butter many times so I figured this was no different and it wasn't. They even have easy crock pot recipes that take some of the work out of it for you.

Start with peeling your peaches. Dip the peaches in boiling water for 30 seconds then transfer them to a bowl of ice water, the peel will slip off with a little help from you. Slice up. These peaches are clings so it is a little more work to cut away from the pit but not difficult. This batter bowl was perfect for measuring. It hold 8 cups. I have two of these and I use them everyday!
Since my peaches are so very ripe and sweet I reduced the sugar, you may wish to up the sugar in the recipe for the level of sweetness in the peaches you get.
I put the sliced up peaches in a big cooking pot and cooked them over medium heat a bit until they were soft. Then I took a potato masher and smashed them up. To smooth them even more I then took my immersion blender and ran it around in the pot until it was smooth. Not too much as you don't want liquid you just want it like applesauce.
I added the sugar and cinnamon and cooked it down until it thickened a bit. Before you know it you have this delicious concoction that will give you a delightful taste of summer during the cold months of winter.


Here is my recipe.
Yield: 4 pints
My Delicious Peach Butter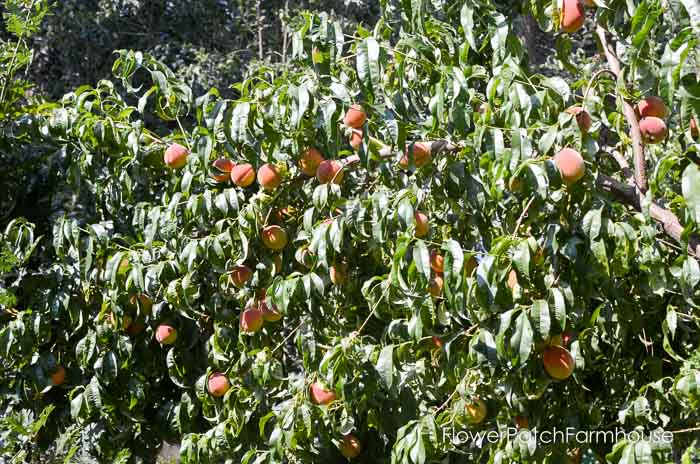 Delicious Peach Butter for a taste of summer anytime!

Prep Time 30 minutes

Cook Time 1 hour

Total Time 1 hour 30 minutes
Ingredients
8 cups peeled and sliced peaches (about 4 to 5 pounds whole)
1 cup sugar (mine were ripe and sweet adjust to preference)
1 tablespoon cinnamon (optional, I like mine to taste like apple pie)
Instructions
Peel and slice peaches.
Cook in large pot on medium heat until soft.
Mash with potato masher.
Use immersion blender to smooth to consistency of applesauce.
Add sugar and cinnamon.
Cook down until thickened. (it may take 1/2 hour to an hour) stirring frequently. I set my timer for every 10 minutes.
Or try using your crock pot overnight.
I can man in glass jars. I ended up with 4 pint jars once it was all cooked down.

If you need more in depth on canning peach butter I suggest go to this POST.


Next I am going to try making some Crock Pot Caramel Peach Butter…using this recipe as my inspiration.
Crock Pot Caramel Apple Butter
For more delicious Peach Recipes, check out my collected list on this Pinterest Board I started!
Recipes – Peaches
That sounds so sinfully delicious. I love caramel. I will let you know how it turns out. Or maybe I will get some apples from my neighbors tree and just make the original recipe.
For those of you waiting for my leaf painting tutorial I am working on it. I had fun using it on these fun 'Scrabble Tile' pieces.

Post on this coming too.
If you enjoyed this post, please PIN and share.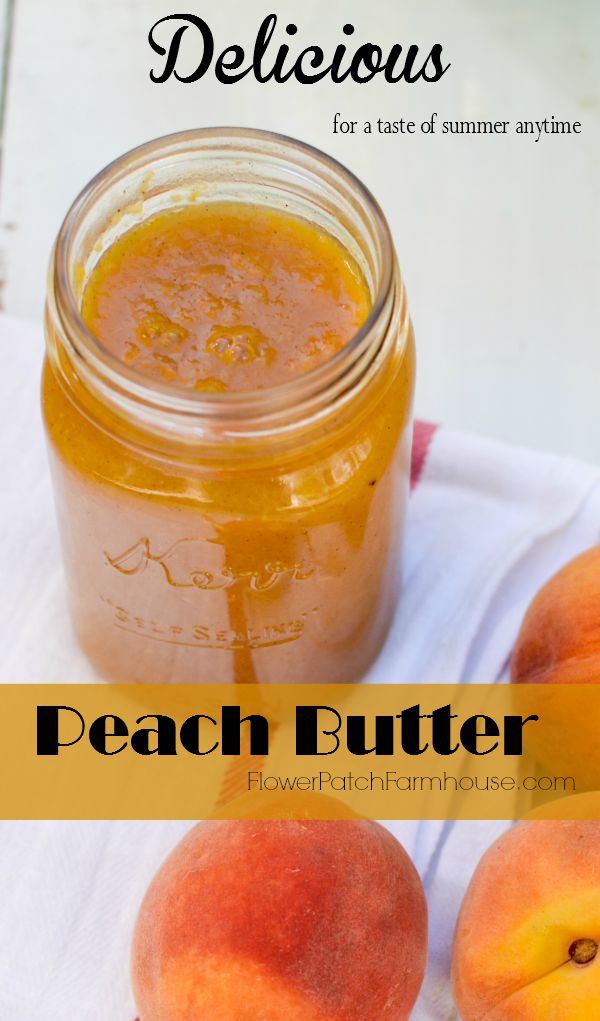 Happy end of Summer!