Late September in the Garden
Late September in the Garden
(This post contains affiliate links, please see my disclosure page for more info)
Though it is winding down there is still plenty of color in my garden. I love September with its somewhat cooler days.
Though not as hot as July and August it is still plenty warm.
Much of my garden is going to seed but would be blooming more if I had been able to water well. The drought tolerant varieties tend to go to seed earlier if I they are not watered and dead headed thoroughly after the first bloom. I was willing to sacrifice the later bloom to save water because of the severe drought here in California.

Even as they fade the White Swan coneflower (echinacea) is sill just as lovely as ever. I leave some of the seed heads on the stalks for the birds to nibble on during the winter. The stalks poke up out of the snow until it becomes too deep.
On cold winter days we watch the birds perch atop them and eat their fill.
Before winter hits some folks like the garden pruned, trimmed and tidy as the perennials and biennials fade but I leave mine standing until the snow melts in Spring. (I do clean up any diseased or fungus ridden plants or trimmings and dispose of them)
I have pulled up many volunteer black eyed susies I had let just grow wherever they sprouted this year but I have piled them throughout the garden so the birds can feast on the seeds falling from them. I pour manure from our chicken pen over the piles and once the rain comes it will all start to compost in place.
They were crowding out the view of my asters, snapdragons and other Fall blooming flowers so they needed to go.

I know, it isn't pretty but in my garden full of plants still blooming it is not noticeable, it is tucked in behind them. By next Spring this will all be a beautiful pile of nutrient dense compost filled with red worms ready to be spread around. Having it right in the garden makes it easy to get to instead of trucking it from a compost bin way off in another spot.
In any case a bear busted up my bin recently, I guess he thought something yummy was in the pile. But I am ignoring the mangled mess and enjoying my Gaillardias..

They are so bright and cheerful and now that most of the Black Eyed Susans have faded they can really shine.

This Cornflowers bring is a pleasant spot of deep purple. This Bachelors Button is named Black Magic. I bought the seeds from Botanical Interests.
I am going to sow more seeds now for next Spring bloom. They will overwinter just fine in the soil and bless me with lots of blooms.

There is a lot of flowers you can sow in the Fall for Spring blooms.
Botanical Interests has a nice list of varieties they carry. Fall Sown Annuals
A few sweet peas are still going and I have more that are sprouting from seed that were dropped by these beauties. I have been trying to collect the seeds to sow next Spring though some will overwinter in the ground and pop up on their own when the soil warms a bit. The seedlings coming up now may or may not make it thru the winter but it will be fun to test it and see.

Many of my roses are still performing, they can bloom on into October if we don't get a hard frost.
I will prune them down to 18 inches or so before we get snow. They weight of the heavy snows we get can break their canes and cause a lot of damage. The climbers I will strip off the leaves and prune judiciously for optimum bloom next season.
The hydrangeas are turning colors and are a fabulous contrast to the lobelia still going strong.

And then there is this, yep I got too busy and forgot to water my poor buckets and tubs planter. The flowers held up a good long time with little to no water but finally gave up the ghost. I will plant some Violas here as soon as it cools off more and they will last all winter and be gorgeous in Spring.

This is what it looked like a few short weeks ago…the petunias and violas were volunteers from seeds dropped by last years flowers.

I have planted these stacked buckets and tubs for a few years and I can't get enough of them, I am always on the look out for more.
For more info on how I made the stacked buckets just click the photo below.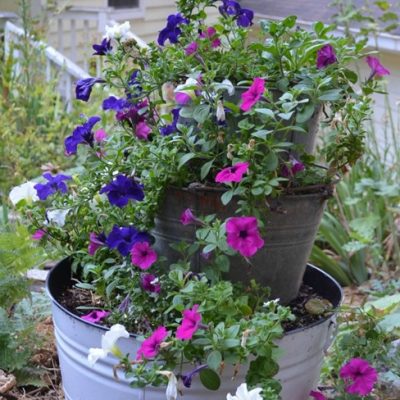 There is plenty more to share but I shall save it. I have put in my new Iris and as I said before I am seeding for next Spring.
In my veggie garden, I will seed some lettuce and kale, and I may try some broccoli and brussel sprouts. I have the Hoop House to cover and it should help me to grow some veggies later in the Fall and into early Winter.
Though I don't spend near enough time in the garden I still enjoy it immensely. I rarely get more than 30 minutes a day in my garden but I still manage to keep it beautiful enough to enjoy myself and others stop on their drive by to say how much they love it too. They frequently comment that I must spend loads of time working in the garden and they rarely believe me when I tell them I do not.
One day I will share how I manage it.
So what have I been doing if not working in the garden? I am getting another pumpkin painting tutorial with video ready to post and I have a new recipe to share. It is yummy! So come on back to see me.
Here is to a new week beginning!
Happy gardening everybody.


Met Monday