Garden Journal April 15 2018
In my Garden Journal April 15, things are starting to green up but the weather has been a mixed bag. Spring cannot make up her mind but that is not unusual for us in the mountains. So we take it in stride. Most of the goings on is in the greenhouse.
My garden journal April 15, 2018 is definitely showing things starting to happen. Volunteers seedlings are popping up despite the wet and cold Spring weather. There has been a few warm sunny days in between the storms to keep things going. For a comparison go back to the last post Garden Journal March 25 & April 1 to see the changes.
I was gone a good portion of last week to Fredericksburg, Texas. I went to a painting workshop but I was able to enjoy their warm weather and the fields of flowers blooming at Wildseed Farms. What a garden lovers treat.
Though my garden is not there yet it is holding out a promise of the beauty to come.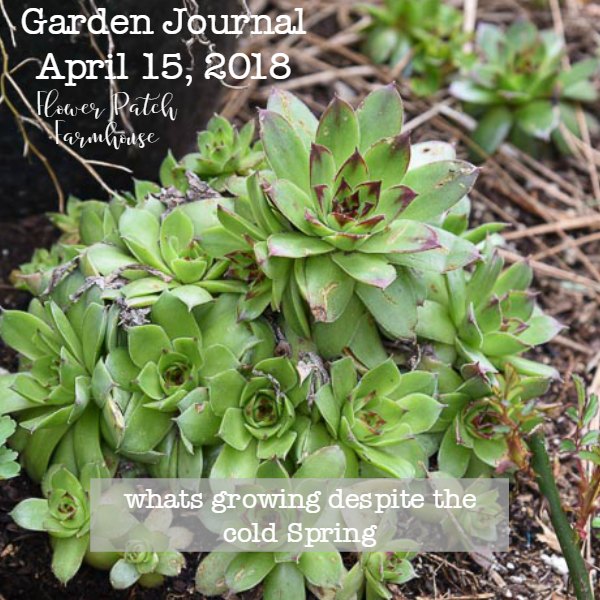 Greenhouse
I tackled some of the clean up beside the greenhouse on a sunny warm day this past week, it has been cold and miserable the rest of the week so I have not been motivated to get out here to finish. Plus I have been taking care of other much more important things.
See what it looked like in the very first garden journal post here: Garden Journal 2018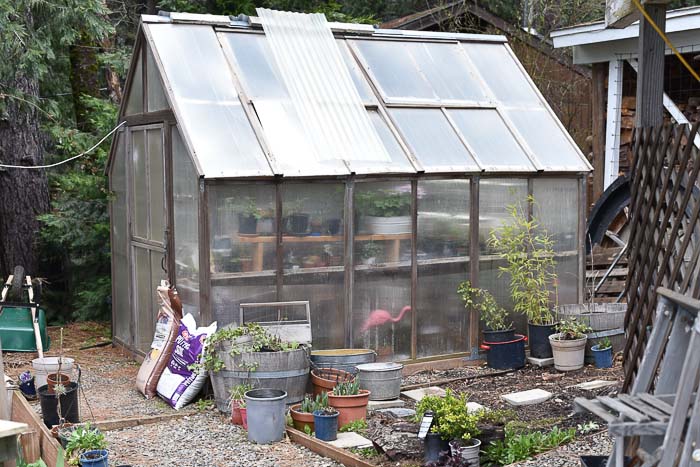 I said in past posts that this greenhouse was going to get some repairs but we have been discussing building a new greenhouse that is larger since I do use every single inch of space in my current one. It may be the most economical route in the long run. We will make it with a side entrance rather than at one end. Where the door is now and the landing space in front of it will be incorporated into the new greenhouse. We shall see if that gets done anytime soon but it is nice to plan it.
My succulent planted old wheel barrow took a direct hit from snow sliding off our wood shed roof and the rusted legs just couldn't handle it. Time to do something different with this.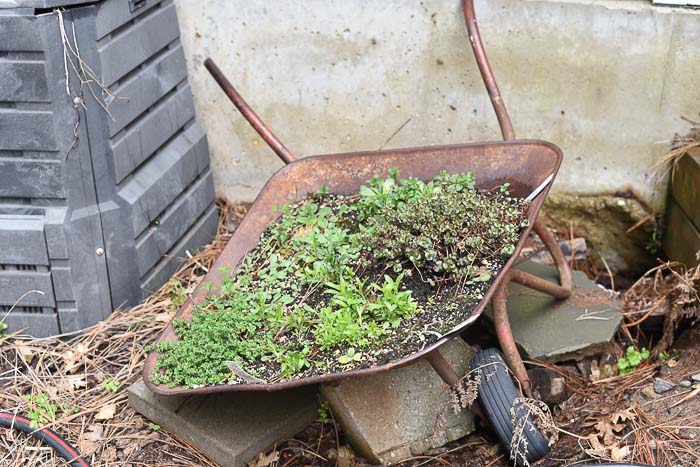 Secret Garden
The Secret Garden is a bit scruffy looking but it is coming along. I will give you a closer look of something blooming nicely right now.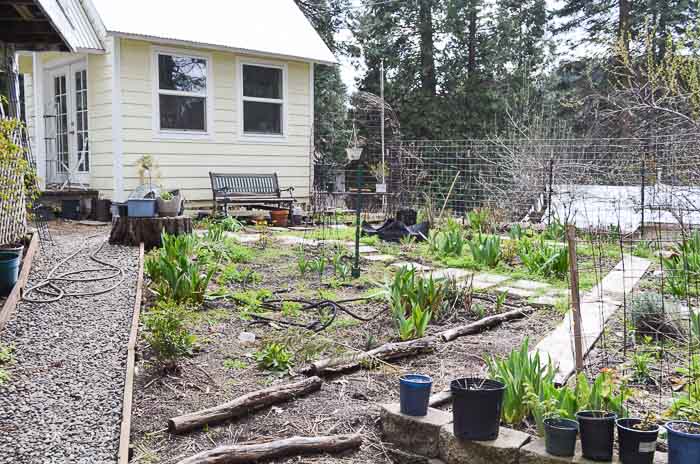 I planted the Dianthus beside the pathway and they are doing fine, they don't mind the cold. I need to sheer them back so they will get bushier, they grew a bit leggy in the greenhouse. See all the little sprouts around them, those are volunteer California Poppies. They reseed as bad as weeds and I will have to plow them under.
(I am not sure why but my compression software has started to heavily pix-elate my photos. I am working on that so please forgive how rough they are. )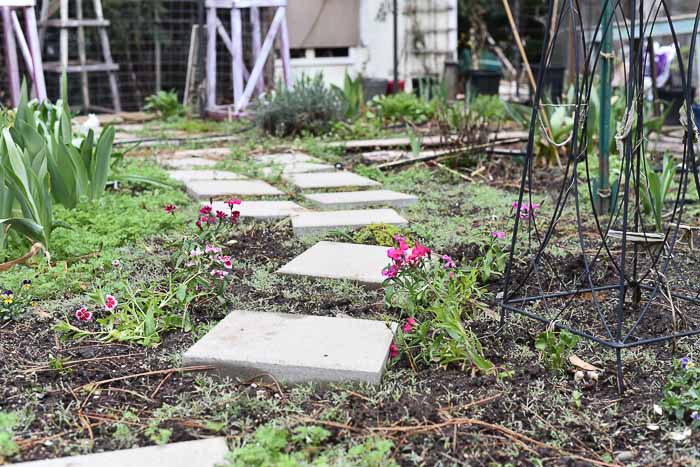 Side Garden
I don't know what toppled the wheel barrow over, it was filled with water from the storms so it had to be something strong.
I do believe the bears are back.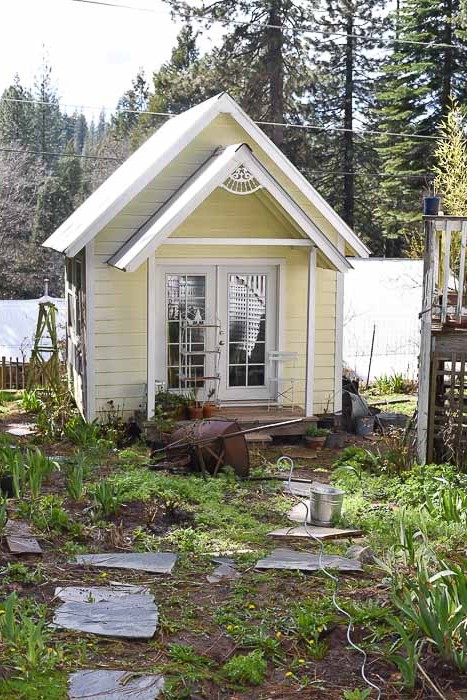 The Front Garden
The Iris loved the few warm sunny days we had and shot up a bit, they still have a few weeks to go to bloom but next week I go to the Superstition Iris farms to tour what they have blooming. They sustained a lot of damage around their place with some of these torrential rains we have had the past couple months and the Iris are later in blooming than normal.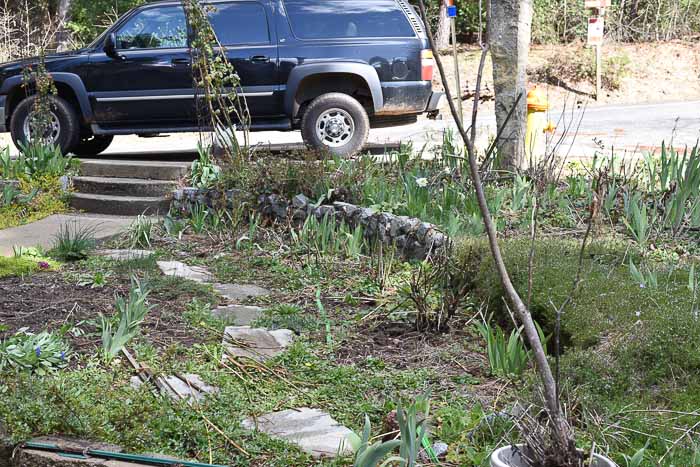 I have yet to dig up the roses by the front rock wall, so much has happened that was not anticipated along with the cold, wet weather, it has set me back. It will get done when it gets done. I don't stress over it.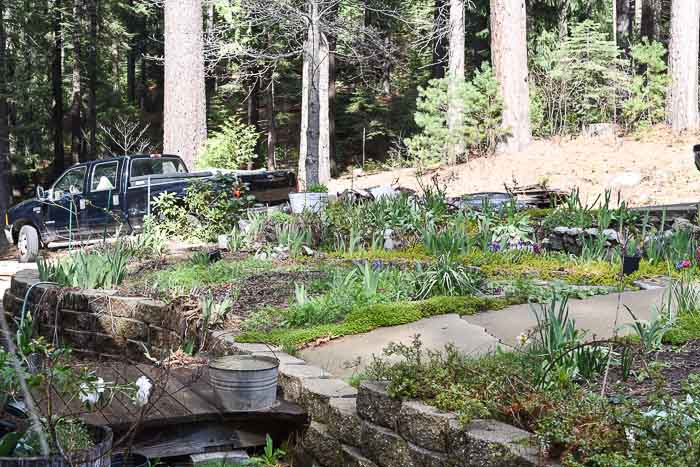 I do have a few bulbs blooming.
The hyacinths that did not get crushed are quite gorgeous. I am just going to dig them up after they are done blooming and put them all in pots. They never get to really shine as the late snows smoosh them every year. If I have them in pots I can keep the in a sheltered spot where they can at least have half a chance.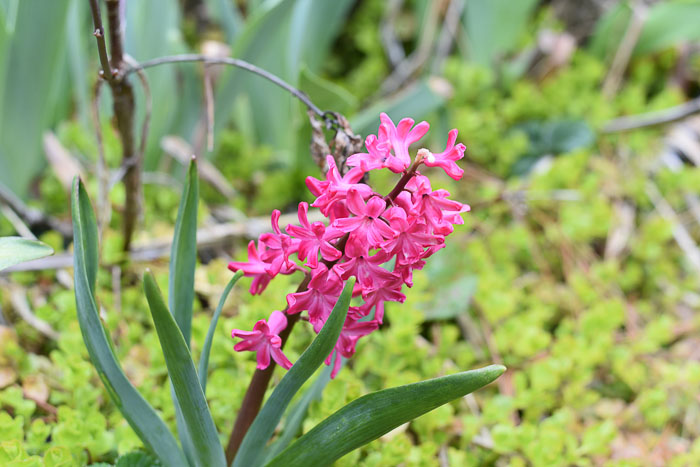 The video shows more areas and I am sorry I seem to be moving so fast. I will be sure to slow down next week and be more deliberate.
Tons going on in the greenhouse…Dahlia sprouts are tall enough to take cuttings from..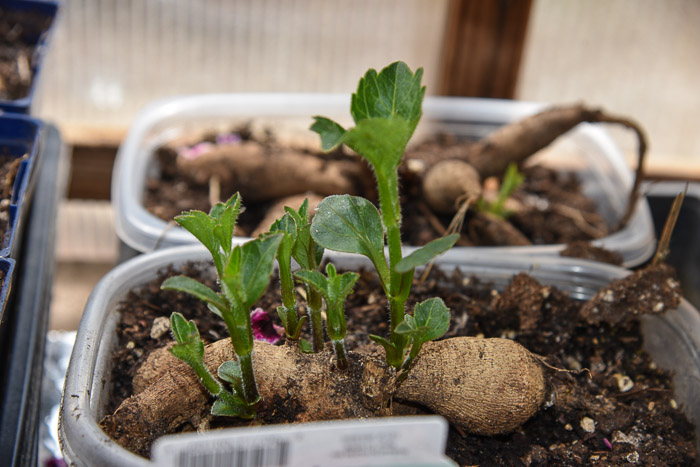 And that mystery tray of seedlings is now identifiable. It is Geraniums. I will have to prick them out and repot them individually. Many already have their second set of leaves which is the time to pot them up.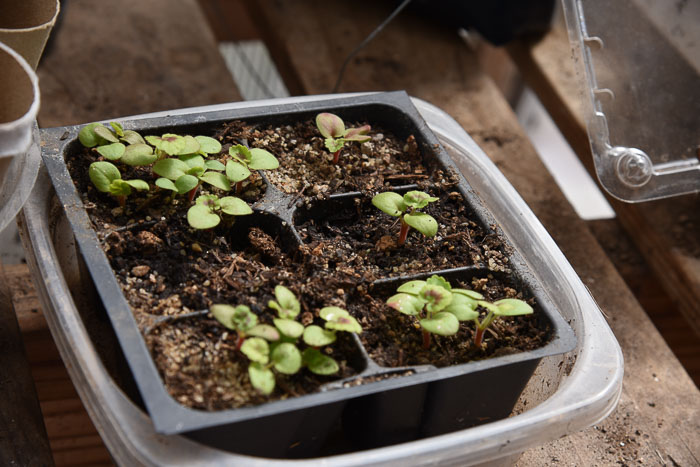 Between these seedlings and my cuttings I am going to have plenty of geraniums this year!
Has the weather been cooperating in your area? I can't wait for warm sunny days, hot even. I love the heat!
Happy Gardening.
More Garden Journal Posts
March 25 & April 1
March 19
March 12
Garden Journal 2018 Beginning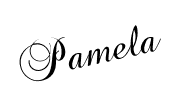 FYI: for all the flower painting lovers I have a fresh post on my Art Blog: How to Paint a Large Red Poppy!