I took a little visit to Fredericksburg, Texas for a painting workshop with Nancy Medina and I fell in love with the area. Join me for a little snippet.
Recently I took a little visit to Fredericksburg Texas. Fredericksburg is Texas wine country, or so I am told and you get an inkling as you drive in to town and see many tasting rooms.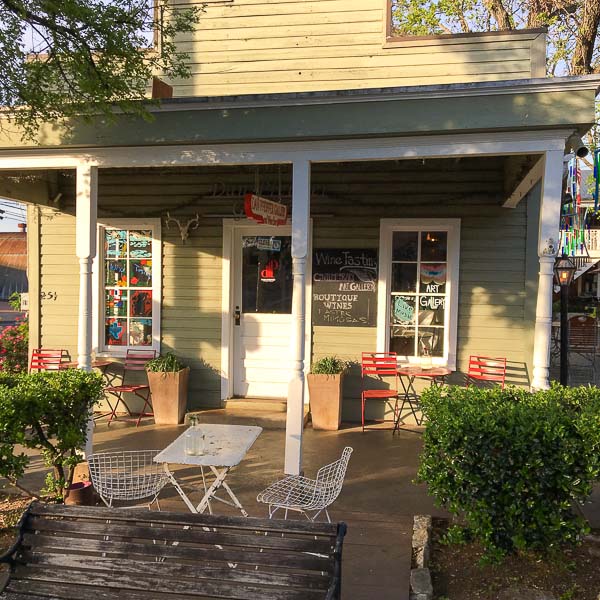 The glorious charm of historical buildings turned into boutiques, tasting rooms along with delicious restaurants is inviting and so relaxing.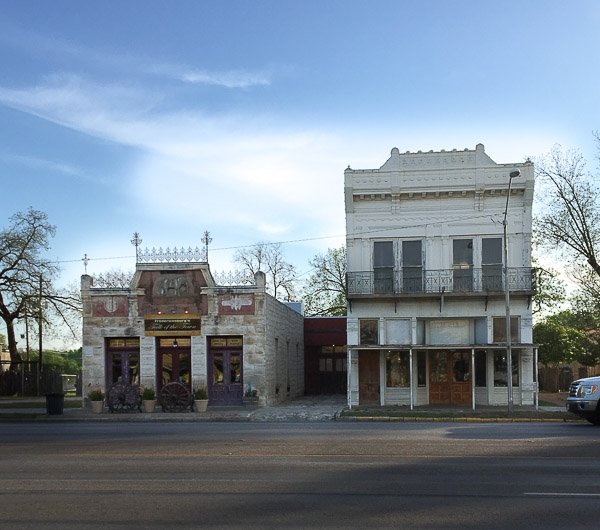 Some are right on Main Street while others are tucked down little pokey alleyways.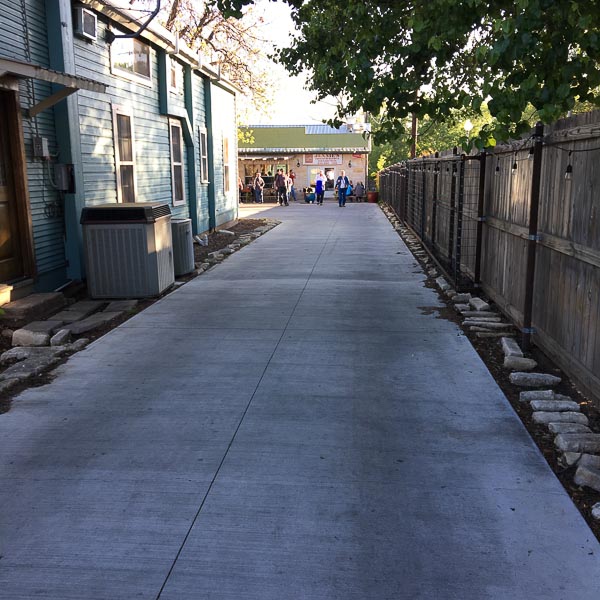 Follow the path and it leads to some tasty smoked brisket burgers and tornado fries. They also made a pretty good chocolate shake. I like the idea of the party lights along the fence line for nighttime illumination.
This winery below also boasts a Lavender farm. It was closed when I went by, much to my disappointment. I wanted to ask what kind of lavender this was, it was such a deep blue purple and was very upright growing. The pots looked like concrete but without touching them I could not be sure.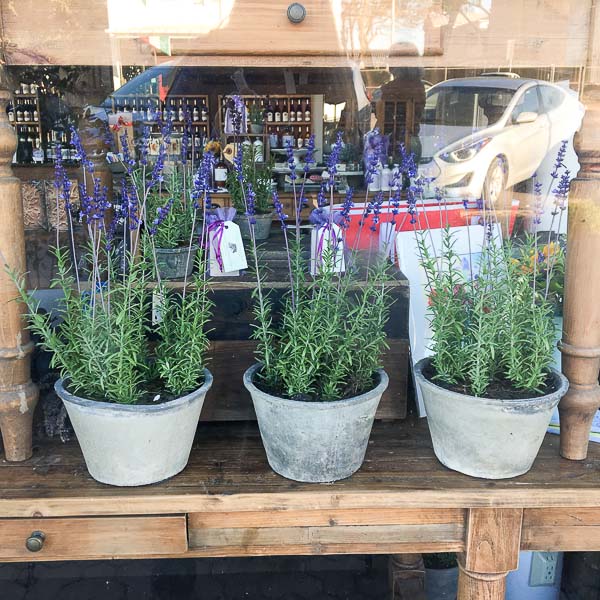 You could not miss that this was a winery, they had wine barrel after wine barrel stacked in front of the building. Many may see wine but I see flower containers when viewing barrels! (I am pointing because I was being bossy and instructing the gal taking the photo for me)
The town inspired the garden lover me with its colorful jam packed plantings of window boxes, containers and in little beds. Flowers everywhere.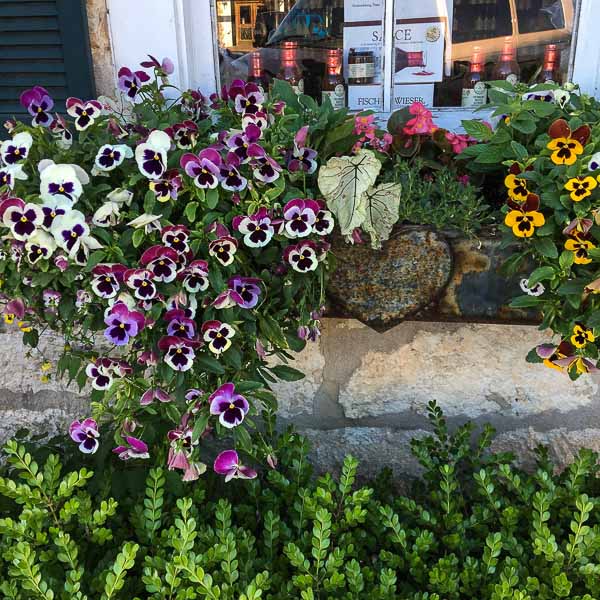 So many combos and styles.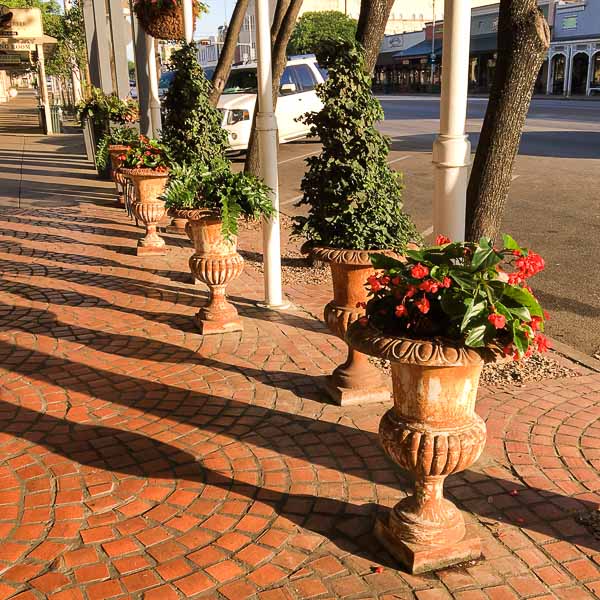 These geraniums were glowing from across the street. Such vibrancy!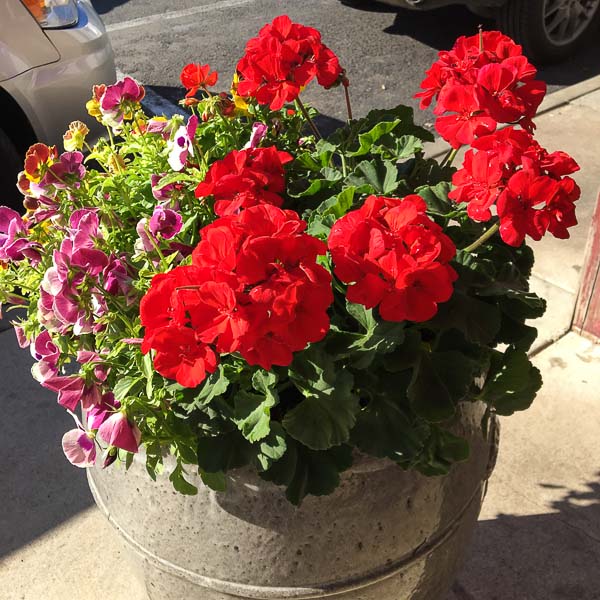 Old red trucks are one of my favorite things, and this one was an eye-catcher. Parked in front of a real estate office it grabbed my attention with the staging of the pick up bed…you will get it in the next photo.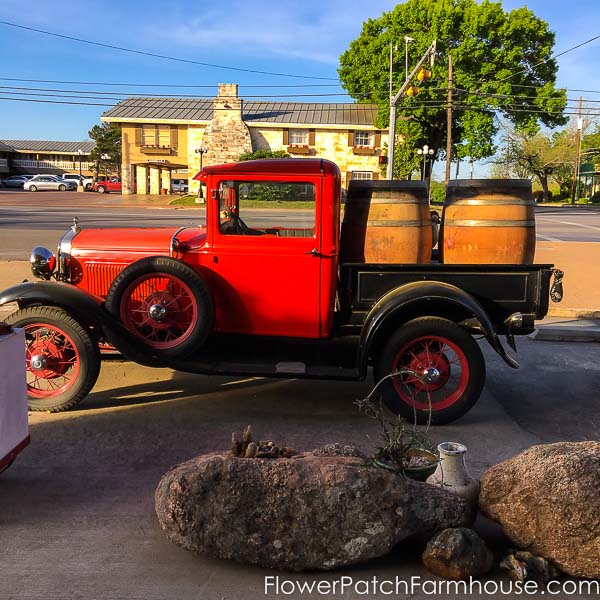 Chickens, they were metal and perfect with the barrels. I need some! Actually I want that truck too. Don't you think it would be wonderful with Flower Patch Farmhouse painted on the door and across the tailgate?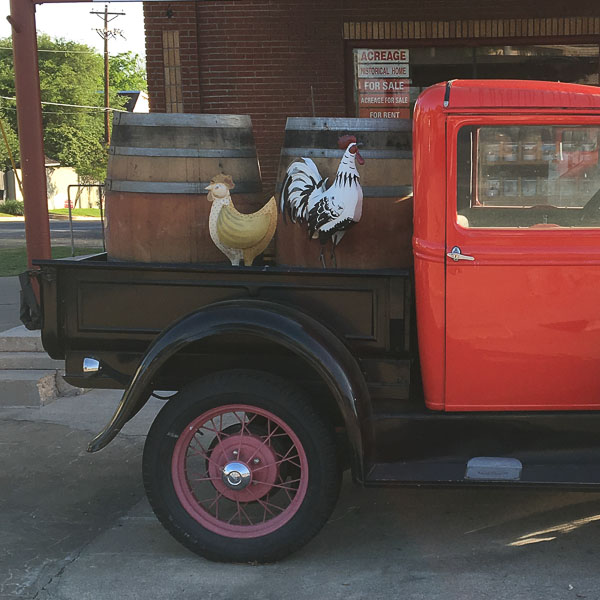 I toured some back streets to get a look at some of the quaint historic homes. Many have been turned into B&B's.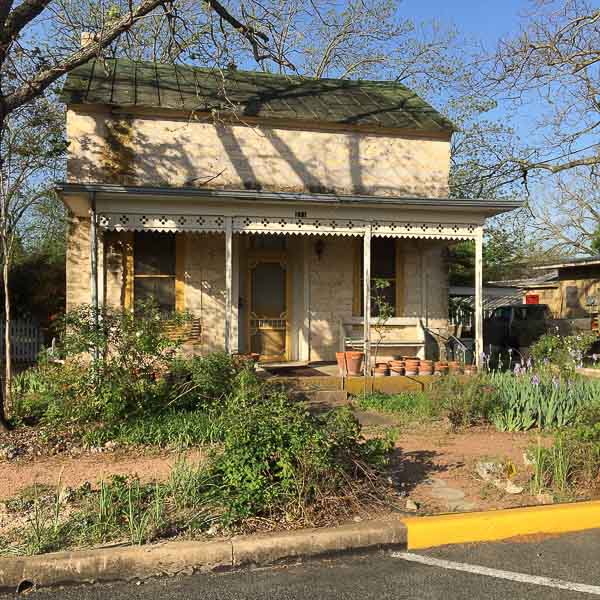 The gingerbread trim can give each square box house such charm and individuality. The warm colored stone was also a common theme. Most of these sweet little places were what is called Sunday houses. They were the town dwellings of the ranchers that lived on the acreage they farmed and they came to town for worship.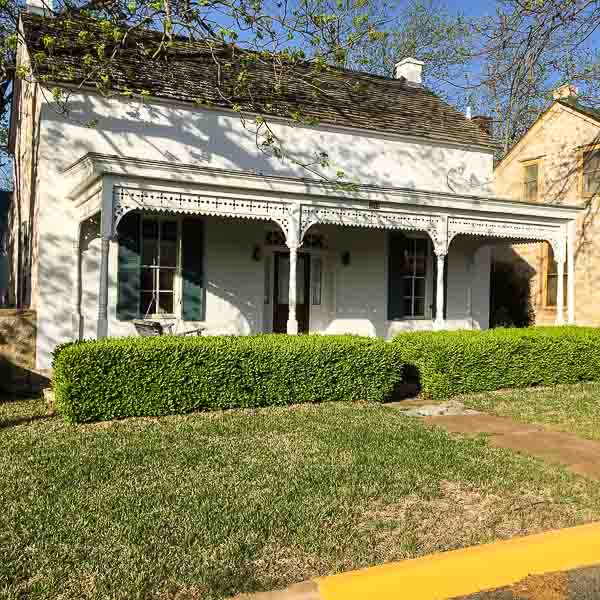 Along with the stone houses there were wood clad homes too.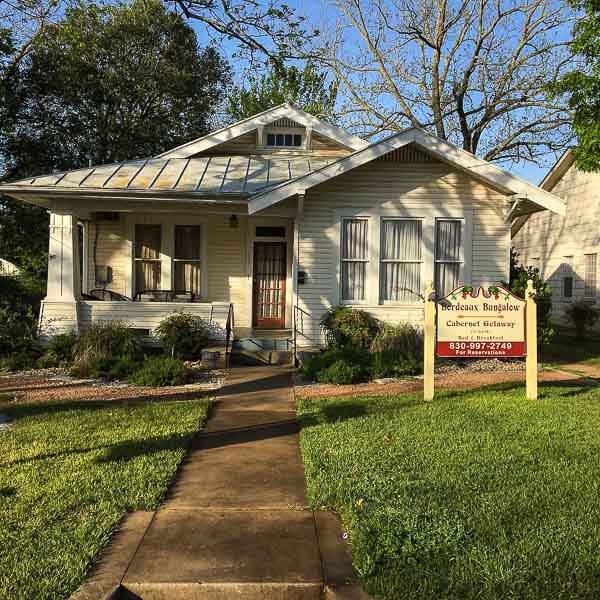 I was here in Fredericksburg for a painting workshop with Nancy Medina so my days were spent painting. I will have to come back to Fredericksburg to enjoy just touring the town with its many pleasures. There is tons to do both in town and in the outlying areas. Rocks to climb, museums to visit along with the wineries and distilleries. One that particularly caught my attention was called Fat Ass Ranch and Winery. Definitely one to tour.
I can't wait to revisit some of the best eats I have enjoyed in a long while. This place was one of many that was pure dining delight.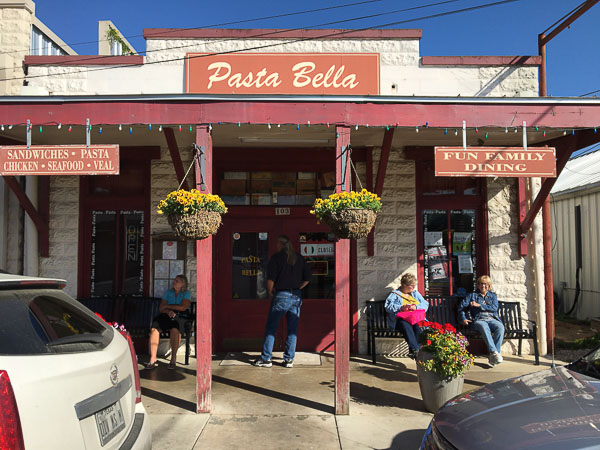 This is only a smidge of what I saw and photoed. Soon I will post about my painting course and about the Wildseed Farms I visited….twice. It is full of garden goodness.
Make sure to put Fredericksburg on your travel bucket list, it is so worth it. One thing I failed to mention, the people are wonderful, warm, welcoming and just plain great folks!
Happy Travels!