Filoli a garden to visit in California. A wonderful place to enjoy a garden and a country house tour.
Filoli, a garden to visit in California. Filoli is a country estate built in the early 20th century. Sixteen acres of English Gardens to explore and enjoy.
this post is photo heavy and may take a few minutes to load. No time to read now? PIN for later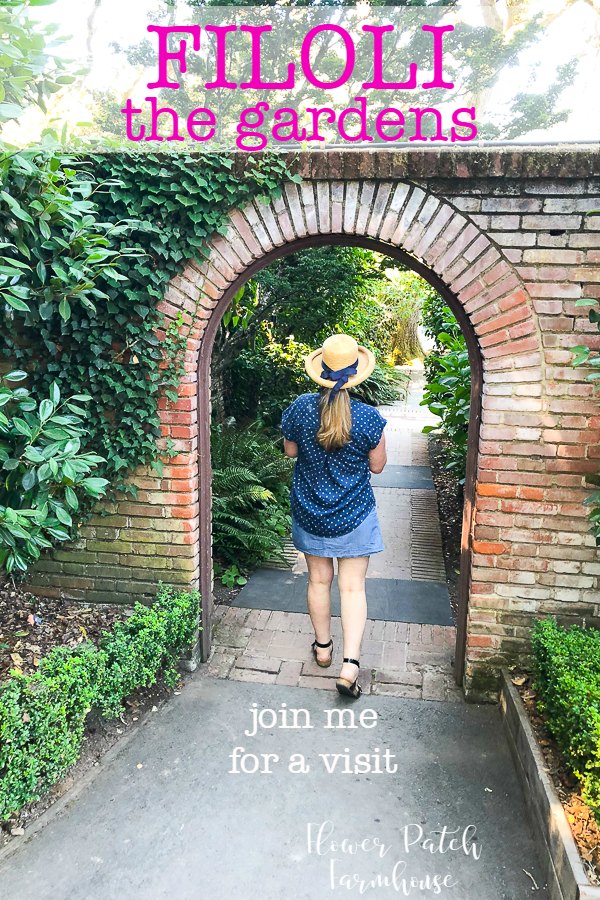 I was intent on just enjoying the visit rather than focusing on photographing but I did get some photos to share. I knew we were in for a treat when the drive was lined with carefully clipped boxwood and lush trees. The day was sunny and the temperature was perfect, only in the mid to upper 70's.
I love a walled garden with arched doorways. You walk from garden room to garden room through arched doorways or portals cut out of hedging.
Within the gardens is the largest collection of Ivy donated by an enthusiast. I did not know there were that many different varieties of ivy on the earth!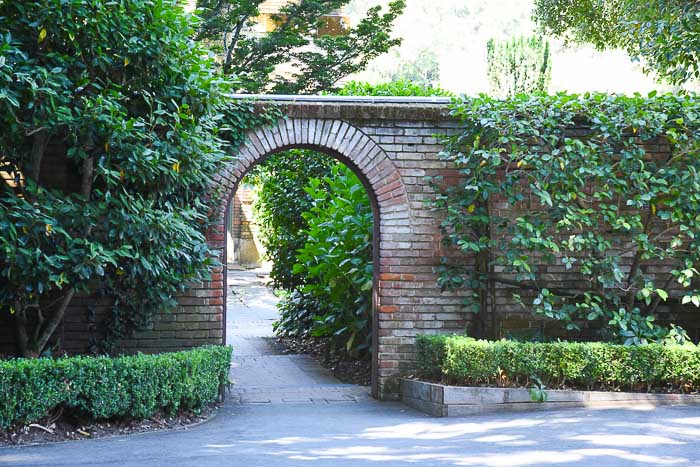 I am a new convert to the delights of boxwood. I found the many beds and gardens neatly bordered with it fascinating and inspiring.
I think that even in my tiny garden the addition of the structure created with boxwood would show well in winter covered with white snow.
This is the Walled Garden. Topiary, boxwood edging and tree roses, with many types of shrubbery. It was a soothing beginning. I know this will look stunning as the trees change for Autumn.
If you look down the path to where the deep shadow starts you can see a hedge.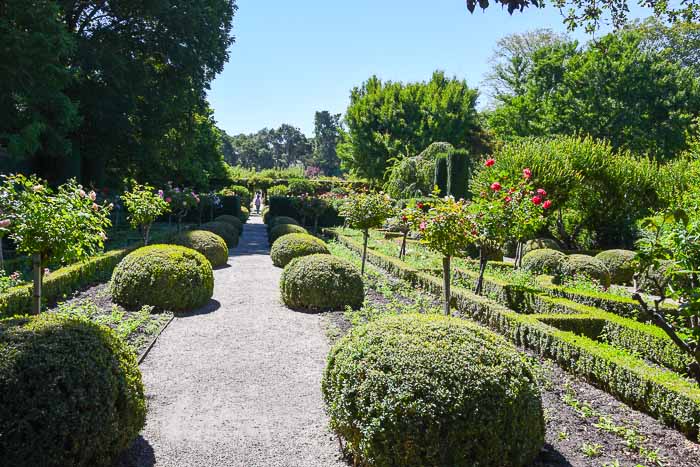 When you pass through the hedge you start in the Rose Garden. There are many David Austin roses along with Hybrid Teas, Hybrid Perpetuals and Floribundas. Thankfully, they have name tags to identify each one.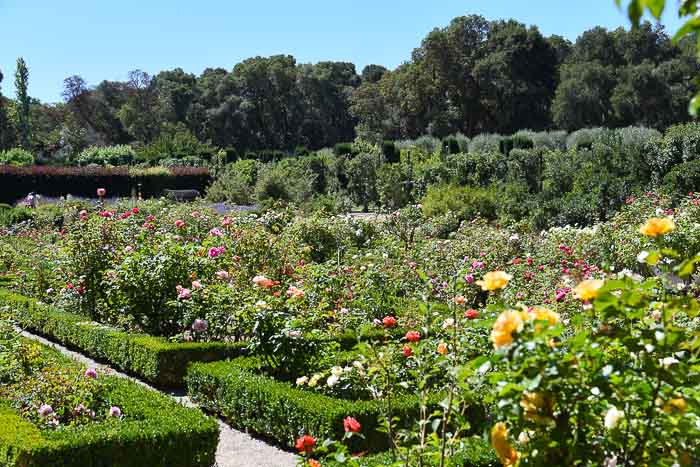 Pleasant spots to sit and enjoy were sprinkled about the gardens. Sitting down to just gaze around you and soak it all up prevents you from rushing along to see what you find next.
Can you see those ladders in the background? Back beyond the fencing barely discernible is the orchard.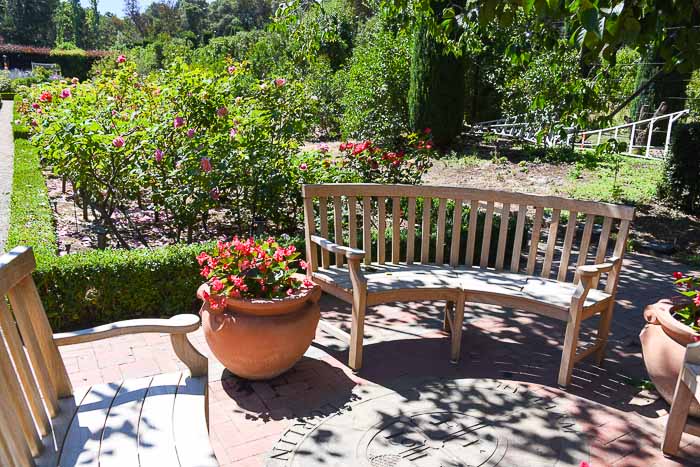 Glass art was displayed throughout the grounds. Whimsical floral inspired pieces in bright colors.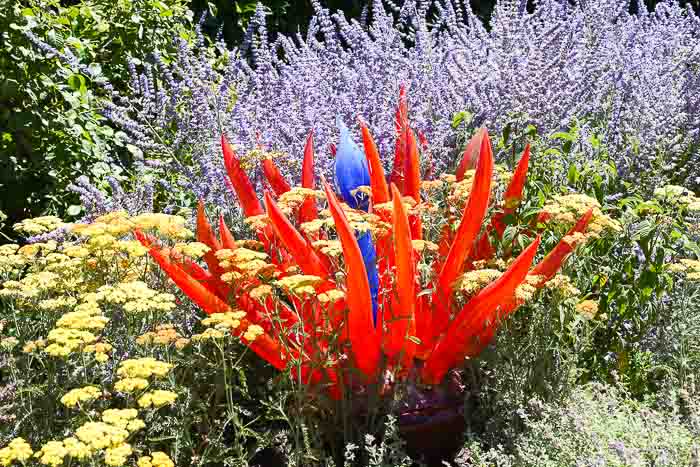 This is a heirloom lavender hedge. Grown here forever and a day. It was in full bloom and smelled heavenly. I wonder if I can get a hedge to grow like this? I have plenty of Lavender plants I started from cuttings.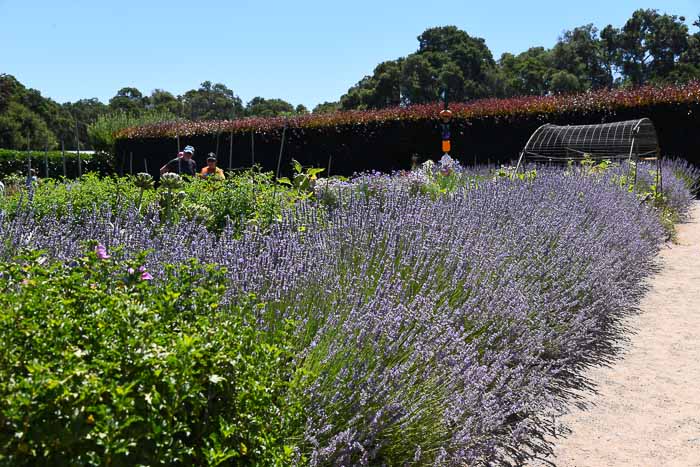 The knot garden was much more colorful than my photo displays though they said it was not in its full glory during this time of year. It looked fabulous to me.
I love how with foliage alone you can create such an eye catching display. You can see the lavender hedge in the background to the left.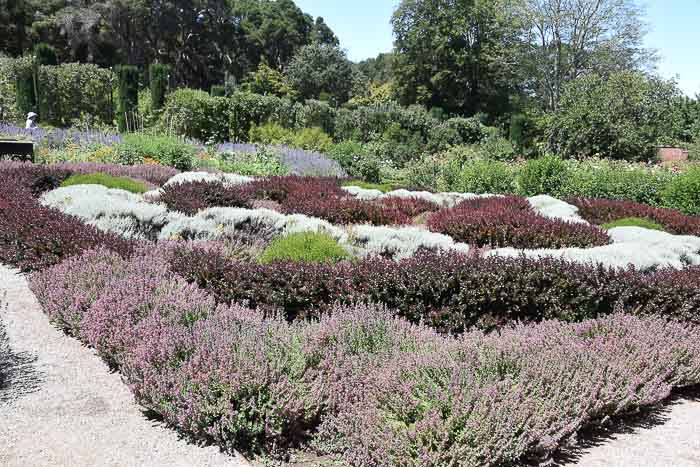 The use of numerous pots filled with annuals all around the gardens just added more bang for your buck. These are swapped out seasonally making visiting Filoli a year round garden pleasure.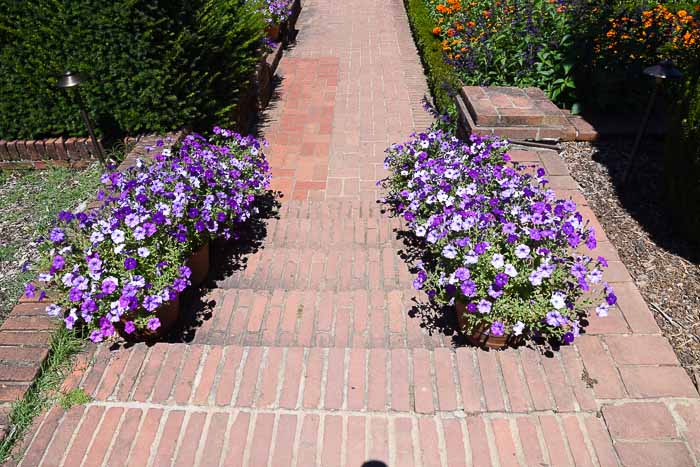 The hydrangeas were taller than me and in all colors. They are tucked into a spot that gets plenty of shade from nearby trees.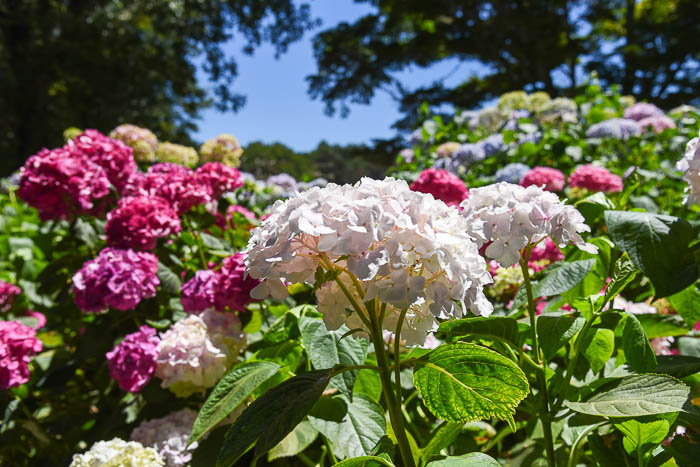 The Sunken Garden was ablaze with color. The pairing of complimentary colors makes it so striking. Artists use this same technique all the time.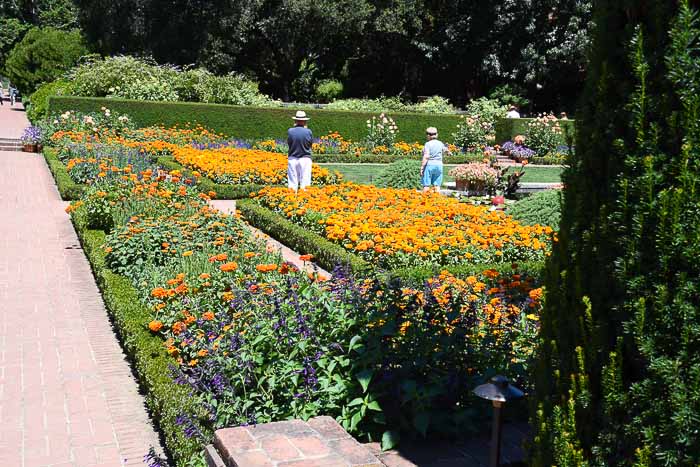 Close up..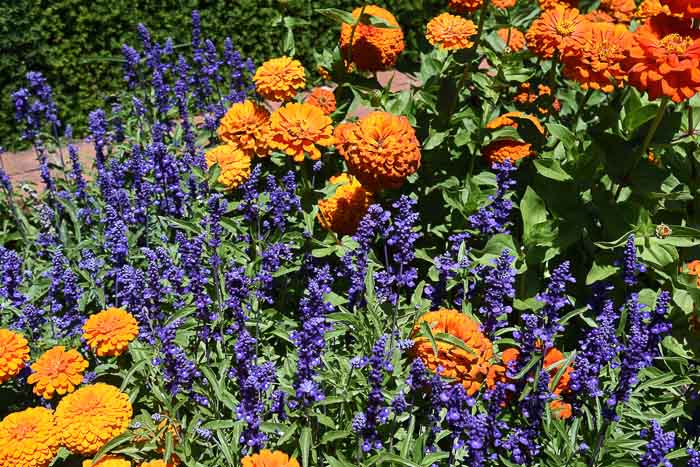 One last photo. The is of the center of the Sunken garden.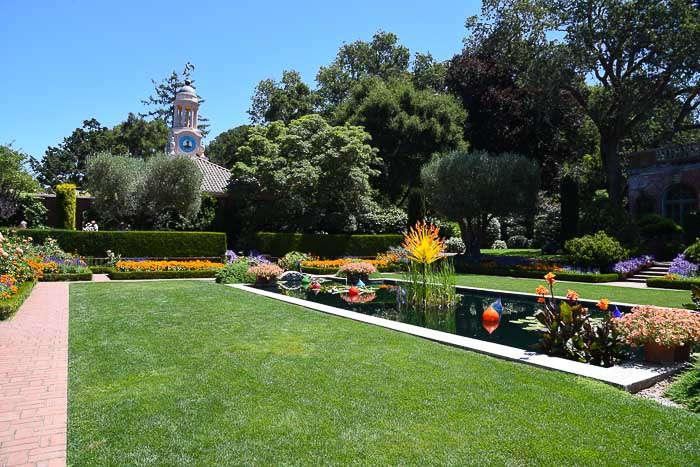 This reinforced my desire to have some lawn in my garden spaces. It creates someplace for the eye to rest and punctuates the bright colors.
There was so much more but this post is getting way too long and picture heavy.
I hope you enjoyed visiting Filoli with me. I hope to go again in Fall when the trees are changing. I know it will be fantastic.

Happy Gardening!