Seed Saving for More Garden Blooms
Seed Saving for More Garden Blooms is a great way to expand your garden for free. Keep the seeds for yourself, join a seed swap, or give them as gifts.
Enjoy the free downloadable seed packet pattern available near the end of this post!
Why save seeds?
Seed saving is a great way to get more flowers in your garden for free. Late summer and early Fall is the time of year when many of my garden favorites are going to seed.
Seed saving is also a great way to share or trade for more flowers and veggies.
The time frame to save seeds depends upon the plant. My foxgloves go to seed earlier in Summer as it blooms primarily in Spring, early Summer.
Collect seeds when they ripen on the plant, no matter what time of year.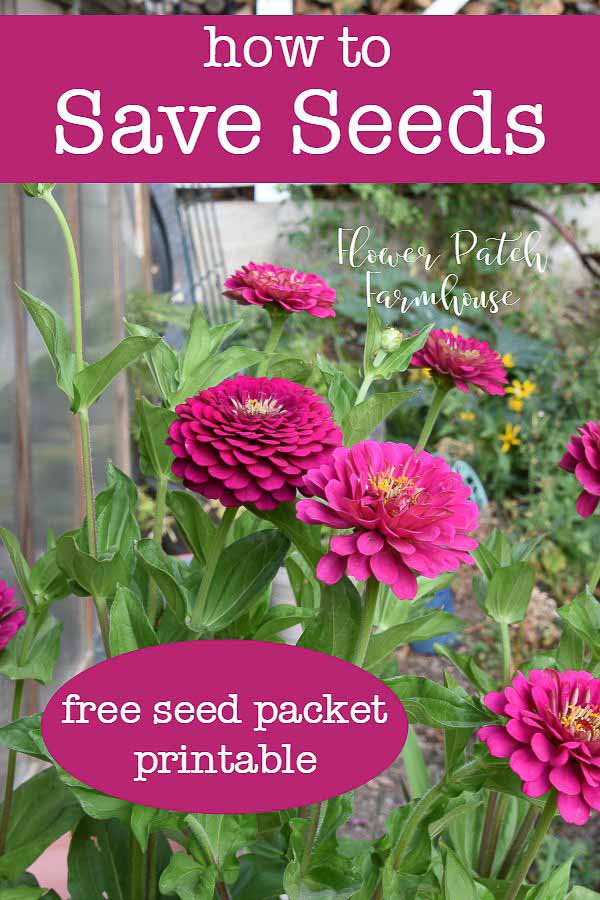 This post contains affiliate links. If you make a purchase after clicking a link I may make a small commission at no cost to you.
Seed heads
Though the seed heads lack the flamboyance of the flowers they do have a beauty all their own.
Cosmos seed head
To me, the beauty is mostly knowing these little spiky things will produce beautiful flowers next Spring and Summer and they provide food for critters during the cold months of winter.
Note: There are many hybrids that set seeds but are sterile and will not grow from seed. I mention this in my Echinacea post.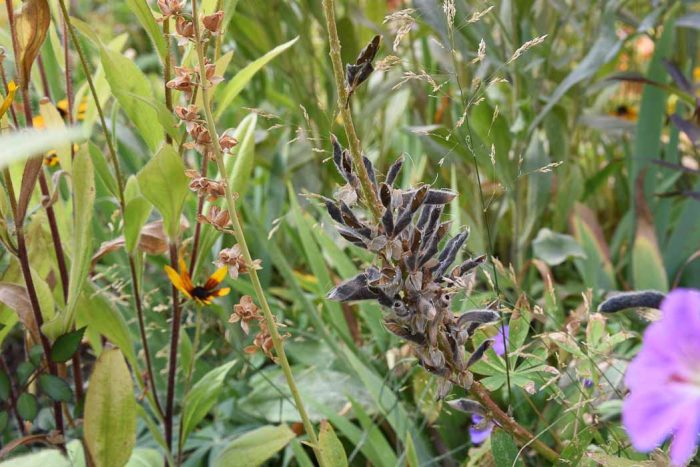 You can let the seeds fall to the ground to reseed themselves in place, but if you want to grow some in a different area or your garden, you will need to collect them before they naturally disperse.
Collecting them also gives you the opportunity to not only keep some to re-plant but you will have some seeds to swap with another gardener. (the flowers produce tons of seeds, you will have plenty to keep and to give away).
Seed swapping is a great way to get flowers and veggies you don't already have.
How to Save Seeds
Use a few empty containers large enough to catch seeds as they fall. I use larger cottage cheese or sour cream tubs.
Just walk your garden, clip off the seed heads with your pruners, and let them fall into the container.
I have recently purchased these garden snips which I find easier to use for this job.
As you see in my video I collect most of the seeds this same way.
For information specific to harvesting zinnia seeds head on over to that article.
How can you tell your Seeds are Ready?
Make sure to let them ripen first. Here I am saving Sweet Pea seeds but green seeds are worthless. This Sweet Pea pod is still too green.
But give the sweet pea seeds another week or so in warm weather and you are ready to clip it off into your tub.
See how these are a bit browner than the photo before, these are ripe enough to collect. If you wait too long they could pop open and scatter the seeds on the ground.
Leave them in the tub with a loose top on it, a coffee filter will work, it will let air come in and moisture out. You want the seeds to stay dry.
The tub needs something like a filter on top because when the pods pop open as they continue to dry the seeds will spring out everywhere and not stay in the tub.
Once the pods have opened remove the shells, and the seeds will have joined their friends on the bottom of the tub.
Want to know How to Grow Sweet Peas? Tap here.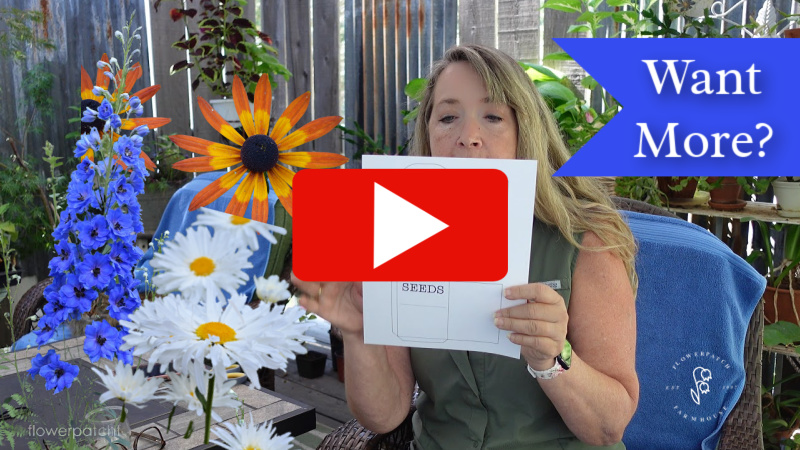 Some seeds can be tricky
Delphiniums ripen as they have bloomed, from the bottom to the top. The seed heads on the bottom will be ripe while the top ones are still green.
I usually just clip off the ones ready and wait to collect more but I also tried this method which I saw on a t.v. show.
Place a large brown grocery bag over the stalks and bend it over and shook it to release the seeds that were ripe.
I did collect the seeds faster than clipping individual pods off.
One stem snapped so I don't know if I recommend this way unless the delphinium is done blooming.
I did make the mistake of trying to bend it over the support frame that kept it upright. Maybe if it had not been there it would've worked better.

You might need gloves to save seeds
This depends on the plant.
Gaillardia seed heads are super prickly and will stab your fingers like a cactus so you may wish to wear gloves when saving seeds.
If you are extra careful just nipping them off and letting them land in the container you are using may work fine.
Hollyhock seeds ripen like the Delphiniums, bottom to top.
Related: How to Grow Hollyhocks
Hollyhocks can still have some flowers on top of the stalk as you collect the ripe seeds lower down. Wait until the paper casing is dried and opening up, that is when the seeds are ready.
How to Store Seeds
If you don't wish to use the seed packet pattern available then some regular envelopes work well too. I use the ones that come with bills I typically pay online. This is a good way to make use of what would be tossed in the trash or recycle bin.
Mark them with the names of the plants or you will be wondering what the seeds are when Spring arrives.
A free printable seed packet is available below. The pattern will print 2 seed packets on 8″ x 11″ size paper.
You will want something to store your seed packets in! Try this sweet box: Wood Seed Box

Before storing seeds you need to separate the seeds from the chaff. Pour the contents of the sour cream tub onto a paper towel.
Most of the time the seeds are heavier than the chaff and fall to the bottom of the pile.
These Larkspur seeds are a good example. Pick up the stems and shake them a bit more to get more seeds to come out of their casings and then pick out the little casing pieces to leave mostly just seeds.
Next, toss the casings into a bucket headed for the compost heap, fold the paper towel carefully in half and pour the seeds into the proper envelope.
I show how I collect larkspur in this particular video.
Related How to Grow Shasta Daisies (all kinds, Silver Princess, Crazy Daisy, and more)
Storing seeds
The paper of the envelopes lets any moisture escape that could cause fungus to grow on the seeds.
I have a metal box I keep them in but I don't put the lid on it. A shoebox is great too.
(I have had to rethink my box without the lid as I had mice eat many of my seeds, so now I use the lid but put desiccant packets I have saved from vitamin bottles into the box to absorb moisture)
It is recommended you keep seeds in a cool, dry place. My basement stays cool and dry all winter long.
Leave some seeds for the wildlife.
Don't collect all the seeds, that would just be overkill as there are millions.
But leave many of these perennials and biennials to overwinter in place. It provides needed food for birds and other wildlife.
True it does not look neat as many prefer but they are beautiful glistening in the sunshine on a frosty winter morning.
I love watching birds landing on top of the daisy, echinacea, and or Black-eyed Susan seed heads to snack on.
It is beautiful to see especially when there is snow on the ground and it is tough for the birds to find other food sources.
Rose Campion (Lychnis Coronaria)
If you need to dig up any of them to make room for something different or to thin them pile them up nearby.
It may not look attractive but you should see the wildlife that makes this a refreshment stop or winter haven before heavy snows bury it deeply.
Right now the Junco's and Mountain Chickadees flock to my piles to pick at the seeds each morning.
Closer to winter I will pour a few buckets of chicken litter on top of my flower debris piles so they will compost in place just fine.
Nursery bed
The photo below is of a new nursery bed. It is where I will sow my seeds in the Fall. They will overwinter in place and have a head start next Spring.
Come Spring I will plant them in different places around the garden.
To prepare a nursery bed just clear all plants from a section of soil. Mulch with some compost. Water it in.
Weeds may germinate but just pull them out. Repeat the watering and then clearing of weeds.
Doing this ensures that when it is time to plant the flower seeds there will be much fewer weed seeds left to germinate and compete with the flower seedlings.
For the free printable seed packet sign in our sign up. No worries, it is free. (I am replacing the resource library with this so that you won't need to go to a separate page to get your printable downloads)
Print at home
Download and Print this Free Pattern Pack for Seeds!
Click on this post to get a list of my favorite garden tools
Come Spring you will have tons of seeds to start and plenty already growing from sowing them in Fall.
A big plus is you can plant what you know thrives in your garden. Masses of flowers make for a beautiful garden and most of the varieties I have shared here are pollinator-friendly.
Happy Gardening!