How to grow Echinacea also known as Purple Coneflower. If you are looking for a wonderful flower that grows in a wide array of planting zones with little or no help from you then look no further than Echinacea.
How to grow echinacea aka coneflower easily. Echinaceas are a long lived perennial that grow well in a variety of conditions. They make fantastic cut flowers, are drought tolerant while attracting bees and butterflies in droves.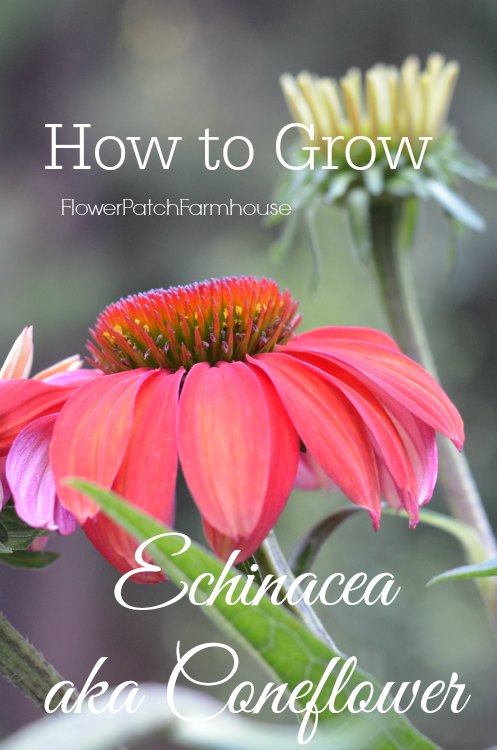 Disclosure: This post may contain affiliate links, meaning I get a commission if you decide to purchase through my links, at no cost to you. Please read my disclosure for more info.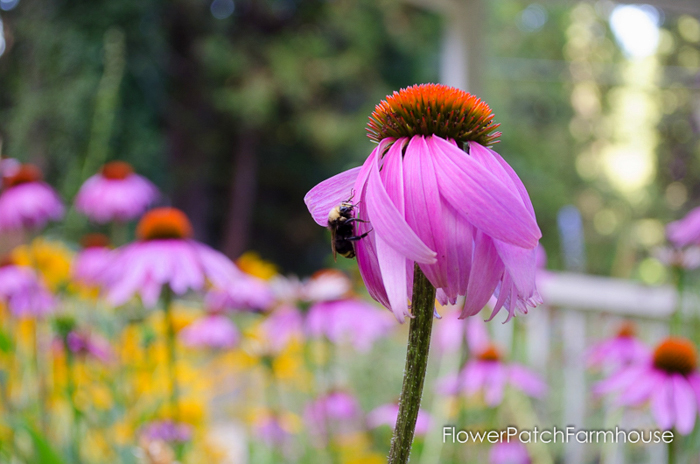 How to Grow Echinacea
Many echinacea are very easy to start from seed. Many claim they germinate better with some cold stratification but I have yet to test that.
Start seeds indoors in January or direct sow in garden 2 weeks before first frost date.
Echinacea are one of the plants I direct sow in the garden in the Fall, see post highlighted below.
Related: Sow your seeds in Fall for a Glorious Summer
Sow 1/2″ deep in rich, well drained soil and keep at 70 degrees. It will take 10 – 20 days to germinate.
Water well until established then echinacea plants can tolerate drought.
Pick or dead head regularly for optimum bloom. In the Fall let last blooms of season go to seed for bird food and to reseed themselves. Or gather them up yourself and seed other spots in the garden, they will snuggle down for the winter and sprout come warmer weather.
To avoid issues with fungus or other plant diseases do not water from above, only at the roots. (I love soaker hoses like these)
Note: there are many hybrids available now that can only be propagated by root division methods so do your research before buying seeds or only buy from reputable seed companies, I make this warning as I see seeds for the sterile hybrids on Amazon and eBay all the time
Where does Echinacea Grow Best?
Echinacea coneflowers love full sun but can take a little shade. They need at least 4 hours of sun a day. They thrive in Zones 4 – 9 and some can even be grown successfully in Zone 3
They tolerate poor soil, will grow in drought like conditions if established but do best with regular watering. Echinacea do not like marshy or boggy conditions. Good drainage is essential to their thriving.
Echinacea grow in clumps from 12 to 36 inches wide and up to 4 feet tall, depending upon. variety. When you buy the seeds the size is noted on the packet and if you buy a plant in a can the tag should inform you of the final size.
Echinacea are sturdy plants and rarely need staking unless they are in too much shade, they will reach for the sun and tend to flop.
Fertilizer is rarely needed if you have decent soil. Adding compost as mulch should be sufficient.
Planting container grown Echinacea
To plant a potted Echinacea, dig the hole as deep as the soil level in pot, loosen soil in bottom of planting hole, pop the plant out of the pot, place in hole then replace soil, do not bury plant deeper than it was in the pot. Add some compost and/or mulch around base (not touching plant) to suppress weeds and condition soil.
Water regularly until established.
Types of Coneflowers I grow
Pow Wow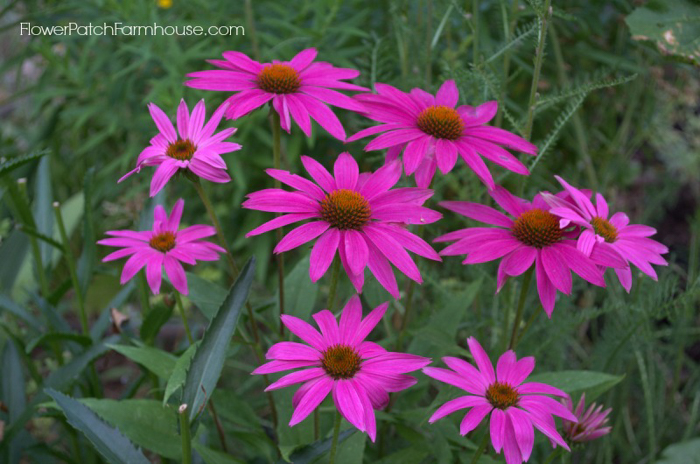 Echinaceas now come in many sizes and colors. If you want to grow echinacea in a variety of colors then seeds are the way to go. I will note below which of the ones I grow are sterile hybrids or if you can grow them from seed.
PowWow Wildberry (photo above) is conveniently available around my area garden centers in the inexpensive 6 packs, you will get blooms the first season.
You can also get the seeds and start them yourself, sow them in January you will get blooms the following summer. Pow Wow is a shorter variety growing to a height of 20 to 24″. This one also comes in white.
This is one that can be grown well in Zone 3.
Botanical Interests carries Pow Wow Echinacea seeds.
Summer Sky or Katie Saul Echinacea

Summer Sky (also known as Katie Saul) is part of the Big Sky series of Echinaceas available via Proven Winners. It is a hybrid that will not grow from seed. You need to buy the plant. I love the soft peach color and they have a light scent.
Want more great garden and DIY info sent straight to your Inbox? Join our newsletter and get access to our Subscribers Only Resource Library which includes downloadable freebies, DIY patterns, and garden photos.
White Swan Echinacea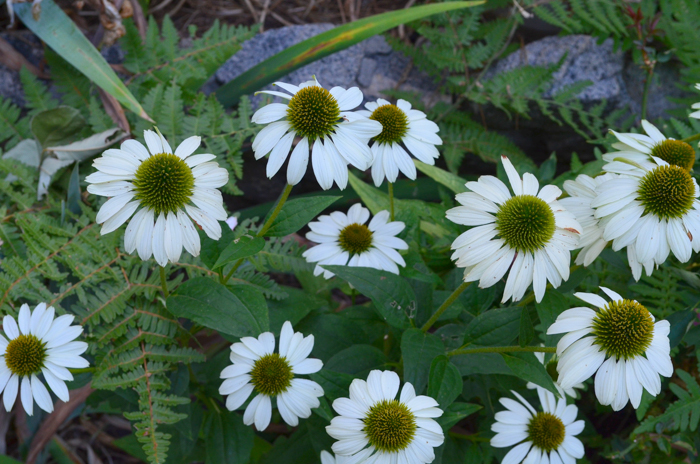 White Swan is a mid size growing Echinacea. It will get up to 3 feet tall. This is one that will reseed itself given the right conditions yet if it cross pollinates with other echinacea the self seeded plants with not always come up white.
White Swan adds that refreshing pop of white to the garden when most Daisies are done.
Growing White Swan from seed is so easy, it will bloom within 4 months of germination given the right conditions.
Deadheading encourages more blooms. At the end of the season you can let the last blooms go to seed, the birds will love you all winter for providing food for them.
White Swan is also available via Botanical Interests
Tomato Soup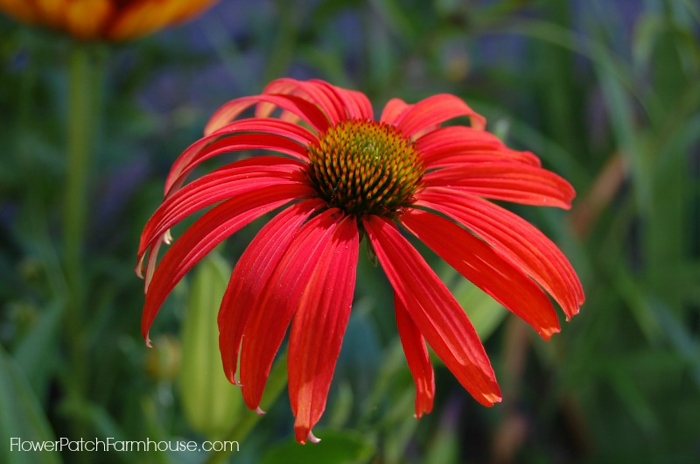 Tomato Soup is a hybrid developed by Terra Nova nurseries. It truly has the color of its name. One thing I have found with the hybrids like Tomato Soup, they are not as tough or prolific for me as the basic varieties but they are fun to have.
You can find Tomato Soup at High Country Gardens and Bluestone Perennials
DO NOT buy the seeds from anyone. I see the seeds for Tomato Soup for sale on various sites like Amazon, eBay etc and you will not get plants from those seeds. Tomato Soup is a sterile hybrid, though it sets seeds they will not grow.
Hybrids like this one only can be propagated by root division, basal cuttings or tissue culture.
Here is a post on How to Divide Coneflower if you want to learn how easy it is.
I am only telling you this so you know that if you want easy, peasy Echinaceas for your cottage garden start with the ones you can grow from seed. That has just been my personal experience, it may vary with others.
I enjoy flowers planted in abundant drifts. They just have more impact than a single plant and it attracts pollinators better. So the better a plant fills out and spreads (mannerly and not be a plant bully) the easier it is to get a gorgeous garden filled with carefree flowers that choke out weeds thus lessening your work.
Purple Coneflower grow to nearly 4 feet so plant them where they won't block the view of other lower growing flowers. They like full sun but will tolerate some afternoon shade.
Seed packets will have more planting and growing directions.
Want Sunny colored Echinaceas?
A nice array of oranges, creams, yellows and scarlets come in Cheyenne Spirit Echinacea seed mix. They have them at Park Seeds and Swallowtail Garden Seed.
Update: I just bought a potted Cheyenne Spirit Echinacea and am growing it now. I LOVE it so far.

I am more convinced than ever to get seeds to grow echinacea like this one in different colors.
Are you ready to try to grow Coneflowers aka Echinaceas?
Have you heard of the new cross between Echinaceas and Rudbeckias called Echibeckia. I am anxious to see how that works out.

Happy Gardening!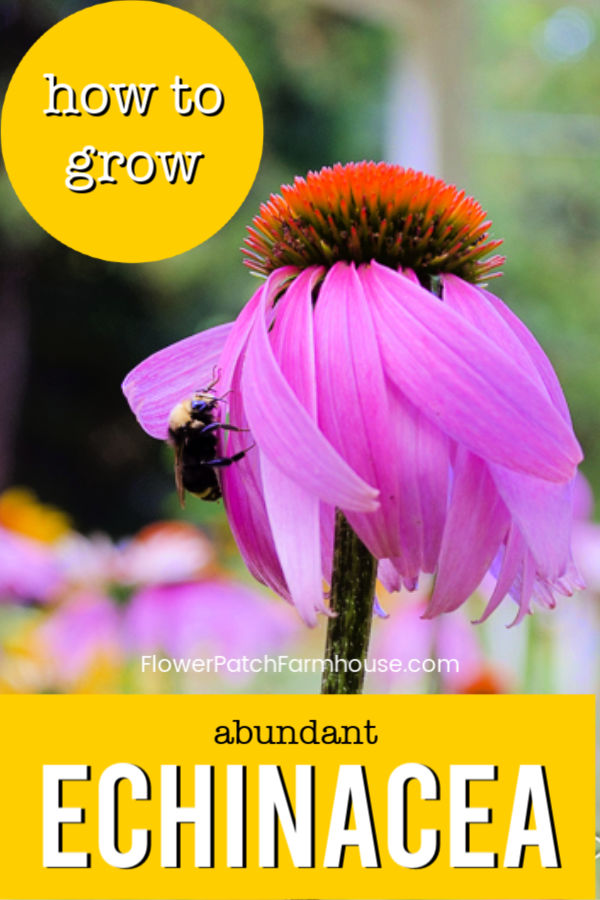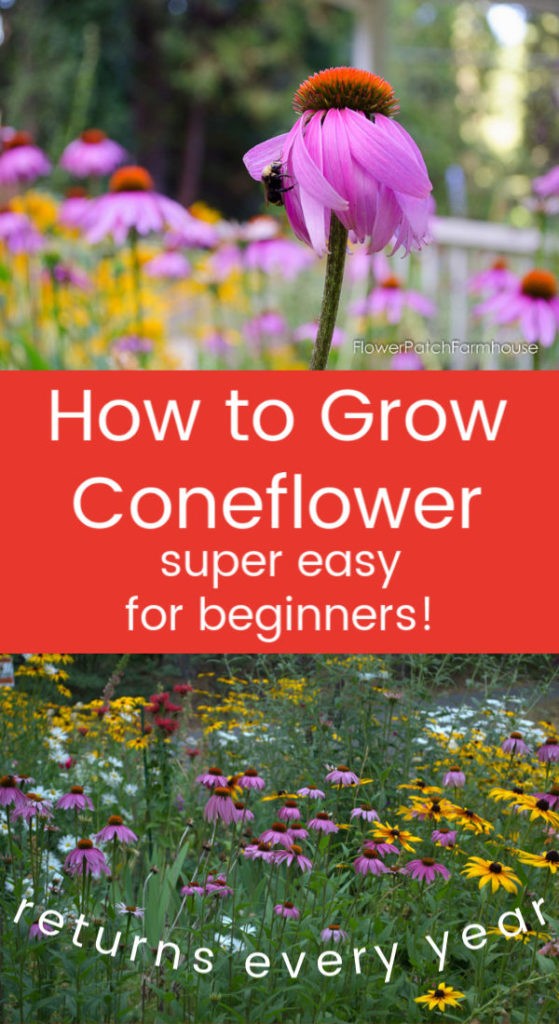 Other posts you may enjoy!
Grow Black Eyed Susans
How to Grow Sweet Peas
Grow Delphiniums
How to Grow Foxgloves
If you enjoyed this please PIN and share!