How to Grow Foxgloves in your cottage garden. A stately plant that adds so much charm to your beds and borders in Spring. One of my favorite flowers that re-seed easily for most people..
Today we are going to talk about how to grow foxgloves, they are so easy and charming. Look at any illustration of a cottage garden and you will see foxgloves.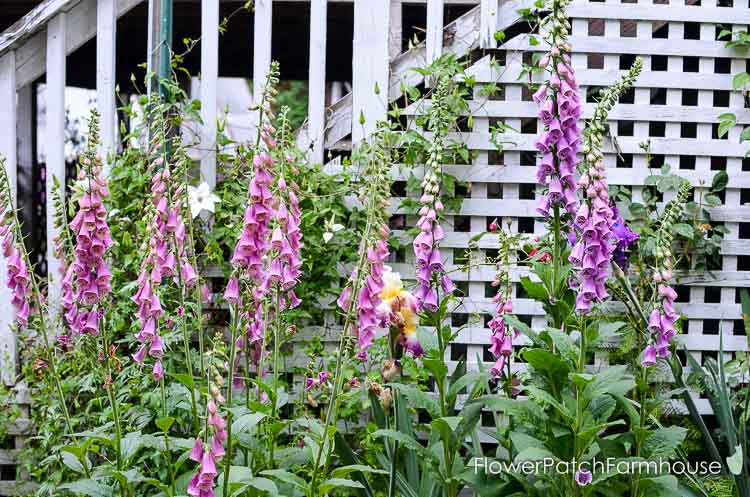 Disclosure: This post may contain affiliate links, meaning I get a commission if you decide to purchase through my links, at no cost to you. Please read my disclosure for more info.
One of my favorite flowers in a typical cottage garden is the Foxglove (Digitalis Purpurea).
Heirloom foxgloves are biennial, meaning they sprout and grow one year then bloom the next, go to seed, spread their progeny around and die off.
These can grow to 5 feet or a wee bit taller, if given the right ingredients (aka fertilizer and water in dry weather).
Can you buy Foxgloves at garden centers?
Yes, but most Foxgloves you buy at garden centers are a hybrid called Foxy mix, which is produced to bloom the first year from seed.
Foxy foxgloves get only about 3 feet tall, they behave more like an annual.
So if you are looking for the statuesque beauties seen in Tasha Tudor's garden then they are not it. But they are beautiful in their own right.
Growing Foxgloves from seed opens up many more options. There are plenty of new Foxglove hybrids available with different attributes.
Swallowtail seeds carries quite a few different ones. I have grown Pam's Choice (I don't see this one in their catalog this year but Pantaloons is a sport of it)..

And Strawberry (this one stays short and is extra fuzzy)
Perennial foxgloves?
They have a new type of perennial Foxgloves called the PolkaDot series that hold their blooms longer so you have more time to enjoy them in the garden as they don't set seed, I want to try them out so I have ordered those seeds for this year. I can't wait to see how they perform.
Some sports of tried and true heirlooms don't thrive as well as the oldie but goodies so I always have a few of the heirlooms to keep my garden full of what I love.
(I still have them mostly because they just don't quit, a quality that keeps cottage gardens lush and full)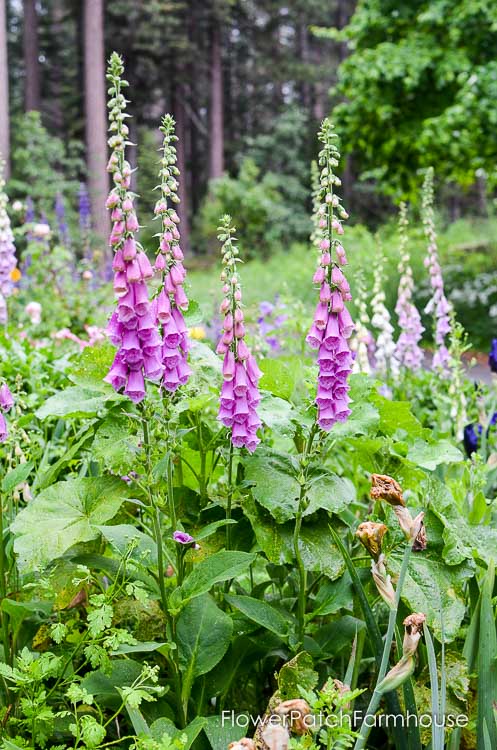 Excelsior series sounds close to the heirloom type, being tall and one that I am going to definitely get for my garden.
Yes, Foxgloves are poisonous but they are not alone
To those ready to jump in and inform me that Foxgloves are poisonous, that is very true, but so is a lot of different flowers and plants, some may even surprise you.
Here are 10 common plants in the cottage garden that are just as toxic as Foxgloves if ingested. For a more in depth look at toxic plants in your garden you can read that here: IS YOUR FLOWER GARDEN DANGEROUS?
There are many more that I could add. Am I saying you should not be concerned?
No, I am not but you should educate yourself before planting anything in your garden, if you are worried about toxicity for kids or pets.
For my part, I have raised 4 kids and tons of different pets along with growing all of the listed plants above with no trouble at all.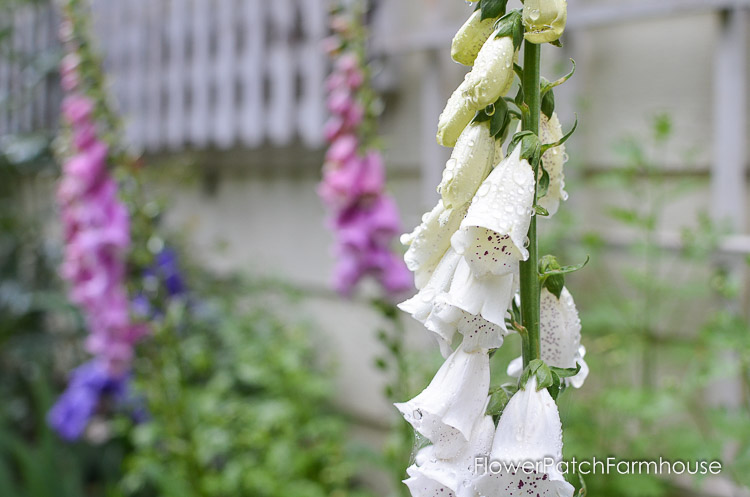 Grow Foxgloves from seed
I grow some Foxgloves from seeds using the method I told you about here..How to Start Seeds for a Beautiful Garden and just barely press them into the soil.
I also direct sow them in the ground in late Fall or early Spring.
When mine begin to go to seed I cut a stem and carry it gently to an area I would like more Foxgloves to grow.
Shake the seeds over a spot of soil I may have turned and added fresh compost too. Then tread over the seeds to make sure they have good contact with the soil. I do not cover, they need light to germinate.
They will stay there over winter and come up the following Spring.

I love getting different colors and varieties, and they typically cross pollinate so the following years I never know what to expect.
This one below was a special surprise this past season, pink on the outside and a creamy yellow with burgundy spots on the inside.

One of my favorites is called Candy Mountain. If you haven't noticed, Foxgloves have a tendency to put most of the blossoms on one side, but Candy Mountain has blooms all around the stalk for a glorious view from every side.
For some reason I have no photo of it in full bloom but here is one just getting started. You will also note that the flowers stick straight out instead of draping downward.
A creamy colored one.


Some seasons I have many more come up than others, it could be weather conditions (we have been in a drought for 3 or 4 years now), or just their cycle. 2013 was a boon year where I had a jungle of foxgloves coming up everywhere.
And then last summer I had much less though still plenty to enjoy.
This year, we shall see. I have a large patch of volunteers right in front of my studio cottage that need to be moved and the way the weather is staying on the warm and sunny side I should do it soon or it will be too late to transplant them successfully.

Foxgloves prefer a nitrogen-rich moist but well drained soil. They do not like it too damp or too dry.
Plant them towards the back of the bed if growing the taller varieties or if planting island beds plant them in the center.
If you live in a windy locale you may wish to stake them.
In areas with hot summers plant where they can get afternoon shade. I live in zone 8 and summers get into the 90's F but we have tall trees that provide shade part of the day.
If you have a foxglove come up where you do not wish it they do transplant easily, just dig down deep and get all the root. Do this while it is cooler so they can get a good root system going before hot weather sets in.
Sow seeds of foxgloves directly in the garden in late Summer and Fall. You can also start them in Spring but with the old fashioned ones you won't get flowers until the next year. Sow them inside in pots and plant them out when they get to be sturdy and strong, about 3 or 4 inches tall.
Another plus is the deer don't usually like them at all and neither do rabbits.
So no matter what you decide to grow, the heirlooms or a hybrid, you are sure to love growing Foxgloves in your Cottage Garden.
Happy Gardening…now to learn to paint them well…
More Growing Info I know you will love!
How to Grow Delphiniums
How to Grow Daisies
Start Your Seeds in Fall
Painting Flowers
Love this, then Please PIN