Beginners Can Grow Gorgeous Oriental Poppies!
Planting and Growing Oriental Poppies: A Beginner's Guide
Many new gardeners find growing Oriental Poppies also known as Papaver Orientale intimidating but you may be surprised how easy they are to fit into your garden design.
Growing Oriental poppies is simple. Sow the seeds (in winter) and watch them grow. You can toss the seeds on top of the snow if you like. Well, there is a bit more but you get the picture.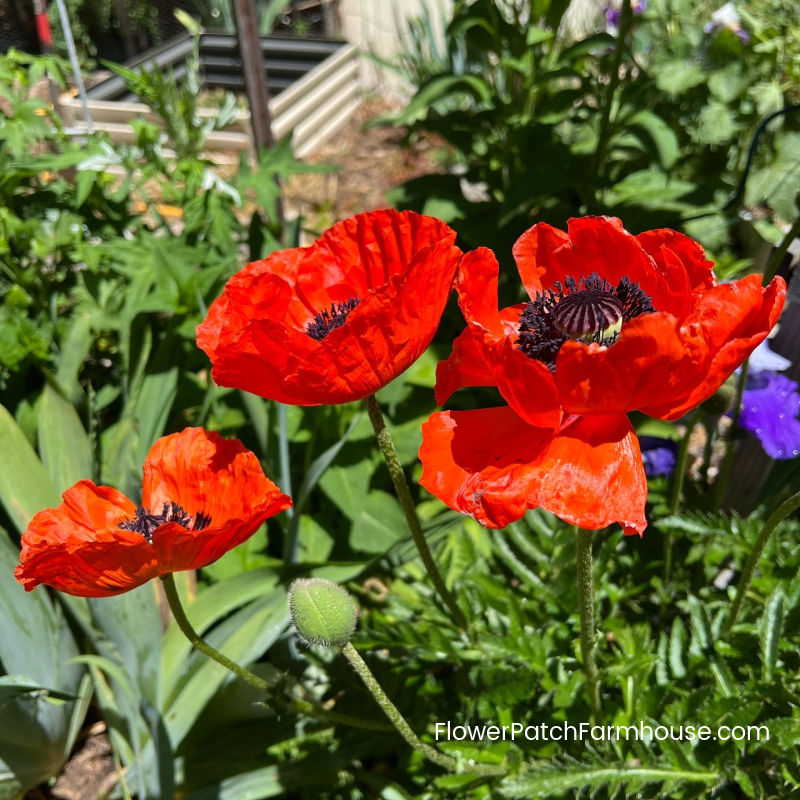 These beautiful flowers are perennials that have inspired artists for centuries and are still a favorite of gardeners today. I have a painting lesson dedicated to painting poppies.
If you're looking to add some dramatic color to your garden, planting oriental poppies is an excellent choice.
Read on to learn how you can have success with growing Oriental Poppies!
What are Oriental Poppies?
Oriental Poppies (Papaver Orientale) are herbaceous perennial flowers (dies back to the ground then reemerges) with large, brightly colored crepe papery petals. The foliage is furry and thistle like which adds a lovely textural element.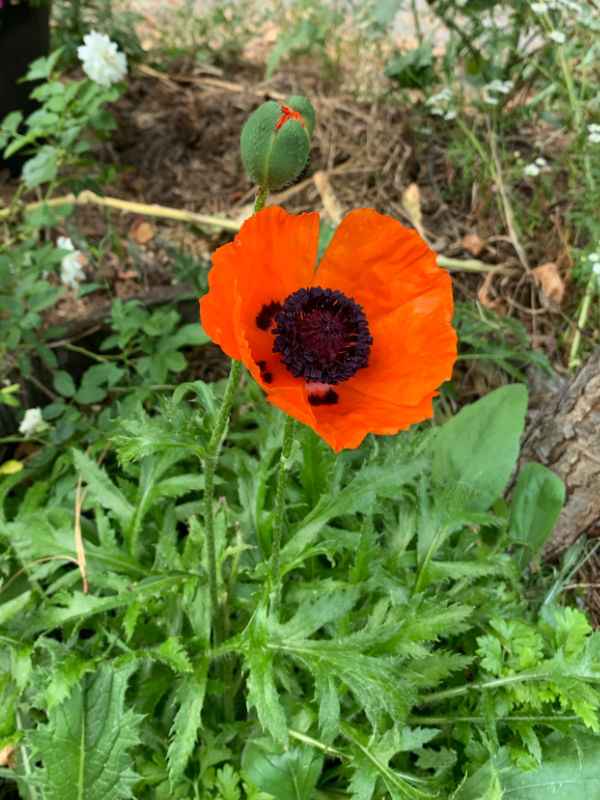 In fact, I must confess one year I pulled some out thinking they were weeds! Then quickly stopped after realizing I was pulling out my poppy seedlings.
These poppies are hardy down to zone 3 and are long-lived in cooler climates, many living for 10 years or more.
Where Should You Plant Oriental Poppies?
Oriental poppies can tolerate a wide range of soils and are even drought-tolerant once established.
They prefer full sun but in my garden, they do well in partial shade as well, so make sure you choose a spot in your garden that gets plenty of bright light. (in hotter regions I would think morning sun and afternoon shade would work best)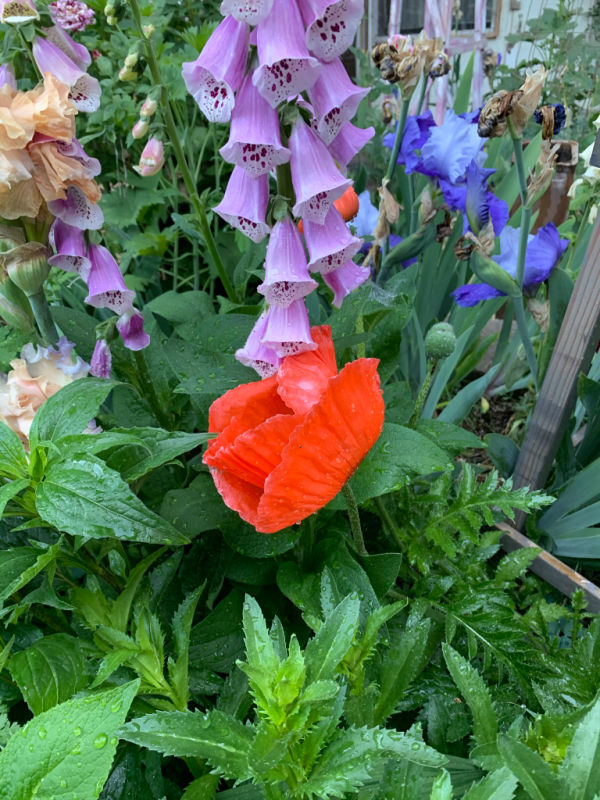 To get the most out of your poppies, plant them among other hardy plants like Black Eyed Susan, Daisies, and Echinacea.
In the photo above you see one planted with Foxgloves and Iris. Both of which are easy to grow too.
You should know that these poppies usually die back during the later summer and then comes back in Fall.
If planted as I suggested in the garden beds with later blooming plants, once the poppy begins to fade the dying leaves will be obscured by the other flowers.
These plants thrive in well-drained soil, so it's important to find an area that won't become waterlogged when it rains.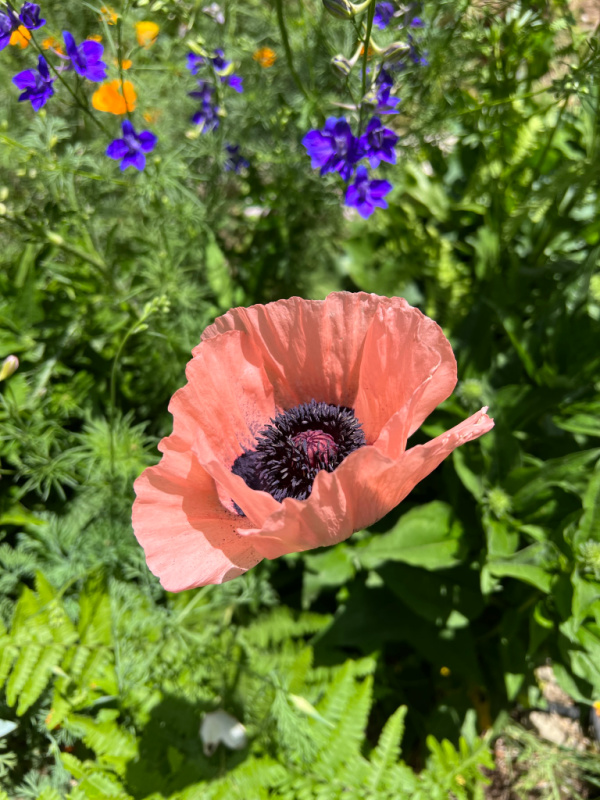 You can also create raised beds if necessary to ensure proper drainage. (I have to plant mine in containers or protected raised beds as I found the gophers loved to eat the roots to a nub)
Be aware that these perennial plants can grow to 3 feet high so make sure they don't obscure other plants.
When Should You Plant Oriental Poppy plants?
To get blooms the following summer planting Oriental poppy plants is best done in Fall. Spring-planted poppies may not bloom until the following Spring.
I prefer growing oriental poppies from seed. If you are sowing seeds I like to Winter Sow them and have been quite successful in this method.
In late Spring after all threat of frost has passed I plant the winter-sown seedlings out into the garden beds. (or if you have purchased plants this is when to plant yours in the garden)
Many nurseries and garden centers will have Oriental Poppy plants for sale in Spring.
Before planting I do like to give the roots a boost by soaking them with this Root Growth Stimulator. This isn't a fertilizer but a solution that helps the roots grow thicker and stronger so the plant can utilize the nutrients in the soil quicker and more efficiently.
I know many folks say these poppies don't like their roots disturbed but trust me they do okay if you are gentle.
Last year I winter sowed an entire packet of Oriental Poppy seeds I bought for 50 cents at the dollar store and was amazed at how many germinated and grew.
I ended up just cutting the seedling soil into blocks and planting it and not separating each poppy out. It worked just fine, much to my surprise.
I will grow more this year and share how I did it as I plant them out so if you wish to be informed of when I do this then feel free to subscribe to my newsletter.
My winter seed started poppies did bloom a bit the first summer but then really put on the show the following. So don't give up if you think they don't produce well in the first season.
You can also direct sow them in winter, toss the seeds on top of the snow or the cold ground.
The snow and rain will sink them into the soil enough and they will get growing. You can snip off the extras or gently try to move them.
Caring for Your Poppies Once They Start Growing
Once your poppies start growing, they only need a little bit of care until well established. Water regularly—about one inch per week—the first year.
I have worked years on creating healthy soil so I don't typically add fertilizer.
I have written two articles that address soil health for you to refer to.
and
But if you really feel you need to use a fertilizer I recommend this one as it feeds soil organisms and the nutrients are immediately available to the plants.
Be sure to deadhead (remove faded flowers) throughout the blooming season; this will encourage more blooms and keep your plants looking their best!
I found mine bloomed much longer than most say they will if you keep them deadheaded. I don't know if it is my climate or what. Mine were blooming well into August when most say they stop in July.

Oriental poppies are an excellent addition to any garden because of their long-lasting beauty and hardiness.
Oriental Poppies are deer resistant, a butterfly magnet, and bee friendly. I have read they do well in rock gardens and since I am putting one in I am going to try that too.
With proper care and attention, these stunning flowers can bring joy for many years!
So if you're ready to add some color and charm to your garden, why not try planting some oriental poppies? With just a little bit of effort on your part, you'll soon have a vibrant array of beautiful poppy blooms!
They are perfect for your cottage garden scheme or planted with Spring bulbs.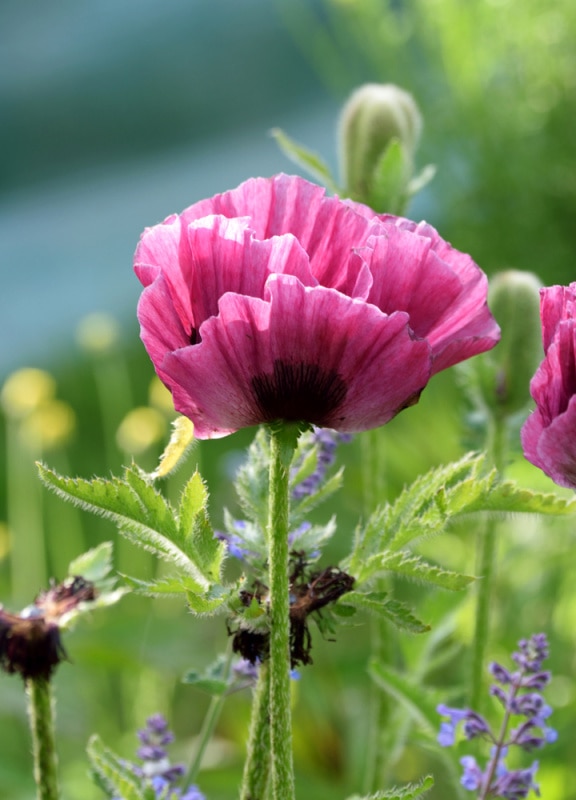 They come in a collection of colors with romantic names such as, Royal Wedding (white), Patty's Plum, Prince of Orange, and Brilliant.
One of my favorite sources of seeds is Botanical Interests!
Remember though I grew a bunch from cheap dollar-store seeds so that works too. I have found though that they only come in a mix. This is fine but I want to grow specific colors as well for certain areas.
I hope this has been helpful in inspiring you to grow Oriental Poppies in your garden. Just FYI, they look great in a Cottage Garden!