Winter Sowing of Seeds for a Beautiful Season of Flowers. When you winter sow your seeds you get a head start on blooms and beauty for the following summer!
Winter sow seeds for masses of flowers you can easily transplant into your garden in Spring. A budget friendly way to get lots of flowers and earlier blooming from some of your favorite perennials, biennials and annual flowers.
Disclosure: This post may contain affiliate links, meaning I get a commission if you decide to purchase through my links, at no cost to you. Please read my disclosure for more info.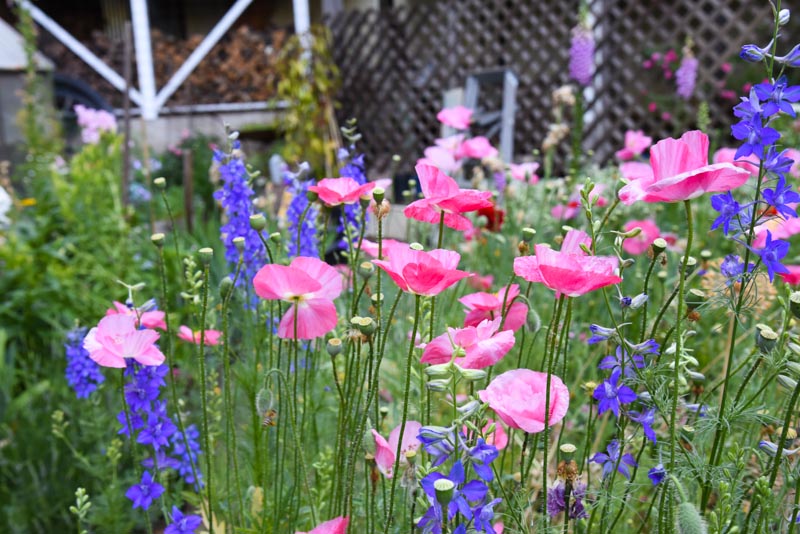 What is Winter Sowing?
Winter sowing is a method of germinating seeds outdoors in recycled containers during the cold winter months. You don't need special equipment or a greenhouse. The recycled containers act as mini greenhouses for you.
This method is great for those that don't have any extra space indoors to dedicate to seed starting. All you need is some good quality potting soil, containers and seeds along with the great outdoors!
Why Winter Sow Your Seeds
Did you know many biennials don't bloom until the second year? Unless you sow them early!
That is one reason winter sowing is so wonderful plus it is just fun if you love to grow lots of Spring and Summer flowers and have a tight budget.
Not only will you get blooms from the perennials and biennials that take a bit of establishing but you will also have a great big head start on other plants.
Plants grown from seed this way are tougher than those started indoors. Healthier plants equals better success when transplanting!
Also many seeds need cold stratification to germinate well and they get that cold spell with winter sowing. And to get good flowering many need vernalization.
Vernalization: the cooling of seed during germination in order to accelerate flowering when it is planted.
Stratification: In horticulture, stratification is a process of treating seeds to simulate natural conditions that the seeds must experience before germination can occur. Many seed species have an embryonic dormancy phase, and generally will not sprout until this dormancy is broken
Some seeds with hard coatings also do better with this method as the warming and cooling, even some freezing helps to soften the coat and therefore easier for the seeds to germinate.
Another plus is winter sown seeds don't need to harden off before transplanting into the garden.
That is just a few of the benefits of winter sowing.
What Seeds to Winter Sow
As a rule of thumb, a plant that is hardy in your garden you can plant its seed in winter. No matter what the temperature or conditions. The seeds will sprout when warmth comes but if it sprouts then you are hit with a cold front the sprouts will survive.
Pay attention to the wording on seed packets like "self sows", "cold hardy", "withstands frost", "sow outdoors in early Spring", "direct sow early", and terms like that. Also seed names with "wildflower" or "weed" in them. AKA: Milkweed
Here is a small example of hardy annuals in my zone.
These little frozen seedlings are Violas, Larkspur and California poppy with a bit of Feverfew tossed in for good measure. These self seeded this past Fall and have sprouted. We had nearly 3 feet of snow around Thanksgiving, then enough rain to wash that away. Then we were hit with lows around 20 degrees F.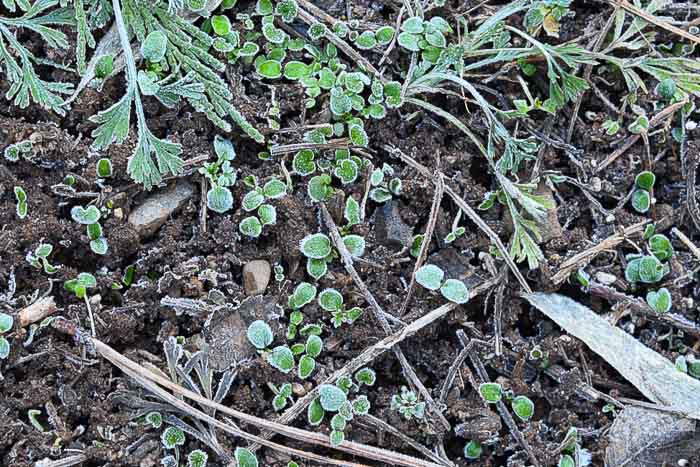 This past week (late December) we were in the low 50's during the day and down to the low 30's at night. The little sprouts have just hunkered down to wait for more warmth in Spring to continue.
Despite the fickle weather they have weathered it all just fine.
Related: I am a Lazy Gardener. (click here to read how Lazy!)
Winter Sowing Containers
I do this in two different types of containers.
First, 1 Gallon Plastic Milk Jugs
Start with some recycled 1 gallon milk or water jugs. My sister gave me these, she has 4 boys and they go through a lot of milk.
I wash and sanitize them with a bleach solution. Then using a hot metal skewer or old steak knife I pierce holes in the bottom for drainage.
Using scissors I cut all around leaving a 1 1/2 inch wide band beneath the handle to act as a hinge.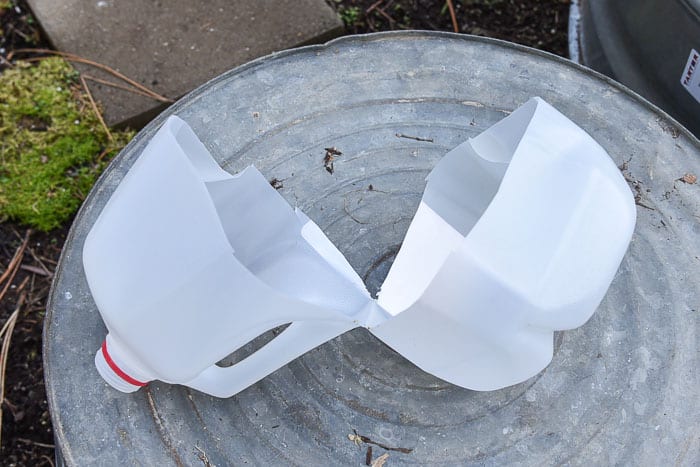 You can see the hinge in the next photo.
Add a few inches of potting soil to your container, sprinkle on the seeds and press them gently yet firmly into the soil. You need good contact between the seeds and the soil.
Next top with vermiculite (in the lower part of this post you will see I also have used horticultural sand). You can also top with a light sifting of potting soil or for the seeds that need light to germinate just leave them without a top coating. The seed packets should tell you if a seed needs light to germinate.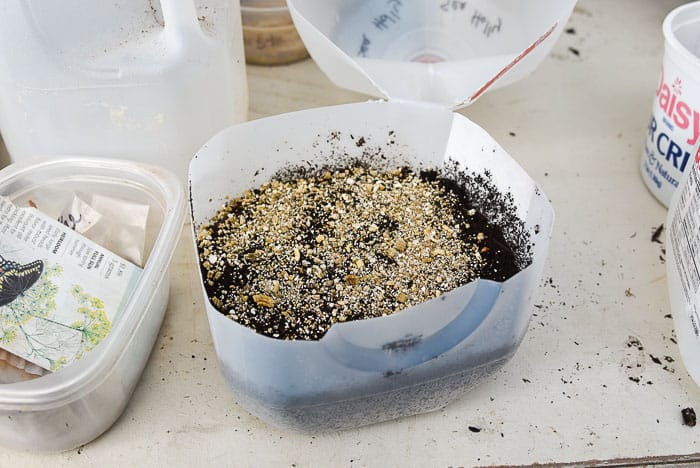 Vermiculite and or sand is supposed to retain moisture without crusting over.
Some will say to use a seed starting mix but that is not necessary for this method as winter sown seeds aren't as susceptible to damping off and the fungus that plague indoor sprouts. If you are using a good quality potting soil you are fine.
Do not use potting soil with additives like water absorbing crystals, synthetic fertilizer (aka Miracle Gro) and things like that. If I am not using my DIY potting mix I use EB Stones Ednas Best or Fox Farm Ocean forest Potting Mix.
One particular flower I want to get started is these Madonna Shasta Daisy. Daisies are excellent for winter sowing and this variety blooms over a much longer time than the other daisies I already have.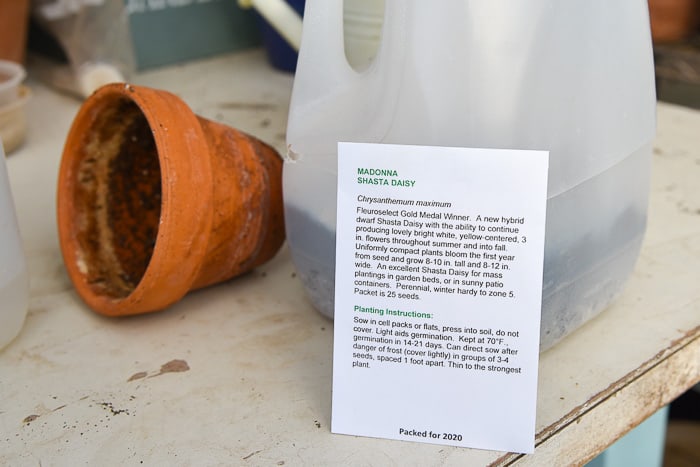 Write the name of the plant that you have sown onto the container and if you want, the date. In the video linked below I show how I add additional identification inside in case this gets washed away in weather.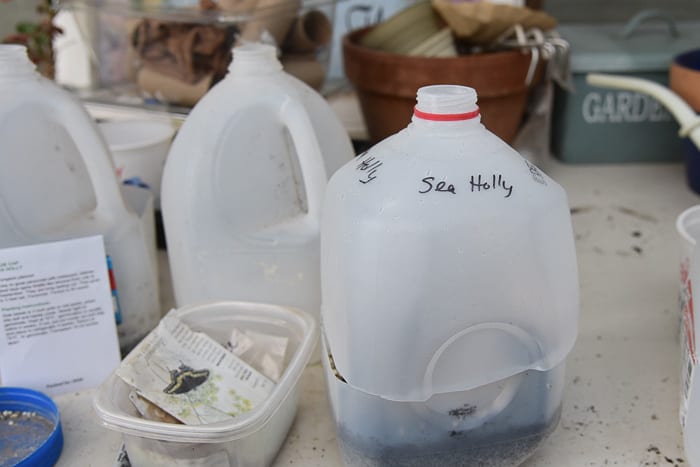 Duct tape to close up the milk jug and place outside in an area that is semi protected so they won't get blown over in wind.
(another gardener who winters sows sent me a note saying she writes the name of the plant on the duct tape too and that seems to hold up best for her)
I seat mine into the soil of this raised bed to secure them a bit better if we get any strong wind. Pretty soon I will have this all filled with these jugs.
Important note: Do not place them on gravel or against a building. The radiant heat from either will have the seeds sprout much too early defeating the purpose of Winter Sowing.
As you can see in the photo you DO NOT want to put the lids back on the jugs. The opening allows water and air to get in.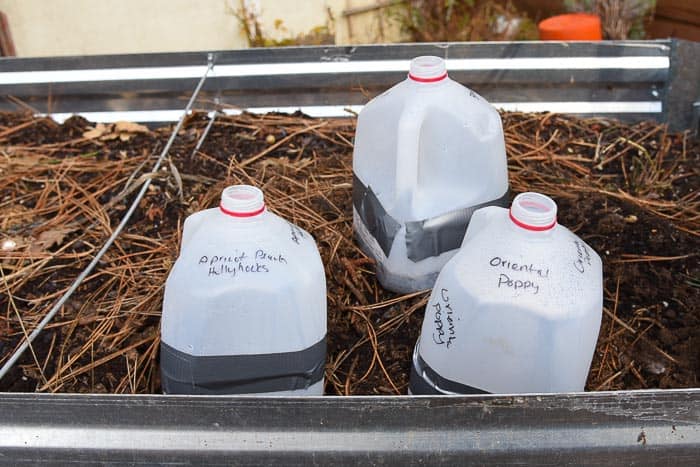 Though to most on lookers this is not the most attractive thing to look at to me they are gorgeous. I know I will have tons of flowers to plant out this coming Spring for such a small price, that has got beautiful written all over it!
I used these raised beds for my vegetable garden all last summer and I loved them!
Other recycled containers I winter sow in
I not only sow seeds in gallon jugs. Here are some other containers I have used.
I save different plastic containers that have a separate lid already. I like the Organic Spring garden salad mix from Costco. (also available at many grocery stores)
I have also used these to start seeds in Spring, they work great for that too.
Once we have eaten up the salad I give the container a good wash in hot soapy water, dry then poke drainage holes in the bottom and a couple in the top with a hot skewer. You want it to drain very well so make sure there are plenty of holes.
I use a regular potting soil, nothing fancy needed, but I do lighten it up a bit with some perlite. Perlite is the little white dots you see, it just makes the soil mix have really good drainage.
Or I use my DIY potting soil. I show you how I make it in this article.
I don't fill the clean salad container with the soil mix, I just use a few inches.
Water it well. This saves you from having to water after you have sown the seeds which can displace them if you are not very careful.
In the depths of winter I sow hardy annuals or perennials. Ones that I can direct sow in Fall or Early Spring work great for this.
Many are listed in this post on cottage flowers that reseed themselves.
Here is a great selection of seeds at a great price, most can be winter sowed except the Zinnias and Sunflowers.
I follow the directions on the seed packet for depth to plant the seed but I tend to sow them more thickly or closer together than the seed packet suggests. I just fly that way.
Many seeds need light to germinate so after pressing them into the damp potting soil mix I top them lightly with horticultural sand or chick grit. It supposedly helps with many issues of seed starting in containers.
(make sure the chick grit, which is crushed granite, does not contain supplements)
I think it looks pretty.
Did you forget to water the soil before you sowed your seeds? I do that sometimes too.
Just set the container into a tray of water and let it absorb from the bottom. Or very, very carefully water from the stop so you don't wash the seeds around.
You can put these outside in the winter weather like the milk jugs but these I will keep in my greenhouse. I want to see if they germinate faster than those outside.
My greenhouse is not heated and it gets plenty cold inside so they will do just fine.
Before you know it you will have tons of seedlings ready to pot up or out into the garden.
These below are Delphiniums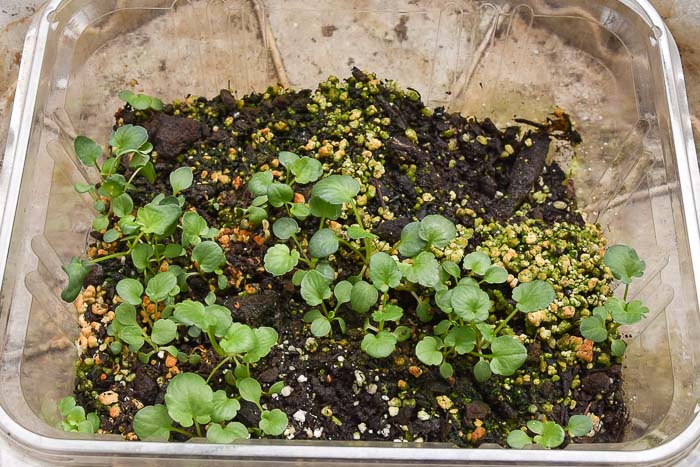 Maintenance of Containers
Most of the winter you can just ignore them but after the weather begins to be sunnier you will want to check on them.
Check for condensation on the inside of the containers on any sunny day above 32 degrees F.
If you don't see condensation you should give them some water by setting the container in water to absorb it through the bottom.
Check for sprouts. They are easily visible down the spout or through the sides of the clear containers. You may be surprised how soon some germinate even when it still quite cold out.
As temperatures rise you will need to open the tops of the containers or they will overheat and cook your seedlings. Just be sure to close them back up at night.
Once you are opening the containers you will need to stay on top of keeping them watered. With such a shallow amount of soil they will tend to dry out fast.
Planting out Seedlings
Once the soil in your garden can be worked and your winter sown seedlings have their true set of leaves you can plant them out.
If you want to pot some up to grow on in larger pots or give away visit here: Go here for how to thin seedlings.
In Spring I can start the seeds of the more tender annuals and perennials. Click here to see how I start seeds indoors!
Here is to tons of beautiful flowers in our future!
Have you tried winter sowing? If you did, how did it go for you?
Click her to visit my Garden Shop on Amazon, I list lots of helpful items I use to grow a fabulous garden!
Happy Gardening!
Enjoyed this? Please PIN and Share

More Garden Articles
Indoor Seed Starting for a Gorgeous Garden
Feed Your Soil for the Best Garden Ever
Ten Rose Care Myths Debunked