Thin Seedlings without Cutting Them
Once your seeds sprout you will need to thin them. Many garden sites will have you cut out seedlings to thin them but what a waste! You can easily thin your seedlings without resorting to killing off any little plants. I show you how.
How to thin seedlings without cutting them. Seed starting is so fun and you can get tons of plants for very little money. But what if you seeded too thickly or many more of your seeds sprouted and they are getting crowded?
In this post (press here) I showed you how I start seeds easily and now you need to know what to do next.
Many recommend snipping off some seedlings but I show you how to can thin out your plants and keep them all alive. No need to sacrifice any.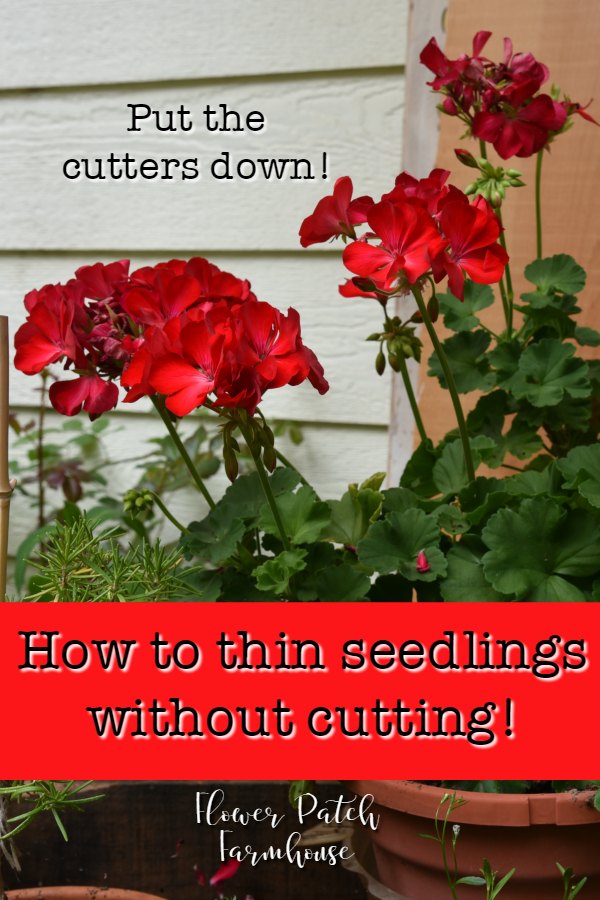 I have started seeds for many years and spent time at a wholesale nursery. Do you know what. We have never cut out seedlings to thin. Some worry about transplant shock but opposite to what many believe the bit of stress the plant endures during transplanting creates a stronger plant and they are better equipped in the long run to endure pests and disease.
I recently met with an agronomist who works closely with farmers and they have found that plants build up better endurance when they have experienced stress at the beginning of their life cycle, like when you separate seedlings and pot them up.
Not only do the plants fare better against pests and disease they also produce in better quantity while also increasing the nutritional value.
So stop coddling those seedlings and pot them up instead!
Geranium Seedlings to be Thinned
When I sowed these geranium seeds I thought they were too old to germinate so I sowed them thickly. I was wrong about them being too old, many came up in the same cell.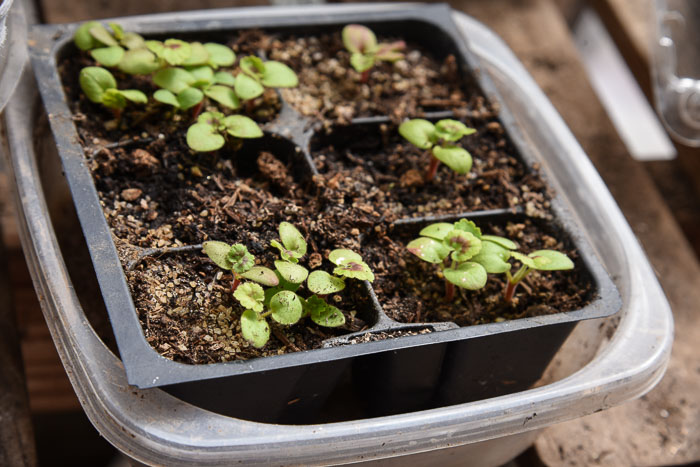 I don't always use these six pack containers to start seeds in. Much of the time I start a bunch in a single tub or container as I did with these tomatoes. I like using recycled containers as much as I can.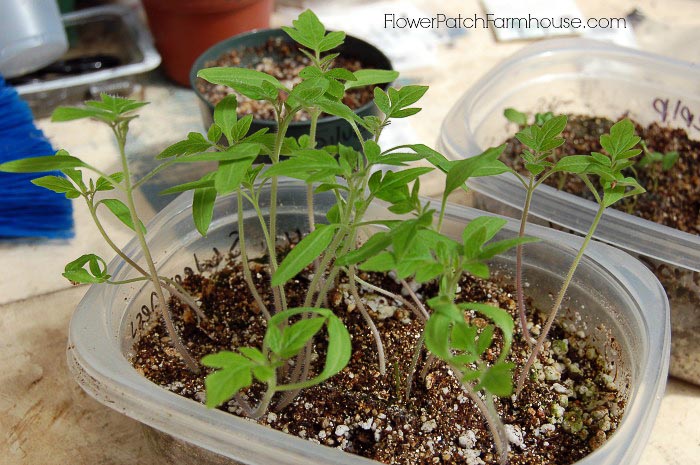 Some of these tomatoes were very close together and yet I did not cut any. I gently eased them out of the soil (a very loose mix helps tremendously) and pot up into individual pots for them to grow on.
Why Some Cut to Thin Seedlings
Some will claim that you shock the plants or it kills some but I have not had that happen to me. I have done this for over a decade now and don't have any problem. I have even done side-by-side trials where one set I cut out the extras and let one grow on and in the other, I did this method I share today. There was NO difference other than I saved a ton of plants I did not have to kill.
Here is my photo step by step to Thin Plants
Here is a recycled mixed salad container with pansy seedlings in it. You can see they are growing close together. They have their true or secondary leaves so they are ready to prick out and pot up.
Don't worry that it will hurt them or restrain them from growing healthily. If you are gentle enough they should do just fine.
In the video, I showed this technique on Geranium seedlings. This works on most plants.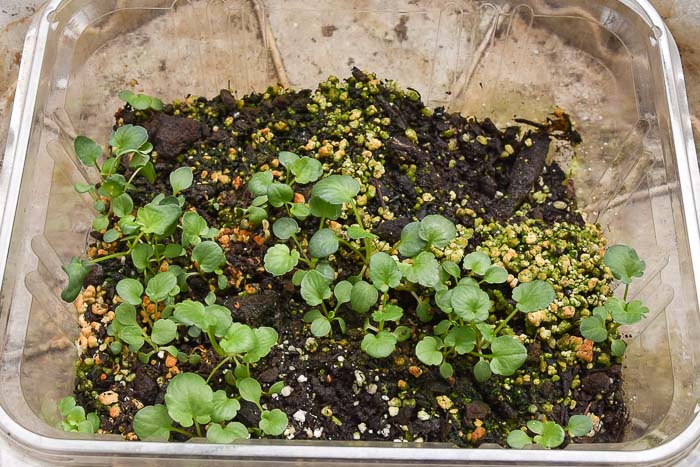 Tools to thin your seedlings
I use an old paring knife I keep in the greenhouse but you can use a pencil, a skewer, or just about anything that is small enough.
Your goal is not digging, it is loosening the soil at the roots as you lift the seedling.
How to Dig out the seedlings
This is also called "pricking out". Grasp the seedling by a leaf, not the stem. Sink your digging tool, in my case the knife, into the soil beside the seedling and gently lift as you pull on the leaf.
Wiggle the knife as you oh so gently tug on the seedling to help loosen it.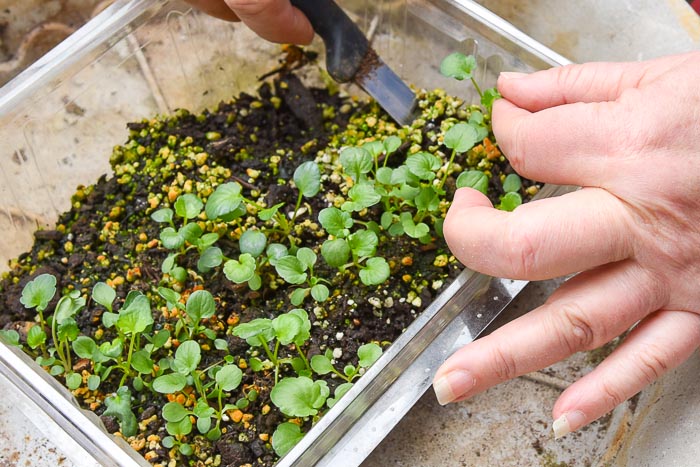 It will pull free and have a beautiful little root.
Sometimes you will get more than one to come out, just gently untangle the roots from each other. If you are careful it won't do any harm to either seedling.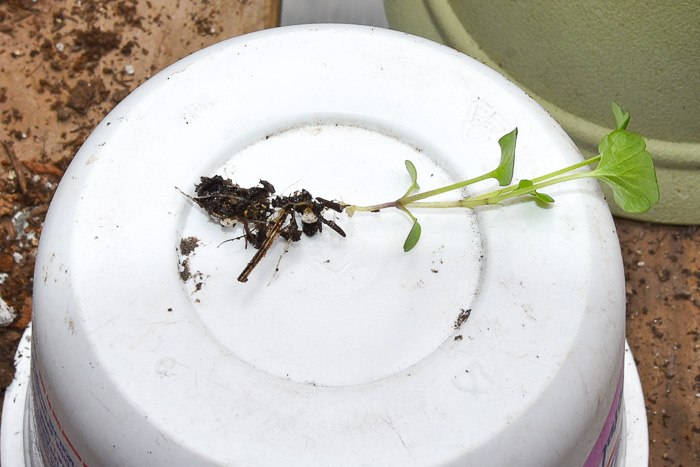 Pot up the pricked out seedling
I have these 3 inch pots that I use for the tiny seedlings or you can use recycled 4 inch pots you may have saved from plants you bought at the garden center. Since I tend to get a lot of plants started and run out of room, these smaller pots need less space. they last a long time, I have been re-using these little pots for the past 10 years.
Scoop up some potting mix into your pot, I will share my homemade mix soon, so subscribe to get the updates if you want to be notified. There is a button at the top of this page where you can do that.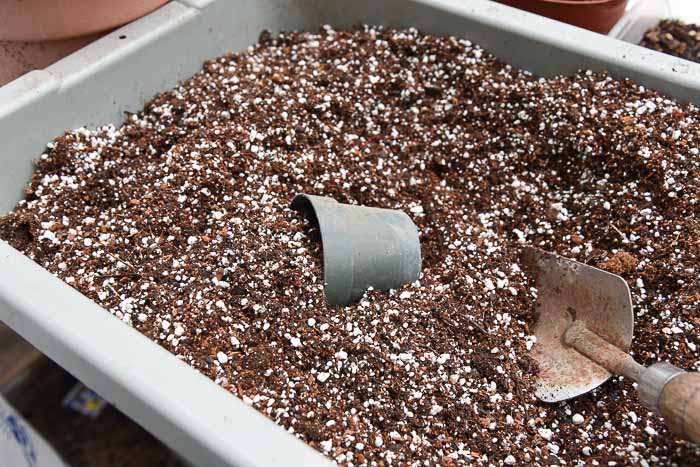 Place your seedling on top of the potting mix in the little pot and press it down into it softly. The mix should be loose enough that it will not need much pressure.
Add a bit more potting soil to fill in the indentation from your finger and set aside.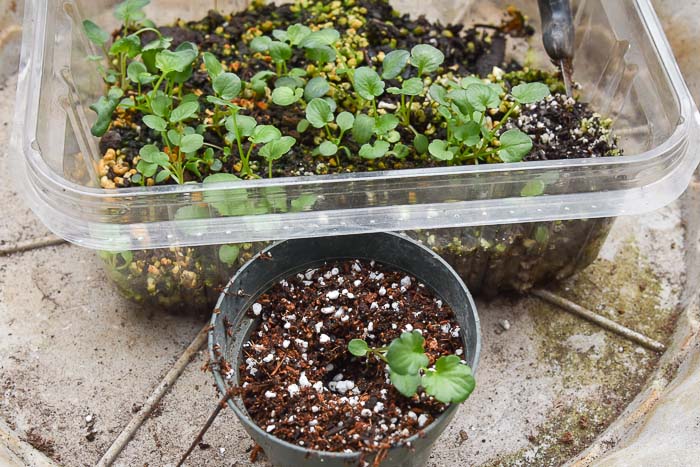 Seedling care after thinning plants
Once you have them potted up water them well. Let them sit in the tray beneath and let them soak up the overrun for about half an hour. Then pour off the excess water if there is any.
Do not put the freshly potted-up seedlings in the direct sun. Mine stay in the greenhouse or if they are very tender annuals I put them back on my seeding rack indoors.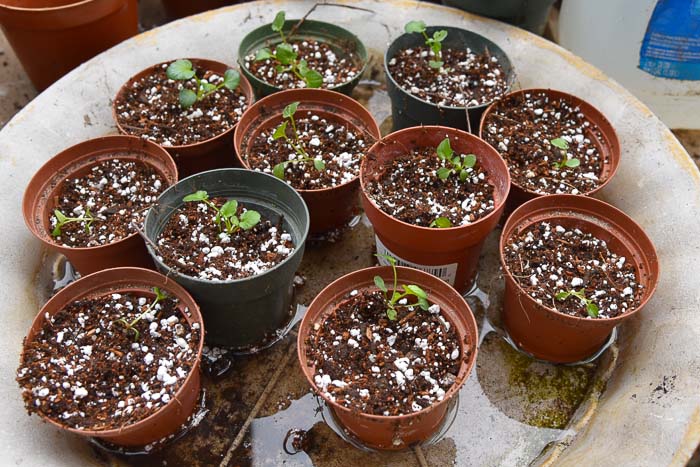 With the tender annual seedlings, I keep them inside until the nights stay above 40 degrees for the most part. My greenhouse is more of a large cold frame, it is not heated and can get quite cold if the nighttime temps dip into the 30s.
I start feeding them a weak solution of this Seaweed based water soluble fertilizer. I mix it half strength and use it each time I water the seedlings. Many will claim you do not need to feed the seedlings yet but I have found mine do better when I use it. Here is some info on it from Gardeners
So what seeds did you start this year?
Here is my video on YouTube.
geranium seedlings
Pot them up – Don't Cut!
Geranium seeds can be expensive, don't cut extra seedlings! Pot them up.
Happy Gardening!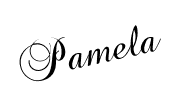 Do you really want to just cut the extra seedlings, then Laura has you covered, just visit her video here.