Grow Delphiniums from Seed
How to Grow Delphiniums from Seed, a less expensive way to get more of this gorgeous perennial.
Delphiniums are a beautiful element of the classic English Cottage garden. They stand tall and stately (up to 6 feet) and are worth the fuss to keep them looking fabulous and healthy.
I show you how to grow delphiniums from seed in this post to get great germination rates.
I updated this post and at the end, I will share how I started more seeds this year.
What type Delphiniums
In this post, I will focus on the Delphinium elatum, a hybrid that performs so much better than the Pacific hybrids. They are hardier and taller while being much less mildew prone.
Where to buy Delphinium seeds or plants
As far as buying the Delphinium elatum as plants the nearest to me supplier is over 3 hours away at Annies Annuals which is in Richmond, CA, and if you visit over on her site you will see she has only high praises for this particular type of Delphinium.
Instead of plants, I chose to order the seeds from the breeder in New Zealand…Dowdesewell's Delphiniums. I have had wonderful results. (they also have a list of growers that sell their Delphiniums as plants, you may have someone near you)
I have a friend growing Pacific Giants and I am giving them a try: Pacific Giants from Botanical Interests I will let you know my results.
Update: The Pacific Giants have done very well. We have dry summers and very little humidity so mildew was not an issue. So feel free to grow these beauties.
When to Sow Delphinium Seeds
To be able to get hardy plants ready to set out at the best time start your seeds 6 to 8 weeks before your average last frost date.
(If winter sowing ignore this, just sow them when you winter sow your other seeds)
When I sow my seeds indoors I want to give them a few months to become hale and hearty before planting them out in the garden.
How to Grow Delphiniums from Seeds
So do you want to know how to grow these beauties from seed? One thing you need to know is that to get great germination you need to start with very fresh seeds.
(this is one way, I share another further down that eliminates the pre-germination part. You may wish to use that method as it reduces the steps)
It is very simple. When they first arrive I refrigerate or pre-chill the seeds for a week.
When I am ready to pre-germinate them I wet a coffee filter, place the seeds on one half of the now wet coffee filter and fold it over, insert it into a large plastic bag (I used a zip-loc bag), and set it in an out of the way spot.
For me, that was on top of the outside of the refrigerator.
(I prefer using coffee filters as the weave is tighter and the newly germinated seeds don't attach to them as easily as they do with paper towels. But paper towels do work so you choose which to use)
I hold the bag up to a window and check it after about 5 days (Delphs germinate in about 7 to 10 days but you never can tell when you get an early bird).
From that day forward I check it daily and when I see a little white tail I know it is time to put the germinated seeds into pots.
I have some tubs with seed starting mix all ready to go… and I transfer the sprouted seeds to the tub.
Cover the seed oh so lightly with the mix or chick grit and gently press in. For more on how I start plants from seed CLICK HERE
The not yet sprouted seeds get folded back up in the coffee filter and returned to the ziploc bag until they do germinate.
Pretty soon you should have a bunch of these..delphinium seedlings..Yay!
Pot them up into individual pots as they grow taller and stronger.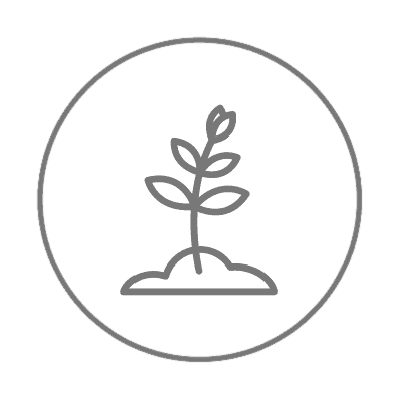 Sowing in Pots
I tried sowing in containers in my greenhouse this past season without first pre-sprouting and it worked very well. My greenhouse has no supplementary heat, the delphiniums get the chill they need and start to sprout if sown at the optimum time. That would depend on your location.
Winter Sowing Delphinium Seeds
An easy yet fantastic way to sow delphiniums is to Winter Sow them.
Want to grow a lot of seeds easily?
Click below to Find Out How Simple it Is!
Plant Your Delphinium Seedlings
I prefer to plant my delphinium seedlings out into the garden once they have reached about 6 inches tall. This helps them to resist pest attacks.
Once planted in the garden you will need to protect them from slugs as they first grow, for some reason slugs find Delphiniums a tasty delight.
Are Delphiniums Perrenials or Annuals?
This type of Delphinium is a perennial and will return year after year.
Other types, like Larkspur, are annuals and die each year yet they reseed so readily that in my garden they seem like perennials.
Delphinium plants are heavy feeders so side-dress with compost throughout the summer. Or supplement with an organic liquid feed like this one, Agrothrive.
Staking will most likely be necessary as Delphinium flowers become top-heavy and will topple over in the wind or stiff breeze.
In dry summer areas be sure to water regularly and deeply.
One day soon I would love to have a hedge of Delphiniums…most likely not practical but wouldn't this be a show stopper!
This beauty is next on my list. I don't have any with a white bee…..yet!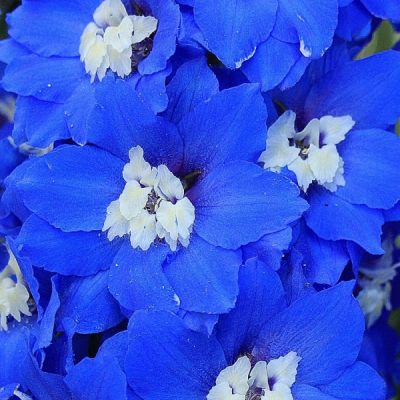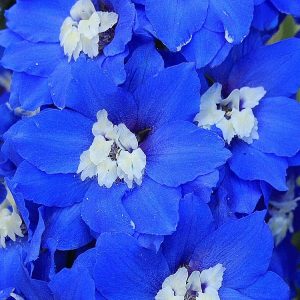 Several shades of blue delphiniums are in my collection but I am looking to add more..the pinks have caught my eye and one called Pagan Purples..and my oh my, the Lilac Ladies are dreamy! I wish I could order them all.
I have not had success with direct sowing directly in the ground yet. That may be because of the wild Springs we have. It can be freezing cold one day and warm and mild the next then back to a deep freeze.
How to Propagate Delphiniums
Once you have delphinium plants growing in your garden you can propagate them from cuttings.
All the best tips and tricks
Propagate Delphiniums from Cuttings!
Want a fast and easy way to get more Delphiniums in your garden? It is so simple to propagate delphiniums from cuttings, I show you how. There is even a video!
You can also collect seeds from your existing Delphinium plants but the colors will not always be exactly like the parent because of cross-pollination. But no matter what color they are Delphiniums are a glorious addition to any garden!
Happy Delphinium Planting!
Please PIN and share