How to Grow Black Eyed Susans easily
Want to grow a flower that will perform from mid summer until frost? Read on to learn grow black eyed susans (aka: Rudbeckia) easily in your cottage garden. Some folks also call them Brown Eyed Susans.
How to Grow Black-Eyed Susans. An easy cottage garden favorite that will reseed itself and fill your garden with beautiful long-lasting blooms during the heat of Summer.
Grow in Sun (they can tolerate some shade but will become tall and reach for the sunshine, you would need to stake them)
Direct seed in Spring or Fall (just toss on the soil and cover in a scant 8th inch of soil, though I just toss them down on top of the soil), Winter Sow in Containers or start indoors
Water until established then they are drought tolerant
Some are prone to powdery mildew but it doesn't seem to hurt the blooms
Great for poor or clay soils
Pollinator magnet
Seed heads make great wild bird food
Great for a cutting garden
Deer Resistant
This post contains affiliate links. If you make a purchase after clicking a link I may make a small commission at no cost to you.
Why I love to Grow Black Eyed Susans!
I can't say that I have a favorite garden flower, but I can say that Black Eyed Susans are 'one' of my favorites, especially in the late-summer.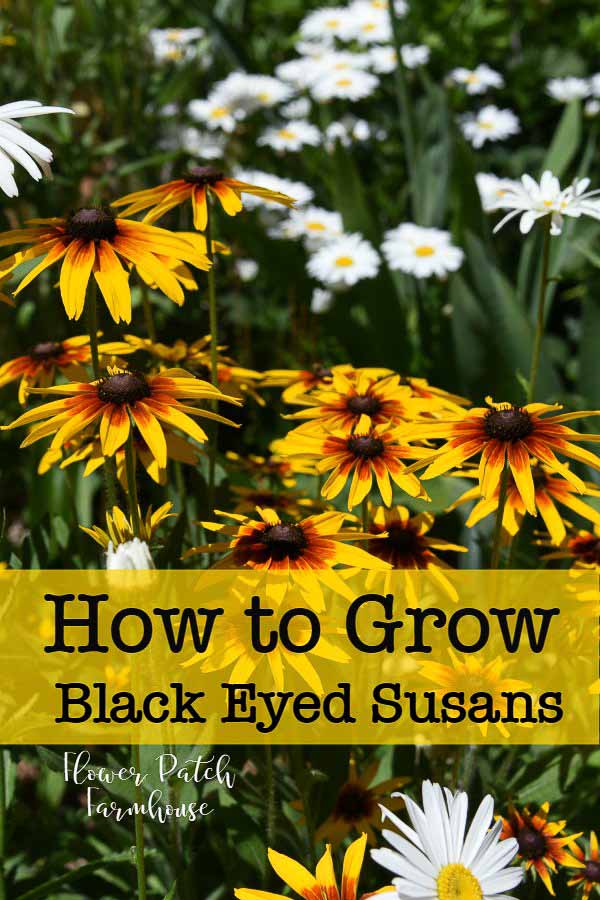 Black eyed susans are so easy to grow and light up the garden with bright yellow flowers that fairly glow when many other flowers are fading away.
Black Eyed Susans (Rudbeckia) come in many shapes, sizes and colors and now I have learned they have even crossed them with Echinacea for a variety called Echibeckia. I have yet to give that one a try.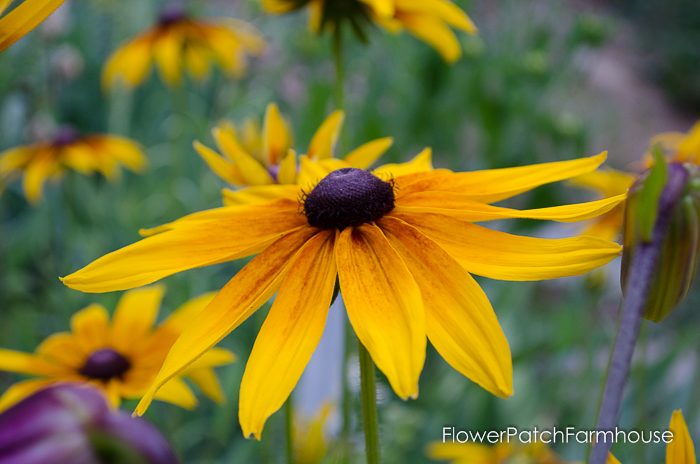 Once established they are drought tolerant and resistant to most insects. The deer don't seem to like eating them either. I think it may be the spiky fuzzy leaves.
My favorite pure yellow black eyed susan is called Indian Summer. The form of the petals is more rounded and the yellow contrasts so dramatically with the dark brown center. Sometimes the center has a purple cast which I find so appealing.
How to Grow Black Eyed Susans from Seed
You can directly seed Black Eyed Susan's 2 to 4 weeks before your average last frost, or if starting indoors 6 to 8 weeks before. They are said to be hardy in zones 3 or 4 through 9.
Black Eyed Susans are a fantastic candidate for Winter Sowing. A quick and easy way to get tons of them.
Related: Sow Your Seeds in Fall
Personally, I have succeeded in direct seeding them all summer long right up until nearly our first Fall frost. Be sure to read the seed packets as they can give you even more info.
Plant seedlings out in the garden once sturdy enough and before the temps get very hot. Let them get established before they have to put up with the intense heat.
I have varieties that are such wonderful burnt oranges and ambers as well..this mix is called Autumn Gloriosa Blend. I love how sometimes it is the center that has the splash of deeper color and others it is on the petal tips.
Many Shades of yellows reads and oranges for variety!
Caring for Black Eyed Susans
Tough as nails once established Black-eyed Susans will tolerate drought and fill in fabulously.
Keep in mind some watering will get you a longer bloom time but too much water will make them grow too gangling and they tend to flop over.
Frequent cutting for bouquets will keep it tidy and re-blooming. Sometimes you will need to stake them.
They do well in pots, I keep some on my back deck from bright color.
There are a variety of sizes and shapes. Some blossoms are large and spread as wide as my hand.
Others are short and stubby but just as lovely. There are some dwarf varieties that are bred to stay shorter and stockier.
Transplanting full grown Black Eyed Susans
This self seeding perennial/biennial is so diverse and easy that typically I don't transplant but you can if you do it in early Spring.
If you must dig it up a black-eyed susan when it is later in the Summer you can put the plant into a pot and keep it well watered and in the shade until it has recovered from the shock of being dug up.
I absolutely love my doubles. Sometimes a plant will have both double flowers and single flowers on it.
Click here for some seed from Amazon Gloriosa Daisy and Burpee has seeds for the double-flowered variety here Gloriosa Double Gold.
As I let mine all grow together the seeds cross-pollinate and I get even more variations.
It is fun to see what will come up next.
They easily grow in the hard-packed earth of the roadside or clay soil and flourish.
Bees and Butterflies flock to them and in the Fall and Winter the seed heads serve as food for many birds.
They blend so nicely with all the other flowers and make my cottage garden a bright spot in the neighborhood.
They can get powdery mildew but though that can look a bit untidy it does not seem to affect the blooms at all so I just ignore it. There are some varieties that seem to be more resistant than others.
I confess to being a lazy gardener as I shared in this series…Lazy Gal's Garden, I love flowers that volunteer to grow (aka:reseed themselves and grow like weeds) therefore I love Black-Eyed Susans!
Most of these are volunteers in my garden.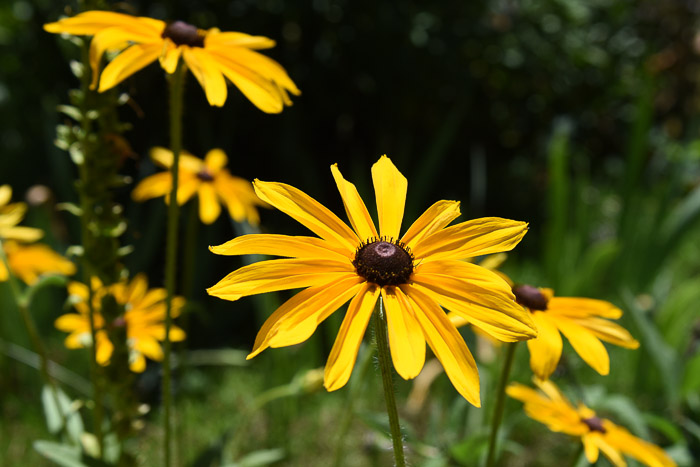 Very few did I specifically plant.
You can't ask much more from a flower than they take care of themselves and give such a stellar performance.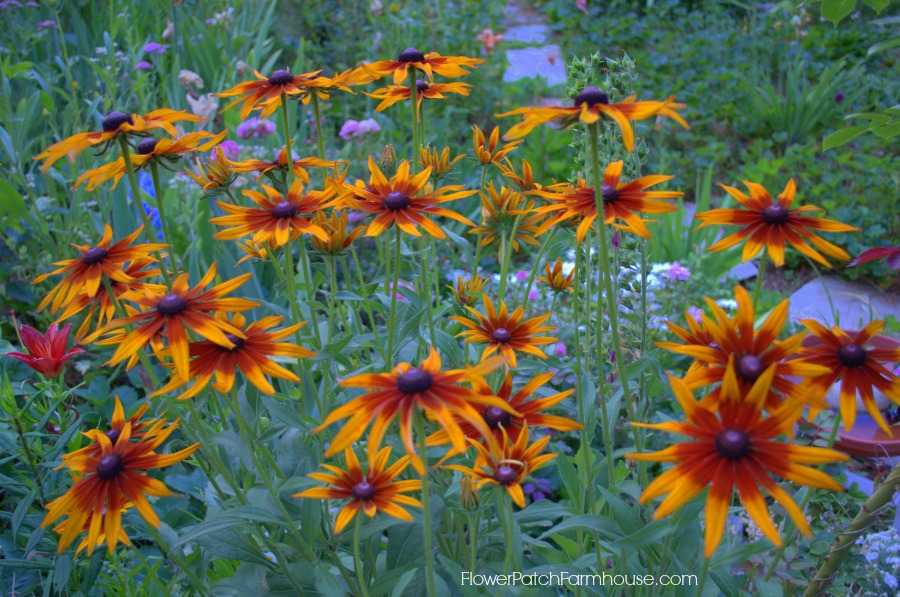 If you would like to read a bit of history about the Black-Eyed Susan just click HERE
I found it quite interesting.
I have a couple varieties on my wish list, one is Sahara and the other is Denver Daisy.
Update, I have my Denver Daisy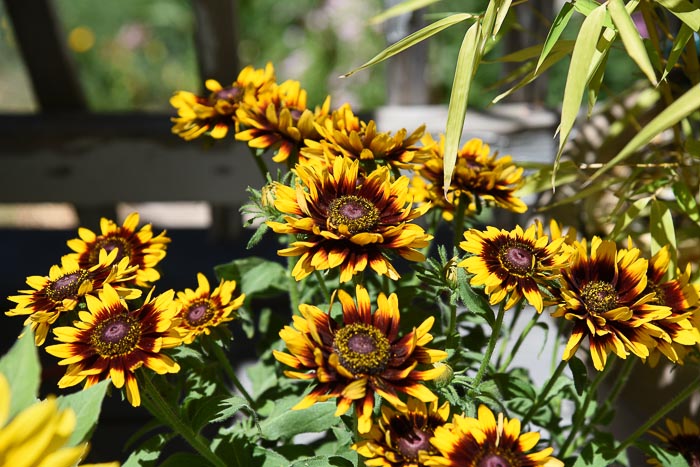 Happy Gardening everyone and have a GREAT day!
learn to paint
Black-Eyed Susans
Not only are Black-Eyed Susans beautiful in the garden but in a painting too. This painting tutorial is easy enough for beginners.