Late August Garden Tour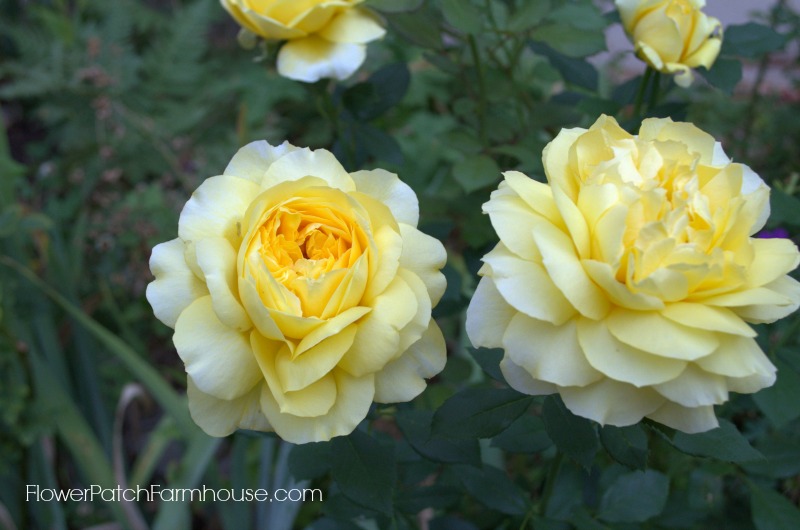 Good Morning!
What a gorgeous morning for a walk in the garden.
The mornings have been getting a bit chilly, enough I need to toss on a flannel shirt to go out and feed the chickens or walk the garden.
It really does feel like Fall is well on her way.
My garden does not care, it is still lapping up the warm 80 + degree days and putting on a show.
Care to see??
My roses are doing better now than this past Spring.
Filled with deliciously scented blooms.
The one shown above is Graham Thomas, my very first David Austin Rose purchase well over 15 years ago.
Right now is the best it has bloomed all summer.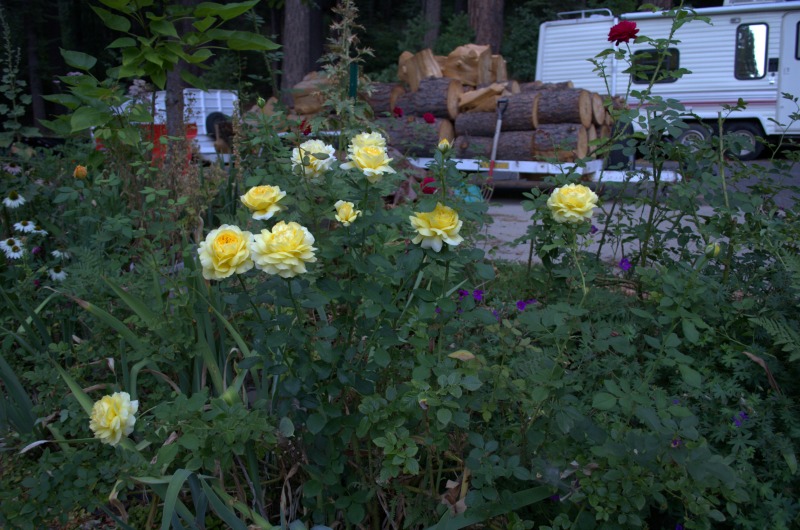 Behind it you can see our winter heat supply, or part of it.
We have a wood stove that provides the coziest heat all winter.
Actually in the mountains here you need to start having a fire in early Fall.
But that is not yet, lets not dwell on that too long and enjoy more of the garden.
You can't go wrong with Echinacea for the late summer garden, they just keep on.
This is White Swan.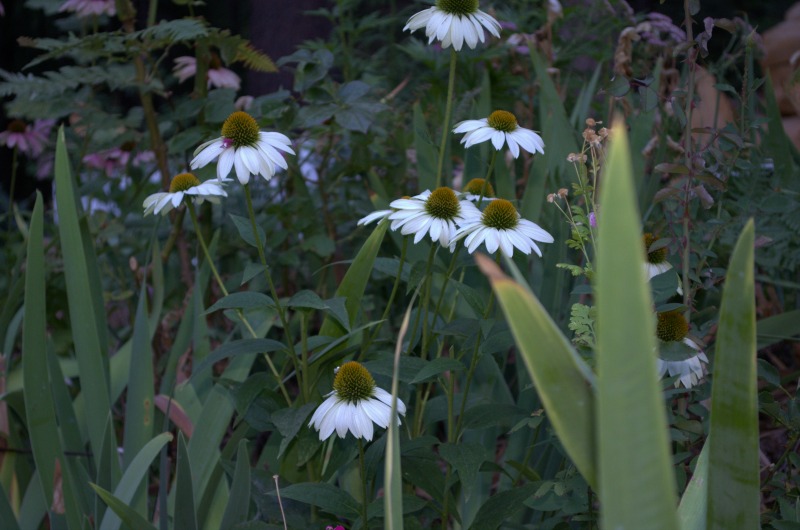 Gaillardias too are a summer performer, they will keep this up until first frost.
These also reseed themselves readily, you can see the seed head on the right and just below the flower.
You need gloves if you wish to collect them, they are prickly.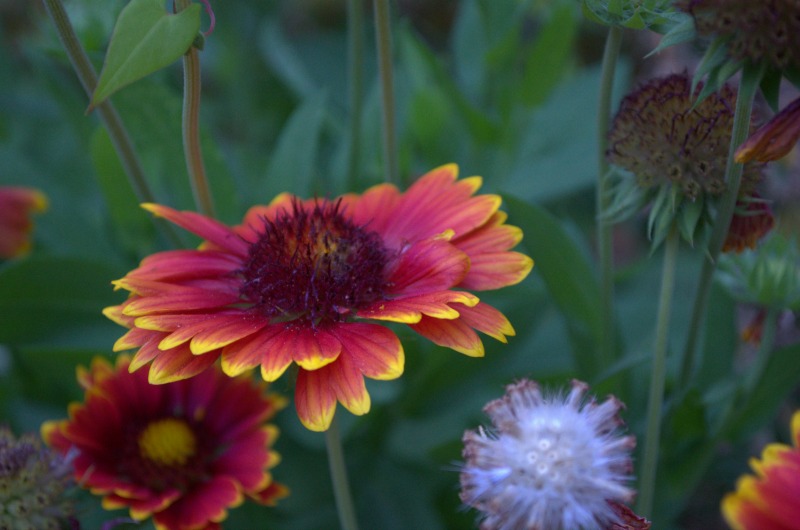 I always get surprises.
I don't till my garden, I just add compost and let the worms do the turning.
My reward is many volunteers popping up.
Like this lobelia.
This one came up in a pot but I have more volunteer plants than ones I personally put into the ground around here.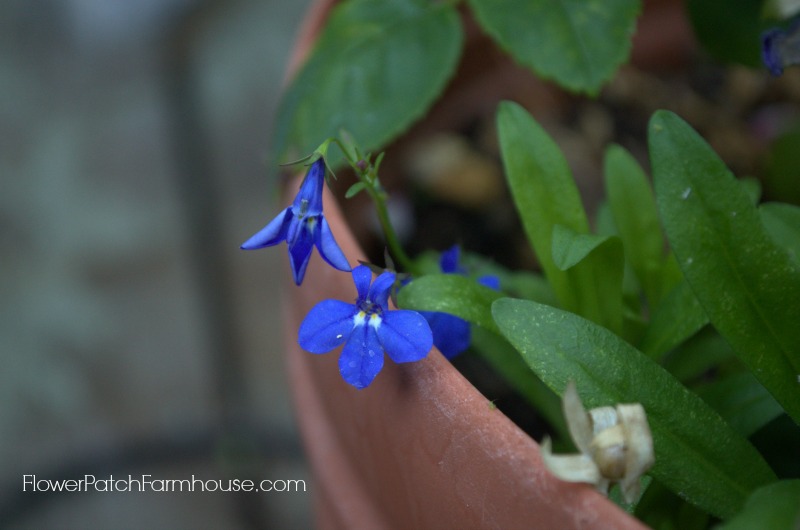 Did you like my Old Buckets & a Wine Barrel Post?
Well here it is today. You nearly cannot see either the buckets or the barrel.
The Cascading petunias and Sweet Potato vine are nearly taking over.
By the way, that is a Sweet Potato vine that I over wintered in my house.
It is nearly time to think about bringing in some favorites to overwinter.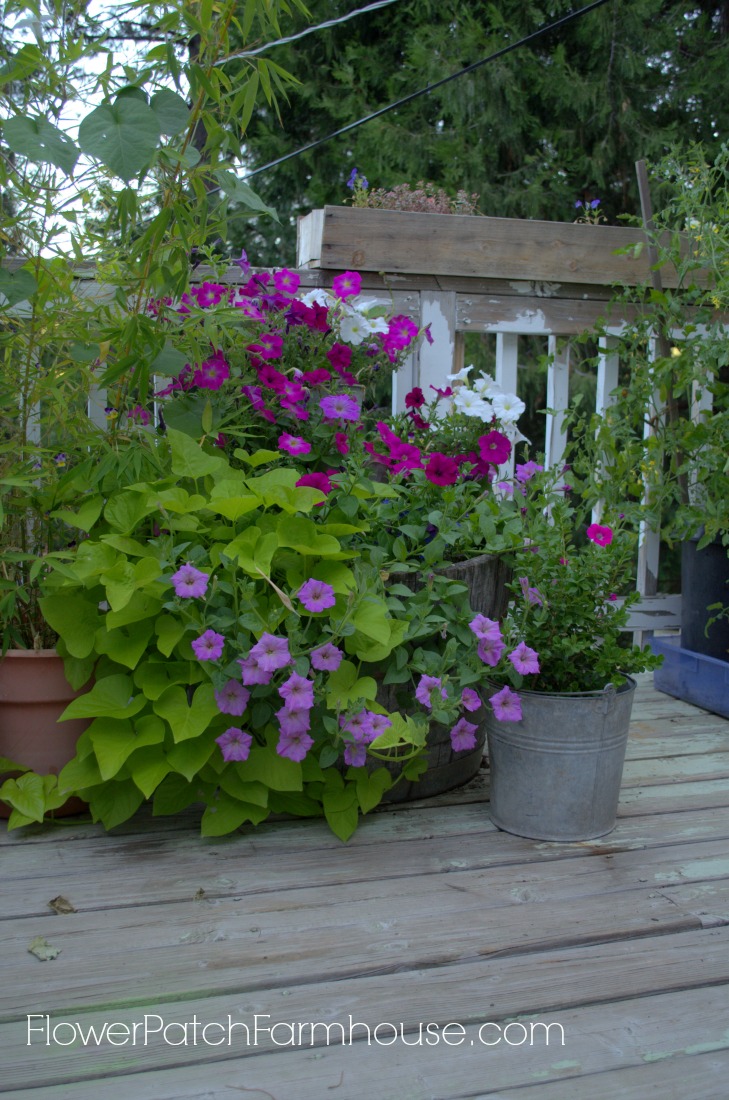 See that planter on the rail above the petunias?
I built those out of fence boards, they are holding up beautifully.
It has this Tri-color sedum planted in it and I LOVE it.
It is spreading so wonderfully.
That tinge of pink is just so sweet.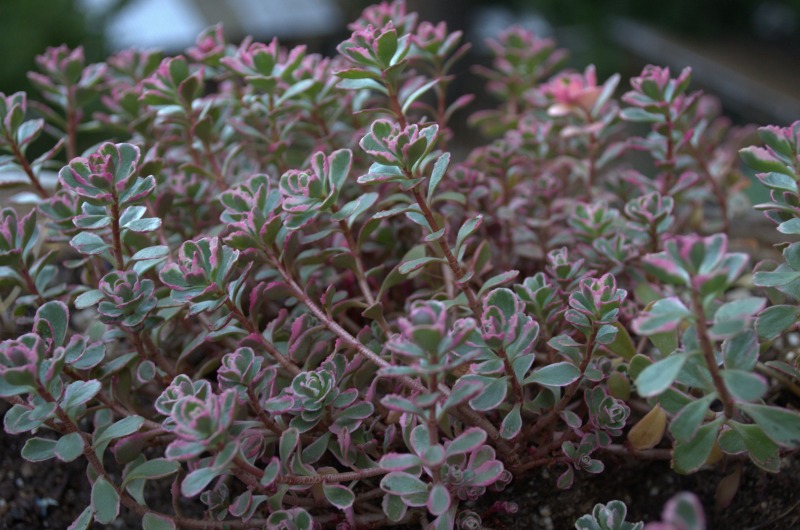 The volunteer Morning Glories are everywhere.
I even have some growing up thru the floorboards of my Studio porch.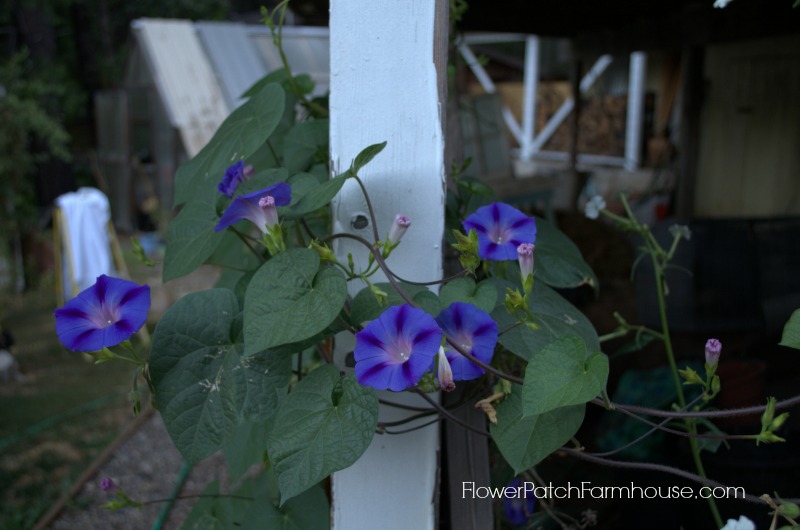 My garden has been full of surprises this year.
I had posted about my zucchini not coming up where I had planted it and I blamed the forest creatures that make nocturnal visits but lo and behold I was wrong.
Here is what I got instead of zucchini.
Do you know what this is???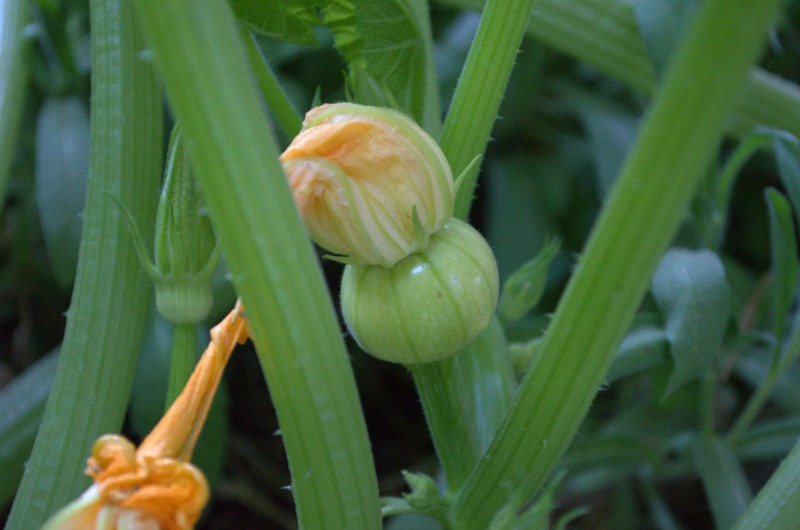 It grows into this…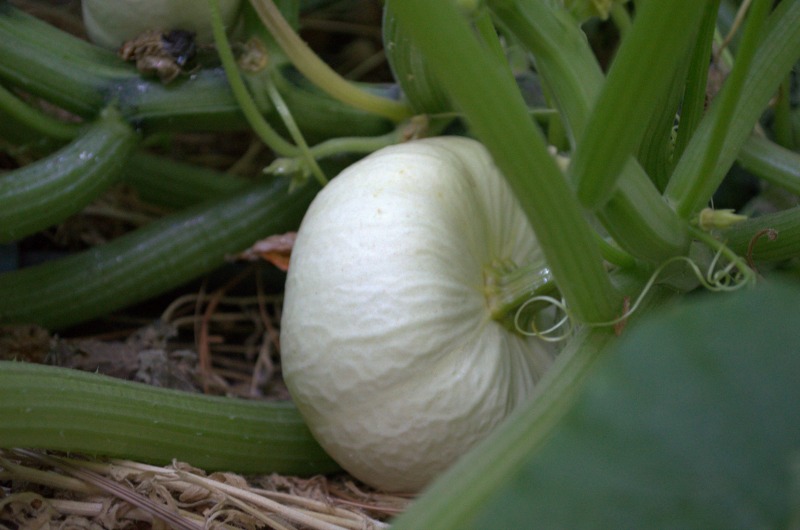 And when picked and displayed…
they look like this…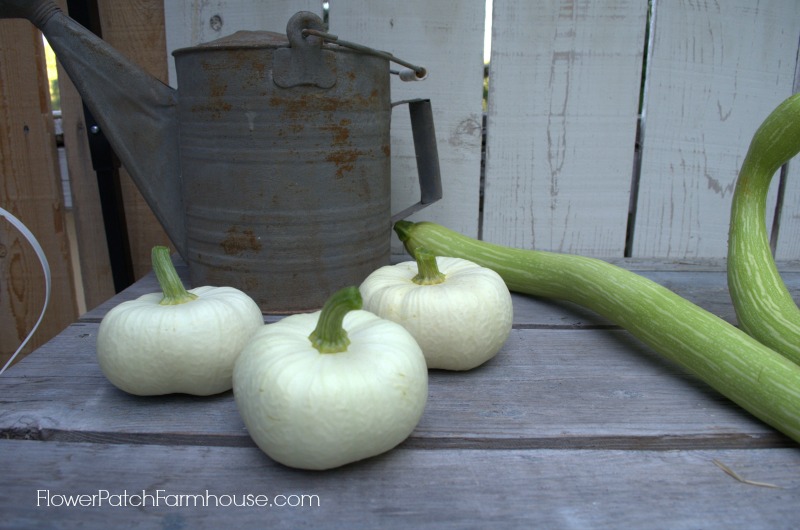 Yep… little white pumpkins.
They came up from the ones I had tossed into the compost heap last winter after having them sit on my table as decoration.
What a coup, a decoration item that recreates itself….coooool!
And next to them you see my Zucchetta/Trobolina squash.
An excellent Italian zucchini with a mild hint of artichoke flavor and the texture stays firm when cooked.
The plant is a climber and will take over.
Here it is climbing the obelisk we built for it.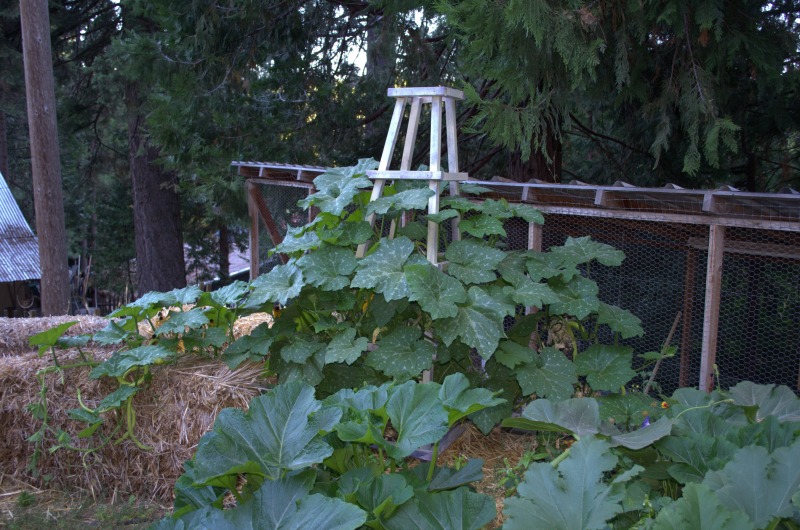 We will get lots and lots of yummy zucchini noodles from these.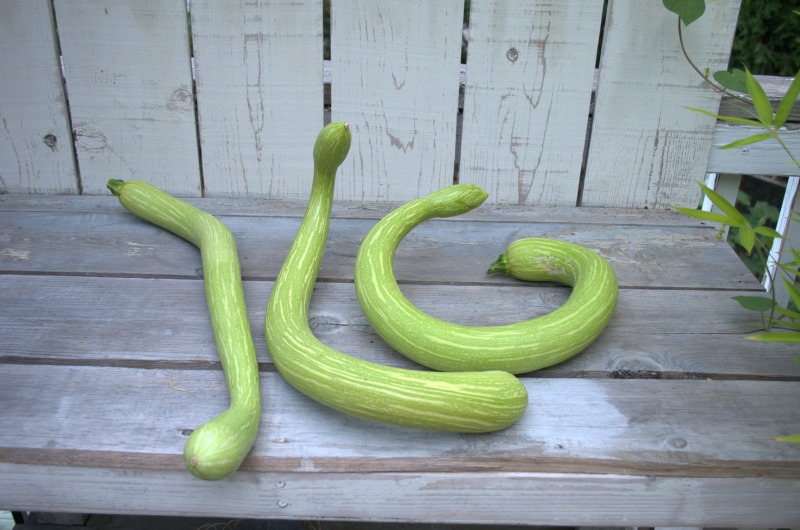 Well, that is not all of my garden, but I have rambled on enough.
I bought some mums in little pots yesterday.
I planted them into larger pots and I am babying them in the greenhouse so they will shoot up dramatically and I will attempt to fill this wheelbarrow with Fall color soon.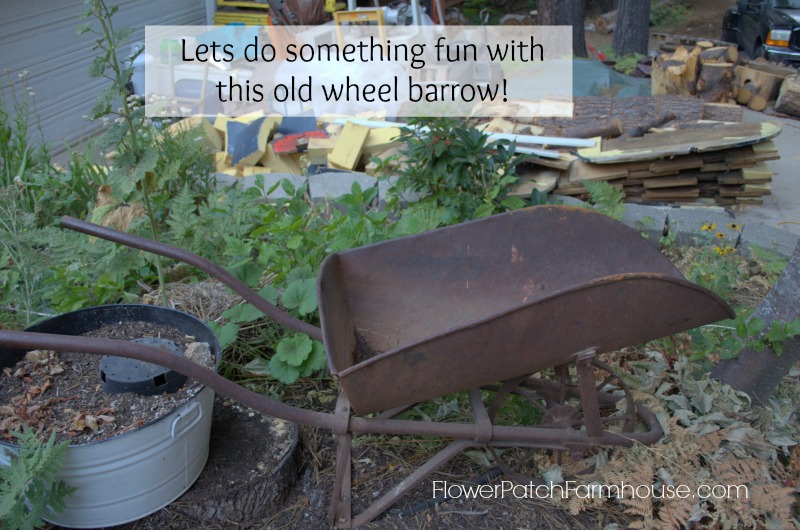 I will need to keep the marauding deer away from it, they seem to really like Mums for breakfast.
I noticed the leaves of my neighbors Dogwood tree are already turning red….sigh..Fall is sneaking in so I might as well set my mind to it.
Maybe California will get some water this year….
one can hope.
Have a fabulous day!