Garden Journal June 4th Update for Flower Patch Farmhouse, lots going on in the garden this week!
Garden Journal June 4th update in the Flower Patch Farmhouse gardens is live! So much is changing so fast it is hard to keep up with but I am trying.
I am learning so much from this journal and figuring out along the way what I need to do to make it simpler to maintain my garden better.
Don't have time to read this now, PIN for later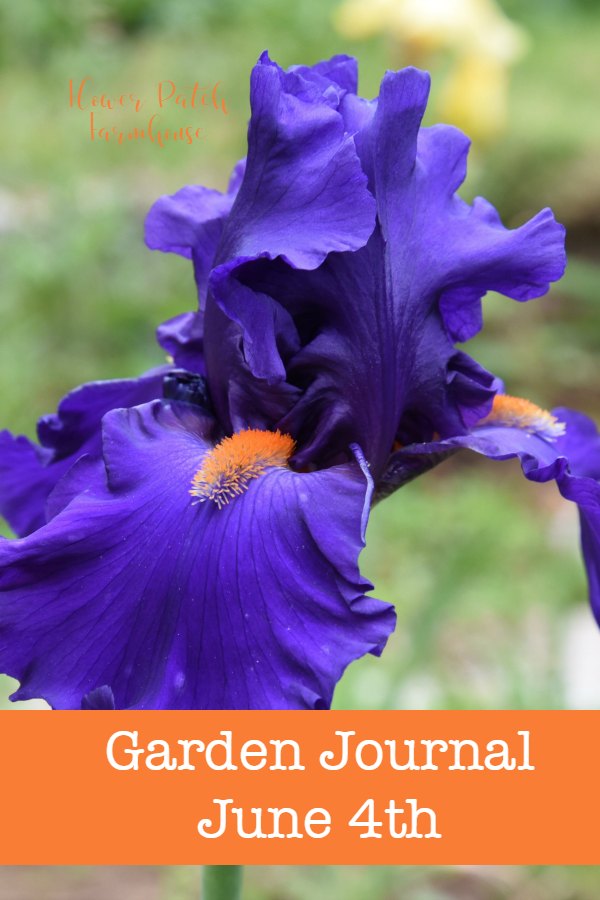 The Iris are in their full glory and shine this first week of June. The roses are delayed because of some late cold weather but will soon be blooming but I have had some beetles that have made a mess of them so I need to get tough and give them a quick prune back so they will bloom again without all the chew holes.
This is my back garden AKA Secret Garden. You can see my Hummingbird Bath fountain that has been great at attracting beneficials to my garden. I have spotted all sorts of birds, bees and butterflies finding it and using it. Check it out to see how I built it, if you haven't already.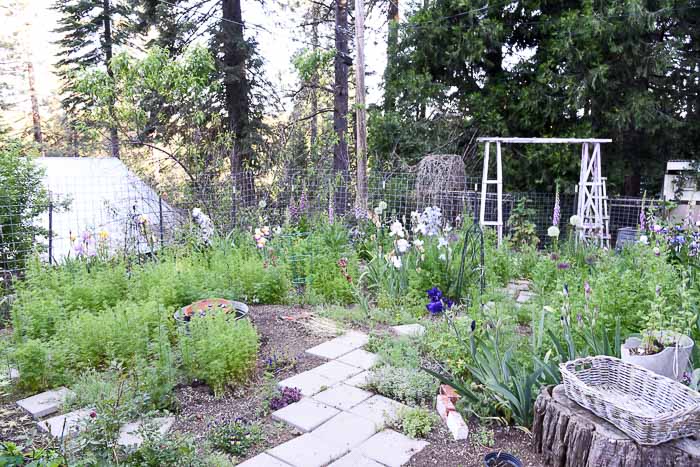 My compression software is making a mess of my overall photos and I am not sure why. But it is extremely blurry, the originals are not like this but they are just too high of a resolution. But you get the general idea of what is going on. The video may be better for you to see the real beauty.
Looking down to my Flower Patch Cottage. My goal here is to move the stepping stones a bit to the right and add more roses to the side garden.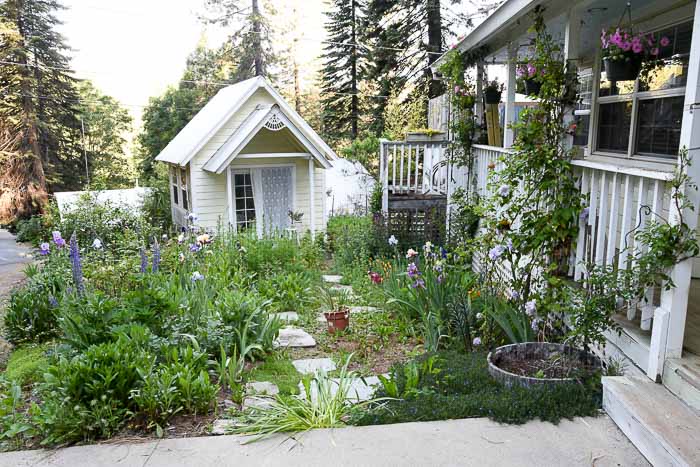 Out front is a jungle but I have been digging out the very front bed so we can replace the retaining wall. It has been a lot of work for this old back so I am taking it in increments.
The ugly compost pile has a bunch of pumpkin seedlings on top, my hop is they will take off and cover this with big fat green leaves and some pumpkins. I will keep you posted on how well that is doing.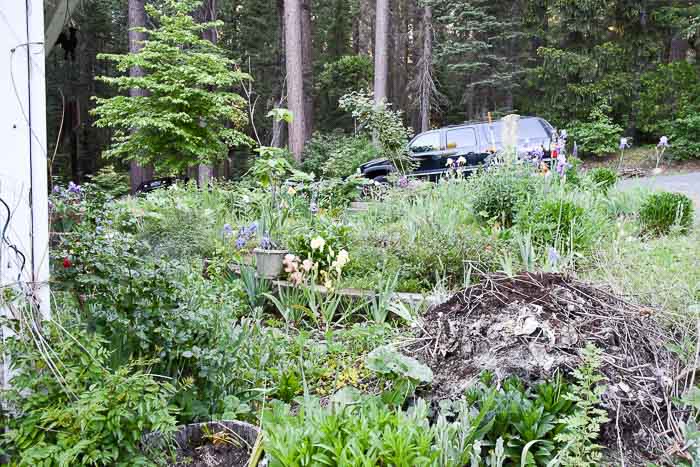 My veggie garden is pitiful! I had several seedlings coming up of green beans, cucumbers and sugar snap peas and the doggone blue jays pulled them all up. So I have to replant. I will put little cages on top to protect them this time around but it sure puts my garden behind schedule.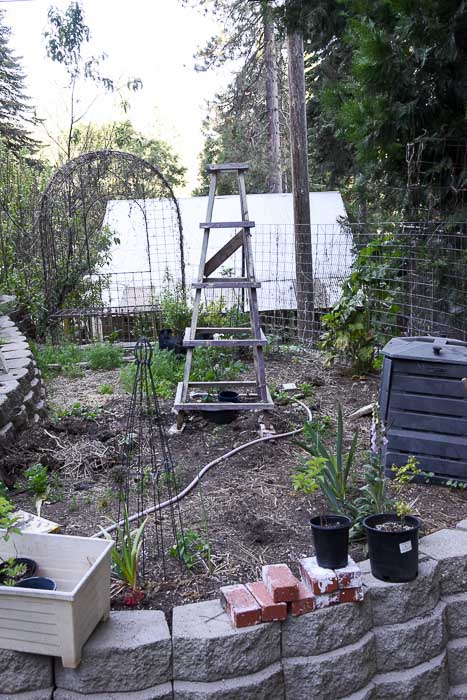 So now that you have seen the disarray I will share some up close beauty.
One of my new Iris. I need to look up all the names so I can identify them for you, I just have not had the time.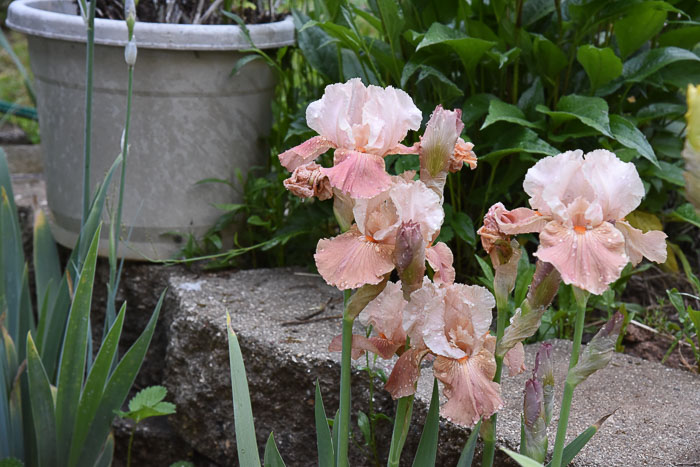 This is one I have had and always enjoy. It opens a bit later than some so it shines while others are fading away.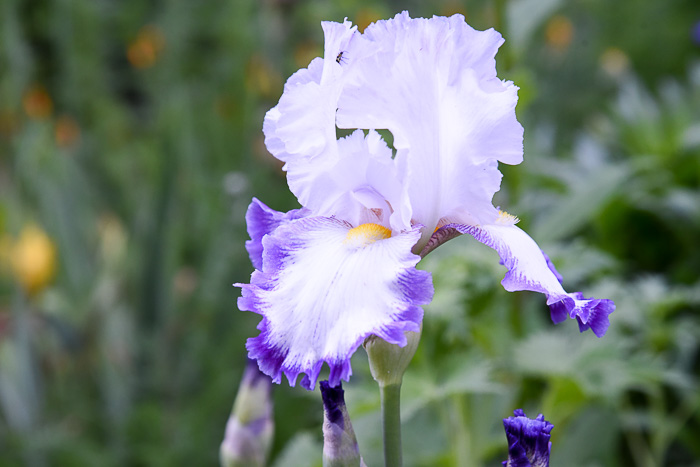 I posted this next one on Instagram and related that I knew it was named Huckleberry something and a follower graciously reminded me that it is called Huckleberry Fudge. I am so glad she did. It makes sense.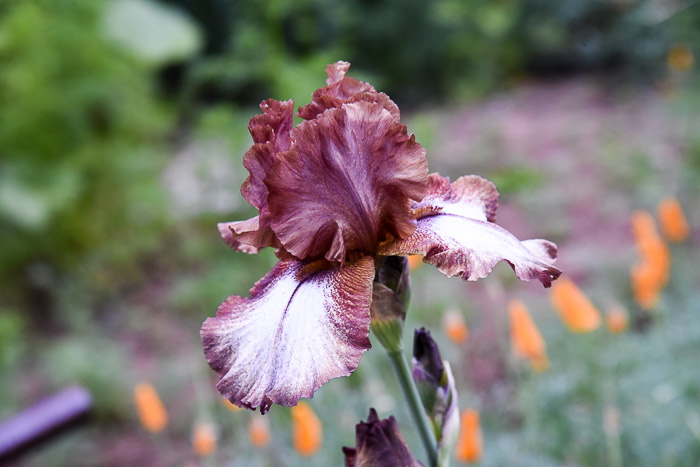 These are just a few of my Iris. I will do another post on just Iris soon. I have so much to share and so little time.
I have been power-washing my house, decks and front porch. I will share all that and let you know what I use that works great and is easy to maneuver.
You can watch the garden tour video here..Garden Tour June 4th
Happy Gardening!