Garden Journal August 2018. My garden journal for the Summer of 2018 has been an eye opener for me. I am really able to look intently at what I can do to reduce my chores and enjoy more just being in
Wow, summer is nearly over and the garden is in full bloom in most areas and waning in others. My garden journal for August 2018 updates us as to what is doing well and what needs to be redone for 2019. My main goal is the reduce menial chores, replace my watering system so I can reduce water usage and revamp entire areas to add more evergreen for year round interest and to contain some of the exuberance.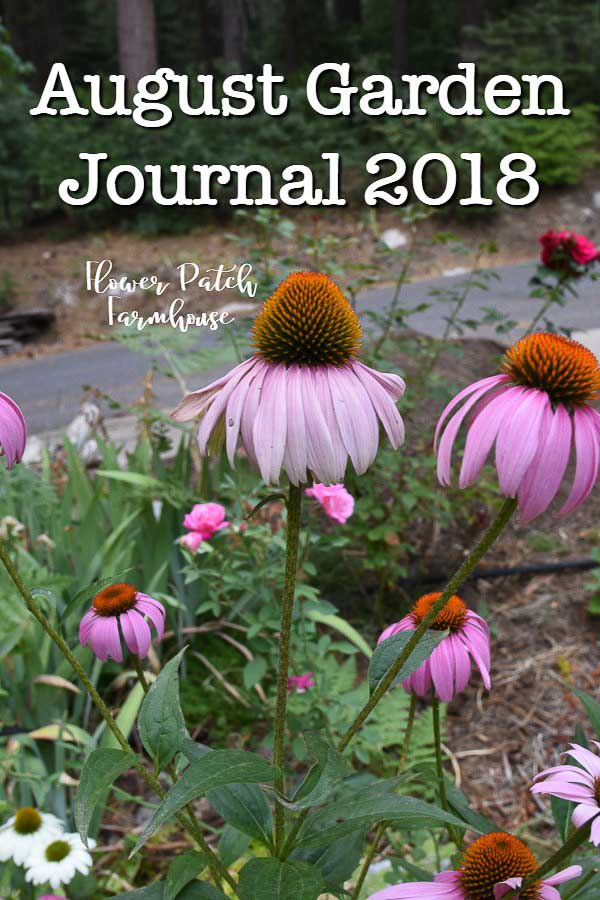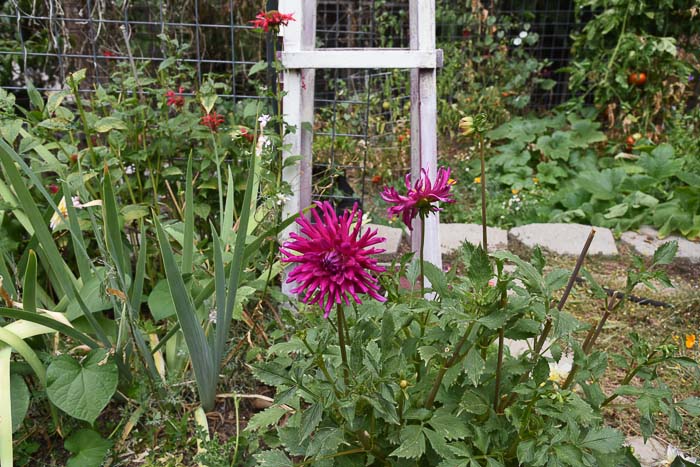 My dahlias are going full force and I have been cutting loads for bouquets in the house. I get to enjoy them up close and personal by cutting them and it encourages more blooms for a consistent supply. They will keep at it until first frost.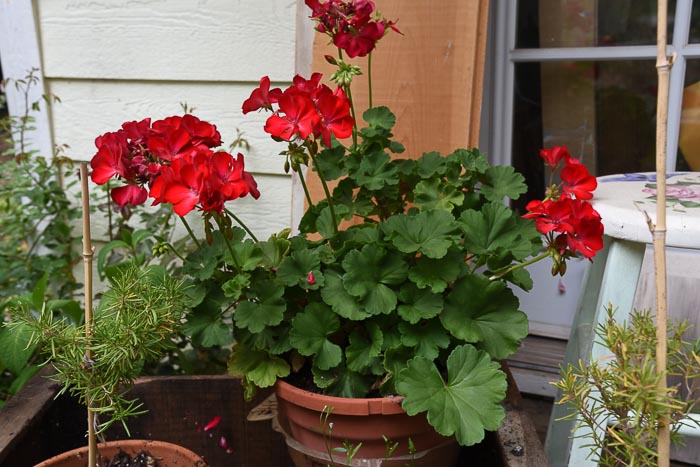 I added Red geraniums (pelargoniums) to my collection this year. They have graced the front porch of my Garden Cottage Studio and right now they are my inspiration for one of my painting worksheets I am preparing for my painting website.
I overwinter my geraniums indoors or in the basement each year.
My roses that took a beating this past Spring are finally recovering fully. The late freeze we had after a few weeks of warm weather just about did them in. Our freakish springs are tough on roses so I always try to buy own root roses, even if they get killed to the ground they will come back true from the roots.
This is Shropshire Lad, David Austin rose.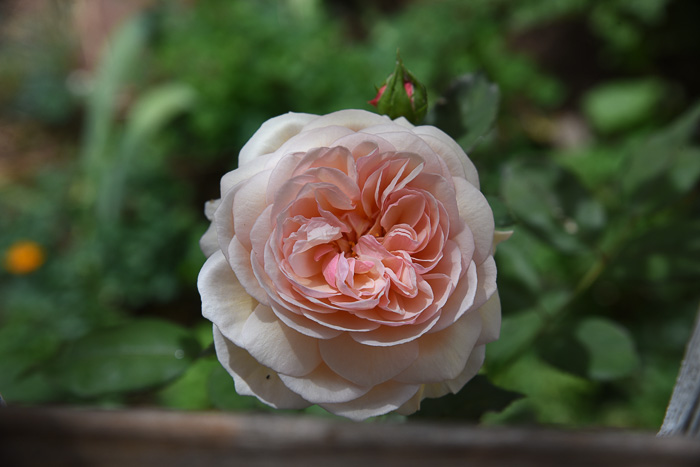 I bought another crock at a local shop. I couldn't resist. They make the best vases and display pieces. I can't seem to get enough. This one is perfect to hold the tons of big bouquets I have been picking from my Sceptre de Isle David Austin rose.
The watering can is holding my Merlot Mix petunias, these have been blooming for me all summer long. I did a video and post on how I get the most from my petunias. These will be replaced soon with some cool weather loving violas or pansies. Our temps are to drop and the petunias will rebel.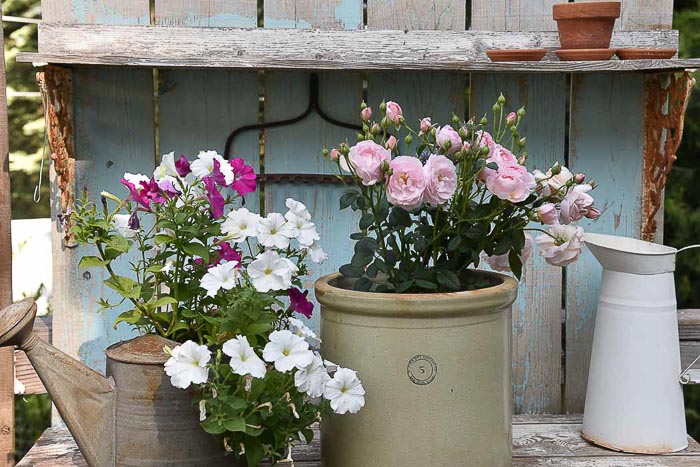 A close up of the roses. Aren't they gorgeous?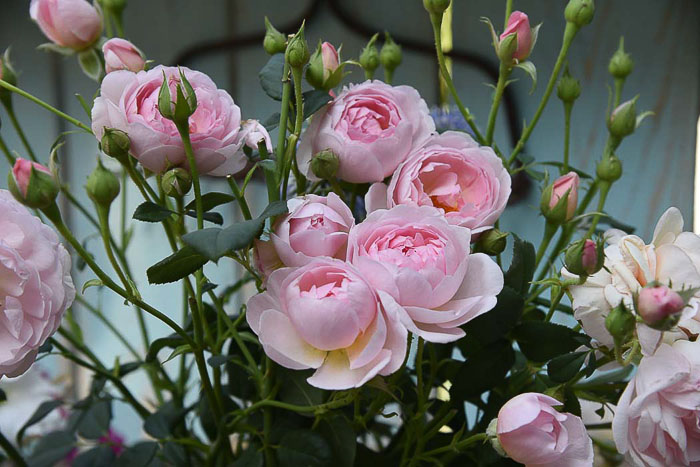 Speaking of petunias I bout this waterfall mix for the front stacked tubs. They have filled in beautifully and would be much more lush but the deer have shacked on them a bit.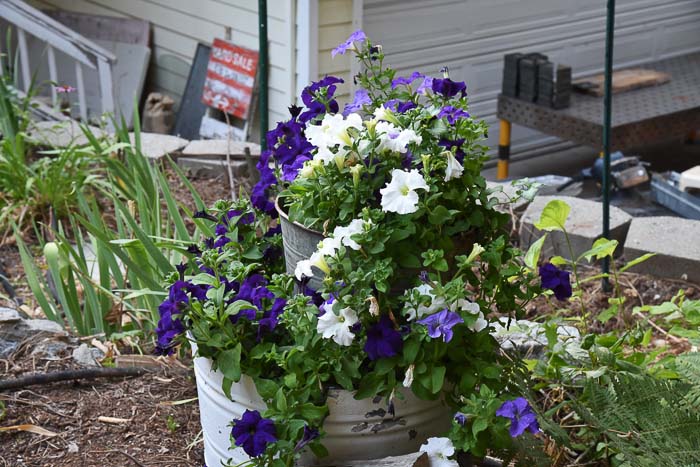 When I picked up this galvanized container below I knew exactly how I wanted it to look. It is shallow about 5 inches deep and has a lip on it. I knew it would make a great hanging planter. Once my hubby screwed it to the fence board wall of our little back deck hideaway I filled it with some white calibrachoas and a cherry pink zonal geranium. I didn't even re-pot them from their 4 inch pots. I just popped them behind the lip of the container.
It has been one of my favorite planters all summer long!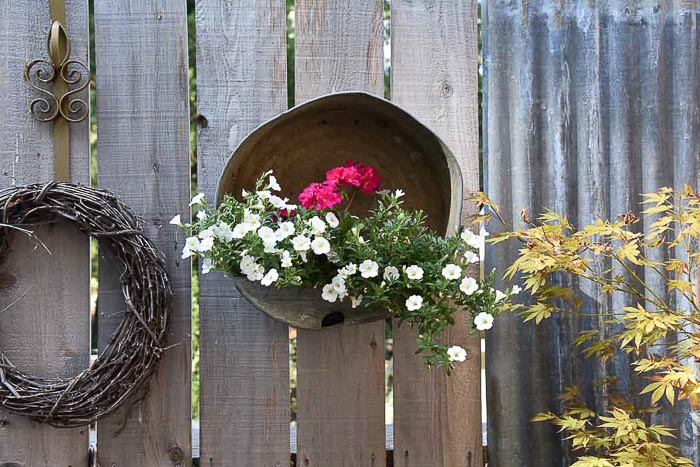 After saying that I realize I have not shared our back deck spot yet this summer. It is where we spend many summer evenings after dinner with a glass of wine or a beer to talk about our day. We also set up a table to entertain friends and family. I will try to get some photos of it and maybe make a quick video to share.
A favorite annual I started from seed this year and will do so again next is these benary zinnias. They have been outstanding!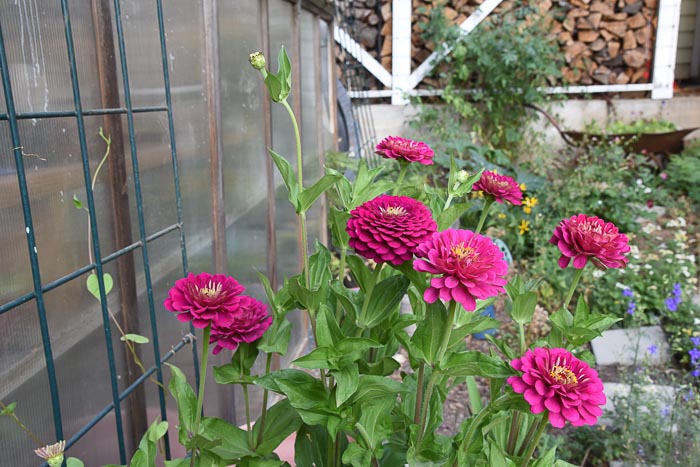 The volunteer cosmos have gotten huge, they are taller than I am. I think next year I will go for the shorter mix instead. These guys just got too tall for where I have them, but I still couldn't yank them out.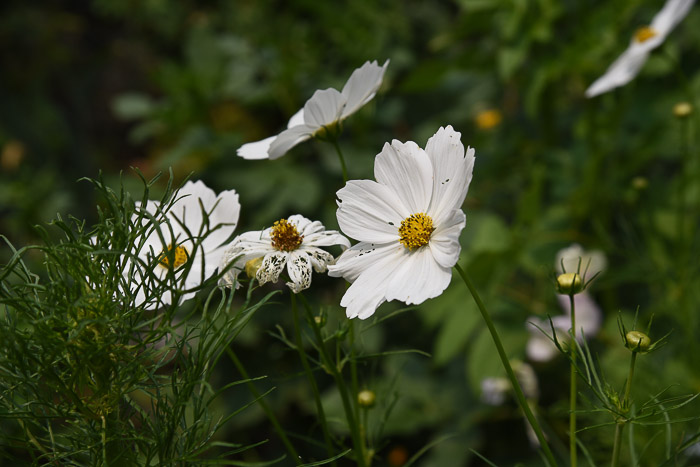 I am letting them go to seed to collect, I will reseed these taller ones in a better area.
Our favorite thing of this summer has been the hordes of hummingbirds that came to nest and raise babies in our garden. Our feeders were a favorite spot first thing in the morning. I know this is a bit blurry but I had to take it through the window in the early morning light. If you could view around the other side of the feeder you would see that there is as many on that side as this.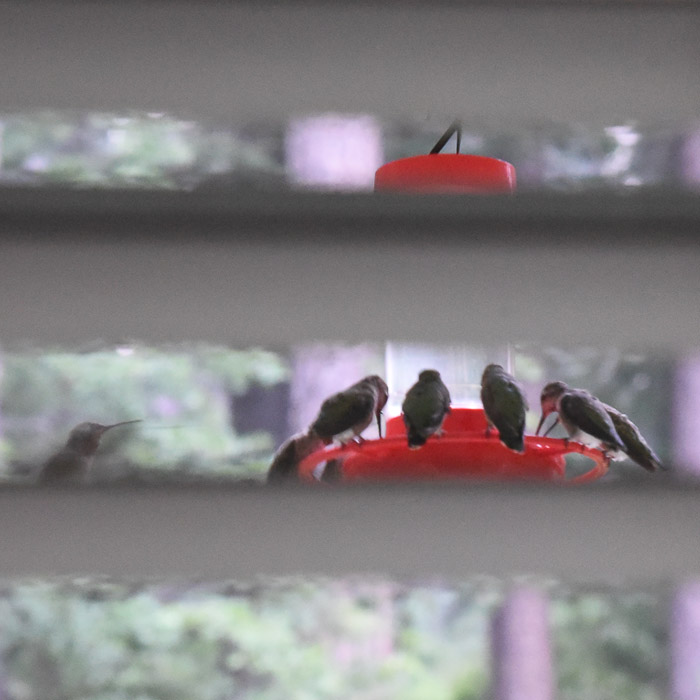 The nights are getting colder and by mid week the day time temps may barely reach 70. I will most likely build my first morning fire in the wood stove to break the chill in the house, a true sign that Fall is settling in.
That is just a bit of the garden from August. Keeping up with weekly updates was not even possible, just too much happening but I will add what I did get done in video form.
I wish you a wonderful Fall garden and lots of pumpkins.